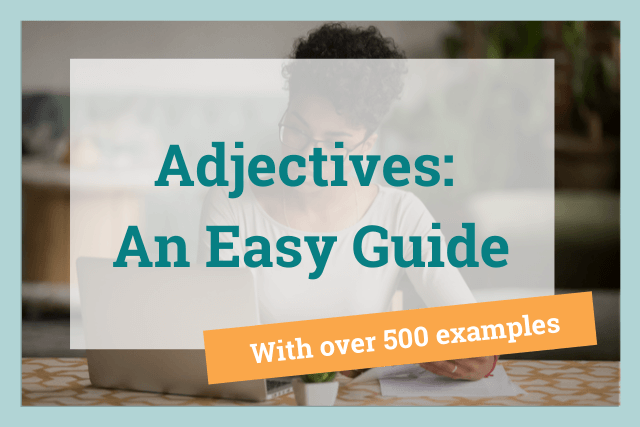 An adjective describes qualities or quantities of people, places, ideas, and things. There are negative adjectives and positive adjectives.
So, if I say the building was tall, tall is the adjective.
If we want to get a little more technical, adjectives modify or describe nouns.
A noun is a person, place, idea, or thing.
So, if you've used a word to describes something, like this:
... you've probably used an adjective.
Adjectives only modify (describe) nouns. You can't use an adjective to modify verbs, adverbs, or other adjectives. Adverbs modify verbs.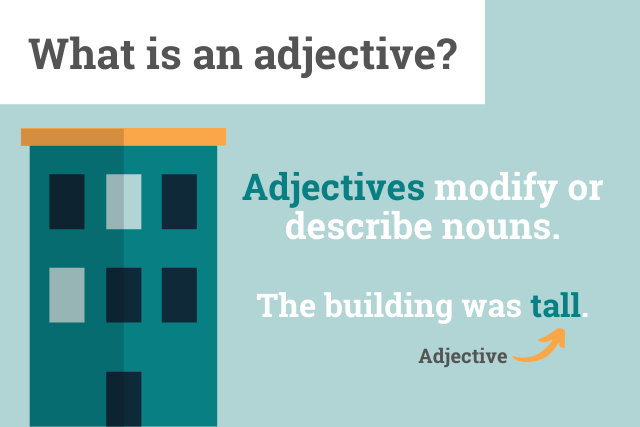 What Are the Different Types of Adjectives?
There are a few different types of adjectives.
In this article, we'll look at:
Qualitative and quantitative adjectives
Absolute, comparative, and superlative adjectives
Predicate adjectives
Adjective phrases
Quantitive and Qualitative Adjectives
Adjectives can describe the qualities of nouns. This means that they describe a noun's size, age, shape, color, origin, material, or purpose. Qualitative adjectives can also describe an opinion on something.
For example, if we say The tree was green or The painting was pretty, the adjectives green and pretty describe qualities of the nouns tree and painting.
Adjectives can also describe quantities of nouns. Quantitative adjectives describe the amount of something.
If we say There were many trees, the adjective many describes the quantity of the trees.
All adjectives—quantitative and qualitative—fall into three main categories, each with their own rules.
What Are the Three Main Types of Adjective?
The three types of adjective are absolute adjectives, comparative adjectives, and superlative adjectives.
Don't worry if those terms aren't familiar—you'll recognize each of the types when you see them.
Let's look at some examples.
Absolute Adjectives
Absolute adjectives cannot be intensified or used to compare.
For example, if something is perfect, something else cannot be more perfect than it.
With absolute adjectives, you usually can't add the suffix -er. Someone can't be perfect-er than someone else.
Here are some examples of absolute adjectives: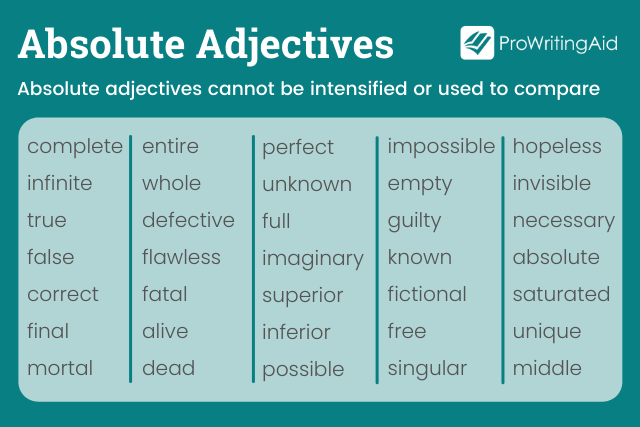 Comparative Adjectives
Comparative adjectives compare two or more objects, ideas, people, or places. For example, larger is a comparative adjective.
Comparative adjectives usually end with the -er suffix, or include the words more and less.
One of the most common mistakes people make with comparative adjectives is incorrect formation.
Here are some examples of correct and incorrect formation for comparative adjectives:
Correct: The lake was larger than the pond.
Incorrect: The lake was more large than the pond.
Correct: The book was more interesting than the movie.
Incorrect: The book was interestinger than the movie.
But how do you know which comparative adjective formation to use? Here are a few handy rules:
If the adjective you want to use only has one syllable, add -er to the end to make it comparative, e.g. smaller, wider, bigger, sadder, colder, rounder, brighter, sharper
If the adjective has two syllables and doesn't end in -y, or three or more syllables, add more or less to the start, e.g. more dangerous, more effective, more intelligent, less exciting, less important, less serious
If the adjective ends in -y, change the y to an i and add -er, e.g. sunny → sunnier, funny → funnier, shiny → shinier, happy → happier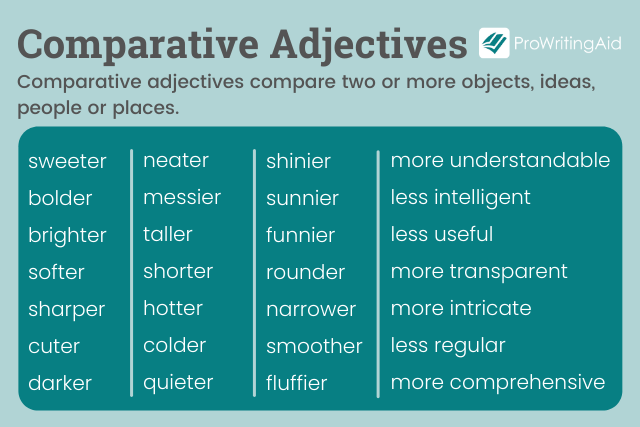 Here are some comparative adjectives in a sentence:
The light was brighter than the sun.
The math lesson was more boring than the English lesson.
It is sunnier today than it was yesterday.
She can run faster than him.
The test was more important to her than having fun.
Superlative Adjectives
A superlative adjective describes something that is the most or least that it can be:
It was the tallest tree in the forest.
Our business was the fastest-growing in its field.
We saw the most beautiful sunset.
It was the least convincing argument I've ever heard.
Superlative adjectives end in -est, or are preceded by most or least.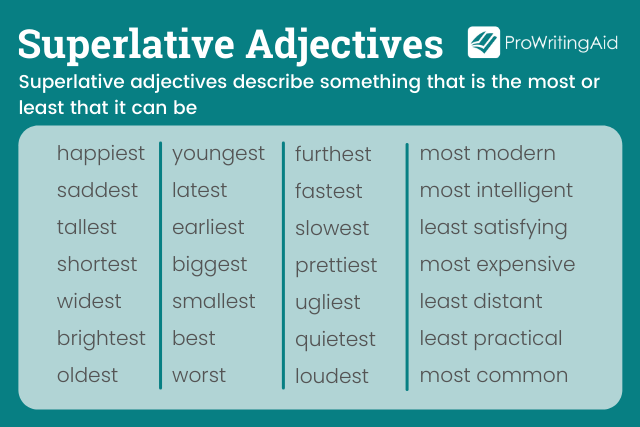 Adjectives can have comparative and superlative forms.
Here's an example:
Adjective: Tall
Comparative form: He was taller than her.
Superlative form: He was the tallest in the school.
How to Use Adjectives in a Sentence (with Examples)
Most adjectives can come before or after the noun in a sentence:
The dark sky → The sky is dark
The fluffy cat → The cat is fluffy
The interesting book → The book is interesting
But in many cases, the adjective can't come directly after the noun.
For example, if you want to describe someone's hair as curly, you can't say Their hair curly. You'll need to add a verb, e.g. Their hair was curly.
Adjectives that come before a noun or after a noun and verb like this are called attributive adjectives.
When Can I Put an Adjective Directly After a Noun?
Short answer? Yes. Here's why.
Some phrases, titles, or names of institutions will place an adjective directly after a noun:
Time immemorial
Queen consort
Poet Laureate
The adjectives here (highlighted) are called postpositive adjectives. The word postpositive just means that the adjective comes directly after (post) the noun.
Here are some postpositive adjectives in a sentence:
Something terrible has happened.
It was the best job available at the time.
I had the worst time imaginable.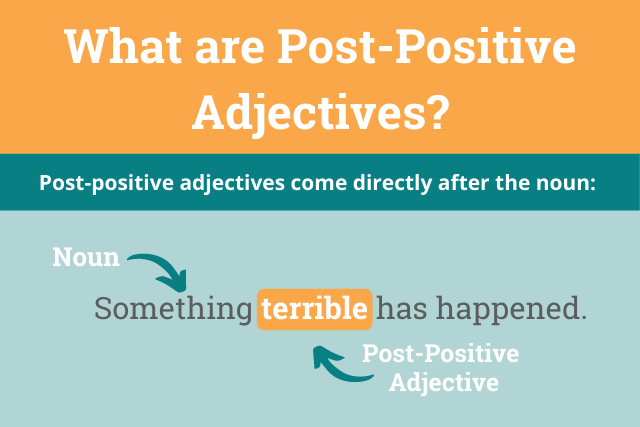 These adjectives are postpositive because of where they are in the sentence. If we move them around, their type can change.
For example, if I wrote:
I have a terrible headache.
... then the adjective terrible goes back to being an attributive adjective.
When Does a Noun Become an Adjective?
Adjectives usually modify nouns. But sometimes, a noun can be used in place of an adjective to describe another noun.
Here are some examples of nouns being used as adjectives:
Clothes shop
Ladies room
Sports car
Ticket office
Love story
Running shoes
Tennis club
In these cases, the noun being used as an adjective always comes before the main noun in the phrase.
You can then use adjectives to describe these phrases:
The busy clothes shop
Her new running shoes
The fastest race horse
Now you know how to identify the different types of adjectives. But what happens if you want to use more than one adjective together?
What Order Do Adjectives Go In?
If you use multiple adjectives before a noun, they need to go in the right order. We're big fans of breaking grammar rules, but the order of adjectives is one that you pretty much always need to follow.
If you're a native English speaker, you might not even notice that you put adjectives in a certain order. Check out this tweet: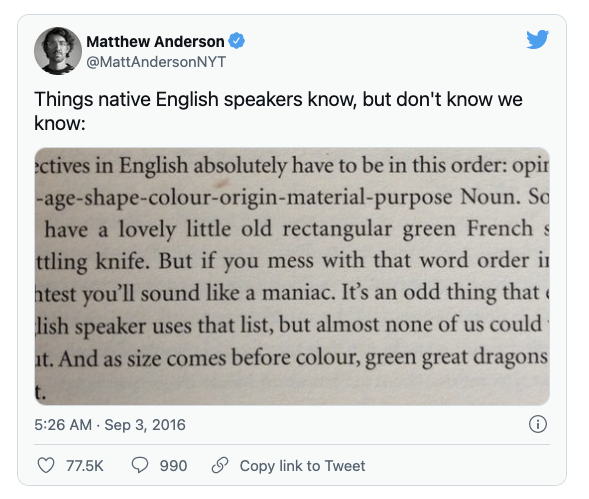 For fun, let's try messing up that order (yes, we said fun; we're grammar nerds here at ProWritingAid).
I have a rectangular old little whittling lovely French green silver knife.
Sounds strange, right?
We will say, this is for illustrative purposes only. You shouldn't use this many adjectives in one sentence. It will distract your reader and dilute your meaning rather than strengthen it. More on that later.
So, what order do adjectives go in?
Opinion → Size → Age → Shape → Color → Origin → Material → Purpose
Examples of adjectives in the correct order:
The pretty purple cotton dress.
The gnarly old tree.
The big green monster.
Examples of adjectives in the wrong order:
The cotton purple pretty dress.
The old gnarly tree.
The green big monster.
Here's a handy chart to help you get your adjective order right every time: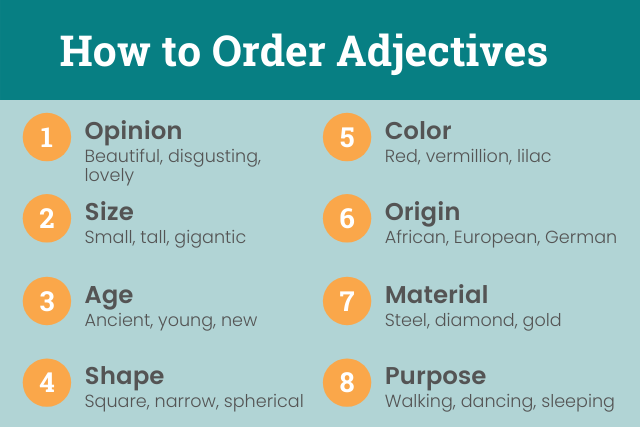 What Is an Adjective Phrase?
An adjective phrase is a group of two or more words (including an adjective) that describe a noun.
Adjective phrases can be made up of:
A string of two or more adjectives
An adverb and an adjective
An intensifier and and adjective
The adjective can appear anywhere in the group.
Here are some examples of adjective phrases:
The runner was extremely fast.
The weather was fairly sunny.
He is rather arrogant.
The pastry was flaky, buttery, and delicious.
The apartment is as clean as a whistle.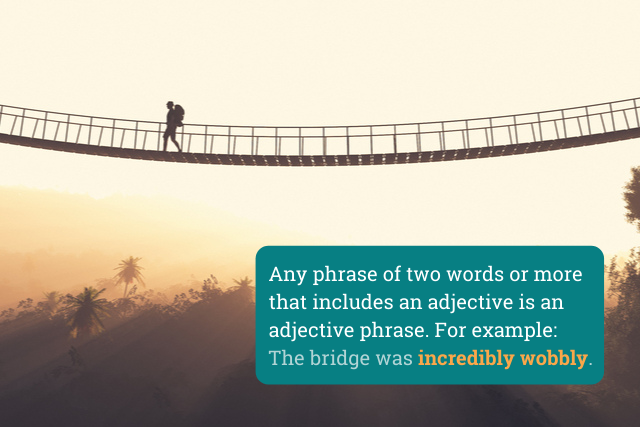 What Is a Predicate Adjective?
Predicate adjectives modify the subject of a sentence. For an adjective to be a predicate adjective, the sentence must also contain a linking verb.
Let's look at an example.
In the sentence "The cat is black," the subject of the sentence is "cat," the predicate adjective is "black" and the linking verb is "is."
Here are some more examples. The adjectives are highlighted and the linking verbs are in bold.
The music sounds jarring. The light appeared bright. His whining became unbearable. That gift would be perfect for Samantha.
Looking for more examples of adjectives? Check out this detailed list of adjectives starting with "a". We also have a full list of positive adjectives.
How Do Adjectives Make Your Writing More Effective?
Descriptive adjectives can help you convey ideas, images, and tone to your reader. However, if you rely on imprecise and overused adjectives, you could actually put your reader off.
Not all adjectives are equal. You should avoid using weak adjectives in your writing. But how do you spot a weak adjective?
Examples of Weak Adjectives
If you have used intensifiers like very or really to make your adjective stronger, you could probably be using a better adjective.
Take this sentence:
Your idea of very angry could be completely different to mine. I might imagine someone tearing their hair out, shouting, stomping around. You might see someone with a slightly furrowed brow and a frown.
However, if we change very angry to furious, we're much more likely to imagine similar things.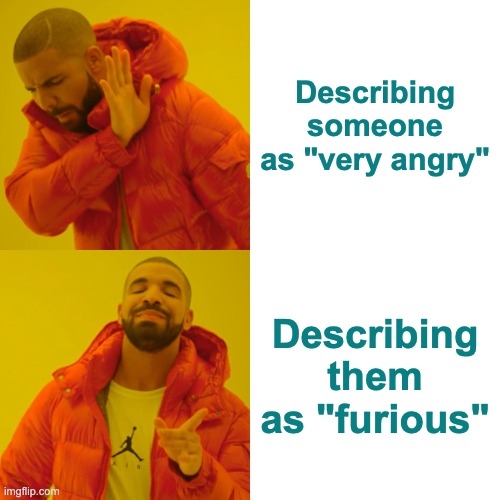 Here are a few more examples of weak adjectives and how we can replace them with strong ones:
Weak: Happy + very = I'm very happy.
Strong: I'm ecstatic.
Weak: Hot + very = It's very hot out today.
Strong: It's sweltering out today.
Weak: Sleepy + very = She looks very sleepy.
Strong: She looks exhausted.
Weak: Glad + very = He'll be very glad to see you.
Strong: He'll be delighted to see you.
Weak: Funny + very = You're very funny.
Strong: You're hilarious.
Weak: Dirty + very = That dog is very dirty.
Strong: That dog is filthy.
Weak: Big + very = The elephant in the room is very big.
Strong: The elephant in the room is enormous.
Imprecise vs. Precise Adjectives
You should also avoid using too many imprecise adjectives. Take this example:
It was a beautiful warm day.
We don't know what the writer means by beautiful here, and everyone's idea of warm is different. Here's how we could rewrite that sentence using more specific adjectives:
The sun had drawn people out into the balmy air, and the sky was such a deep blue you could almost dive into it.
Now we have a better idea of the quality of the day. And we haven't just added stronger adjectives.
If you spot weak adjectives in your writing, it's often a sign that you need to rework your sentence to give your reader some more information. Why does it matter that the day was beautiful and warm?
How to Use Adjectives in Business Writing
Adjectives aren't just for fiction writers. Let's look at how this works in a business writing context.
We made a good deal with them. We'll be able to implement a better sales strategy going forward.
Good and better are both pretty vague. It's not clear why the deal is good or how it will lead to better strategy. Let's expand:
We made a mutually beneficial deal with them. Now our sales strategies are aligned, and we can work together to target customers instead of sending conflicting messages.
Stuck for precise adjectives to use in your business writing? Here are 35 powerful business-focussed adjectives.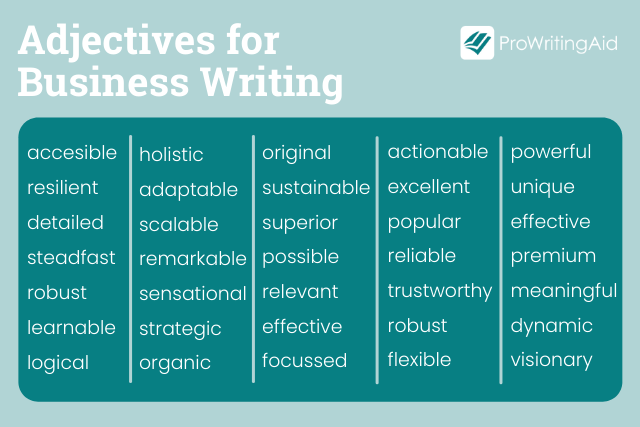 How to Avoid Weak Adjectives
Which adjectives should you avoid? Here are 100 common adjectives that could make your writing vague.
Remember, it's fine to use these, but consider if you could replace them with something more powerful.
100 Most Common Adjectives
Afraid
Angry
Annoying
Awful
Bad
Better
Big
Boring
Brave
Busy
Charming
Clear
Clever
Closed
Cold
Comfortable
Confused
Cool
Crowded
Dark
Difficult
Dirty
Dry
Easy
Embarrassing
Expensive
Fast
Friendly
Fun
Funny
Good
Great
Grumpy


Guilty

Handsome
Happy
Healthy
Helpful
High
Horrible
Hot
Hungry
Important
Innocent
Interesting
Jolly
Kind
Large
Lazy
Light
Long
Loud
Lovely
Lucky
Mean
Modern
Natural
Nervous
New
Nice
Normal
Old
Open
Perfect
Plain
Pretty
Proud
Quaint
Quiet
Real
Sad
Scary
Selfish
Short
Silly
Sleepy
Slow
Small
Soft
Strange
Strong
Stupid
Successful
Super
Sweet
Talented
Tall
Tasty
Tense
Thin
Thirsty
Tired
Ugly
Unnatural
Unusual
Warm
Weak
Wet
Worse
Young
How to Strengthen Your Adjectives
You could pick out all of your adjectives with a highlighter and then come up with synonyms for each of them. Sound like a lot of work? We think so too.
ProWritingAid's Thesaurus Report will highlight all of the adjectives in your document and show you synonyms for each of them.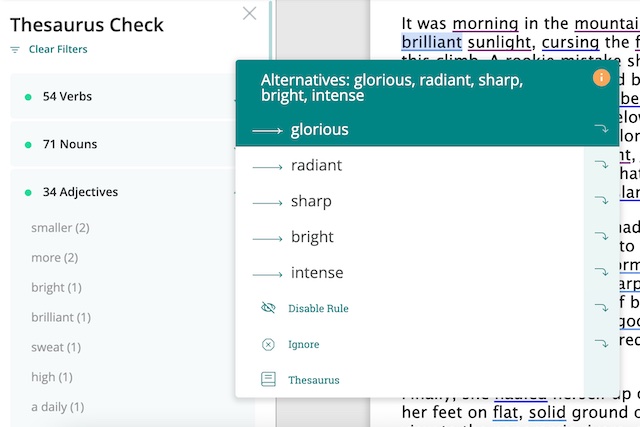 As we said above, replacing your weak adjectives isn't always the answer. If none of the synonyms look quite right for the tone you're trying to set, consider re-working your sentence to get your point across more effectively.
Check out our complete guide to ProWritingAid's Thesaurus Report and start improving your adjective use today.
What Are Some Examples of Adjectives to Describe People?
A
able
abnormal
absent-minded
active
adaptable
adventurous
affable
affectionate
agile
agreeable
alert
amazing
ambitious
amiable
amicable
amusing
analytical
angelic
apathetic
apprehensive
ardent
argumentative
artificial
artistic
assertive
attentive
average
awesome
awful
B–C
balanced
beautiful
blunt
boisterous
brave
bright
brilliant
broad-minded
buff
callous
calm
candid
cantankerous
capable
careful
careless
cautious
charming
cheerful
chic
childish
childlike
churlish
civil
clean
clever
clumsy
coherent
cold
collaborative
communicative
compassionate
competent
composed
conceited
condescending
confident
confused
conscientious
considerate
content
convivial
cool
cool-headed
cooperative
cordial
courageous
courteous
cowardly
crafty
cranky
crass
creative
critical
cruel
curious
cynical

D–E
dainty
decisive
deep
deferential
deft
delicate
delightful
demonic
demure
dependent
depressed
determined
devoted
diligent
diplomatic
direct
dirty
disagreeable
discerning


discerning


discreet
disruptive
distant
distraught
distrustful
dramatic
dreary
drowsy
dull
dutiful
dynamic
eager
earnest
easygoing
efficient
egotistical
elfin
emotional
empathetic
encouraging
energetic
enterprising
enthusiastic
evasive
even-tempered
exacting
excellent
excitable
experienced
extroverted
exuberant

F–H
fabulous
fair-minded
faithful
fastidious
fearless
ferocious
fervent
fiery
flabby
flaky
flashy
focused
forceful
frank

friendly
funny
fussy
generous
gentle
gloomy
gluttonous
good
grave
great
gregarious
grouchy
guarded
hard-working

hateful
hearty
helpful
hesitant
honest
hopeful
hostile
hot-headed
humorous
hysterical


I
idiotic
idle
illogical
imaginative
immature
immodest
impartial
impatient
impetuous
impractical
impressionable
impressive


impulsive
inactive
incisive
incompetent
inconsiderate
inconsistent
indefatigable
independent
indiscreet
indolent
industrious
inexperienced
insensitive
inspiring
intellectual
intelligent
interesting
intolerant
introverted
intuitive
inventive
irascible
irritable
irritating
J–M
jocular
jolly
jovial
joyous
judgmental
keen
kind
laid-back
lame
lassiez-faire
lazy
lean
leery
lethargic
lean
leery
lethargic
level-headed
listless
lively
local
logical
long-winded
lovable
lovely
loving
loyal
maternal

mature


mean
meddlesome
mercurial
methodical
meticulous
mild
miserable
modest
moody
moronic
morose
motivated
musical
N–O
naive
nasty
natural
naughty
neat
negative
nervous
nice

noisy
normal
nosy
numb
obliging
obnoxious
old-fashioned
one-sided
optimistic
orderly
ostentatious
outgoing
outspoken
P
passionate
passive
paternal
patient
peaceful
peevish
pensive
persevering
persistent
pessimistic
petulant


philosophical

picky
pioneering
placid
plain
plain-speaking
playful
pleasant
plucky
polite
popular
positive
powerful
practical
precise
prejudiced
pretty
pro-active
proficient
proud
provocative
prudent
punctual
Q–R
quarrelsome
querulous
quick
quick-tempered
quick-witted
quiet
rational
realistic
reassuring
reclusive
reflective
reliable
reluctant
resentful
reserved
resigned

resourceful
respected
respectful
responsible
restless
revered
ridiculous
romantic
S
sad
sassy
saucy
sedate
self-assured
self-confident
self-disciplined
selfish
sensible
sensitive
sentimental
serene
serious
sharp
short-tempered
shrewd
shy
silly
sincere
sleepy
slight
sloppy
slothful
slovenly
slow
smart
snazzy
sneering
snobby
sober
sociable
somber
sophisticated
soulful
soulless
sour
spirited
spiteful
stable
staid
steadfast
steady
stern
stoic
straightforward
striking
strong
stupid
sturdy
subtle
sulky
sullen
supercilious
superficial
supportive
surly
suspicious
sweet
sympathetic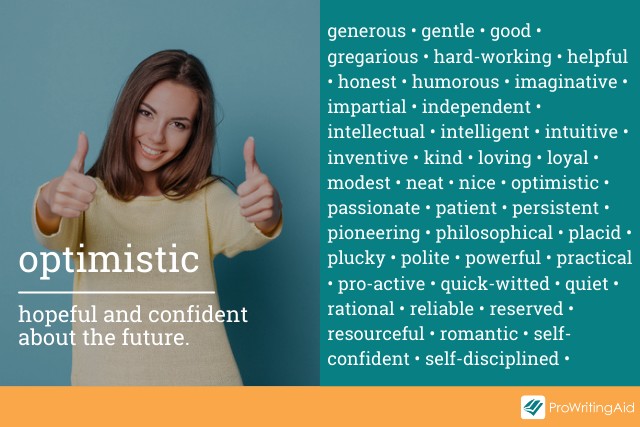 T–U
tactful
tactless
talented
testy
thinking
thoughtful
thoughtless
tidy
timid
tired
tolerant
touchy


tough

tranquil
trustworthy
ugly
unaffected
unassuming
unbalanced
uncertain
uncooperative
undependable
understanding
unemotional
unfriendly
unguarded
unhelpful
unimaginative
unique
unmotivated
unpleasant
unpopular
unreliable
unsophisticated
unstable
unsure
unthinking
unwilling
V–Z
versatile
vigilant
volcanic
vulnerable
warm
warmhearted
wary
watchful
weak
well-behaved
well-developed
well-intentioned
well-respected


well-rounded

willing
witty
wonderful
youthful
zany
zealous
Taking the time to review your adjectives can help you write stronger, more specific content that helps you achieve your purpose faster. Whether that's conveying findings in a report or creating a spellbinding scene in a novel, using adjectives carefully pays.
Now you know how adjectives work, and what to avoid, you're ready to start using adjectives to enhance your points and create intricate descriptions. Happy writing!
---
Take your writing to the next level: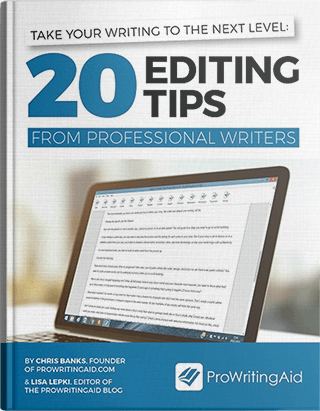 Whether you are writing a novel, essay, article, or email, good writing is an essential part of communicating your ideas.
This guide contains the 20 most important writing tips and techniques from a wide range of professional writers.