Improve and edit your writingessaynovelreportbookpaperthesisarticle
ProWritingAid is your free online writing editor and personal writing coach. Of course it checks your grammar but it does much more to help you improve your writing:
Online grammar and spelling checker;
Online plagiarism checker;
Improve readability;
Find overused words;
Improve dull paragraph structure;
Find repeated words and phrases;
Check for consistency of spelling, hyphenation, and capitalization;
Eliminate clichés and redundancies;
Create a word cloud of your text;
Eliminate vague, abstract, and complex words from your writing.
"Finished another edit today. I'm loving @ProWritingAid. It is so useful."

Author Wakefield Mahon on Twitter
Some books by our users:

19 free reports to improve your writing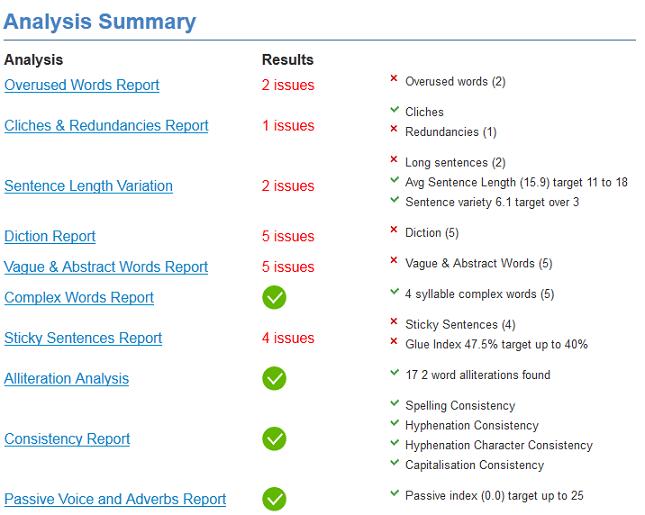 With ProWritingAid you should be able to improve your writing in less than 5 minutes. The longer you spend, the more it will improve.
We provide 19 different free reports on your writing so a clear summary of the key results is important. Looking at the analysis you can quickly see what the key things are you need to improve.
Recent feedback
Top of the line program. You have a 5 star winner here. I have been using your program, and I have become a better writer from it.

Darius Pierce on Twitter
I have tried every editing tool I can think of out in the interweb. But, this knocks spots of everything and is free.

@alfiemama on Twitter
Easily see the problems with your writing
Each report concentrates on a particular aspect of your writing to help you focus on it. Reports clearly show where there is room for improvement. As you edit your writing you'll also learn and your writing will improve.
The overused words report to the right is one of our most popular. It compares your text to published works for the frequency of certain commonly overused words, and highlights where you have overused them. Reducing the occurrences of these words will make your writing clearer and more compelling.
This is the best.. this looks like the ultimate as a writing aid.

Anonymous via website Feedback
Try ProWritingAid Now! »
No text to improve? Use a sample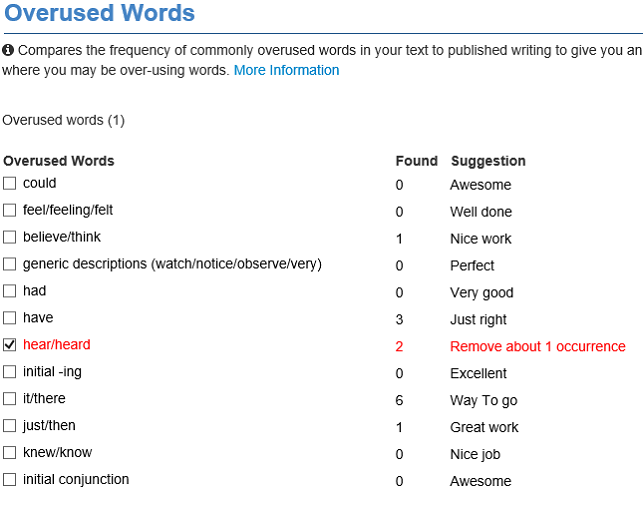 Our premium version makes editing even simpler
If you're a professional then time is money. ProWritingAid premium will significantly reduce the amount of time that you need to allocate for editing your work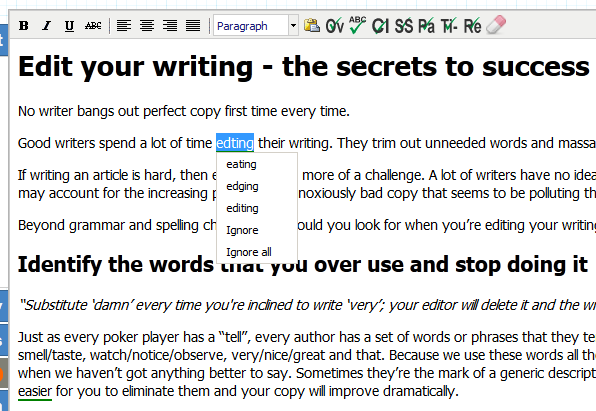 The premium edition of ProWritingAid combines our reports with a powerful document editor, allowing you to edit as you go and choose from a list of suggested replacements for grammar and spelling issues.
The premium edition costs as little as $35 for 1-year with significant discounts on multi-year, and multi-person licenses. Many people find that using the premium edition significantly speeds up their editing.
Premium subscribers can also access our premium WordPress plugin that brings the power of ProWritingAid into the world's most popular blogging platform.
ProWritingAid is for everyone
Whether you're a professional writer, a student, an academic, a civil servant, or a businessperson ProWritingAid will help you to improve your writing
Authors & Writers
For many professional writers ProWritingAid is the perfect way to save money on professional copyediting services. ProWritingAid will catch many of the same things as a professional copyeditor but without the cost.
A good professional copyeditor will cost at least $40 an hour. Using ProWritingAid before sending your work to a copyeditor will save you money and leave the editor free to concentrate on more important stylistic issues.
ProWritingAid has a number of reports specifically designed for the professional novelists, such as the pacing report that will highlight areas of slow pacing (e.g. back-story), allowing you to easily spot areas with too much back-story and not enough action.
Students & Academia
ProWritingAid is used by many students to improve their writing and check for plagiarism. Whether you want to improve your thesis, or polish your paper, ProWritingAid will highlight the areas of most weakness so that you can make the most out of the time available to your for editing.
If you were to use a professional thesis or dissertation editing service then the first thing they will do is use a tool like ProWritingAid to check your text for all manner of errors. Once they have this list in hand then they will feel that they have fulfilled part of their contract with you and therefore don't need to look at your thesis in the more critical ways of structure and content. By using ProWritingAid you remove these errors allowing them to concentrate on more important issues.
Business & Government
In this competitive economy it has never been more important to effectively communicate with your clients and colleagues. ProWritingAid will help you to improve your writing so that it is clearer and more compelling.
The 2010 Plain Writing Act (in the US) highlighted the need for government departments to communicate effectively and clearly. Improving the language of legislation will help increase participation and understanding. Many government departments now use tools like ProWritingAid to enhance their writing. ProWritingAid provides a 100% managed and secure service for sensitive documents. Please get in touch with our sales team to learn more.
Our Other Services
You'll find here:
Why ProWritingAid is better than AutoCrit
It's free (the most important).
More reports: sentiment, time, grammar, passive-voice, consistency, etc.
Faster than Autocrit
No word limits
Why ProWritingAid is better than Stylewriter
It's free (the most important).
Includes a grammar checker
More reports: sentiment, time, overused words
Use in the cloud anywhere, no download risk.
Regular free updates.
Recent feedback
I love this application! It is way better than Autocrit Software plus it is free!

Anonymous via website Feedback
Great tool, guys. Just checked my blog entry with it. Fun and handy!

Blogger Grigory Ryzhakov on Twitter
What a useful writing tool! Thanks @ProWritingAid

@JonZerofourteen on Twitter
More feedback
Great site. Very helpful. It does exactly what it says it's going to do. Wonderful!

Anonymous via website Feedback
Oh my God! This site is perfect!

Anonymous via website Feedback
I think it's a great program.

Anonymous via website Feedback