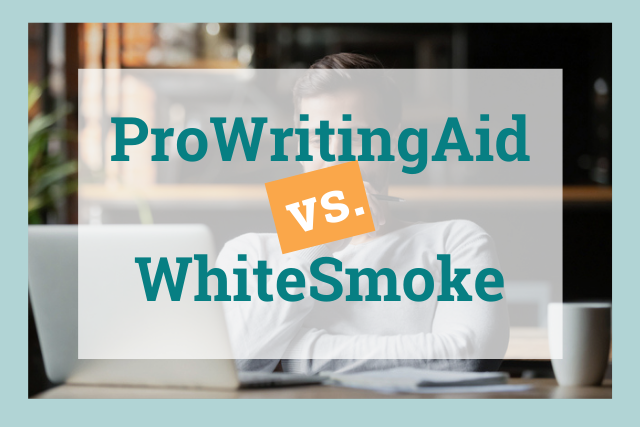 WhiteSmoke vs ProWritingAid: Grammar Checker Comparison
The internet is filled with advanced grammar checkers. We're no longer just limited to the ones that are built into word processors. But with every grammar checker claiming to be the best, how do you find the right one for you?
WhiteSmoke has actually been around for a while, as it was incorporated way back in 2002. But can it do more than just catch spelling errors? Are you looking for an alternative grammar checker to WhiteSmoke?
In this article, we're going to compare WhiteSmoke to ProWritingAid so you can see if ProWritingAid is the WhiteSmoke alternative for you. We'll dive into the major components that writers look for in editing software to see how ProWritingAid and WhiteSmoke stack up.
#1: WhiteSmoke vs ProWritingAid: How They Check Spelling and Grammar
The number one use of any editing tool is its spelling and grammar checker. If you're just looking for a program to check your grammar, punctuation, and spelling then ProWritingAid and WhiteSmoke are pretty evenly matched.
Both programs use Natural Language Processing (NLP) to analyze your text and provide solutions. NLP is the intersection between linguistics and artificial intelligence. Any program that uses NLP "learns" language from analyzing texts, similarly to how any human learns to read and write.
ProWritingAid comes equipped with a Realtime Report that allows you be confident that you're using the right words in your writing. WhiteSmoke comes with a checker that highlights spelling, grammar, and syntax errors.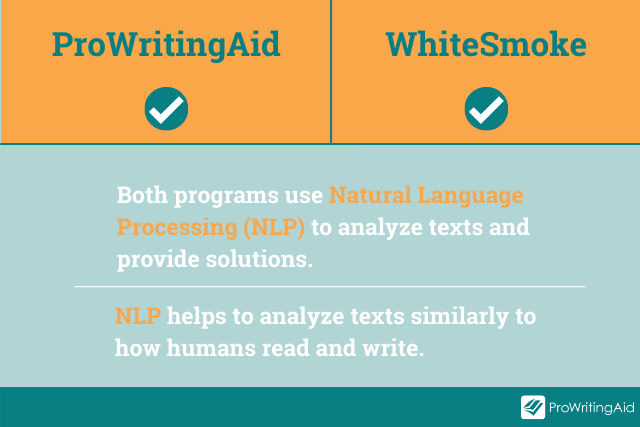 Because artificial intelligence isn't a human grammar expert, some mistakes are bound to be missed. (Of course, we all know even human editors aren't perfect, either!) But with NLP, both programs are constantly learning, evolving, and improving.
#2: Writing Style Checks
Writing is a lot more than just having a good grammar checker. Style is just as important for clearly communicating.
Style has to do with the clarity and flow of your writing, and several factors go into analyzing style. The first is readability. If you have too many long sentences or too many short sentences, it can be difficult to read, even if the grammar is perfect. Readability also involves your vocabulary and extra words that might affect the pace of your writing.
Verbs are another important part of style. Strong, active verbs make your writing richer and clearer.
It's hard to tell from WhiteSmoke what exactly is included in the style check. The website mentions monotony and switching tenses as examples. In ProWritingAid, tense checks are part of the Grammar Report. Monotony, or too many short sentences in a row, is part of readability.
Both tools take into consideration the different writing styles that exist, for example, academic.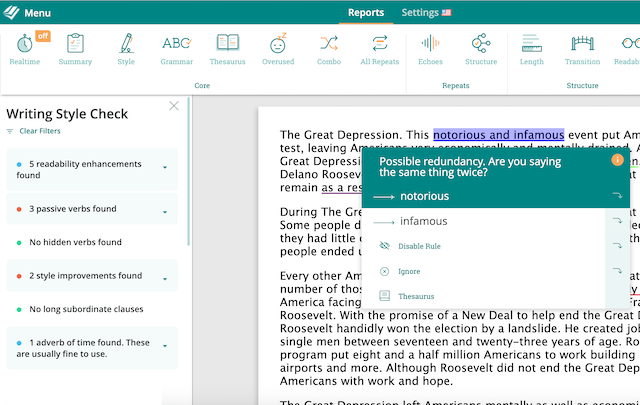 ProWritingAid's Style Report checks for readability among several other things. It checks for hidden verbs, which is when we use a noun where a stronger verb would fit. For example, "She made an announcement" is weaker than "She announced." This report also checks for passive verbs and gives you an overall passive index, along with a target score. Active voice is important for clarity.
Additionally, ProWritingAid's Style Report will give you a break down of your adverb usage—which can slow down your writing—repeated sentence starts, hidden verbs, and emotion tells. And that's all in just one button click!
#3: Other Reports from WhiteSmoke and ProWritingAid
WhiteSmoke is well-rated for spelling, grammar, punctuation, and style. But there are so many other facets of writing that are important as well.
If you're looking for basic improvement of your written communication, then WhiteSmoke's tools might be enough. However, if you are more serious about your writing, then it might not have enough features for you.
ProWritingAid boasts 20+ reports to analyze your writing! For fiction and non-fiction authors, English teachers, and content writers, these reports are incredibly powerful tools. They can pick up on things that a basic proofreading program can't.
You can find out more about each report here:
ProWritingAid can check for overused words and different types of repetition that make your writing boring. The Sticky Sentences Report analyzes your writing for excessive use of "glue words," or the most common words in English. Too many of these weaken your writing.
ProWritingAid's program can offer feedback on your sentence structure, pacing, and transitions. It analyzes dialogue and even sensory detail! (That's my favorite report as a fiction author.) And those are just a few of its reports.
WhiteSmoke is a good tool for anyone who needs support with the basics of English. ProWritingAid can provide you with basic writing support, as well as far more detailed analytics. Plus, some of ProWritingAid's reports are provided in graphic representations instead of just lists of errors.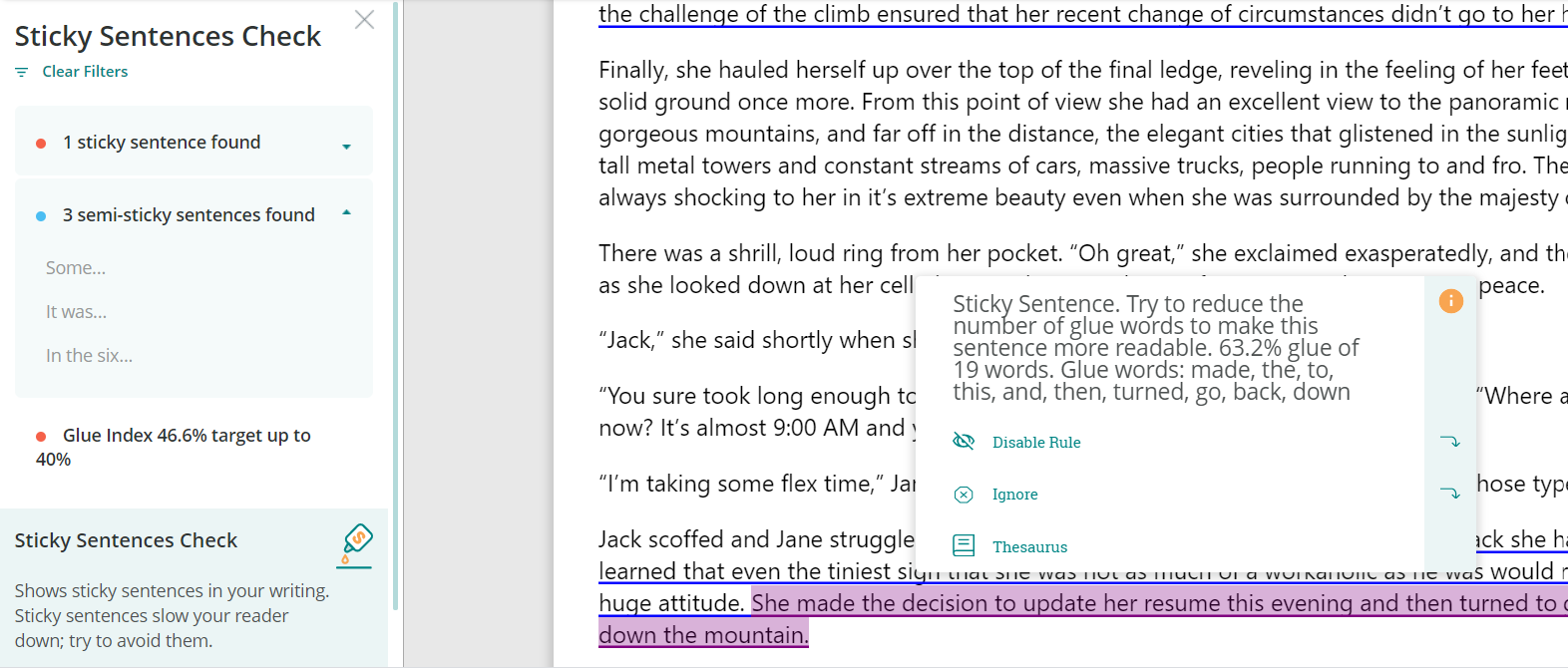 4. Translation
One area where WhiteSmoke dominates is in translation. This program is able to translate your writing into 55 different languages. It uses a technology called Statistical Machine Translation to get you as close to accuracy as possible without a human translator.
Of course, translation is a tricky business. Language is nuanced and translating things directly doesn't always work out. But for basic translation, WhiteSmoke is more accurate than just typing something into Google Translate. At the very least, it's a great starting point for translation. There's also a built-in dictionary and thesaurus.
ProWritingAid does not have translation capabilities. If this is something you absolutely need for your business, and you don't have a localization or translation team, WhiteSmoke is the better option.
#5: ProWritingAid vs. WhiteSmoke: Other Features
With WhiteSmoke, you get access to spelling, grammar, punctuation, and translation abilities. Their product is focused on just those reports.
ProWritingAid is, in many ways, a one-stop shop for all types of writers, from students to businesses to authors. There are additional features that you'll get with ProWritingAid that you can't get from WhiteSmoke.
One of these features is their snippet tool. ProWritingAid's Snippets feature allows you to create custom shortcuts for things you type often. Maybe these are canned customer service responses, email signatures, or resource lists. As a fiction author, I use Snippets for my author bio and my various hashtag groups for social media marketing. Snippets save a ton of time when writing.
ProWritingAid also offers plagiarism checks. Many plagiarism checkers are pricey, but ProWritingAid's checker is more affordable. It checks your writing against over a billion sources to ensure you are not accidentally stealing someone else's work. (This is a great resource for teachers, especially!)
It's important to note that WhiteSmoke does offer you a certain amount of plagiarism credits with a premium subscription but it's not clear how many checks you get or how many sources your writing is verified against.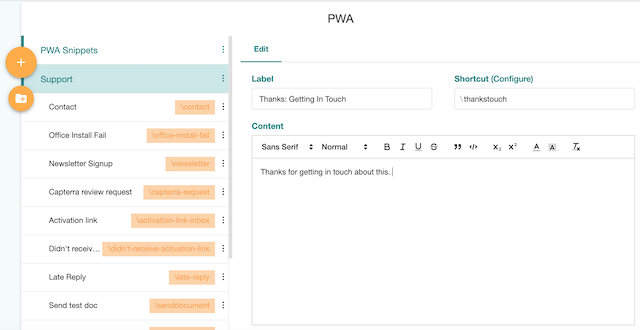 #6: WhiteSmoke vs ProWritingAid: What Integrations Do They Have?
The WhiteSmoke grammar checker has two versions: web-based and desktop. The web-based only program is compatible with every browser. This is great if you're always connected to the internet. Their desktop version is compatible with Windows, and it integrates with Microsoft Office and Gmail.
ProWritingAid has even more integrations. There is a web editor with free access to all of the reports. Subscriptions include access to browser extensions, integrations with hundreds of websites including social media and email services, a desktop app for Windows and Mac OS, compatibility with Microsoft Office, and integration with Scrivener, the novel-writing app.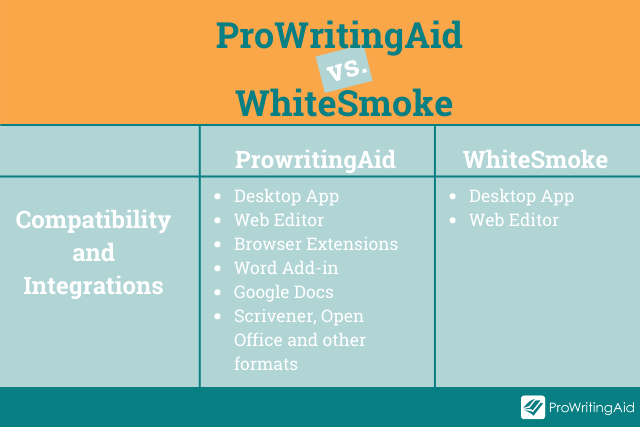 #7: Learning With ProWritingAid and WhiteSmoke
For many writers, it's not enough to run a report and make corrections. We want to learn more about writing. Both WhiteSmoke and ProWritingAid have some educational tools.
WhiteSmoke features 21 videos on various aspects of grammar. Their website says future updates will include additional explanations and videos as well.
ProWritingAid has grammar and style explanations linked inside the tool. There are hundreds of blog posts on everything from spelling to teaching English to self-publishing. They offer free webinars and have videos and quizzes about different aspects of the English language. You can also download several eBooks with topics ranging from how to write a novel to business writing hacks.
#8: WhiteSmoke Alternative: Cost Breakdown
Now that we've broken down both of these powerful grammar checkers and editing programs, you probably want to know what they cost.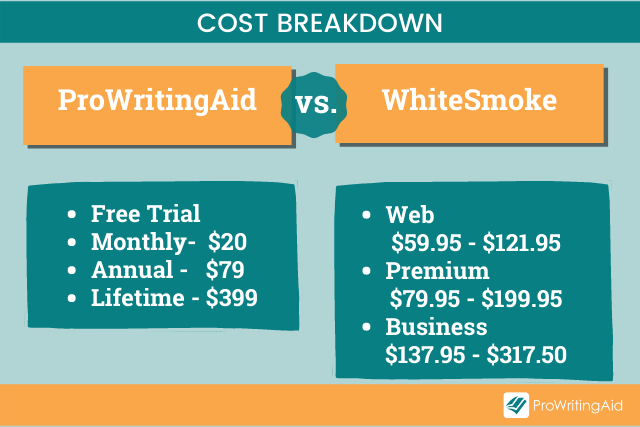 WhiteSmoke no longer has a free version or a free trial. The web-based subscription is $59.95 for a year or $124.95 for three years. The premium version that includes the desktop app is $79.95 annually or $199.95 for three years. There's also a business version that includes extra desktop licenses for a higher fee of $137.95.
ProWritingAid has a free web editor for a limited word count that you can use as much as you want. And you get access to all 20 reports! Sign up for a free trial here. But if you want to save your writing, have unlimited word counts, or get all of the integrations, you can subscribe.
ProWritingAid's subscriptions are pretty affordable in comparison to WhiteSmoke. The cost of lifetime subscription to ProWritingAid will only get you 5 years with WhiteSmoke. And with ProWritingAid you're getting much more including all future updates to the software. You get access to every feature and integration, from Google Docs and Chrome to Office and Scrivener, and you can even get all of their eBooks for free.
WhiteSmoke Alternatives: Which One Should You Get?
Of course, we are partial to our own product. But we hope that breaking down all the features of WhiteSmoke and ProWritingAid helps you decide which grammar checker is right for you. WhiteSmoke covers all the basic requirements in terms of grammar and style check but ProWritingAid is essentially your one-stop for all things writing and acts as a guided tool that will help to improve your writing skills.
But don't just take my word for it. Start using the tool today to enhance the quality of your writing!
Try ProWritingAid's Grammar Checker and Editor for Yourself