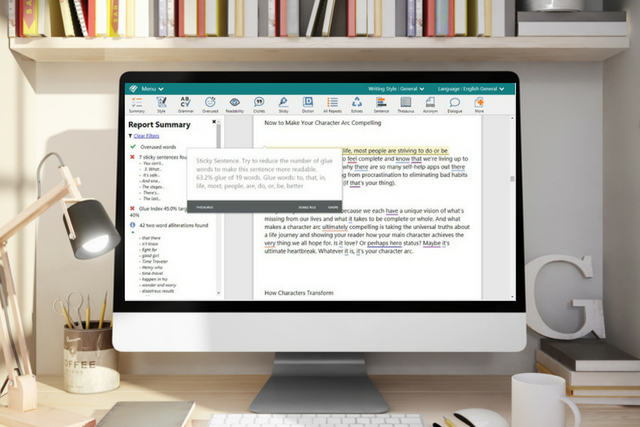 If you haven't tried ProWritingAid's Combo Report yet, check it out. It will save you time and effort.
The Combo Report allows you to run more than one report at a time. This is helpful if you have limited time before your content needs to be submitted, or if you know exactly which errors need your focus. Rather than running each individual analysis, you can bundle several together into one report.
First configure the reports you want combined.
Your first step is to choose the reports you want bundled together. Go to the drop-down menu at the top left of ProWritingAid's online editor, and select "Settings."
The Combo Reports setting is at the top. Choose the reports that you want to include.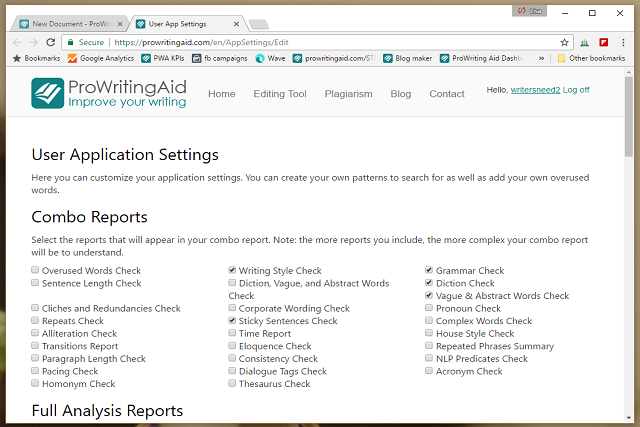 As a default, a great place to start is Writing Style Check, Grammar Check, Diction Check, Sticky Sentences Check, and Vague & Abstract Words Check. We speak from experience. No post has ever been published on the ProWritingAid Blog without running this Combo Report (and others too, depending on the specific content/writer).
You might have different areas in your own writing on which you'd rather focus. Select the reports that make the most sense based on the text you're analyzing and your audience. For example, if it's a fiction chapter with lots of character interaction, add in the Dialogue Tags Check
Running Combo Checks
If your text is short, you might combine 4 or 5 reports. But be careful, too many reports will slow processing time and create a hard-to-read analysis.
If you're running a very long chapter or article through ProWritingAid, we suggest that you choose only a couple reports to run at a time to help you focus.
Once you've selected which reports to include, go to the online editor and upload your file or paste your text. Then click on the Combo Report icon in the menu at the top of your screen (depending on the size of your screen, you may need to click "More" first to reveal the Combo Report button).
The Combo Report Summary shows up in the left pane and your text shows up in the main window. Problems identified are underlined in different colors to help you distinguish between the reports. You can hover your pointer over a word or phrase, and an explanation will pop up.
Use Combo Checks in All ProWritingAid Interfaces
The Combo Report works in the online editor, the desktop app, and the add-ons for MS Word and Google Docs.
And as with every report you run on ProWritingAid, the Combo Checks Report makes suggestions but YOU decide which changes to make.
Use the Combo Checks Report to speed up your analysis and help you to stay focused. Let us know in the comments below which combos have worked best for you!
---