If you haven't tried ProWritingAid's Combo Report yet, check it out. It will save you time and effort.
The Combo Report allows you to run more than one report at a time. This is helpful if you have limited time before your content needs to be submitted, or if you know exactly which errors need your focus. Rather than running each report separately, you can bundle several together into one report.
Run Multiple ProWritingAid Reports at Once
Your first step is to choose the reports you want bundled together. Go to the drop-down menu at the top left of ProWritingAid's online editor, and select "Settings."
The Combo Reports setting is at the top. Choose the reports that you want to include.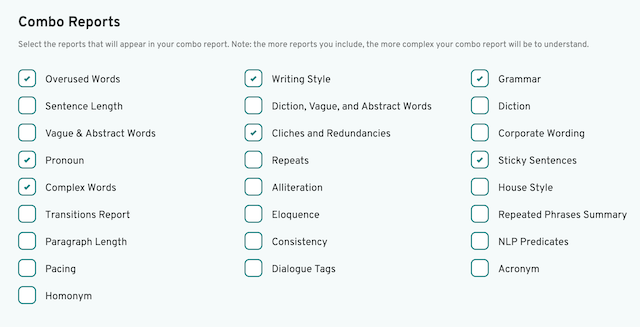 As a default, a great place to start is Writing Style Check, Grammar Check, Diction Check, Sticky Sentences Check, and Vague & Abstract Words Check. We speak from experience. No post has ever been published on the ProWritingAid Blog without running this Combo Report (and others too, depending on the specific content/writer).
You might have different areas in your own writing that you'd rather focus on. Select the reports that make the most sense based on the text you're analyzing and your audience. For example, if it's a fiction chapter with lots of character interaction, add in the Dialogue Tags Check.
How to Run Combo Checks
If your text is short, you might combine 4 or 5 reports. But be careful, too many reports will slow processing time and create a hard-to-read analysis.
If you're running a very long chapter or article through ProWritingAid, we suggest that you choose only a couple reports to run at a time to help you focus.
Once you've selected which reports to include, go to the online editor and upload your file or paste your text. Then click on the Combo Report icon in the menu at the top of your screen (depending on the size of your screen, you may need to click "More" first to reveal the Combo Report button).
The Combo Report Summary shows up in the left pane and your text shows up in the main window. Problems identified are underlined in different colors to help you distinguish between the reports: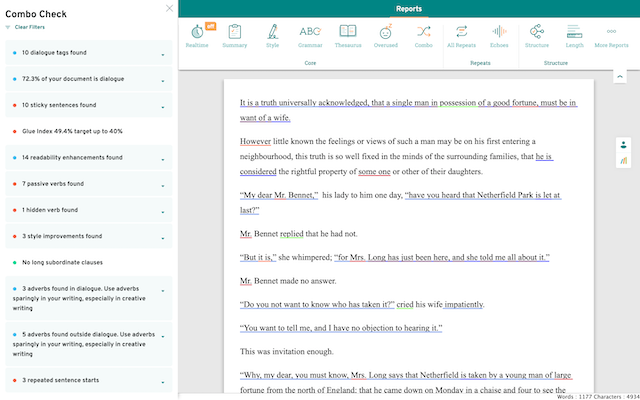 This looks like a lot, but the Combo Report is easy to navigate with the toolbar to the left of the screen.
Combo Report Toolbar
Each report in your Combo Report has a section in the menu.
Clicking on the small arrow to the right of a category will allow you to display or hide highlights for that category using the Eye symbol. When the Eye is crossed through like this, the highlights will be hidden: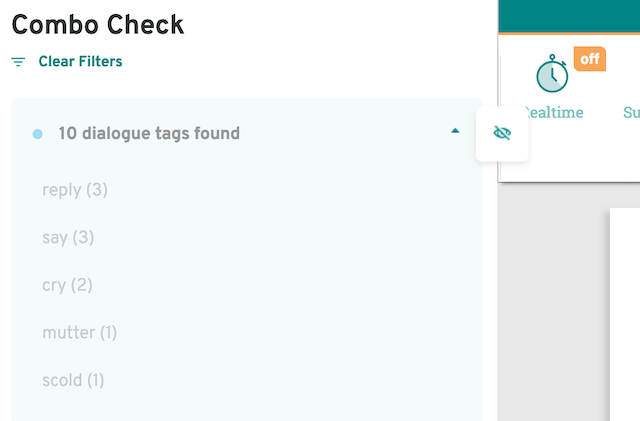 If you only want to work on Sticky Sentences, for example, you can use the Eye to hide the highlights from the other reports. Once you've dealt with those, you can move on to another area.
This feature is useful because it cuts down on waiting times. The Combo Report runs all of your chosen reports simultaneously, so that you only have to wait for reports to load once rather than moving through the reports separately and having to wait each time.
Suggestions
When you click on each report category in the menu, it will expand to show the a list of the individual suggestions for that report. If you click on a suggestion, you'll see this menu: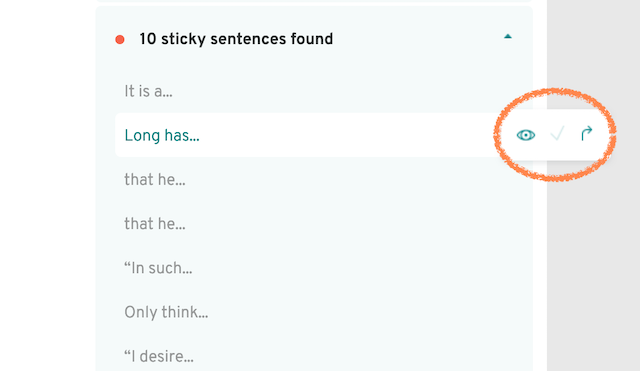 To navigate to that suggestion in your text, click on the arrow to the right of the menu. To hide the highlight for that suggestion in your text, click on the eye. This will allow you to jump straight to the area you would like to edit from the menu, or hide an area if you don't want to work on it right now.
How to Improve Your Writing with the Combo Report
Let's say you're a freelance writer. You know from experience that readers like shorter sentences that are easy to read. You know you tend to use complex words where a simpler one would do, and that once you're in the swing of writing, you tend to overuse pronouns.
With this in mind, let's select sentence length, diction, sticky sentences, pronouns, and writing style.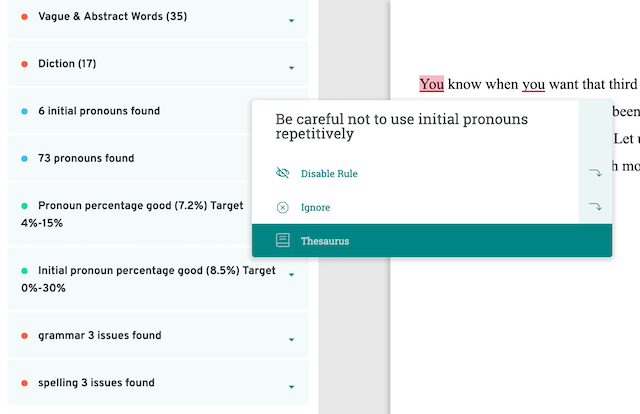 Now, when you run the Combo Report, you've got a checklist of everything you need to fix in your article before you send it off all laid out for you. You can plan how much time your edit is actually going to take, making planning your time much easier than if you were going in uninformed.
You can do this for any kind of writing—essays, reports, short stories—there are always things you'll want to check for every time. It's a good idea to run a perfectly tailored Combo Report at the beginning of your editing session to get an idea of how much work you have to do.
Use Combo Checks in All ProWritingAid Interfaces
The Combo Report works in our Web Editor, Desktop App, and in the add-ons for MS Word and Google Docs.
And as with every report you run on ProWritingAid, the Combo Checks Report makes suggestions but you decide which changes to make.
Use the Combo Checks Report to speed up your analysis and help you to stay focused.
---
Take your writing to the next level: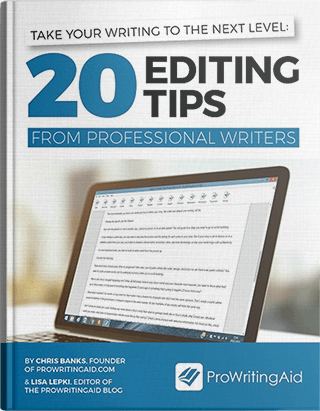 Whether you are writing a novel, essay, article or email, good writing is an essential part of communicating your ideas.
This guide contains the 20 most important writing tips and techniques from a wide range of professional writers.
---