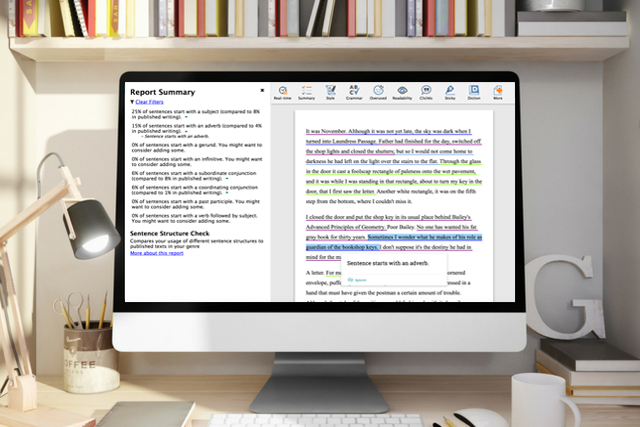 Varied sentence structures help you better emphasize words and ideas and keep your reader engaged.
Our new Sentence Structure report analyzes how you start each sentence in your text and compares your usage of different sentence structures to published texts in your genre.
It's important to learn how you start and structure your sentences. You might not realize that you consistently start your sentences with adverbs, for instance. When you use the ProWritingAid Sentence Structure report, you can see if you strongly prefer one form over another.
It's also useful to know how your work compares to averages in your genre. While every author obviously has a different voice, knowing the averages for your genre can help you make sure you're matching up to industry standards.
How to Use the ProWritingAid Sentence Structure Report
To use the ProWritingAid Sentence Structure report, head over to your desktop app. Once your file is pulled up click on the "Structure" icon.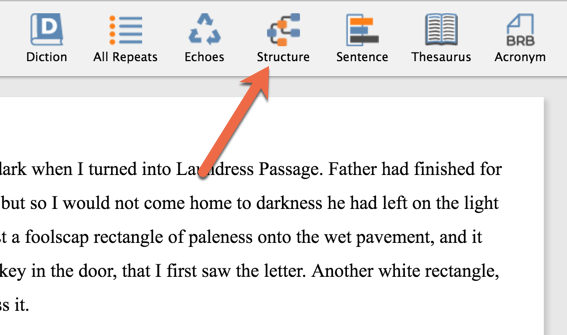 You'll see the report pop on the left.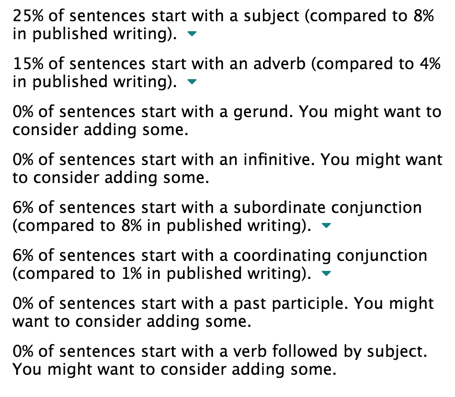 You'll also see your sentences underlined on the right. The colors of the underlines correspond to the different types of sentence starters you see on the left.

The report on the left shows you the breakdown of how you start each of your sentences. The report shows how many sentences you start with a subject, with an adverb, with a subordinate conjunction, and more.
Next to the number, you'll see how your percentage matches up with other work in your genre. You can see if your percentage is higher or lower.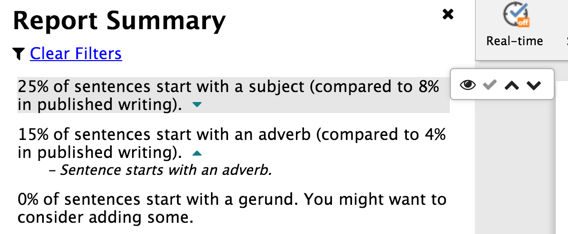 You can't make any direct changes to your work using the sentence structure report. Rather, this report is important for you to see how your text compares and what changes you should consider making. Remember, any changes you make to your text are optional - be sure to weigh whether the solution works for you and your work!
Have you tried out the Sentence Structure report yet? What do you think? Let us know in the comments!