When it comes to technology, later isn't fast enough. We want results now!
We know you probably feel the same way. That's why we're hyped about our real-time suggestions function. And guess what? It's finally on our desktop app!
If you're a ProWritingAid Premium user, you've probably already seen this brilliant feature on our web app. It looks something like this:
With the Real-time report in the upper left-hand corner, you'll get immediate feedback on your work as you type. Grammar, style, and spelling issues will all be underlined in blue, yellow, and red respectively. Click any of the three options from the dropdown menu to go to the first error of that kind. Then hover your cursor over highlighted text for suggestions and explanations.
We find this feature is handy for anyone with quick turnaround times, such as bloggers or students. Simply upload your work, get your feedback, and edit. Here it is on the desktop app: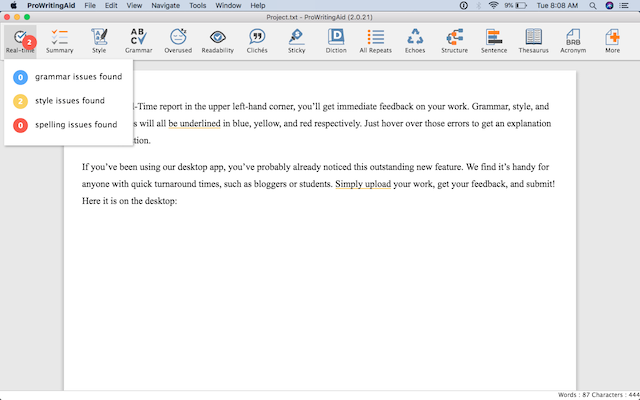 If for some reason you don't want to see those real-time suggestions, you can simply click the Real-time button to toggle them on and off.
To enjoy this new feature, make sure to update to the newest version of the ProWritingAid desktop app. Or, install our new ProWritingAid Chrome Extension to get Real-time editing suggestions wherever you write on the web.
Happy editing!