With technology, later isn't fast enough. We want results now!
We know you probably feel the same way. That's why we're hyped about our real-time suggestions function. You can access Realtime editing in our Desktop App, Web Editor, Office Add-In and in our browser extensions.
How to Use the Realtime Report
The report will run automatically when you open ProWritingAid and upload or create a document. If you don't see Realtime highlights in your document, click the Realtime icon in the upper left-hand corner to enable the report.
You'll get immediate feedback on your work as you type. The report highlights grammar, style, and spelling issues in blue, yellow, and red respectively. It looks something like this: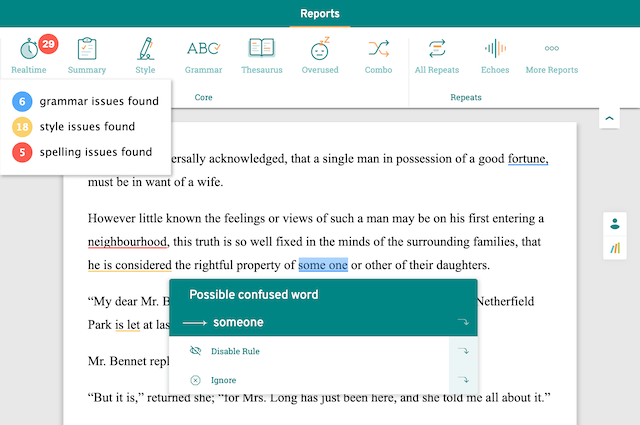 Click any of the three options from the drop-down menu on the left to go to the first error of that kind. Then hover your cursor over highlighted text for suggestions and explanations.
If you like a suggestion, click on it to insert it into your document. If the suggestion doesn't fit, or contradicts your purpose, hit 'Ignore', as below: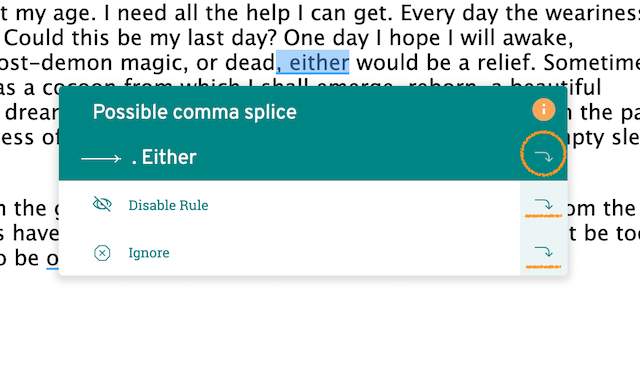 To work through suggestions quickly, use the arrows to the right of the box to move automatically to the next suggestion.
When you've finished using Realtime to make quick changes, you can hide these suggestions by clicking on the Realtime button to toggle them on and off.
Why is Realtime Useful?
This feature is handy for anyone with quick turnaround times, such as bloggers or students. Upload your work, get your feedback, and edit.
When you're writing quickly to get your ideas down on paper, you're not thinking about how those ideas will come across to your reader. Whether you're writing for your University instructors or for your blog's audience, it's important to make sure they can get to your point as easily as possible.
Rethink Your Writing
ProWritingAid won't always do all of your work for you, but it will lead you to rethink and restructure your writing to make it the best it can be.
Realtime isn't the same as your average spell checker. It will check for passive voice, readability improvements, comma splices, misspelled entity names (including names of prominent people, places and companies) and more, making your writing clearer and sharper.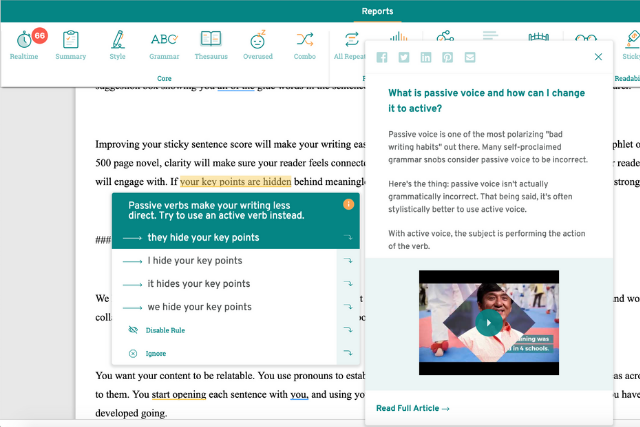 You can click on the orange 'i' next to a suggestion to read more about it. This is especially useful for students trying to put essay feedback into practice. If you've been told you use passive voice too often, when you're writing your next essay you can see where you've used passive voice and how you can restructure your sentence to avoid it.
Take the above example.
We have a passive sentence: If your key points are hidden behind meaningless words and flimsy language, your connection with your reader won't be as strong.
ProWritingAid suggests: 'They hide your key points'
The more obvious suggestion would be 'You hide your key points', leading to:
'If you hide your key points behind meaningless words and flimsy language, that connection won't be as strong.' 
This is a perfectly good active sentence, but let's look again at ProWritingAid's suggestion 'They hide'. 'They' refers to 'meaningless words and flimsy language', so let's change that out:
'Meaningless words and flimsy language hide your key points, weakening your connection with your reader.'
Now we have a stronger, active sentence that gets straight to the point. With ProWritingAid, you'll learn as you edit so you can become a better writer from the start.
Avoid Embarrassing Mistakes
If you frequently send important emails or represent yourself or your business on social media daily, Realtime can be a lifesaver. Whether you're a customer service agent communicating directly with clients or a CEO networking online, good grammar, spelling and writing style is a must.
With our browser extensions, Realtime highlights will appear anywhere you write online.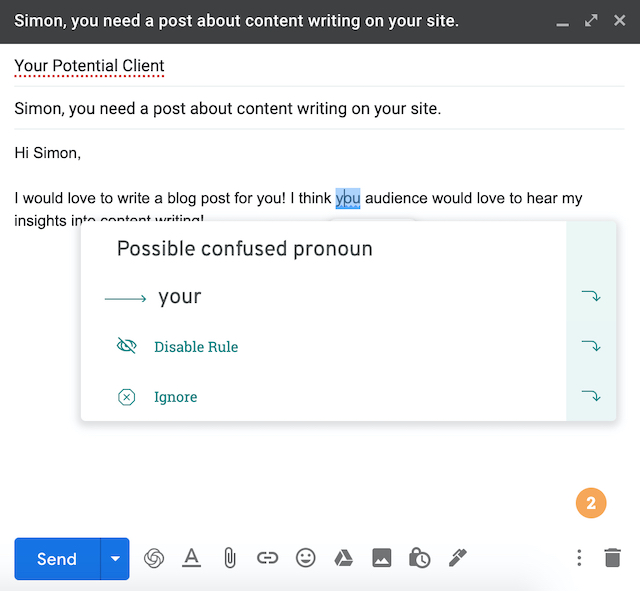 We all receive dozens of emails a day. There's nothing more frustrating than trying to work out what someone is trying to say from a poorly written email.
With Realtime, you'll see where you've made punctuation errors, typos you might have missed and readability improvements that will allow you to communicate as effectively as possible. Your recipients will thank you!
If you're writing a post on Facebook, grammar and spelling errors are an invitation for potential customers or readers to keep on scrolling. Even if you're not writing on behalf of a business, it's inevitable that your one viral tweet will be the one where you used the wrong 'your'.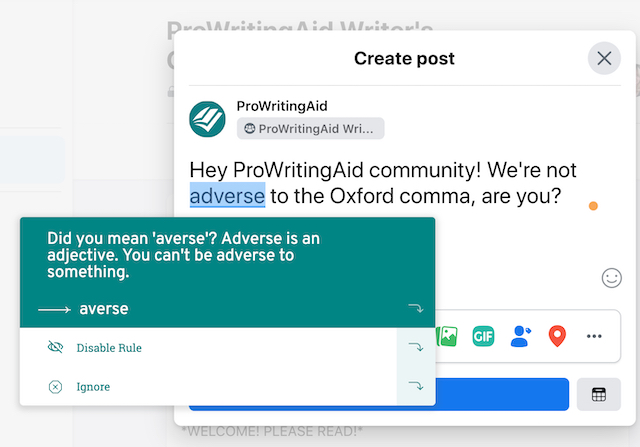 ProWritingAid's browser extensions run Realtime as you write, making sure that every tweet, post and share is word perfect.
Final Thoughts
The Realtime Report is you quickest route to better writing. Make edits as you write, or run the report on an article or essay to see where (and how) you can improve.
---
Try Realtime For Yourself