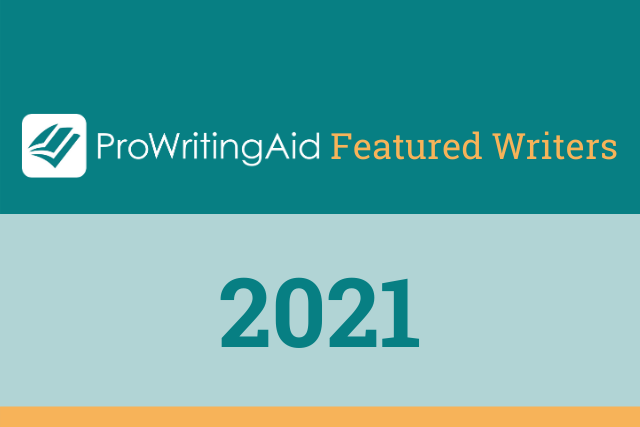 There are all kinds of writers in the ProWritingAid community, all with very different writing styles. In this new series of blog posts, we'll be featuring two ProWritingAid users each month to learn more about their writing processes and how ProWritingAid has helped them on their writing journey.
Keep reading to find out how real writers use ProWritingAid, and how you could be one of our next featured writers.
---
March's Featured Writers: Linda Santavicca and Tim Seabrook
March's featured writers are Linda Santavicca and Tim Seabrook. Linda is currently outlining her first fiction novel, and Tim will be publishing a fantasy novel later this year. Find out more about their processes and where they find inspiration below.
---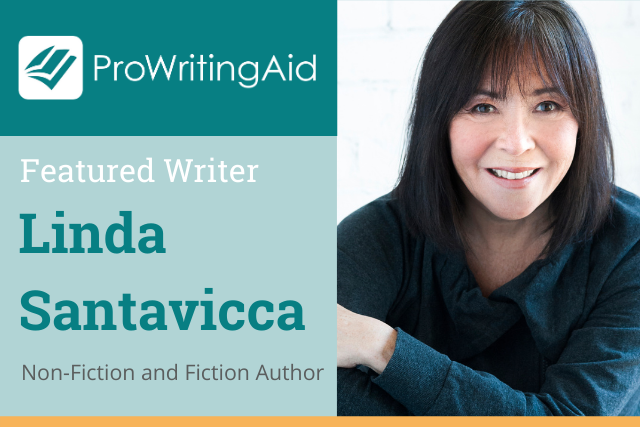 Writing inspiration comes from all kinds of places. In this featured writer interview with Linda Santavicca, she explains how her surroundings, faith, and love of sport inspired her as she took the leap into writing fiction. Over to Linda!
What are you writing?
My first manuscript was faith-based, non-fiction however, since I am a Board member and co-editor to an online newsletter and a blogger for a non-profit, I am not locked into any specific genre. Currently, I am outlining my first fiction novel.
Where do you find inspiration?
Given I am curious and interested in so many things, it's hard to pinpoint my core inspiration,but for starters, it comes first from my faith. I am defined by what I believe. As a professional in the performing arts, I get fueled by music, theater, and film. And, as an athlete, my daily runs and seasonal snow-skiing trips continue to invigorate me, not just physically but emotionally. My love for the mountains bolsters my spirit, especially from a chairlift. I find all relationships to be inspirational whether they are healthy ones or ones that challenge me. But again, it's my faith that inspires me the most.
Tell us about your writing and editing process.
After several drafts, I edit as best I can so that I can pass it on to a professional developmental editor. My last editor not only did the developmental editing but also the line editing as well as the proofing.
What do you love about writing and editing?
How the first draft is just a glut of words. Some of it makes sense but if it fell into the hands of a reader, ouch! But, as a writer, I love taking the first draft and running a machete through it as well as adding more details to create a second draft that encourages me to keep going. By the time the first draft has gone through the wringer several times, the story comes to life. But the best is when I get to tweak the final draft. From start to finish, the process is like watching a film being shot out of sequence and then seeing it on screen. Mastery!
What do you find difficult about writing and editing?
I love to write but when I have a million other commitments, I lose my drive. Once I find order and focus, I can write. Before the pandemic, I went to the library every day from 9 a.m. to 2 p.m. to write. The library gave me space and time to make progress. Once the country went into lockdown, the library shut down and thus, I had to write from my home office. I continued my daily discipline, but it was an adjustment.
As for editing, at first it was a real learning curve. My editor worked on my manuscript through Google docs where she made comments to the side of every edit and explained the changes and why. Through that process, I learned much about writing and editing and all by working virtually with my editor. It was a real perk to learn the nuts and bolts of editing while my manuscript was being professionally edited.
Which is your favorite ProWritingAid report? Why?
The Readability Report: I think the tendency to use big words in order to appear educated and/or unique can sometimes be a hindrance to the reader. I have learned to keep it simple without being redundant. Good writing is not about being affluent in knowledge but about being an influence and invigorate curiosity.
About Linda's work
You can find out more about Linda's work and writing process on www.lindafroehlichsantavicca.com and www.pressingbeyond.com, and follow her on Instagram, Twitter, and Facebook.
---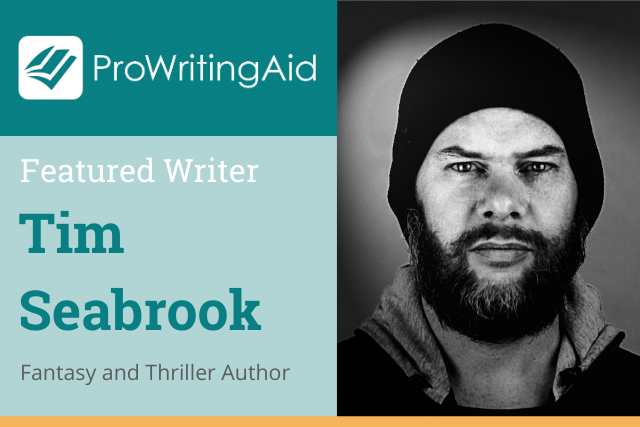 Tim Seabrook is a fantasy and thriller author who used to hate editing and then had a change of heart. Find out why in this interview! Over to Tim.
What are you writing?
The current project is dark fantasy fiction set in its own world, which my co-author and I have developed from scratch. I also have a murder thriller set during Victorian times in the planning/research stage that I am writing alone.
Where do you find inspiration?
I get inspiration from conversations with friends, TV, film, books, and life all around me. Like describing the crew being shaken during a rocket launch by comparing it to riding a suspension-shot bus on pot-holed roads, or walking through the maze of corridors of an indoor market and using that as a floor plan of a city.
Another bonus for me is living in a foreign country. It provides a cultural diversity to perceptions and actions and how I look at them, which makes adapting them to a story all the more fun.
Tell us about your writing and editing process.
Okay, let's split this down.
Writing—I have tried doing this both ways, pantsing and plotting, and without a doubt, plotting is the only way I can make a story progress and make sense. I try to keep outlines brief with the basics of who, where, and why, and then build from there. I use Scrivener to write with. Its metadata sections are a lifesaver for tracking characters and events, as well as ensuring I'm using all the senses.
Editing—Working with a critique partner helps to identify issues during the writing stage. After that, the first edit is a full printout and red pen affair, usually in coffee shops or a park (during summer) where there's no distraction of the internet and social media. After making those edits, it's fine tuning the grammar, punctuation, etc. using ProWritingAid's desktop software and a tolerant hand to not make further changes.
What do you love about writing and editing?
I love the flow of words as they pour out onto the page. Seeing a world and its characters develop a life of their own and then being able to share them with others. Working with a co-author adds another dimension to that and makes the writing process more involved. It's an addictive process and the more I write, the more ideas seem to wait in the wings.
If you'd have asked me when I first started editing, the categorical answer to what I loved about it would have been a resounding "Nothing!" But as I progress down this road and learn more about the process, I have found the first draft is a muted version of the story and the editing peels back the layers until the masterpiece shines through (or at least, I hope it does.)
What do you find difficult about writing and editing?
I have two significant challenges with writing. Dialogue—What sounds great in my head doesn't always transcribe well onto a page—and excessive description. The feedback on the former has been positive, distinctive character voices and interesting conversations.
The latter, however, is my nemesis. You could build a diorama or choreograph movement from my first draft descriptions and is the prime focus of much of my editing. Like everything, it is a learning experience on what and where to cut to give a reader enjoyment without confusion.
Which is your favorite ProWritingAid report? Why?
Requesting to choose a singular report as a favorite is cruel. I need to clarify a couple of other contenders.
Vying and tying for second place are the Combo and Summary Reports.
The Summary provides a great overview of your document with simple visual graphs. An overall "heads-up" of what's working and where.
The Combo is fabulous for its content. However, if you're using it on an unedited first draft, the amount of information displayed at once can be overwhelming.
Therefore, the "twist-my-arm favorite" is the Style Report. With eleven key sections, it breaks down areas for improvement. From readability enhancements, passive verbs, adverbs in and out of dialogue, to name but a few, it helps improve my writing and resolve issues I am not always aware of.
Where can people find your work?
Our first book will be published before the end of Spring 2021. Details about us and articles we've written are on our website.
---
February's Featured Writers: Kimberly Russell and Alyson Sheldrake
February's featured writers are Christian fiction author Kimberly Russell, and memoir author Alyson Sheldrake. Find out how ProWritingAid has helped them on their self-publishing journeys.
---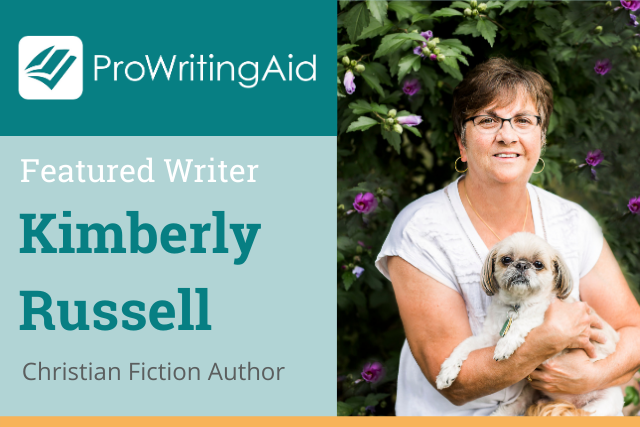 Kimberly Russell is an author of Christian fiction who will self-publish her first novel in the spring. Find out more about her editing process below.
Where do you find inspiration?
My current WIP is an allegory, inspired by the teachings of my church and journal conversations with God.
Tell us about your writing and editing process.
Long and drawn out! This project has been a five-year process due to life getting in the way. When I finally got into Scrivener, it took off. It is currently in final editing stages with self publication in the spring.
What do you love about writing and editing?
Not much about editing—although I'm getting better at it. I adore the creative process and getting lost in the world of my characters. It's exciting to see what they do!
What do you find difficult about writing and editing?
Editing has been difficult only because I'm a novice—I had to come up with my own processes. After much research, starts & stutters, and revamping of to-dos, I feel like I have a handle on what works for me and I'm hoping my future endeavors will come off a little easier.
Which is your favorite ProWritingAid report? Why?
I love the Summary Report and then the ability to zero in on those things that I struggle with the most. It has made me a better writer, and I learn from it all the time.
About Kimberly's work
You can find out more about Kimberly and her work at kimberlykrussell.com, and follow her writing journey on Facebook.
---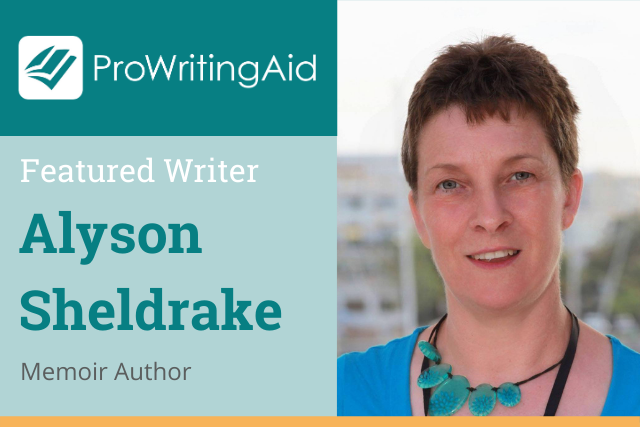 Alyson Sheldrake has written and self-published two memoirs this year, both about her family's move to live in Portugal. She has four books planned for 2021, all compilations of stories.
Where do you find inspiration?
I live in the beautiful Algarve in Portugal. Inspiration is all around me. I also love meeting and chatting to other expats about their lives, and what inspired them to move abroad.
Tell us about your writing and editing process.
My first book was a completely new experience to me, and I had no idea what I was doing! The second book, my sequel, was written using ProWritingAid, and I completed an online diploma in editing and proof-reading. The difference between the two books was amazing. I get up at 5 a.m. each morning and write for 2 hours before the world is stirring and while my brain is at its most active.
What do you love about writing and editing?
I love the whole craft of writing, from the first germs of an idea forming in my head, to seeing it all come together on the page. Creating and self-publishing a book is a fantastic thrill, and I also love the marketing and promotion that runs alongside the writing.
What do you find difficult about writing and editing?
I paid for a professional editing company to format my books. I am happy designing my own covers, but the formatting part left my head spinning! It was money well spent.
Which is your favorite ProWritingAid report? Why?
I love Echoes. I am often astonished at how many times I have managed to use the same word or phrase—sometimes even in the same paragraph. This is a fantastic tool for spotting issues.
About Alyson's work
You can find out more about Alyson's work on her website and follow her adventures in Portugal on her blog. You can also follow her on Facebook, Twitter, Instagram, and Pinterest.
---
January's Featured Writers: Judith Moffitt and Fred Berri
January's featured writers were fantasy and science fiction author Judith Moffitt, and crime and murder-mystery author Fred Berri. Read on to find out all about their writing processes.
---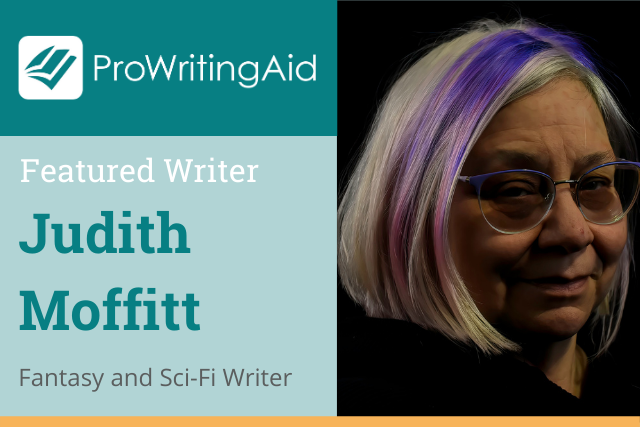 Judith Moffitt is a science fiction and fantasy author who also dabbles in essays and poetry. She loves world-building, and also publicly posts gratitudes for several months leading up to Thanksgiving.
Where do you find inspiration?
Inspiration is everywhere. One fantasy novel I am currently writing is based on my personal experience on the invisibility of widows. I saw an article about herders painting reindeer horns with bioluminescent paint and that will almost certainly become a fantasy short story.
The idea for my first novel came from a fan fiction for the TV show Firefly. A short story collection on swords came from a comment from a friend. The trans characters in my Coup trilogy are based on the ordinary lives (spouses, kids, jobs—not personalities) of some trans people I know.
Tell us about your writing and editing process.
Rough planning—I figure out the beginning, the end, and main characters. Then I write. After about six chapters when the characters and their interactions have become worn in, I go back and plan the rest of the book. I just do better when I get to really know the characters better before I decide what will happen to them.
Next, I compile the document, send it to my Kindle, and just read it as if it were a book written by someone else. I let it lie fallow for at least a month. I read it again and take notes. I create a list of structural changes I want to make. Then I write my second draft. I run the Scrivener file through ProWritingAid and polish. Then I read again and make notes of places to fix awkward sentences. I often read aloud at this point.
What do you love about writing and editing?
I am one of those people who is both strongly creative and strongly analytical. Coming up with ideas and doing the first draft feeds my creative soul. I shed ideas like mad. Currently, I have one science fiction novel and one humorous short story about dressage that I've published, three other stories in editing, five in drafting, and at least 10 ideas I haven't gotten to yet. I also have a completed draft of a poetry book on grief that I am trying to figure out how to format for publication.
Editing feeds the analytical side of me. It's easiest if you pretend you are reading someone else's work. But figuring out what is working and what isn't is a fascinating thing to do.
What do you find difficult about writing and editing?
I hate polishing the picky little things. I get bored and want to just move on. Then I miss things. It's not that I don't know where those pesky commas belong or that I need to close those quotation marks, but after a few minutes of this kind of editing, I stop seeing those things.
Which is your favorite ProWritingAid report? Why?
Given my previous answer, obviously the Grammar and Style reports are important to me. They take a lot of the drudgery out of getting all those picky little things right. The other report I find very useful is the Sticky Sentences. Fixing most of those will punch up my work quite a bit.
I love using ProWritingAid, but I think the key is that you have to use it analytically. Not all suggestions are right for your particular draft. You have to use your judgment to decide. Any five authors using ProWritingAid would take the same document and edit it in five different ways. The suggestions in any report are helpful, but not always correct for what I am trying to say. Still they point me in a direction. And I love that I can directly edit in my Scrivener project.
About Judith's work
A Line in the Sand is a space opera about a governmental coup. It is the first book of a trilogy. You can find it on Amazon. The sequel is in the polishing stage and will soon be published. The third book is about 25% done.
Coming soon are two fantasy novels set in very different universes. Both have completed first drafts and are in the editing process.
You can find Judith on Facebook and Instagram.
---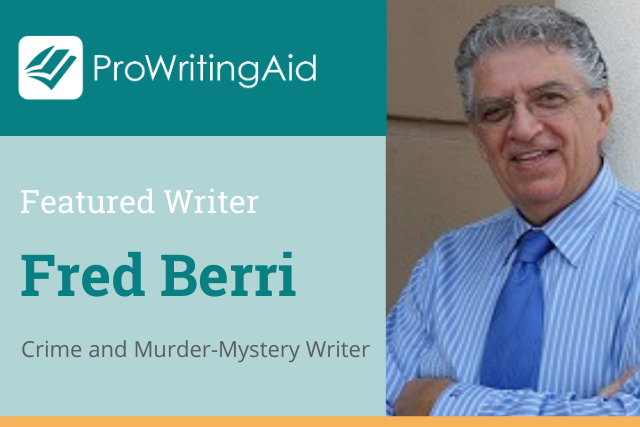 Fred Berri is an author of murder-mystery, crime, and children's books. He uses ProWritingAid to feel confident in his editing at every stage.
Where do you find inspiration?
My tag line reads; "Twist, turn and bend the truth. Now it's fiction."™
Tell us about your writing and editing process.
I set a certain time to write. Usually in the evenings. I use ProWritingAid to help me edit as I write. I prioritize a few categories for checking to be sure I have the basics covered before I go on to another chapter. Some like to blitz through and then go back. I don't. After I finish, then I'll go back to re-read and make changes. When that is done, I send to an editor for story content and suggestions for changes.
What do you love about writing and editing?
I love the creativity of writing. It's a story that I have come up with and I love to share it with others. Using ProWritingAid helps me with the editing process. It's easy to use and offers a lot of help.
What do you find difficult about writing and editing?
Although I create a plot and characters before I write, sometimes I come to a dead end, thinking "where I can take this story?" and "what would readers really like?" Even with a plot outline, I guess I'm a pantser writing by the seat of my pants.
Which is your favorite ProWritingAid report? Why?
I like the Readability Report because when the paragraph is easy to read, I know I can move on.
About Fred's work
Fred's work is available on fredberri.com, Amazon, and Barnes & Noble.
You can find out more about Fred and his work on LinkedIn.
---
Would You Like to Be Featured?
Submit your answers through this form for a chance to be featured this year! We're looking for a whole range of writers—fiction, nonfiction, content marketers, academic, business, freelance, technical, or any other kind of writer.
We'd love to hear all about your writing process, what you love about writing, and what you find difficult.
---
Find everything you need to know about using ProWritingAid in our Ultimate Guide: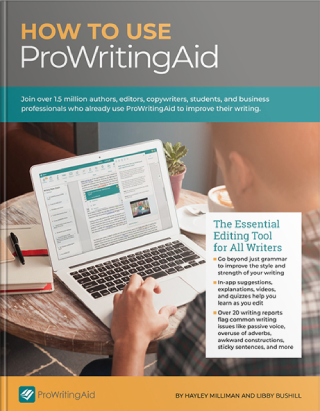 Join over 1.5 million authors, editors, copywriters, students, and business professionals who already use ProWritingAid to improve their writing.