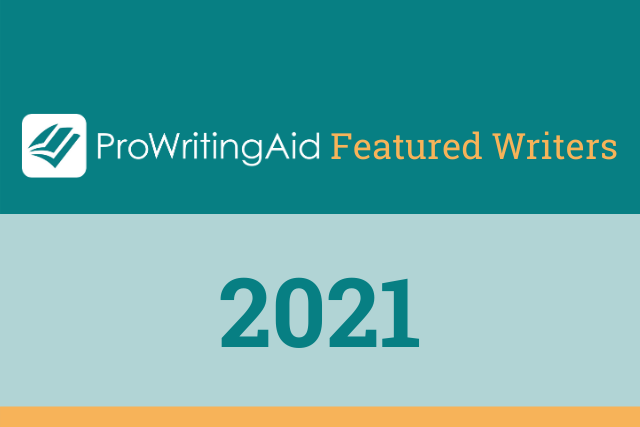 There are all kinds of writers in the ProWritingAid community, all with very different writing styles. In this new series of blog posts, we'll be featuring two ProWritingAid users each month to learn more about their writing processes and how ProWritingAid has helped them on their writing journey.
Keep reading to find out how real writers use ProWritingAid, and how you could be one of our next featured writers.
---
January's Featured Writers: Judith Moffitt and Fred Berri
January's featured writers are fantasy and science fiction author Judith Moffitt, and crime and murder-mystery author Fred Berri. Let's meet them and find out all about their writing processes.
---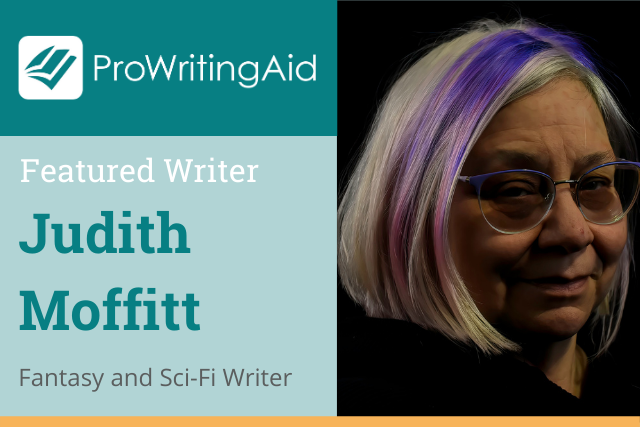 Judith Moffitt is a science fiction and fantasy author who also dabbles in essays and poetry. She loves world-building, and also publicly posts gratitudes for several months leading up to Thanksgiving.
Interview with Judith Moffitt
Where do you find inspiration?
Inspiration is everywhere. One fantasy novel I am currently writing is based on my personal experience on the invisibility of widows. I saw an article about herders painting reindeer horns with bioluminescent paint and that will almost certainly become a fantasy short story.
The idea for my first novel came from a fan fiction for the TV show Firefly. A short story collection on swords came from a comment from a friend. The trans characters in my Coup trilogy are based on the ordinary lives (spouses, kids, jobs—not personalities) of some trans people I know.
Tell us about your writing and editing process.
Rough planning—I figure out the beginning, the end, and main characters. Then I write. After about six chapters when the characters and their interactions have become worn in, I go back and plan the rest of the book. I just do better when I get to really know the characters better before I decide what will happen to them.
Next, I compile the document, send it to my Kindle, and just read it as if it were a book written by someone else. I let it lie fallow for at least a month. I read it again and take notes. I create a list of structural changes I want to make. Then I write my second draft. I run the Scrivener file through ProWritingAid and polish. Then I read again and make notes of places to fix awkward sentences. I often read aloud at this point.
What do you love about writing and editing?
I am one of those people who is both strongly creative and strongly analytical. Coming up with ideas and doing the first draft feeds my creative soul. I shed ideas like mad. Currently, I have one science fiction novel and one humorous short story about dressage that I've published, three other stories in editing, five in drafting, and at least 10 ideas I haven't gotten to yet. I also have a completed draft of a poetry book on grief that I am trying to figure out how to format for publication.
Editing feeds the analytical side of me. It's easiest if you pretend you are reading someone else's work. But figuring out what is working and what isn't is a fascinating thing to do.
What do you find difficult about writing and editing?
I hate polishing the picky little things. I get bored and want to just move on. Then I miss things. It's not that I don't know where those pesky commas belong or that I need to close those quotation marks, but after a few minutes of this kind of editing, I stop seeing those things.
Which is your favorite ProWritingAid report? Why?
Given my previous answer, obviously the Grammar and Style reports are important to me. They take a lot of the drudgery out of getting all those picky little things right. The other report I find very useful is the Sticky Sentences. Fixing most of those will punch up my work quite a bit.
I love using ProWritingAid, but I think the key is that you have to use it analytically. Not all suggestions are right for your particular draft. You have to use your judgment to decide. Any five authors using ProWritingAid would take the same document and edit it in five different ways. The suggestions in any report are helpful, but not always correct for what I am trying to say. Still they point me in a direction. And I love that I can directly edit in my Scrivener project.
About Judith's Work
A Line in the Sand is a space opera about a governmental coup. It is the first book of a trilogy. You can find it on Amazon. The sequel is in the polishing stage and will soon be published. The third book is about 25% done.
Coming soon are two fantasy novels set in very different universes. Both have completed first drafts and are in the editing process.
You can find Judith on Facebook and Instagram.
---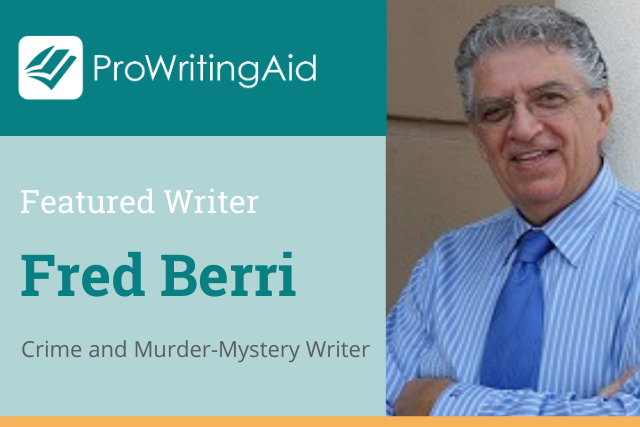 Fred Berri is an author of murder-mystery, crime, and children's books. He uses ProWritingAid to feel confident in his editing at every stage.
Interview with Fred Berri
Where do you find inspiration?
My tag line reads; "Twist, turn and bend the truth. Now it's fiction."™
Tell us about your writing and editing process.
I set a certain time to write. Usually in the evenings. I use ProWritingAid to help me edit as I write. I prioritize a few categories for checking to be sure I have the basics covered before I go on to another chapter. Some like to blitz through and then go back. I don't. After I finish, then I'll go back to re-read and make changes. When that is done, I send to an editor for story content and suggestions for changes.
What do you love about writing and editing?
I love the creativity of writing. It's a story that I have come up with and I love to share it with others. Using ProWritingAid helps me with the editing process. It's easy to use and offers a lot of help.
What do you find difficult about writing and editing?
Although I create a plot and characters before I write, sometimes I come to a dead end, thinking "where I can take this story?" and "what would readers really like?" Even with a plot outline, I guess I'm a pantser writing by the seat of my pants.
Which is your favorite ProWritingAid report? Why?
I like the Readability Report because when the paragraph is easy to read, I know I can move on.
About Fred's Work
Fred's work is available on fredberri.com, Amazon, and Barnes & Noble.
You can find out more about Fred and his work on LinkedIn.
---
Would You Like to Be Featured?
Submit your answers through this form for a chance to be featured this year! We're looking for a whole range of writers—fiction, nonfiction, content marketers, academic, business, freelance, technical, or any other kind of writer.
We'd love to hear all about your writing process, what you love about writing, and what you find difficult.
---
Find everything you need to know about using ProWritingAid in our Ultimate Guide: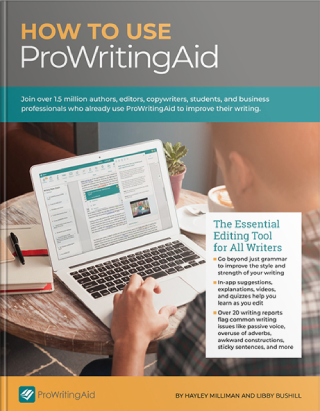 Join over 1.5 million authors, editors, copywriters, students, and business professionals who already use ProWritingAid to improve their writing.