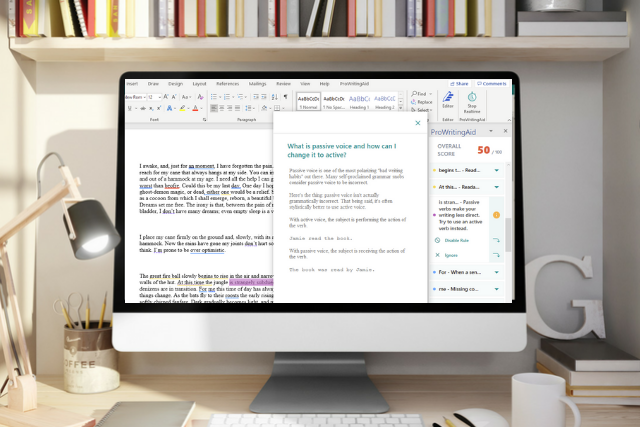 ProWritingAid's Microsoft Office Add-In lets you use all of ProWritingAid's powerful features where you write. When installed, you can access the full editing toolbar in Microsoft Word and Microsoft Outlook.
In this article, we'll show you how to get started with the ProWritingAid Microsoft Office Add-In.
How to Install the Microsoft Word Add-In
Our Office Add-In is for Microsoft Office 2007, 2010, 2013, 2016 and 2019, running on any version of Microsoft Windows.
Step #1: Download the Add-In From ProWritingAid.com
To begin, visit our website to download the Add-In. You should click the button that says "Download ProWritingAid Add-In." If you want to use the Legacy (old) version, click here.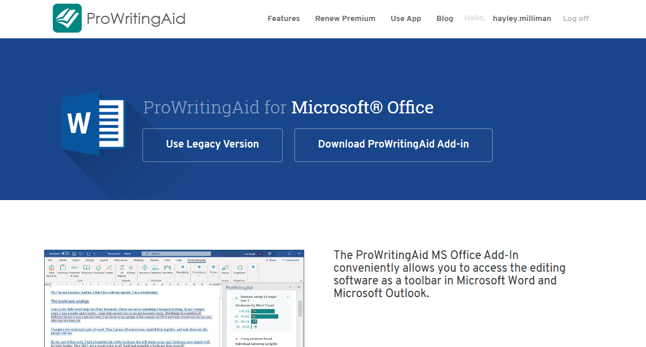 Step #2: Install the Add-In on Your Computer
A small file called ProWritingAidSetup.exe will begin to download.
When it's finished downloading, click it and a window will open asking you to agree to the license terms and conditions.
Once you click the "agree" box, you will be able to begin installing.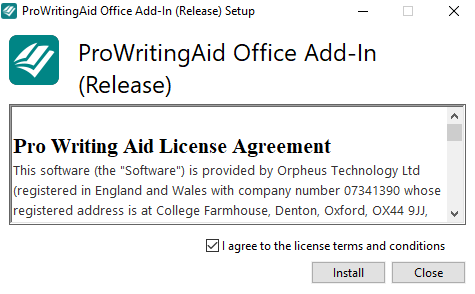 Step #3: Enter Your License Information
Once the Add-In is successfully installed, restart Microsoft Word.
A box will pop up asking you to enter your license details.
If you have a license already, click "Setup your license."
If you don't have a license, click "Start 14-Day free trial" to create an account.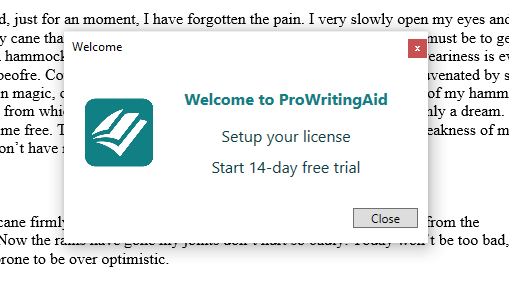 For those of you that have a license, input your account information and hit "Log in." Then, you'll have immediate access to the tool's full functionality.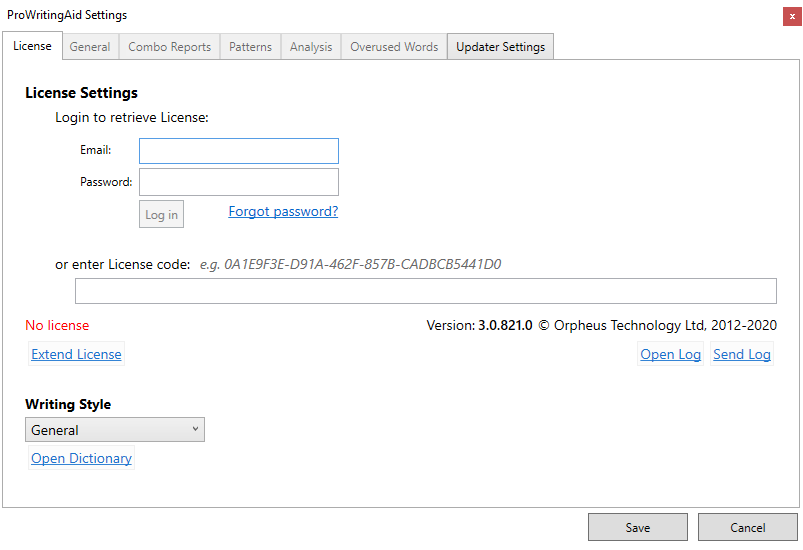 Step #4: Start Editing
Once your account information is in place, you're ready to go! You have 20 powerful writing reports at your disposal to make your work stronger.
Edit While You Write: How to Use the Realtime Checker
One of the most powerful tools on the new ProWritingAid Office Add-In is the Realtime Checker.
The Realtime Checker gives you feedback on your work as you write. It catches grammar and style errors like misspelled words, passive voice, hard-to-read constructions, and more.
Here;s an example of what it looks like: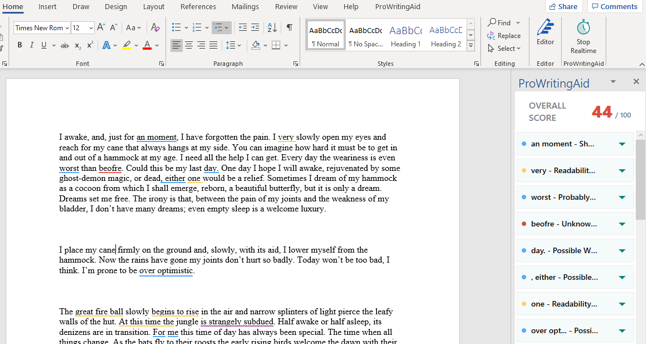 To fix an error, simply click on the green drop-down menu to learn more about the mistake.
You'll be able to see an explanation for why we are suggesting the change.You'll also have the option to make the change, ignore the change, or disable the rule that was triggered.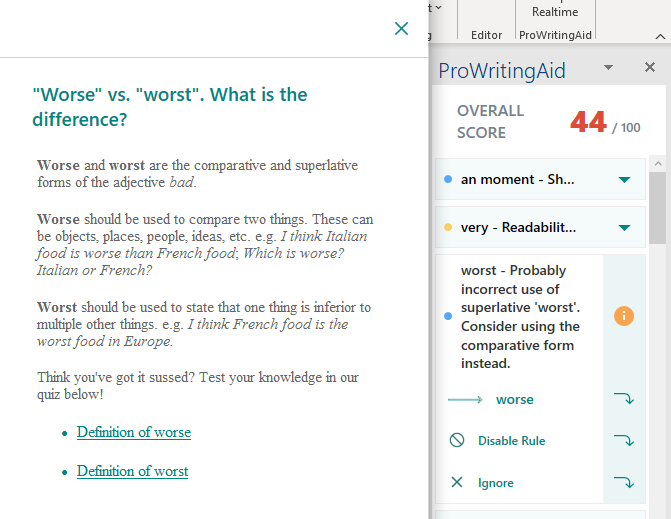 If you don't want to use the Realtime Checker, you can always click "Stop Realtime," which will stop the automatic reporting. You can turn it back on when you're ready by clicking "Start Realtime" or you can click into the ProWritingAid Toolbar to use any of the other tools.
The Word Add-In Toolbar
ProWritingAid analyzes your writing and highlights potential improvements.
Each ProWritingAid report focuses on a particular area of your writing. Some reports will provide quick fixes that will allow you to polish up a short piece of writing. Other reports will go in depth and reveal areas where you can do more to improve your writing style.
With the Word Add-In, you get access to all of ProWritingAid's reports.

The Core Reports
ProWritingAid's Core Reports are the six reports that will be useful to you, no matter what kind of writer you are. Some provide quick fixes that allow you to polish up a short piece of writing, others go deeper to help you add specificity and strength.
These reports include:
The Summary Report: ProWritingAid's Summary Report is an all-in-one look at the statistics in your writing. And we don't just mean the basics, like word count, sentences, or paragraphs. The Summary Report goes into real depth and points out key actions you need to take to strengthen your writing.
The Grammar and Style Report: The Grammar and Style Report is like Microsoft Word's grammar checker but with superpowers. We use the latest artificial-intelligence algorithms to catch all those issues that Word's grammar checker misses. We also know that there is a lot more to good writing than just correct grammar, and these suggestions are based on the same ideas you would learn in a college writing course.
The Overused Words Report: There are many words and phrases in the English language that are overused and indicative of poor writing style. Intensifiers like very, for example, actually weaken your writing, whilst hesitant words like just or maybe make your writing feel unconvincing. This report helps you locate and fix those mistakes.
The Combo Report: The Combo Report lets you combine reports so you click one button to see all results instead of running several reports consecutively. It not only saves you time when editing, but it helps you focus on those areas you know need improvement.
The Repeats Reports
Writers often mistakenly use the same word several times in the span of one paragraph because it's foremost in their mind. That's where these reports come in: they highlight repeated words and phrases in your document so you can use a more diverse vocabulary.
The Structure Reports
Unlike other editing tools, ProWritingAid creates a visual representation of your work so you can identify areas for improvement. Included in this section are:
The Sentence Length Report: ProWritingAid creates a visual representation of your sentence lengths so you can pick out areas where you should add more variety.
The Transitions Report: Transition words are the road signs in writing—they help your reader move smoothly between ideas. This report helps you identify the percentage of transitions in your sentences.
Readability
The Readability Reports help your reader understand your ideas as easily as possible. Reports in this section include:
The Readability Report: The ProWritingAid Readability Report looks at factors like sentence length, syllable density, and word familiarity to tell you how easy it is for someone to read your work.
The Sticky Sentences Report: Sticky sentences are another sign of poor readability. This report highlights your usage of "glue words" so you can make your work more clear.
The Diction Report: When it comes to writing, less is more. Make every word count. Why say in close proximity to when you can say near? This report helps you find and eliminate these unnecessarily verbose phrases.
Consistency
The Consistency Check highlights inconsistencies of spelling, hyphenation, capitalization, and punctuation. It also checks to make sure that you are consistently writing in either American English or British English.
House
With the House Report, you can create customized reports to look for specific issues based on your needs.
Need to add a specific sports team's name to your dictionary? No problem. Want to ensure a specific term is always auto-corrected for another? Easy! You can accomplish all of that with the House Report.
Plagiarism
Plagiarism is a major concern for many people, especially those writing academic works. The plagiarism checks performed by ProWritingAid will check your work against over a billion web pages and articles to make sure that you have correctly cited any unoriginal content.
Become a Better Writer with the ProWritingAid Word Add-In
ProWritingAid is the only platform that offers world-class grammar and style checking combined with more in-depth reports to help you strengthen your writing. We also include articles, videos, and quizzes to help you learn from your mistakes and improve your craft as you go.
These features are all available to you in the Word Add-In. When ProWritingAid finds a mistake, you can click into to see information about where you erred.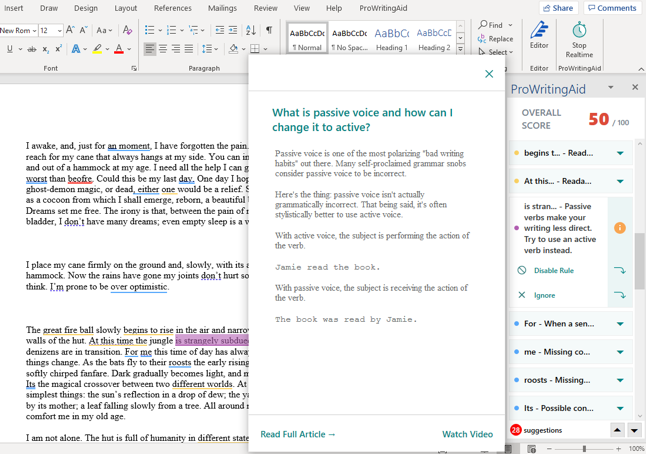 If you want to learn more, you can click "Read Full Article" to get an in-depth explanation of the error, as well as sample sentences and quizzes to help you practice.
For those of you that learn better with video, we are adding more videos to the tool every week. You can click "Watch Video" to access quick, fun tutorials that will teach you more about a specific grammar or style concept.
ProWritingAid + Microsoft Office: Edit Where You Write
Ready to use the ProWritingAid MS Office Add-In? Click here to get started immediately!