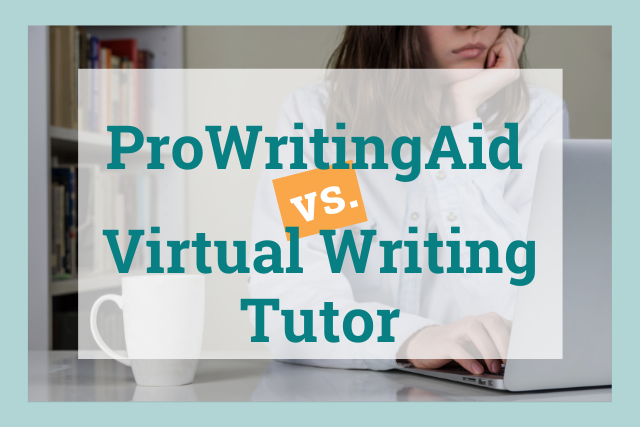 Grammar mistakes are a writer's worst enemy. They make you look unpolished and could even affect your credibility. Fortunately, there are grammar checkers you can use to stop them in their tracks.  
But these editing tools do more than just highlight grammatical errors. They also pick out style and spelling errors, explain incorrect word usage, propose alternative words or phrases, and enhance readability.
Virtual Writing Tutor and ProWritingAid both offer editing tools that can be useful to students and educators. But which is the best one for you? Read on to find out.
What Is ProWritingAid?
ProWritingAid is an editing software that helps all kinds of writers fix grammatical, style, punctuation, and readability errors. Its reports-based system helps you assess your writing in key areas like spelling and grammar, clarity, passive voice, transition usage, consistency, wordiness, and more.
Because every writer (and document) is different, it comes with a set of tools to help you tailor the feedback you see to your purpose. We'll take a look at some of the best features for students and teachers throughout the article.
Our premium online grammar checker tool and style editor acts as your personal writing coach, helping you become a better writer, no matter what your style or writing level is.
How Does ProWritingAid Work?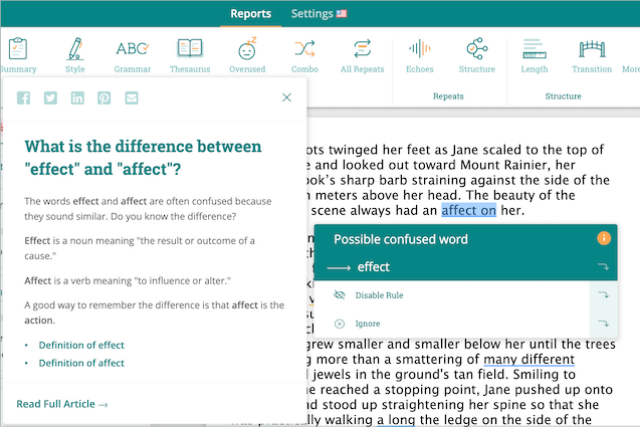 ProWritingAid highlights potential mistakes as you work, helping you produce clean content. You'll see grammar, spelling, and style suggestions in real time so you can fix errors as you write. When you select an academic document type, you'll see suggestions tailored to your purpose, such as potential sentence fragments and passive voice.
Then, it helps you go deeper with over 20 reports on key areas of your writing, like repetitive words, diction (to remind you to avoid phrases like "I think"), and sticky sentences.
The Summary Report gives you overall feedback on your writing before you've even submitted it to your instructor. You'll see goals for your document, as well as helpful visualizations of your entire document's readability, sentence lengths, and more.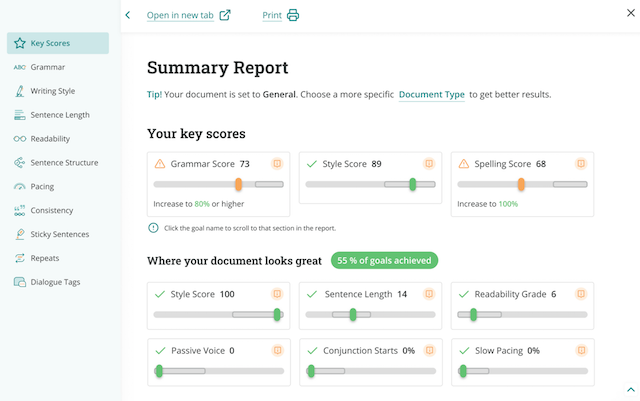 What Is Virtual Writing Tutor?
Virtual Writing Tutor is different from other grammar checkers on the market because it offers you detailed reports based on the IELTS (International English Language Testing System) exam rubric. You'll see graphs showing you how many sophisticated words you have used, the strength of your argument, and whether you have maintained your thesis statement throughout.
While you can't rely on these reports to give you a definite idea of what your essay will score, they are helpful when trying to work out what examiners are looking for and how you can get there. It also offers a read-aloud feature to help you check that your writing reads well.
Virtual Writing Tutor is completely free to use, and if you sign up for a free account you can enter a higher word count (up to 3,000 words).
Like ProWritingAid, the software can also help you you check grammar, spelling, and punctuation errors. However, the interface is far less intuitive than ProWritingAid's, and it won't pick up as many errors.
How Does Virtual Writing Tutor Work?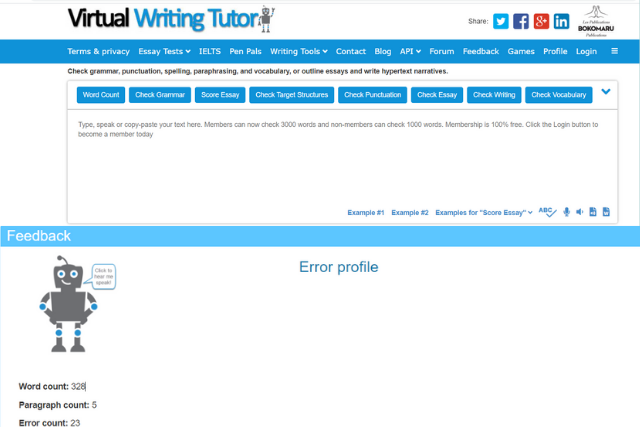 Virtual Writing Tutor works by producing reports that you have to review on a separate screen to your text. That means that when you want to update your writing to fix an error, you have to scroll or exit out of the report screens. This gets frustrating quickly.
There are several reports you can run on your essay in the tool:
Check Grammar
Score Essay
Check Target Structures
Check Punctuation
Check Essay
Check Writing
Check Vocabulary
Before you run a report, you'll see a screen like this that allows you to select what you'd like to see in your report: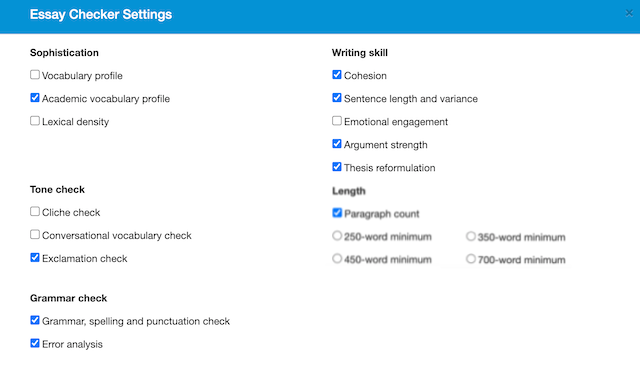 These reports can definitely give you some useful information, but they are quite confusing to set up. It's not immediately obvious what the difference is between "Check Essay" and "Check Writing", and if you're looking for help understanding how to write a better essay, trying to decide what should be in the report can be difficult.
With ProWritingAid, each report corresponds to a key area of your writing like "Transitions", "Repeats", and "Structure". The most important reports for your purpose are listed as Goals in a side panel so you can track your progress on the same screen that you write in.
Comparing Virtual Writing Tutor and ProWritingAid
To compare the two online editing tools, we take a quick look at their common features, the differences, and what stands out.
1. Grammar Checking Capabilities
Both Virtual Writing Tutor and ProWritingAid can help you with basic grammar correction.
But ProWritingAid goes much further. It also checks for contextual errors and combines suggestions with articles, quizzes, and video content to make writing fun, exciting, and interactive. As a student this makes it easier to learn and understand grammar rules.
Our software shows you how to make quick improvements to your content and also widens your vocabulary. It offers 20+ different reports, detailed explanations of the highlighted errors, suggests corrections, proposes alternative sentence lengths, and improves overall readability.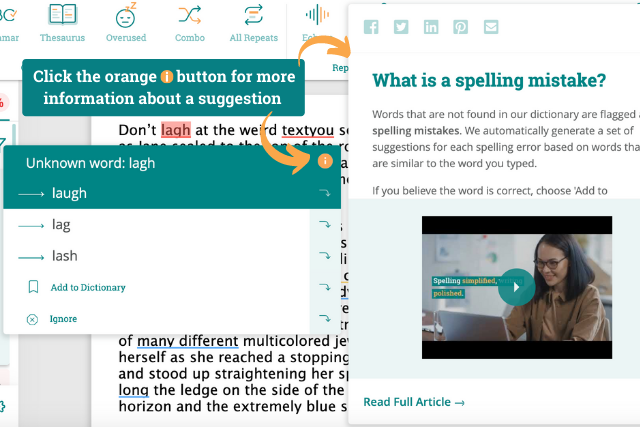 2. Integrations
You can integrate Virtual Writing Tutor with most websites and applications. This includes integration with FieldStudy.com, a vocabulary checker that enriches your vocabulary with words applicable in specific studies.
ProWritingAid integrates seamlessly with several applications including:
And with our browser extension, ProWritingAid's suggestions also appear on:
Medium
Twitter
Gmail
Facebook
Wattpad
These can be accessed through our browser extensions for Google Chrome, Safari, Firefox, and Edge.
3. In-Depth Reports
This is where we see a stark contrast between the two grammar checkers. Virtual Writing Tutor provides detailed continuous feedback on grammatical errors, explains the errors, and suggests ways to correct them while including links to online resources.
ProWritingAid goes a step further, featuring over 20 in-depth writing reports—more than any other editing software out there. The reports include charts, graphs, and visual aids that provide deeper insights into your writing technique.
By highlighting potential areas for improvement, such as vague words, complicated sentences, repetitiveness, excessive use of adverbs, and passive voice, our grammar checker helps you polish up your content while improving your writing style.
While Virtual Writing Tutor works pretty fast and gives feedback on multiple drafts, it doesn't give a one-click correction option. You have to read the feedback then go back to your writing, fix the error, then check the report again to spot the next issue.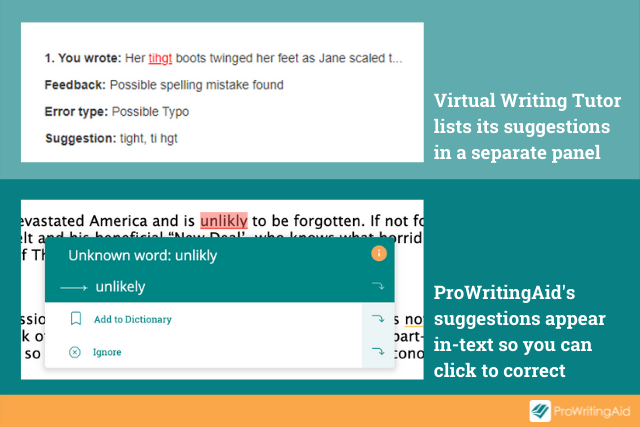 That constant back-and-forth gets tiring, fast. It also occasionally suggests unnecessary corrections and generates explanations that make little sense.
ProWritingAid works differently. It allows you to customize your writing style to your specific needs. While it also offers suggestions to help improve your writing clarity, you get to decide for yourself which suggestions to adopt and which ones to ignore.
Students and teachers are able to set their writing style to academic and benefit from enabling special rules in addition to our normal set of checks.
You can even select a document type to tailor your feedback even more. Students can choose from:
General Academic
Academic Essay
Compare and Contrast Essay
Book Review
Admissions Letter
You'll see how your document scores for key areas like transitions, sentence length variety, passive voice, overly-complex language, and more. Plus, you can fix an error with just one click. You don't have to keep switching between your writing and generated feedback.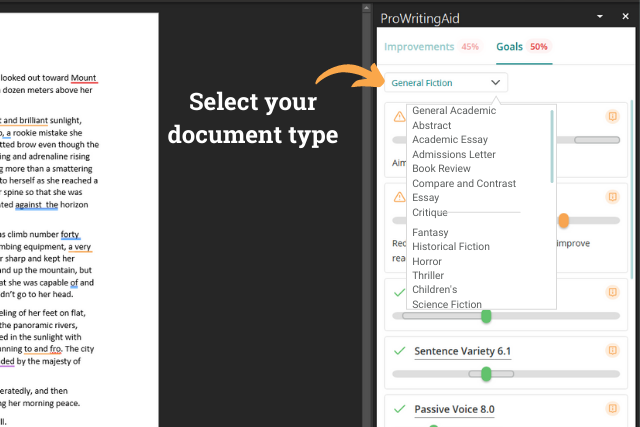 4. Editing and Document Formatting
Virtual Writing Tutor checks for wrong punctuation, grammar mistakes, and common ESL grammar errors in your text and posts the results below the text area. This means you need to scroll down to view the suggestions and go back up to apply the changes. However, spelling mistakes are highlighted in red within the text area.
ProWritingAid makes editing and document formatting a breeze. After logging into your account and accessing the Web Editor, you upload your text, make your edits, and then export your improved document back to your computer. This way, you don't lose your formatting.
Alternatively, you can work in MS Word, Chrome, Google Docs, Scrivener, and other integrations that will save your changes directly back to your original document, no exporting required.
ProWritingAid's tailored writing goals allow you to track your progress as you edit. Run a Summary Report before running your text through the editor to see where you need to focus to make the most improvement to your document. Then, once you've finished editing, run the report again to see how you've improved. It's like getting feedback from an instructor before you even submit your work.
5. Pricing Structures
Virtual Writing Tutor is free to use. On the other hand, ProWritingAid comes with a free version, a free trial, and three pricing options for monthly, yearly, and lifetime subscriptions. Our free version includes:
Real-time editing
A summarized report on key issues
Editing of up to 500 words in the Web Editor
Ability to save your document and proceed later
20+ writing reports to help you fix issues with grammar, sentence structure, repetitiveness, readability, etc
Access to our in-built resource library to help enhance your writing skills
Integration with top browsers—Chrome, Edge, Safari, and Firefox
ProWritingAid Premium gives you access to all our software's editing power and integrations. It allows you to run reports on an unlimited number of words. In addition, you can:
Access all integrations for MS Word, Outlook, Final Draft, Scrivener, Open Office, Libre Office, and more
Edit an unlimited word count with all reports
Download valuable ebooks from the Writing Resource Library
Check out our plans and pricing.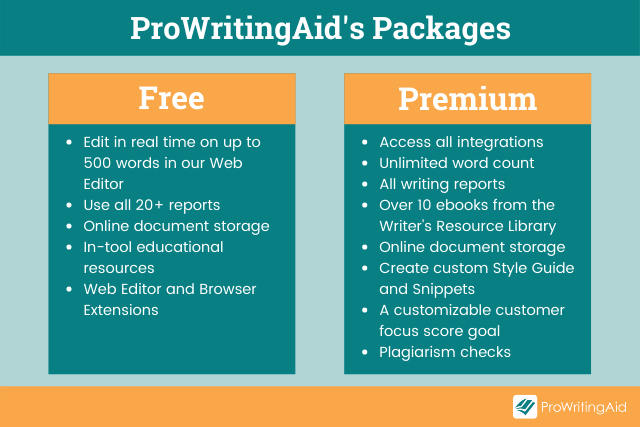 ProWritingAid is one of the only online grammar checkers to offer lifetime pricing. You can get access to all current and future features, updates, and products for life for the same price as just under three years of some of the most popular checkers on the market.
Extra Features and Capabilities
ProWritingAid works to simplify your entire writing process. The Snippets tool allows you to save and access short pieces of text that you use frequently throughout your day. Whether you're a teacher leaving feedback on dozens of essays or a student who wants to keep a citation template or ID number close at hand, Snippets will save you time.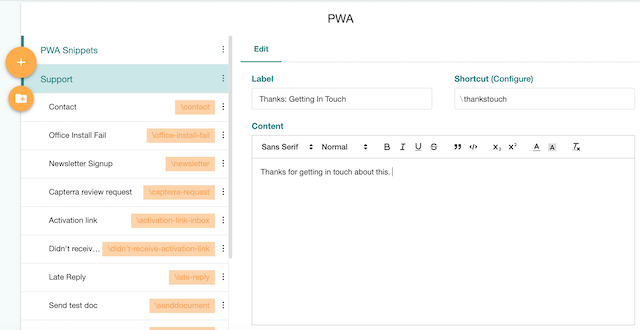 Our grammar checker software gives you all you need to make your writing more powerful and impactful. For instance:
A Style Guide so you can create your own rules according to your school's requirements
The ability to upload a term base with definitions/reminders for topic-specific language
A combo report that lets you group up to seven reports to run at once—see all of your edits on one screen
Videos, quizzes, and articles on hundreds of suggestions so you understand why you're making a change
A Word Explorer for finding synonyms, rhymes, alliteration, quotations, clichés, and more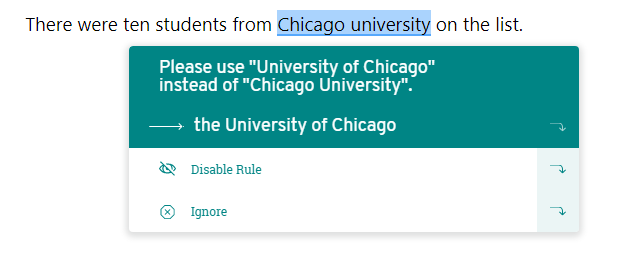 You'll be a top essay-writer in no time.
Which Is the Best Online Grammar Checker?
Both Virtual Writing Tutor and ProWritingAid are useful tools for students and teachers.
When it comes to grammar checking, ProWritingAid wins out. The interface is much quicker and easier to use, and you get targeted feedback on key areas as you write.
However, if you're looking for help with your argument or thesis, Virtual Writing Tutor offers more specific reports that could be useful.
Our advice? Check your writing with ProWritingAid first to make sure you have eliminated any grammar or spelling errors, enhanced your essay for maximum readability, and ensured your structure is on point. Then, run your polished piece of writing through Virtual Writing Tutor for IELTS specific feedback on your argument and thesis statement.
---
Want to use ProWritingAid with your classroom? Download this free book now: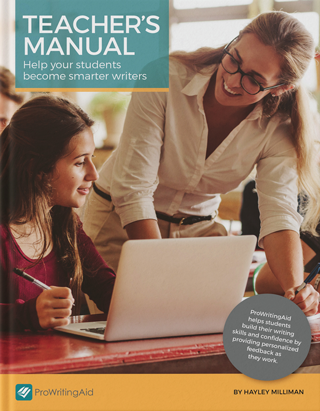 Editing technology like ProWritingAid provides immediate, personalized feedback that will help students better understand grammar and writing techniques.
In this guide, we walk you through exactly how to use ProWritingAid in your classroom and give you tools and templates for creating a rigorous, effective, independent writing practice with your students.
---