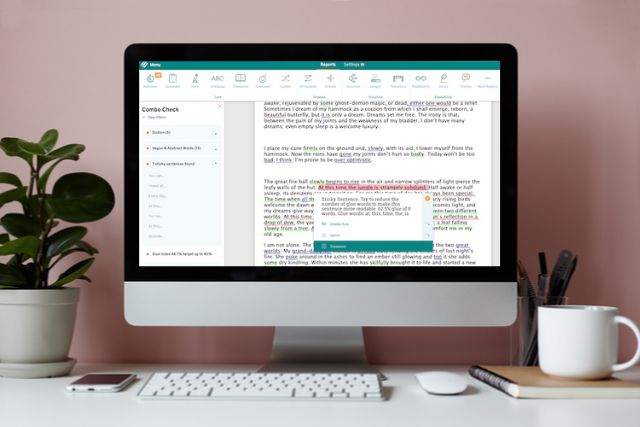 Have you ever heard the saying, "Books aren't written, they're rewritten"?
Here at ProWritingAid, we wholeheartedly agree with that assessment. Editing is an essential part of the writing process. Often, you'll spend twice as much time editing your work as you did writing it in the first place. At least!
Editing your own work can be incredibly difficult. After all, you wrote your book – you're so close to and familiar with the text that it can be hard to judge what needs to be changed objectively.
That's where free writer software like ProWritingAid comes in. Part editing tool, part grammar checker, part writing coach, ProWritingAid provides an objective view of what's working and what's not in your text.
Our blog is full of tips and articles to get you started with ProWritingAid, but we'll go through some key features here.
What Do You Get With ProWritingAid?
There are 20 powerful writing reports included in the free version of ProWritingAid.
You can use ProWritingAid's free editing tool in your Internet browser. If you'd like to follow along with this article, click the button below to get started:
The web-editor looks like this in your browser: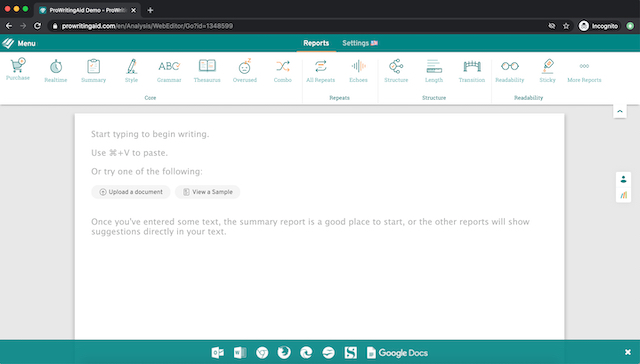 To try it out, you can view a sample. Or, if you're ready to get editing, upload a document.
You'll see the reports bar across the top of your screen. Let's look at that in more detail:

Here you'll find the main reports our writers like to use. Here's just a taste of what our free writer software will help you identify in your writing:
Repeated words and phrases that may cause the reader to ask, "Didn't they just say that?"
Clichés and redundancies that cheapen your writing.
Pacing issues that might cause you to lose your readers' attention.
Vague and abstract words that make it difficult for readers to understand what you are trying to say.
Overused words that are too wishy-washy or lead to awkward sentence construction.
Grammar and spelling errors that affect your writing.
Our powerful, easy-to-use software will take your writing from amateur to professional with a few simple clicks of the mouse.
Here are some key reports you'll use.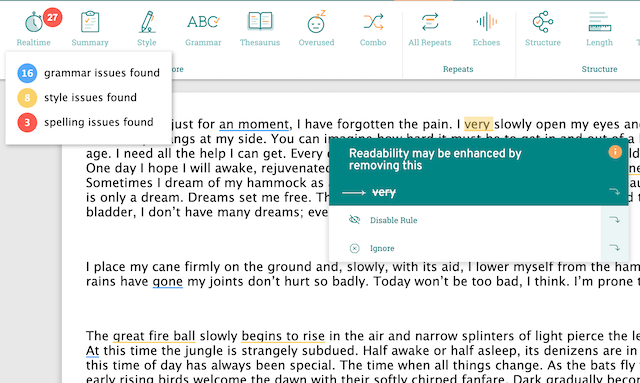 With the Realtime report in the upper left-hand corner, you'll get immediate feedback on your work as you type. Grammar, style, and spelling issues will all be underlined in blue, yellow, and red respectively. Click any of the three options from the drop-down menu to go to the first error of that kind. Then hover your cursor over highlighted text for suggestions and explanations.
We find this feature is handy for anyone with quick turnaround times, such as bloggers or students. Simply upload your work, get your feedback, and edit.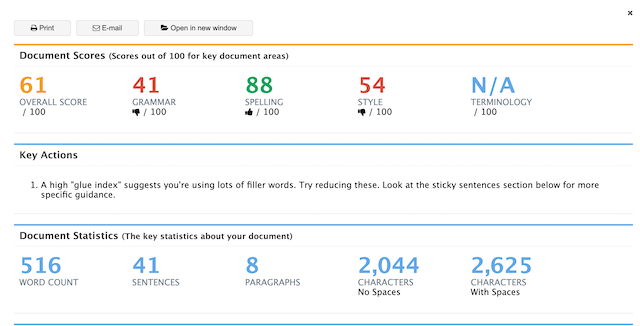 The Summary Report is an all-in-one look at the statistics in your writing. Not just the basics like word count, sentences, and paragraphs, but it also points out the key actions you need to take to strengthen your writing. The image above only shows a snippet, but in your personalised summary you'll find words you overuse, a visualisation of your sentence lengths throughout your document, readability scores and more.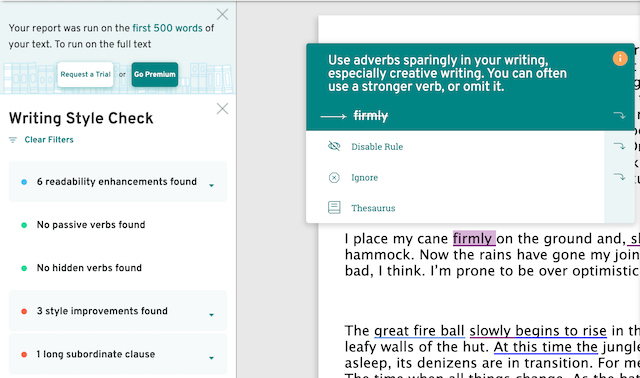 The Writing Style Report is one of the most popular and comprehensive reports that ProWritingAid offers. We all know that there is a lot more to good writing than just correct grammar, and these suggestions are based on the same ideas you would learn in a university writing course.
The Style Report highlights several areas of writing that should be revised to improve readability, including: passive and hidden verbs, over-reliance on adverbs, repeated sentence starts, emotional tells and much more.
These suggestions are the same as a professional copyeditor would give you (in fact many of them use ProWritingAid). If you are going to send your writing to a copyeditor then, by fixing all these mistakes upfront, your editor will be able to focus on the more important aspects of your work, such as tone of voice. You'll get a more polished piece of writing as a reward.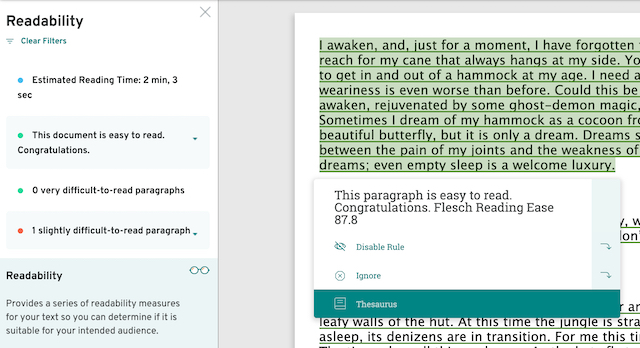 Being a great writer is not about using fancy words—it's about communicating meaning to your readers. If they have to look up words or decipher your language in any way, they'll be distracted from your ideas. This report uses the top readability tools out there, including the popular Flesch Reading Ease Score, to analyze your writing and highlight those sentences that will be hard for your reader to understand.
All of these powerful reports are completely free for you to use. So what are you waiting for?
We would love to know what you think about our free writer software! Be sure to tell us in the comments.
Try ProWritingAid's editing tool today. It will help you edit faster, strengthen your writing, and get your ideas across.
Copy and paste some text into our demo box below and see how you can improve your text.
---