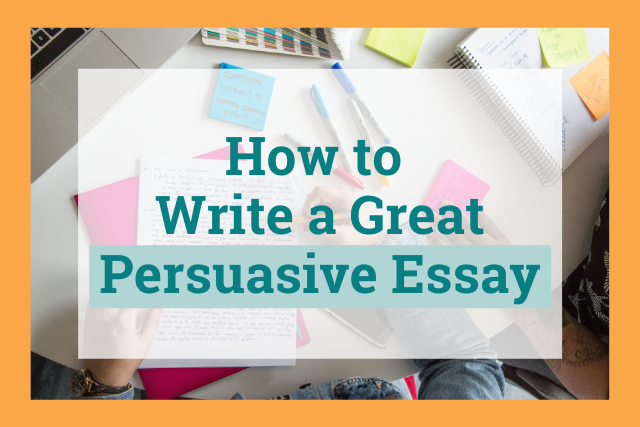 Most composition classes you'll take will teach the art of persuasive writing. That's a good thing.
Knowing where you stand on issues and knowing how to argue for or against something is a skill that will serve you well both inside and outside of the classroom.
Persuasion is the art of using logic to prompt audiences to change their mind or take action, and is generally seen as accomplishing that goal by appealing to emotions and feelings.
A persuasive essay is one that attempts to get a reader to agree with your perspective.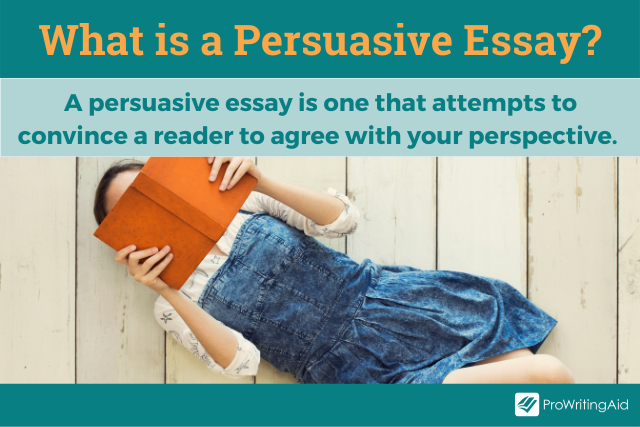 Ready for some tips on how to produce a well-written, well-rounded, well-structured persuasive essay? Just say yes. I don't want to have to write another essay to convince you!
How Do I Write a Persuasive Essay?
Your persuasive essay needs to have the three components required of any essay: the introduction, body, and conclusion.
That is essay structure. However, there is flexibility in that structure.
There is no rule (unless the assignment has specific rules) for how many paragraphs any of those sections need.
Although the components should be proportional; the body paragraphs will comprise most of your persuasive essay.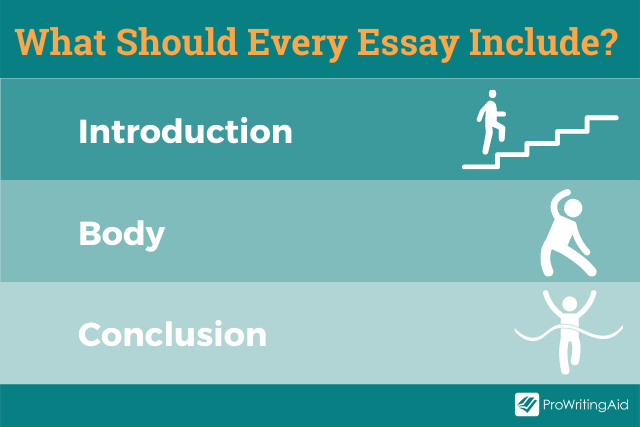 How Do I Start a Persuasive Essay?
As with any essay introduction, this paragraph is where you grab your audience's attention, provide context for the topic of discussion, and present your thesis statement.
TIP 1: Some writers find it easier to write their introductions last. As long as you have your working thesis, this is a perfectly acceptable approach. From that thesis, you can plan your body paragraphs and then go back and write your introduction.
TIP 2: Avoid "announcing" your thesis. Don't include statements like this:
"In my essay I will show why extinct animals should (not) be regenerated."
"The purpose of my essay is to argue that extinct animals should (not) be regenerated."
Announcements take away from the originality, authority, and sophistication of your writing.
Instead, write a convincing thesis statement that answers the question "so what?" Why is the topic important, what do you think about it, and why do you think that? Be specific.
How Many Paragraphs Should a Persuasive Essay Have?
This body of your persuasive essay is the section in which you develop the arguments that support your thesis. Consider these questions as you plan this section of your essay:
What arguments support your thesis?
What is the best order for your arguments?
What evidence do you have?
Will you address the opposing argument to your own?
How can you conclude convincingly?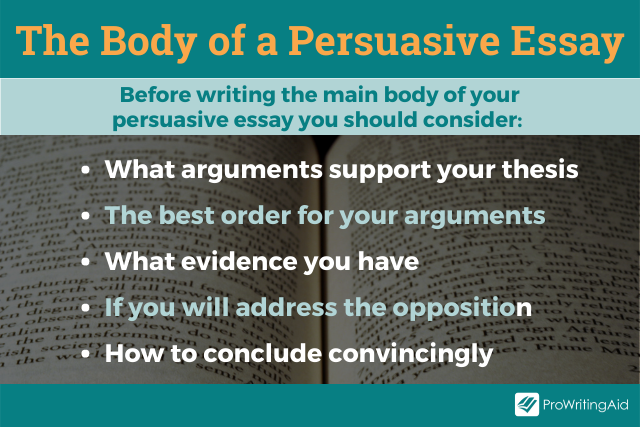 TIP: Brainstorm and do your research before you decide which arguments you'll focus on in your discussion. Make a list of possibilities and go with the ones that are strongest, that you can discuss with the most confidence, and that help you balance your rhetorical triangle.
What Should I Put in the Conclusion of a Persuasive Essay?
The conclusion is your "mic-drop" moment. Think about how you can leave your audience with a strong final comment.
And while a conclusion often re-emphasizes the main points of a discussion, it shouldn't simply repeat them.
TIP 1: Be careful not to introduce a new argument in the conclusion—there's no time to develop it now that you've reached the end of your discussion!
TIP 2: As with your thesis, avoid announcing your conclusion. Don't start your conclusion with "in conclusion" or "to conclude" or "to end my essay" type statements. Your audience should be able to see that you are bringing the discussion to a close without those overused, less sophisticated signals.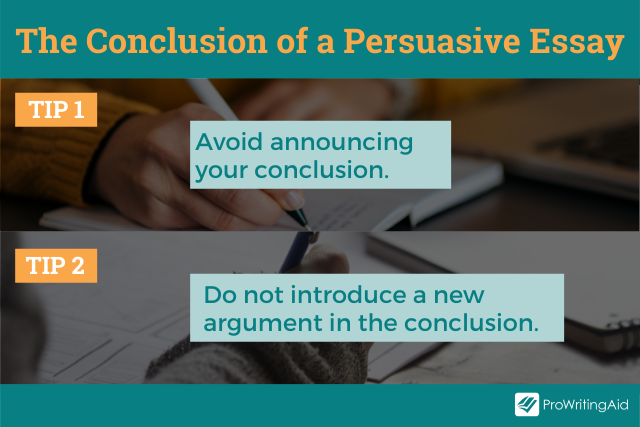 What Are Some Good Topics for a Persuasive Essay?
If your instructor has assigned you a topic, then you've already got your issue; you'll just have to determine where you stand on the issue. Where you stand on your topic is your position on that topic.
Your position will ultimately become the thesis of your persuasive essay: the statement the rest of the essay argues for and supports, intending to convince your audience to consider your point of view.
If you have to choose your own topic, use these guidelines to help you make your selection:
Choose an issue you truly care about
Choose an issue that is actually debatable
Simple "tastes" (likes and dislikes) can't really be argued. No matter how many ways someone tries to convince me that milk chocolate rules, I just won't agree.
It's dark chocolate or nothing as far as my tastes are concerned.
Similarly, you can't convince a person to "like" one film more than another in an essay.
You could argue that one movie has superior qualities than another: cinematography, acting, directing, etc. but you can't convince a person that the film really appeals to them.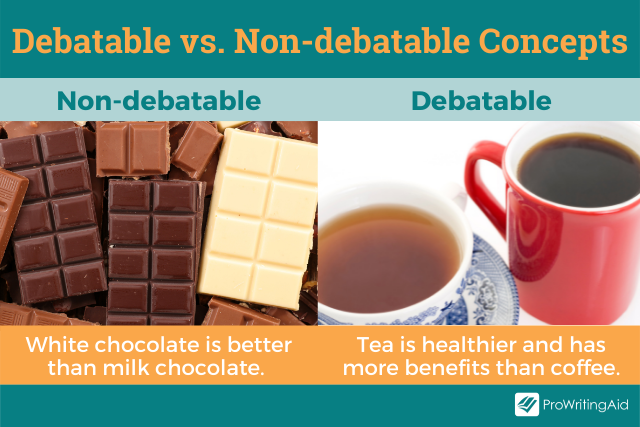 Once you've selected your issue, determine your position just as you would for an assigned topic. That position will ultimately become your thesis.
Until you've finalized your work, consider your thesis a "working thesis."
This means that your statement represents your position, but you might change its phrasing or structure for that final version.
How Do I Identify an Audience for My Persuasive Essay?
When you're writing an essay for a class, it can seem strange to identify an audience—isn't the audience the instructor?
Your instructor will read and evaluate your essay, and may be part of your greater audience, but you shouldn't just write for your teacher.
Think about who your intended audience is.
For an argument essay, think of your audience as the people who disagree with you—the people who need convincing.
That population could be quite broad, for example, if you're arguing a political issue, or narrow, if you're trying to convince your parents to extend your curfew.
Once you've got a sense of your audience, it's time to consult with Aristotle. Aristotle's teaching on persuasion has shaped communication since about 330 BC. Apparently, it works.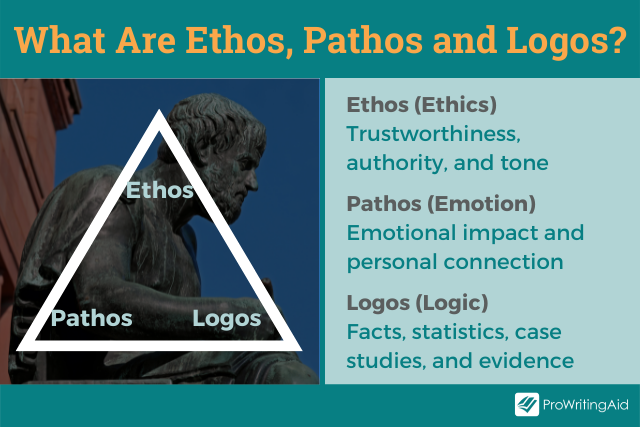 How Do You Create an Effective Persuasive Essay?
Aristotle taught that in order to convince an audience of something, the communicator needs to balance the three elements of the rhetorical triangle to achieve the best results.
Those three elements are ethos, logos, and pathos.
Ethos relates to credibility and trustworthiness. How can you, as the writer, demonstrate your credibility as a source of information to your audience?
How will you show them you are worthy of their trust?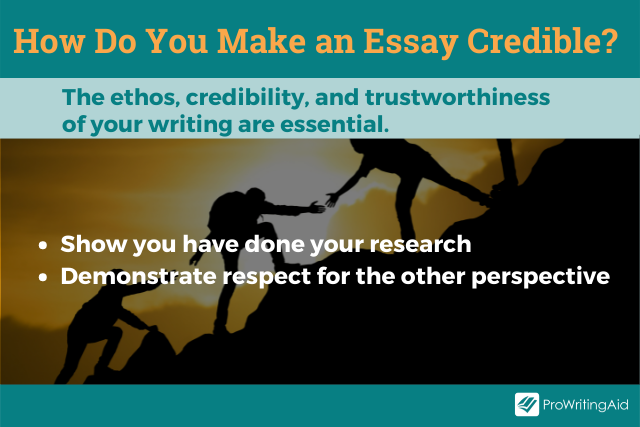 You show you've done your research: you understand the issue, both sides
You show respect for the opposing side: if you disrespect your audience, they won't respect you or your ideas
Logos relates to logic. How will you convince your audience that your arguments and ideas are reasonable?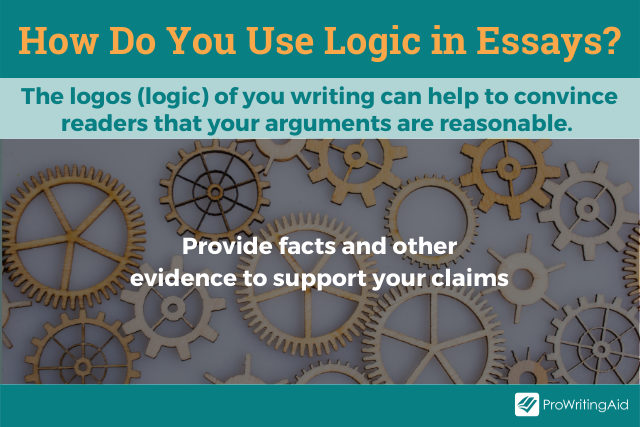 You provide facts or other supporting evidence to support your claims.
That evidence may take the form of studies or expert input or reasonable examples or a combination of all of those things, depending on the specific requirements of your assignment.
Remember: if you use someone else's ideas or words in your essay, you need to give them credit.
ProWritingAid's Plagiarism Checker checks your work against over a billion web-pages, published works, and academic papers so you can be sure of its originality.
Find out more about ProWritingAid's Plagiarism checks.
Pathos relates to emotion. Audiences are people and people are emotional beings. We respond to emotional prompts. How will you engage your audience with your arguments on an emotional level?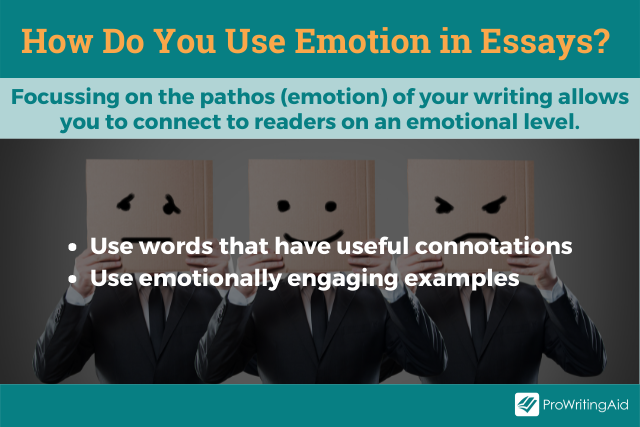 You make strategic word choices: words have denotations (dictionary meanings) and also connotations, or emotional values. Use words whose connotations will help prompt the feelings you want your audience to experience.
You use emotionally engaging examples to support your claims or make a point, prompting your audience to be moved by your discussion.
Be mindful as you lean into elements of the triangle. Too much pathos and your audience might end up feeling manipulated, roll their eyes and move on.
An "all logos" approach will leave your essay dry and without a sense of voice; it will probably bore your audience rather than make them care.
How Should I Edit My Persuasive Essay?
Once you've got your essay planned, start writing! Don't worry about perfection, just get your ideas out of your head and off your list and into a rough essay format.
After you've written your draft, evaluate your work. What works and what doesn't? For help with evaluating and revising your work, check out this ProWritingAid post on manuscript revision.
After you've evaluated your draft, revise it. Repeat that process as many times as you need to make your work the best it can be.
When you're satisfied with the content and structure of the essay, take it through the editing process.
Grammatical or sentence-level errors can distract your audience or even detract from the ethos—the authority—of your work.
You don't have to edit alone! ProWritingAid's Realtime Report will find errors and make suggestions for improvements.
You can even use it on emails to your professors: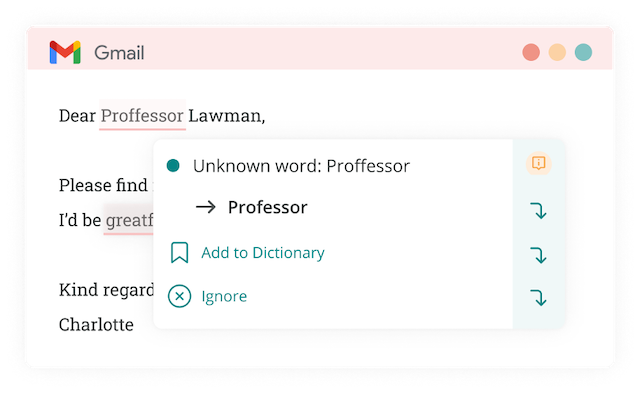 Try ProWritingAid with a free account.
How Can I Improve My Persuasion Skills?
You can develop your powers of persuasion every day just by observing what's around you.
How is that advertisement working to convince you to buy a product?
How is a political candidate arguing for you to vote for them?
How do you "argue" with friends about what to do over the weekend, or convince your boss to give you a raise?
How are your parents working to convince you to follow a certain academic or career path?
As you observe these arguments in action, evaluate them. Why are they effective or why do they fail?
How could an argument be strengthened with more (or less) emphasis on ethos, logos, and pathos?
Every argument is an opportunity to learn! Observe them, evaluate them, and use them to perfect your own powers of persuasion.
---