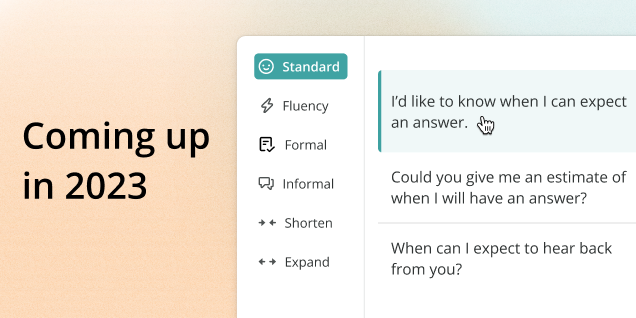 At ProWritingAid, we believe everyone should be able to express their ideas clearly, accurately, and confidently. That's why we're always looking for new ways to help you improve your writing.
Keep reading for a recap of all the exciting new features we released in 2022, and a sneak peek into what we have in store for 2023.
New ProWritingAid Features in 2022
2022 was a busy year at ProWritingAid. We wanted to improve your writing experience in three key areas to allow you to:
Improve your writing in more places than ever
Write and edit with others
Customize ProWritingAid to your needs
Here's what we've been up to this year.
Area 1: Improve Wherever You Write
Your writing software should work where you do. This year, we focussed on making ProWritingAid available whenever and wherever you need it so you can feel confident in everything you write. Here's how:
Unlock the Full Power of ProWritingAid with Everywhere
Great writing got easier this year when we launched ProWritingAid Everywhere for Windows.
Everywhere helps you make sure your emails, documents, messages, and presentations are polished and error free across all the programs you use.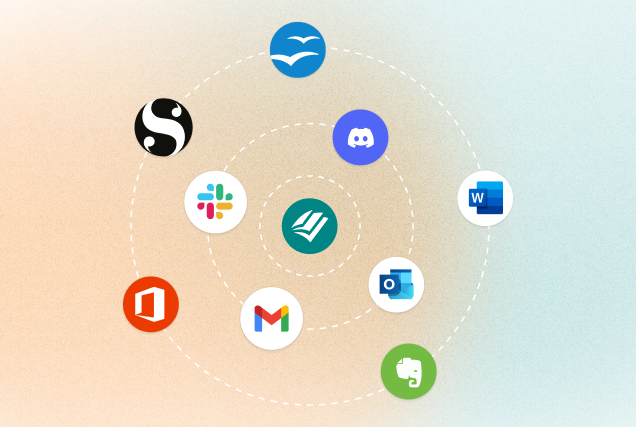 When you download ProWritingAid Everywhere, you'll get writing suggestions delivered directly in all your favorite Windows apps, such as:
MS Word, PowerPoint, and Outlook
Evernote and Notepad
LibreOffice Writer
Slack
Scrivener
Slite
and 100s more.
The best bit? It's free for all users.
Join 1000s of writers already improving their writing with Everywhere.
Not on Windows? The Mac version is coming soon. Read more below.
Get More Done with Faster Browser Extensions
Have you tried our browser extensions yet? Add our extensions to Chrome, Firefox, Safari, or Edge to see spelling, grammar, and style suggestions across millions of sites.
This year, we worked hard behind the scenes to make our extensions quicker and more powerful than ever. Check your writing seamlessly, and make a great impression everywhere you write online.
Available for Chrome, Firefox, Safari, and Edge.
Area 2: Write Together in Real-time
Whether you're writing for work, school, or publication, chances are you'll need to share your work with someone to make your project the best it can be.
Work Smarter with Collaboration
Tired of sending documents back and forth to get feedback? Now you can write, edit, and collaborate on your documents all in the same place with Collaboration.
In 2021, we introduced commenting to ProWritingAid so you could give and receive feedback as you work. This year, we made it even easier to collaborate.
Share your online documents for other writers to view, comment, and write with you in real-time.
In Collaboration mode, you can:
Edit simultaneously with other writers
See who is working in the document and their exact cursor locations so you know who is working where
Others can only edit your work when you enable collaborative editing—your private docs stay private.
Learn more and start collaborating.
Area 3: Personalize ProWritingAid to You
Everyone has something to say, and the right to say it well. This year, we built more tools for academic and business writers to help you share your ideas with confidence. And for creative writers, we hosted more live events than ever to help you expand your writing community.
For Students: Get an A+ Advantage
Academic writing comes with a host of complex conventions. This year we launched a range of new features to help you focus on your ideas, not all those rules.
When you select any academic document type, you'll see how your paper scores in several key areas for academic writing:
Inline citations (for MLA and Chicago)
Formality
Analytical language
Transition words
To see how your document shapes up, simply select an academic document type and check your document's goals. Click through on any of the above academic goals to access a more in-depth academic report.
For Teams Writing at Work: Visualize Your ROI
Does your team use ProWritingAid at work? We know our software will improve your team's writing skills, but we also understand that the language of numbers is crucial in any business decision.
That's why we created the Team Analytics Dashboard. It's a simple way to visualize the return on your investment in ProWritingAid by summarizing several key metrics for your team:
Total improvements to date
Cost savings to date
Time saved to date
Bias improvements (measures how inclusive your team's writing is)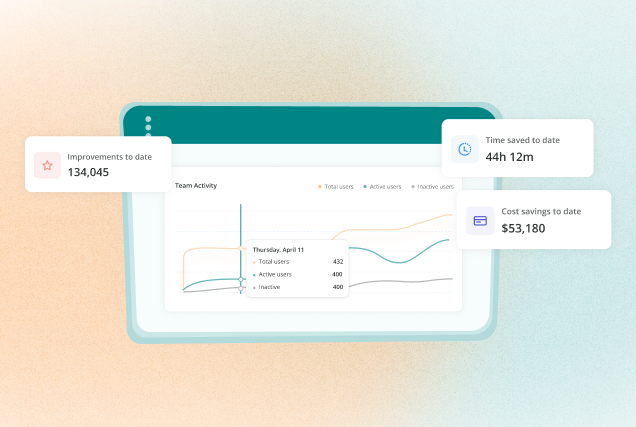 Not only will your team's writing go from good to great—you'll be able to prove it, too.
For Creative Writers: Find Your Writing Community
Writing can be lonely... but it doesn't have to be. In 2022, over 20,000 of you joined us for four weeks of live workshops and training sessions for fantasy, crime, science fiction, and romance authors.
Events included sessions with bestselling authors like Andy Weir (The Martian) and Taylor Jenkins Reid (The Seven Husbands of Evelyn Hugo), as well as networking events and workshops to help you become the writer you always wanted to be.
If you missed out this year, don't worry. We have a full calendar of events coming up in 2023.
What New Features Will ProWritingAid Have in 2023?
We're working hard behind the scenes to make ProWritingAid even better for you in 2023. Here are just a few of the exciting new features we're working on.
On-Demand Paraphrasing
Sometimes it's hard to find the exact right words to express your ideas. Soon, you'll be able to automatically rephrase your sentences to suit your purpose.
Need a shorter or longer sentence? Want to make your writing sound more or less formal? Looking for a fresh way to express a concept? Soon, you'll be able to type a sentence into ProWritingAid and hit 'rephrase' to see suggested changes.
These rephrasings will update the structure and vocabulary of your text without removing any key information, so your original meaning will still shine through. Then, all you need to do is pick the sentence that fits your writing best.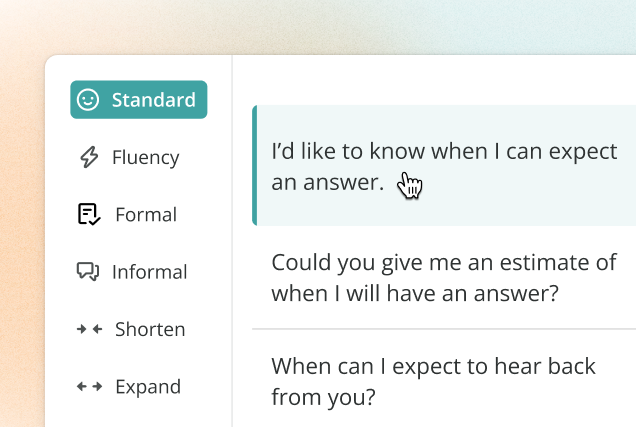 And that's not all. Our sticky sentences and passive voice suggestions are also getting upgrade. Rather than just highlighting where you could phrase something more clearly or in the active voice, ProWritingAid will now suggest alternative phrasings for you to choose from.
Creating clear, engaging writing has never been easier.
Strike the Right Tone: Tone Detection
Ever received an email that just sounded plain rude? Chances are, the sender didn't mean it.
However you want to come across, the words you use matter. But it's not always easy to work out how people will receive your message. That's where tone detection comes in.
With our new tone detection feature, you'll soon be able to see how your phrasing, word choices, and punctuation make you sound before you send a message.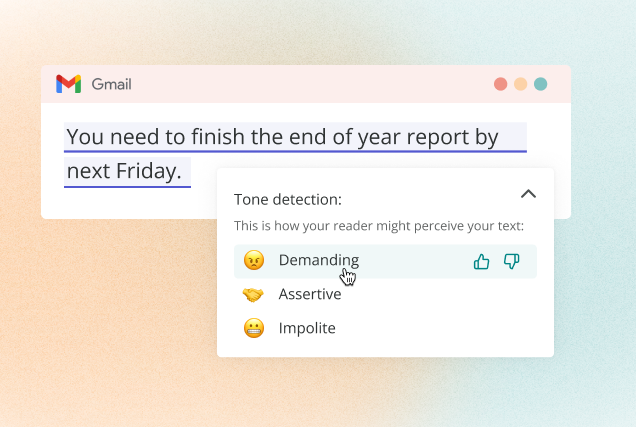 This is especially useful for emails, which is why we'll also introduce a feature that notifies you when an email you're about to send sounds angry or unpleasant.
You'll be writing clear, well received communications in no time.
ProWritingAid Everywhere for Mac
Feeling left out, Mac users? Don't worry; ProWritingAid Everywhere for Mac is nearly here.
With Everywhere, you'll finally be able to see ProWritingAid suggestions directly Apple Pages, Word for Mac, Slack, Scrivener, Evernote, and 100s more. We know this is something you've wanted to see for a while—we can't wait to share it with you.
Help Us Shape ProWritingAid's Future
ProWritingAid was built by writers, for writers. In 2023, we're going to focus even more on hearing from you to make ProWritingAid as useful as possible.
What do you want to see next? Let us know in the comments—and if you like someone else's idea you see there, give it a thumbs up.
---