We all need a second pair of eyes on our writing from time to time. That's why we've launched Collaboration—a new way to write together in ProWritingAid. Collaboration allows you to edit your document and leave feedback in real time with your colleagues and peers.
How to Use Collaboration
The Collaboration feature is currently available in ProWritingAid's Web Editor. When you're in the Web Editor, you must open an existing document or create a new document to enable shared editing. Use the side bar to the left of your screen to get started: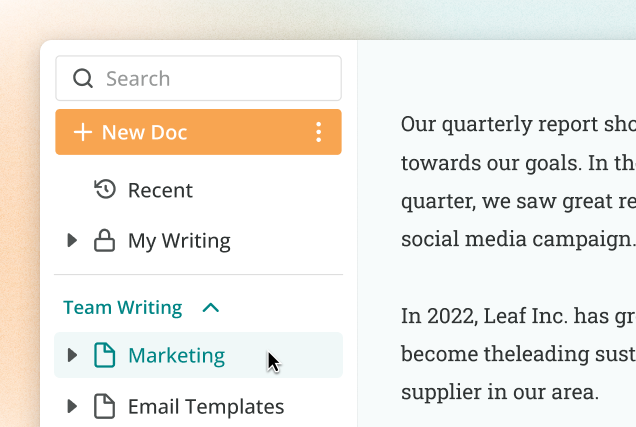 Sharing Your Document
Once you've opened a document or created a new one, click the orange "Share" button in the top right corner. A box will pop up where you can add collaborators using their email address.
You can also decide which privileges each collaborator has: view, comment, or write. Write privileges will allow collaborators to apply ProWritingAid suggestions, as well as type directly in the document.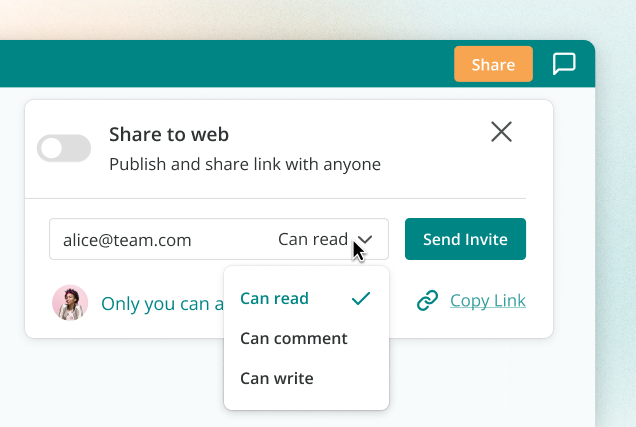 Once you've invited collaborators, you'll see live cursors in your document that show exactly where they're working in real time. You'll also see a bubble with their profile picture or initials at the top of the editor when they are active in your document.
Add Feedback with Comments
As well as editing documents directly, collaborators can also leave feedback with comments by highlighting a section of text.
You can view all comments by clicking the speech bubble icon next to the "Share" button. The three dots on a comment allow you to reply, resolve, edit, and delete the comment.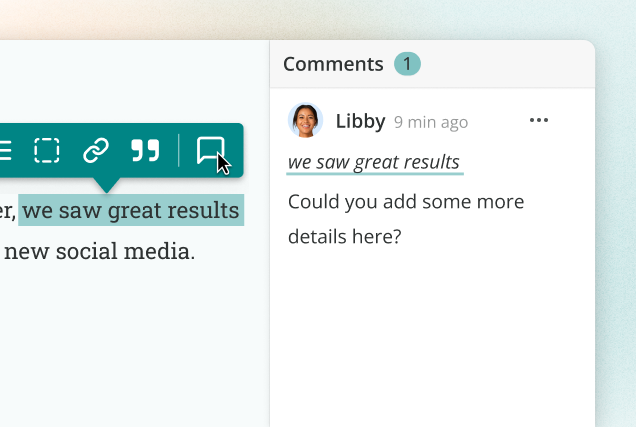 How to Save Your Document
You might have noticed the save option no longer appears in the Web Editor menu. Don't worry—your changes aren't going anywhere! Once you've created a new document, or edited an existing one, all changes now automatically save in real time.
While typing, you'll see a status which says "Saving." If there are connection issues, the status will say, "Reconnecting," and your work will be saved upon reconnection.
If you'd like to save a specific version, you can make a copy of your document. In the left-hand menu that lists your files, click the three dots next to the document name. Then click "Duplicate."
Who Can Use Collaboration?
Collaboration is open to all ProWritingAid users in the Web Editor. You can share your document with free or premium users. Anyone can sign up for a free account to comment and edit with you in real time.
Free users have a limit of 500 words to run ProWritingAid reports, while premium users can run reports on unlimited text.
Take your writing process to a more efficient, innovative level with Collaboration. Head to the Web Editor to try it out today!
---
What Is Collaborative Editing?
Collaborative editing is a process in which multiple people work together to edit a document, often in real time.
It's a great way to get immediate feedback and build off each other's ideas. You can make changes and leave comments on a shared document without being in the same room.
Collaborative editing is great for all types of writers. In business writing, a document often needs feedback from several people. For example, annual reports, press releases, and training materials often go through multiple teams before being published.
You often have to wait for each person to read and comment individually, apply changes, send it back, and repeat the process until everyone is happy. This isn't efficient.
However, if everyone can edit, comment, and type in the same document at the same time, you can save weeks of back-and-forth communication.
Collaboration is important in the academic world, too. Peer editing is a process many language arts teachers use in their classes. But with an increase in virtual classes and asynchronous learning, educators need a modern solution.
Collaborative editing supports peer editing as well as live editing. Teachers can live-edit a student's paper as a great learning tool that is personalized to each student's level.
Creative writers use collaborative editing in the form of critique partners and critique groups, alpha and beta readers, and professional editors. When authors can collaborate with others in real time, they can ask questions and brainstorm ideas.
Collaborative editing does more than save time. Working collaboratively encourages creativity and innovation because people can bounce ideas off one another. Additionally, people can immediately see when their feedback is misconstrued which eliminates miscommunication.
Using the new Collaboration feature allows you to have all the grammar, spelling, and style feedback you trust in ProWritingAid with the added benefit of team collaboration.
Start Collaborating in ProWritingAid
Ready to start writing together? Head to the Web Editor and share your first document.