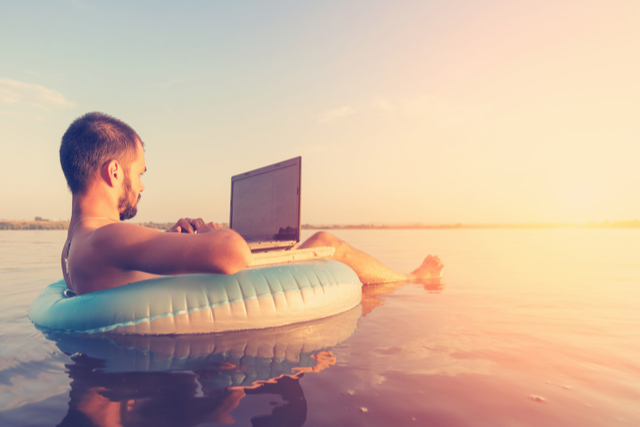 The Writer's Life is fantastic, isn't it? Nothing better than setting your own hours, working when you want, and taking time off when you need it. It's all bliss, rainbows, and unicorns.
Not that I want to shatter your rosy glasses, but I'm not writing this post from an exotic beach right now for a variety of reasons.
1. The bills must get paid first
While you can make a nice living with your writing, you must pay your bills before gallivanting off on holiday. If you're lucky enough to be in a two-income partnership, you might have spare money for a holiday now and then. But if you have college-age children, you can't afford holidays.
Don't lose hope; the longer you do it, the more money you'll make. And it gets easier to take holidays.
2. If you're not writing, you're not making money
Your writing earns the money. So anytime you aren't at your desk writing, you're not making money. (Unless you have a wonderful passive income stream, another post-worthy topic entirely.) In fact, you might hire others to do things that are your biggest time wasters, like cleaning the house. Carve out more time to write.
3. If you're just starting out, you don't have time for a holiday
When you start your own writing business, you spend long, hard days and evenings writing. You may even pull all-nighters to get everything done that your clients want or to meet your agent's or publisher's deadline.
The good news? The first year is the hardest. Once you're established and can consistently churn out work, you don't have to work as many hours. And the better your fan base or your reputation as a writer, the more you can charge for your work.
4. You must carve out time to stay abreast of trends and technology
To continually improve, set aside education time. SEO is constantly changing and evolving; and readers are fickle and change their minds frequently. With AI and algorithms getting smarter, your writing software changes as often as your favorite apps.
If you use technology to write (and especially if you write about technology), staying ahead of the curve is mandatory. If you write crime stories or government conspiracies, you must stay abreast of crime tactics and current issues around the globe. Which, of course, steals time from writing.
5. Sand gets into your laptop and will ruin it
This is actually the main reason I'm not writing this post from the beach. If sand were to get in my laptop and ruin it, my life would come to a grinding halt. I have taken working holidays in the past where I spent morning hours writing and afternoons on the beach.
The first time I lugged my laptop out on the sand though, my husband was aghast. I quickly learned that these expensive, temperamental machines are best kept at a cool 68 degrees Fahrenheit with low humidity. That pretty much excludes the beach. And if you think that dummy floating with his laptop in a rubber ring in the picture above is going to have a working laptop at the end of the day, you are very much mistaken!
The truth
The Writer's Life is great. I take more time off than I did in an office job. In some ways, it's easier to get away. But I'm responsible for my entire business. When I take time off, there's no backup I can rely on; I must wrap everything up before leaving.
The beauty of the Writer's Life is that I'm in control. I can take any day off I want as long as I meet my deadlines. And since deadlines are largely my own creation, it's much easier to get away now and then.
I took one working vacation to the Smokey Mountains several years ago. Thinking I could work early mornings and spend afternoons with my family sightseeing, I didn't tell my clients I was "away." As a result, several emergencies cropped up, and I ended up with only two afternoons with my family. Since then, I've made sure to flag to my clients that I'll only be working mornings (or whenever my allocated work time will be) ahead of any working vacations.
Everyone needs holidays
Especially for creatives, you must get away and recharge. At the very least, take weekends off and spend them filling your mind with new thoughts, ideas, and information. Don't use weekends as "catch-up" time; let your mind rest and restore. I guarantee you'll notice a difference when it's time to get back to work.
So even if you're a new writer, plan some beach time. Just don't expect to write there; sand in the laptop is deadly. And you need to relax and rejuvenate. The Writer's Life means being good to yourself and enjoying the life, instead of burning out from overwork.
Tell us in the comments below about your favorite holiday: did you do any writing on holiday, or do you set aside time specifically for R&R?