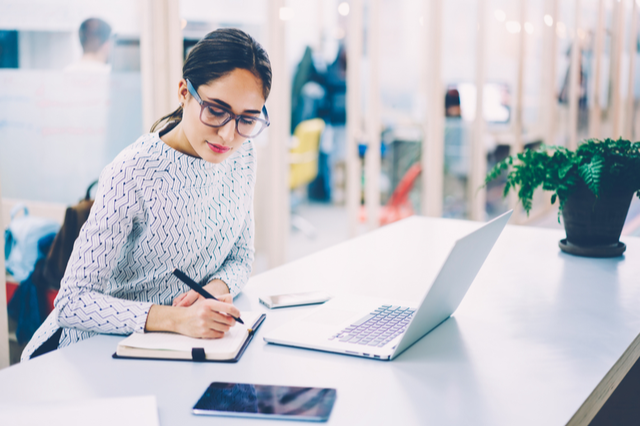 Great content is, and probably always will be, king. As a copywriter, you have the skills to turn an ordinary product description into great sales copy. These skills will give you a serious edge if you decide to give affiliate marketing a try in 2021.
This post will provide a roadmap you can follow to earn money from affiliate marketing. I will discuss some of the skills you need to master and provide you with a framework you can follow to grow your affiliate income.
What Is Affiliate Marketing?
Affiliate marketing is a business model where a person earns a commission on every referral sale they generate for promoting the products or services of a merchant. Merchants track affiliate sales by providing a tracking code to affiliates. The affiliate adds a tracking code to their link, which they share with their audience. They could do this through a website, on social media, or using another marketing channel.
You will find affiliate programs in almost any niche. For example, ProWritingAid has an affiliate program. Affiliate marketing benefits the merchant, the affiliate, and the consumer. The consumer gets a recommendation from a trusted source, the affiliate earns a commission for their work, and the merchant secures a customer.
Part of the attraction of affiliate marketing is its effectiveness. Many companies attribute 15–30% of their sales to affiliate marketing. You'll find plenty of examples of bloggers who have made millions of dollars through affiliate marketing. Pat Flynn, the founder of Smart Passive Income, is an obvious example, but there are plenty of others.
No matter your day job, you can earn money from affiliate marketing by following certain rules or frameworks. Some people earn most of their income through affiliate marketing, while others earn a small passive income.
The Five-Point Framework
Since you're a copywriter who already earns a living writing, you shouldn't have difficulty writing great promotional material as an affiliate. This section will share what you can do to make money as an affiliate. Let's dive in with this five-point framework on how to get started with affiliate marketing in 2021.
1. Talk to Your Customers
Before you sign up for affiliate programs and recommending products or services, you must be clear on your target audience. You need to define who you want to connect with, their needs, and the niche you'll be serving. One of the best ways to do this is to create a customer persona.
A customer persona is a depiction of your ideal customer that includes demographic data and information about the type of business they work for and their job title and products or services they would use. Below is an illustrative example of a customer persona.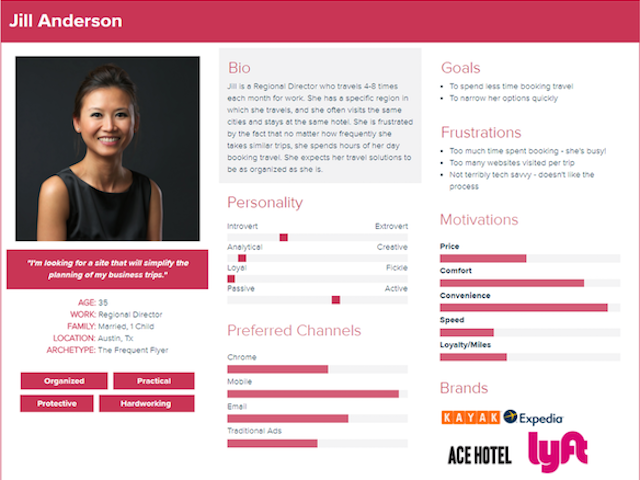 Image Source: 99 Designs
Ideally, the customers you provide copywriting services to should find the tools and services you promote useful. That way, your business goals and affiliate marketing goals align. It's important to consider this because trying to establish and grow different businesses at the same time is difficult and incredibly time-consuming.
It should take you less than a day to create a customer persona. In addition, you might want to send a short questionnaire to your existing customers to see what products or services they use.
Make sure you set aside time for this exercise. The more relevant the products and services are to your customers, the higher the chance they will purchase the offers you recommend. Moreover, you reduce the chance of audience churn.
Audience churn occurs when you promote offers that are irrelevant to the needs of the recipient. For example, not only are you unlikely to get sales promoting a Barbie set to 21-year-old males with no children, many would opt out of future promotions. If you sent this promotion to your email list, you might see a jump in the number of unsubscribes.
2. Form Logical Agency Partnerships
As a copywriter, agency referrals are a logical way to experiment with the affiliate marketing model. Agency referrals fit what I would describe as a low-risk, high-reward business opportunity.
Clients come to you with a need—copywriting services. This need for a great copywriter often comes when the business needs other services. For example, your client might be planning to redesign their website. Or, they want to run Pay Per Click lead generation campaigns.
Most agencies have a referral program, which works in much the same way as an affiliate program. You refer your clients who need a service, and you receive either a one-off payment or a recurring fee, which is proportional to the monthly retainer's size. Most agencies offer a 10–15% commission.
Many companies advertise their agency partnership program through their website. If you're unsure if an agency you want to partner with has such a referral program, give them a call.
Build a network of trusted agencies that provide relevant services. Be careful selecting partners. For example, many SEO agencies offer copywriting services, and this conflict of interest could undermine your business relationship. Make sure to check the quality of their service as well. It's easy to lose the trust of a client by promoting low-quality services.
Once you've found suitable partners, discuss their affiliate/referral program and how to work together. There are two logical things you can do once you've reached an agreement:
Contact old clients to see if they need the services of one of your agency partners.
Ask existing clients if they need the services of one of your agency partners.
Agency referrals are a great way to earn some extra money from your clients by recommending the services of a company you trust. If you haven't already got some agency partners, I strongly suggest you set up relationships with other agencies.
3. Create a Client Toolkit of Useful Resources
Another effective thing you can try is to create a list of products, services, or resources you use and would endorse. These are products and services you use that your customer persona would find useful. For example, you might want to recommend online writing courses, landing page builders, website hosting providers, good books, etc.
Once you have created a list of tools, check which tools on your list have affiliate programs. You will then need to turn that list into a resource that people would find useful. That generally involves sharing the tool, then adding a paragraph of text where you discuss the value.
When you have your list, you need to promote the resource. One logical place to promote your resource list is your website. Pat Flynn, from Smart Passive Income, has a nice example of a resource page.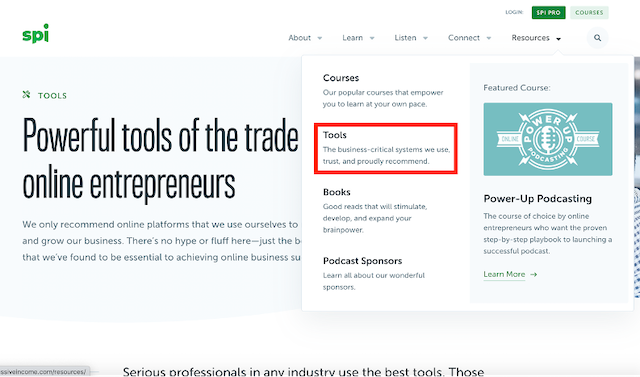 His list of recommended tools is easily accessible through the site menu. The headline aligns with his target audience: "Powerful tools of the trade for online entrepreneurs."
You should create a similar valuable resource list of tools on your website.
In addition to promoting the list through your site, you can provide it as a PDF to clients when they sign up with you or at the end of a contract. Finally, you could include a link to your resource in a welcome email to new subscribers. Your resource list will probably be one of the most visited pages on your website.
4. Write Product Reviews, How-to Guides, or Roundups
One of the most effective methods of generating clicks to affiliate offers is to write product reviews, how-to guides, or roundups. These articles focus on transactional search terms that people are likely to use when preparing to make a purchase.
A great example of someone who has taken this approach to earn money through affiliate marketing is Adam Enfroy. His website, which currently gets around 500,000 visitors a month, is almost exclusively composed of software comparison articles and software review articles. The site is less than two years old, which is impressive given his earnings.
Writing reviews and roundups is straightforward, but there is a system you'll need to follow if you want your content to rank in the search results. The first thing you'll need to do is identify relevant products or services you'd like to review. I recommend you pick from the products or services already listed on your website with affiliate programs.
Once you've done this, you should review the search volume around these terms. There are plenty of great SEO tools that will provide you with this information. I like to use a combination of Keywords Everywhere, a great Google Chrome extension that provides search volume, and Ahrefs, which reveals keyword difficulty.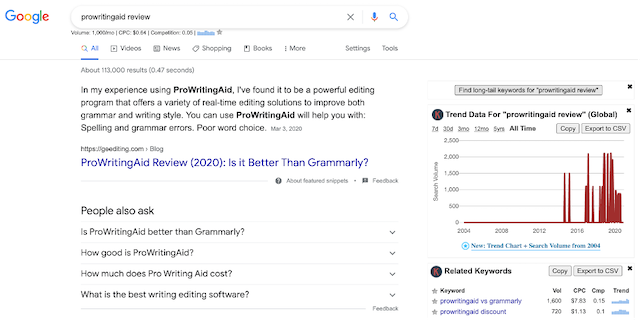 You can see that approximately 1,000 people around the world search for "ProWritingAid Review" every month. That shows that there is sufficient search volume for this term to make it worth writing an article on the topic.
Using Ahrefs, I can see that the top ranking piece of content for this term receives approximately 321 visitors a month, or 3,852 visitors a year to the page. It's a decent search volume.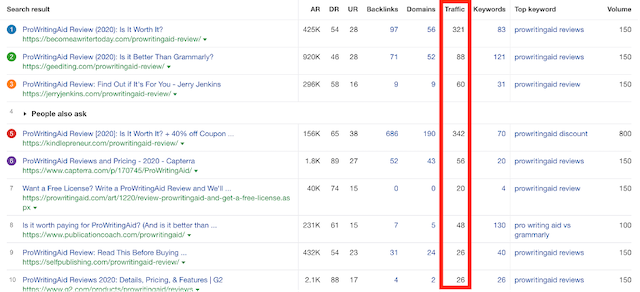 This provisional research helps you identify relevant keywords with sufficient search volume. Once you have a list of suitable low-competition keywords to target, you can start creating long-form reviews for your website.
Reviews, roundups, and how-to guides will take a long time to write. However, if you can get those articles ranking in the search results, you'll earn a good passive affiliate income.
5. Track Your Results and Scale Your Income
Track the results of your affiliate campaigns across marketing channels. Review the results of your affiliate marketing campaign at the end of the first month. Through your review, you should come away with an understanding of:
Which marketing channel is generating the most conversions
Which product or service is earning you the most revenue
You can use affiliate tracking software to pull all your affiliate information together to a central dashboard. It's a time-saver as you can see the results of all your marketing campaigns in one place. Here's a list of the best affiliate tracking software.
The review of your progress is a chance to improve the performance of the affiliate marketing campaign. Identify the best performing offers. You can then run tests to improve conversions. For example, using deep links contextually can improve the Click Through Rate (CTR) and improve your conversion rate.
You can also use the audience insights you gain through Google Analytics or Facebook Pixel to run retargeting campaigns. For instance, you might write a comprehensive review of a product that is earning you the most money. Or, you might create a sales funnel to promote a specific offer.
As you start seeing positive results, keep tweaking your site, content, and placements. You want to find the right balance that brings value to your audience while making you extra money.
Summing Up
Affiliate marketing is a low-risk approach to diversifying your income by doing what you do best: writing. Start by focusing on relevant affiliate opportunities, and then find the offers with the highest payout. Create a list of relevant tools and services you either use or would recommend to a client or colleague. Sign up for their affiliate programs and start by promoting these offers to your audience. As your income increases, scale your endeavors.
Your circumstances will determine the best channel for generating an affiliate income. If you have a large following on YouTube, you might promote affiliate offers through your channel. Or, you might promote affiliate offers through social media, your blog, or an email list. Regardless of your approach, make sure you track your performances and turn these insights into actions.
Finally, unless you already have a decent volume of traffic on your site or social media channels, it will take time to generate income. So be patient, and start writing!
---
Now is a wonderful time to be a copywriter. Download this free book to learn how: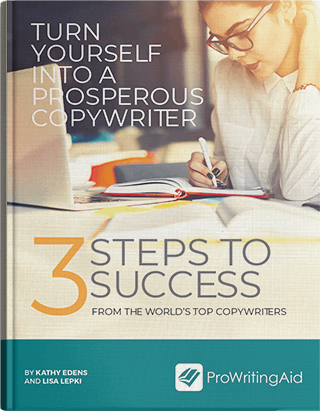 With the advent of the internet, the copywriting industry is exploding. Content is now seen as critical for all online businesses.
This guide breaks down the three essential steps you must take if you think copywriting is the career for you.
---