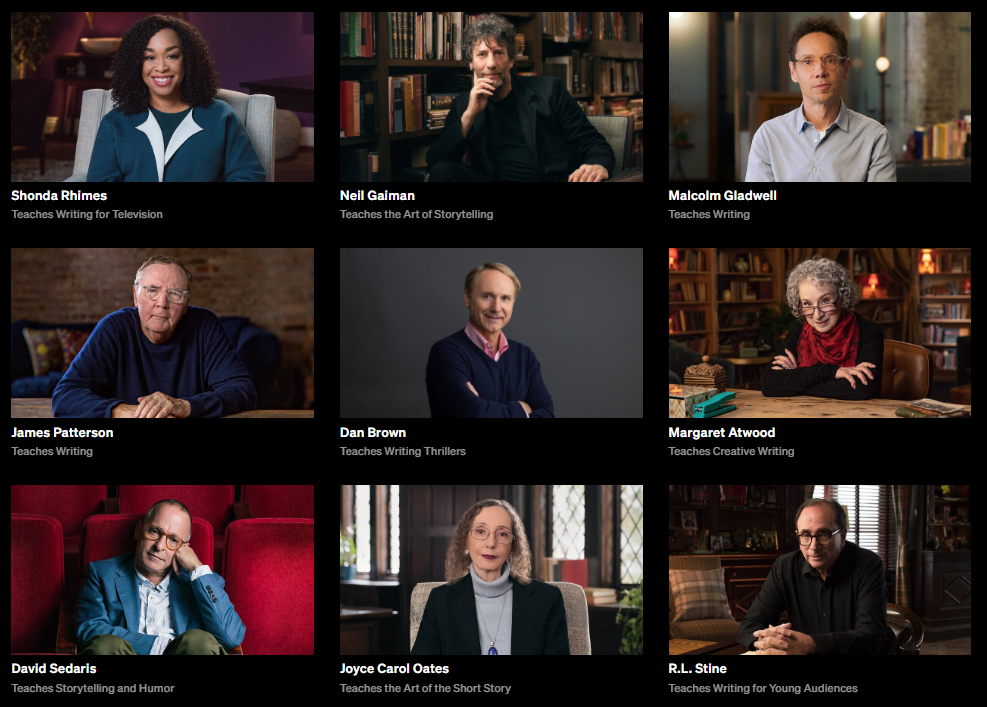 Have you heard of MasterClass? It's an online platform where you take online courses taught by the world's best in different fields, from acting to dancing to culinary arts to, yes, writing.
A quick note before we start: We are MasterClass affiliates, so we were compensated for this post with a free license for our team (yay!) . This post also contains affiliate links and we will be compensated if you make a purchase after clicking on our links. Don't worry, there is no extra cost to you. That being said, we have taken almost all of these courses ourselves and learned a ton. We wouldn't recommend them if we didn't think they'd be a huge help.
What Is MasterClass?

MasterClass is an amazing course library full of classes on many subjects, taught by the greatest minds in their respective fields. There are several writing courses, and they are all taught by some of the biggest names in fiction, like Shonda Rhimes, Neil Gaiman, Margaret Atwood, and more.
With your MasterClass Annual Membership, you get access to dozens of different courses, not just the courses about writing. That means for one small fee, you can learn how to write short stories from Joyce Carol Oates and learn how to perfect your handstand from Simone Biles.
---
We recently took a deep dive into MasterClass's offerings to find the best courses for writers. Here are our favorites.
---
The winner of the Hugo Award for three consecutive years, N. K. Jemsin is the author of the Broken Earth Trilogy. She has sold millions of books and created new cultures and histories, and now the acclaimed science fiction and fantasy writer is teaching you how to create a world from scratch, develop compelling characters, and get published. Build your craft and share your voice with inclusive fiction that reflects your experience.
---
Shonda Rhimes is the powerhouse behind juggernauts like Grey's Anatomy, How to Get Away with Murder, Bridgerton and other binge-able television content. In this MasterClass, she shows you how to create compelling characters, write your pilot episode, and pitch your idea.
This MasterClass gives you access to six video lessons, as well as pitch notes, series bibles, and exclusive pilot scripts. Your downloadable class workbook will help you stay up-to-date with what you're learning.
---
In this MasterClass, award-winning author Neil Gaiman teaches his approach to imaginative storytelling. He shares his process for creating absorbing fiction like Stardust and The Sandman.
In this exclusive course, you'll learn how to develop original ideas and breathe life into your characters. Gaiman will teach you what drives a story and how to discover the stories that have been inside you all along.
---
James Patterson is the author of nineteen consecutive New York Times best-sellers. Safe to say, he knows how to craft a story that will compel readers.
In this MasterClass, the first online course Patterson has ever taught, you'll learn his tricks of the trade. The 22 lessons included in this course guide you through your book from start to finish so you'll be able to craft your own best-seller.
---
Judy Blume's beloved children's books are known for their memorable characters and ground-breaking plots. Her work, like Superfudge and Are You There God? It's Me, Margaret, is still widely respected today.
In this exclusive MasterClass, Blume teaches you how to invent vivid characters and use your own experiences to create narratives that people will always treasure. The course includes 24 lessons and a downloadable workbook.
---
Amy Tan was 33 before she first explored her voice as a fiction author. A few years later, her debut novel, The Joy Luck Club, spent 40 weeks on The New York Times best-seller list. Now she's showing you her approach to the challenges and joy of self-discovery through writing. Learn how to craft compelling beginnings and endings, find your voice, and embrace your emotional memory to bring powerful narratives to life.
---
Best-selling author, professor, and New York Times columnist Roxane Gay has connected to readers around the world with her unyielding truth-telling and highly personal feminism. In her MasterClass, she teaches you how to own your identity, hone your voice, write about trauma with care and courage, and navigate the publishing industry. Learn how to document and narrate the world as you see it—and then demand change.
---
To the delight of readers across the globe, Salman Rushdie's genre-defying novels have brought surreal and magical realms to life for decades. Now the Booker Prize–winning author teaches you the art and craft of storytelling. Learn how to draw from your own experiences to build vivid worlds, authentic characters, and complex plots.
There are extraordinary stories that only you can write—start sharing them.
---
Walter Mosley, best-selling author and recipient of the National Book Award's Lifetime Achievement Medal, has written more than 60 books over his 30-year career and is celebrated for fiction that addresses our culture's racial divides. Now he's sharing the elements of storytelling that have helped him along the way.
Learn how to choose the right words, structure, genre, and characters to create the novel that's in you.
---
Award-winning novelist R.L. Stine wrote jokes and funny stories for 20 years before he switched gears and became a horror-writing legend. Since then, the author of the Goosebumps and Fear Street series has sold more than 400 million copies.
In his first-ever online writing class, Stine takes the fear out of crafting fiction. Whether you're a beginner or a pro, you'll learn new ways to conquer writer's block, develop plots, and build nail-biting suspense that will thrill young readers.
---
Author of The Handmaid's Tale, Margaret Atwood is one of the most influential literary voices of our generation. This MasterClass is her first ever online writing course.
In it, Atwood teaches us how she crafts compelling stories that are both timely and relevant. You'll learn her creative process for taking a great idea and turning it into a strong novel.
---
David Mamet is the Pulitzer Prize-winning author of Glengarry Glen Ross. In this MasterClass, he teaches how to write ground-breaking drama by turning life's moments into art.
You'll learn the rules of drama, the nuances of dialogue, and practice skills to develop your own voice in this exclusive MasterClass.
---
Joyce Carol Oates is a literary legend who has published 58 novels and thousands of short stories, essays, and articles. In this MasterClass, Oates teaches you how to create your own compelling short stories.
In this 14-lesson MasterClass, you'll learn to tap into your storytelling instincts by finding ideas from your own experiences and experimenting with structure. By the end, you'll have learned to improve your craft, one sentence at a time.
---
Malcolm Gladwell is the best-selling author of books like Blink and The Tipping Point. His books have helped millions of readers understand complex ideas like performance prediction, behavioral economics, and more.
This 24-lesson course is Gladwell's first foray into online teaching. In it, he explains how he researches topics, creates characters, and distills big ideas into simple, powerful narratives. In addition to the 24 lessons, you get access to a downloadable class workbook to keep track of your lessons.
---
The Emmy-nominated star and creator of the award-winning HBO series Insecure is here to show you how it's done. Issa Rae uses her signature do-it-yourself ethos, humor, and voice to offer writers and creators of all types the motivation and tools they'll need on their journey. Rae shares how she navigated Hollywood, inspiring you to reach your creative dreams and never take "no" for an answer.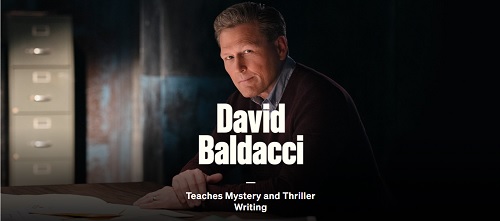 David Baldacci published his first novel, Absolute Power, in 1996. The feature film adaptation followed, with Clint Eastwood as its director and star. In total, Baldacci has published 40 novels for adults; all have been national and international bestsellers, and several have been adapted for film and television. His novels are published in over 45 languages and in more than 80 countries, with 150 million copies sold worldwide. He has also published seven novels for younger readers.
Learn Baldacci's approach to writing page-turning novels scene by scene, chapter by chapter.
Get access to all of these courses (and dozens more) with MasterClass Annual Membership. Try it now!