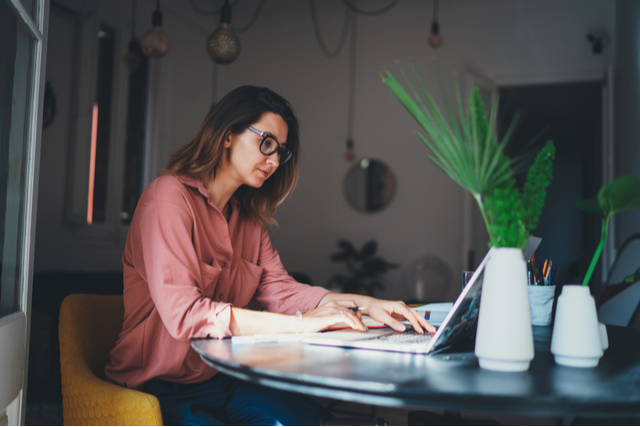 Every writer wants their readers to love their work. They want them to gush over every sentence and to come away as a better person. But having success in writing isn't just about putting some creative words on a page and getting an instant book deal. It's about putting in a lot of hard work. Creating the right tone of voice and writing sentences that actually make sense is key.
Experienced copywriters know this all too well, but the power of a copywriter in business is often overlooked. Copywriters are hired to sell products, make content engaging, and write copy to make sites truly convert. So, a good piece of copy can mean the difference between selling the latest product and turning your firm into a reliable name, or experiencing business failure.
However, even the most experienced copywriters don't always know how to make world class services out of words. Copywriting isn't just about being good at spelling or knowing where to put the right keyword. It's about connecting with a customer and using your words to persuade people to buy.
Here are ten principles that will make readers fall in love with your copywriting.
1. Create a Compelling Headline
Whether you are composing a sales email or writing a blog, the headline is the part that makes people want to see what you have to say. This makes writing a headline one of the hardest parts of any writer's job.
Headlines need to be compelling and concise. They need to summarize the point of the writing that will follow. Essentially, they need to get the reader to click through.
A powerful headline falls into one of seven groups:
Urgency. These stress the importance of time as a factor. They push the reader to "act now."
Curiosity. This makes someone feel like they are missing out on something, making them want to read on.
Self-help. This appeals to a person's emotions. It can work as an empathy exercise and appeal to people's personal side.
Lists. These use numbers to tell people what to expect. See the headline of this article as an example.
"How to" guides. These bring the promise of a do-it-yourself solution. These can also take aspects of other headlines to make them more appealing.
Newsjacking. This reflects on current affairs to draw people in. Although, they do give a time limit to the topics that can be used.
Contrarian. This takes ideas people already know and makes them controversial. Although often sensationalist, they do work well.
Using any of these points in a headline will draw readers in.
2. Identify the Reader's Problem
An audience is reading your content for a reason. Therefore, you need to show that you understand that reason, and that you have empathy for them.
Once you have established that you understand their problem, you can gain their trust and offer them subtle solutions. Identifying a problem and having empathy for readers shows them you are on their side. You aren't just trying to provide them with a gimmick.
You are attempting to demonstrate that you have a genuine solution. Something which competitors may not be able to offer.
Joining something like a Facebook writing group will help you to understand the ins and out of writing in an empathetic way.
3. Write Like You Are Talking to Real People
This is because you are talking to real people. You aren't in a business meeting and you aren't a politician, trying to win people over. You are a person, talking to another person about the things you have to offer.
We've all been there when someone who thinks they're smarter than us starts using complex jargon. And we aren't impressed. If anything, it puts us off wanting to interact with these people.
When you're used to using jargon with your colleagues, it's easy to let it slip into your copy without you realizing. Use ProWritingAid to find and replace meaningless jargon with phrases that actually communicate what you want the customer to know.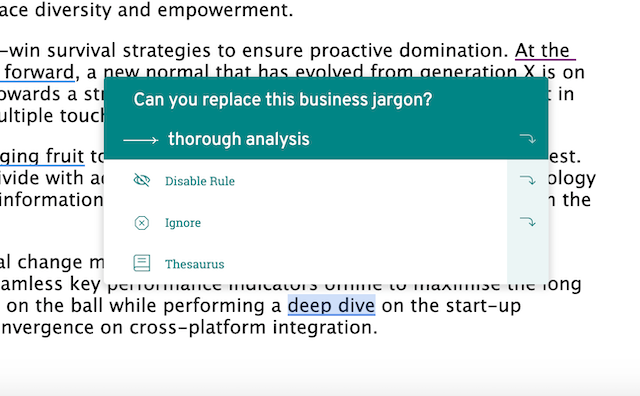 The same goes for being overly patronizing. Of course, it's important to make sure that people understand and to be helpful. And it's okay to put a simple explanation. But don't talk to your customers like they are idiots. Because that will also put them off.
The trick is to get a happy medium, at the same time as proving you know what you are talking about.
How to avoid jargon
Let's say you're sending an email about CPaaS (Communications Platform as a Service) solutions.
Don't write:
CPaaS solutions, not to be confused with BaaS, don't use cloud washing or Linux to deal with problems.
This is overly complicated and uses too much jargon for the average customer to understand.
But also don't write:
CPaaS is to do with the cloud. No, not those white puffy things in the sky, silly!
Because this is patronizing and implies people don't know what the cloud means.
A good sentence might be:
CPaaS (Communications Platform as a Service) solutions use the cloud to deliver better communication amongst team members.
This implies people know what the words mean and explains how this solution can help them with an issue.
4. Use Trial and Error
One formula doesn't work for all. There are so many different types of company out there. And so many different types of customers. There is no way one approach will work for everyone.
For a copywriter, this means varying your work between writing blogs, sending emails, and creating social media posts. This also means you may have to change your tone of voice now and again.
Monitoring software can tell you about the success of each piece. You will then know the type of writing that works for customers. And what doesn't.
Remember that to be taken seriously, you need to use the correct grammar and spelling in all you write.
ProWritingAid's Realtime Checker will scan your writing for grammar, spelling and writing style errors as you write, wherever you write.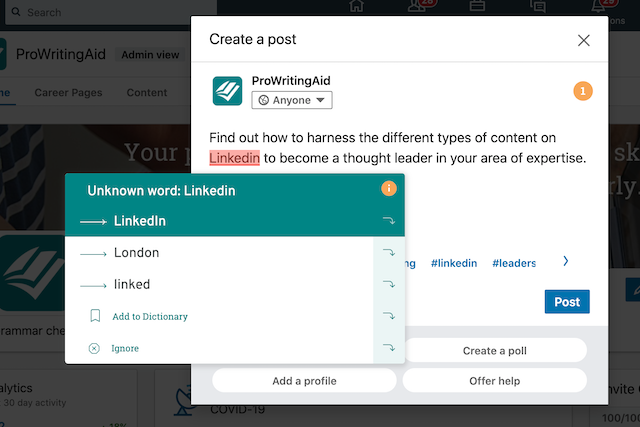 5. Be Concise
On the internet, we see many words a day, but do we really read them?
Mild philosophy aside, it's a fact that people don't read every single word they see online. This is where phrases like "words are currency" are very true.
In other words, don't write a mini-essay when trying to sell a product.
It should be part of your best practices to provide great customer experience as a copywriter to keep the copy to the point. Find a creative way to include as many USPs (unique selling points) as possible. Do this without repeating information in banners or over-explaining.
Frontloading copy is an effective method in copywriting. Use all the most important selling points first. For example, a Black Friday email subject line should start with the amazing offer.
As well as this, why not include bulleted or numbered lists? This could work well for more editorial-based pages with lots of information. You can even use headings to break things up. Or use bold and italic fonts to create different emphases.
Alternatively, make infographics containing helpful information. This presents it in a more visually appealing and succinct way.
6. Social Proofing
Never underestimate the power of a good review.
5 stars on Trustpilot? Shout about it! Glowing social media reviews? Scream it from the hills! You get the point.
Customer reviews hold such potential for your business. They let others know what products work the best or how efficient your customer service team is.
People who are unsure about a product will look to testimonials for guidance. Therefore, if you want people to see how much you're being raved about, mention it in your copy.
Mention your Trustpilot page as part of a campaign. Talk about your success stories. It builds customer trust and creates a buzz around your business.
Something you could also do is incorporate it into your aftersales. Send an email inviting customers to leave a review, even offer a discount on their next purchase. Use your copywriting skills to lead the customer to share their experience. This will then help with social proofing with other customers in the future.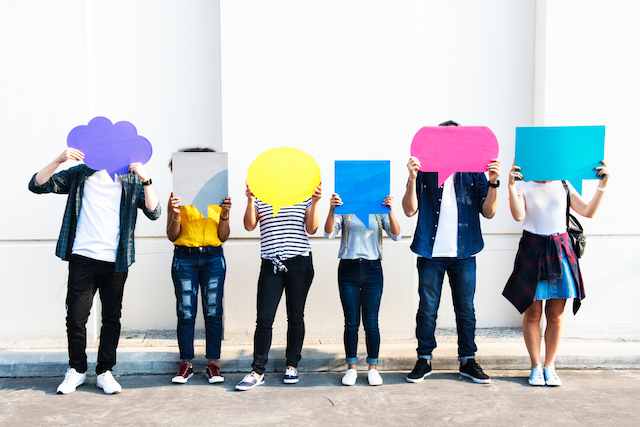 7. Nail Your Call to Action
Why do you think "buy now!" and "sale ends soon!" are so prominent during sales season? They're simple but effective. They are, essentially, the final chapter of a sales pitch.
Calls to action can create urgency without making readers feel like the target of a hard sell.
Adding one to the end of an email will round it off perfectly. It's also a good way to include a link to your website.
A good call to action can be anything. Be as creative or simplistic as you like. It's all down to your company's customer base and tone of voice. Using a good old "Discover more" can work just as well as something like, "Show me the deals."
An email without a call to action is just a long sales pitch with no drive at the end. See the call to action as the all-important punchline.
8. Avoid the Unusual
We are all told to think outside of the box. But there's thinking originally, and then there's just being a bit of a try-hard.
It can be very tempting to try and be creative by doing things like writing poems or talking in riddles. However, it will just put the reader off as it comes across as both pretentious and confusing.
Over time, you will figure out what you need to say and how you need to say it to get customers on your side.
Keeping things plain and simple is all part of this.
9. Speak Like an Expert
In the same vein as social proofing, having the angle of a knowledgeable friend will build leads.
When looking for the best deal, customers will want to buy from someone legit. Knowing your figurative onions will set you apart from competitors. And this should be reflected in your copywriting.
Don't just sell, sell, sell. Give a bit extra with your copy. Mention USPs and best features. Persuade potential leads as to why you are the ones to be trusted.
Unlock workforce potential by training your staff on products. Having a genuine knowledge of the ins and outs of what you sell will make the world of difference.
There's only so far one can go not understanding what you sell. It's the ecommerce equivalent of bulking out an essay with right-click synonyms. Take the time to train your workforce on your back catalog.
If you have a separate warehouse, for example, take a trip there to get to know your products. A fuller product understanding will make copy more from the heart. Speaking from a real perspective will relate more to customers.
10. Copywriting Is the Base for Every Writing Job
Many successful creative writers start their career as a copywriter. When doing this, people learn to write clearly and concisely.
When writing to customers through copywriting, keep in mind the great things learning to write like that can lead to. This will help you to see the audience as people you are really trying to talk to. Not just people you are trying to sell to.
Writing like a copywriter helps you with anything from journalism to making a best-seller. Through copywriting, you can discover how to tell a story and give the reader what they want.
Being a great copywriter isn't about telling an untold story for our imaginations. It's about connecting with a customer and persuading them to buy. But it still takes talent in both writing and personal skills.
Final Thoughts
Once you start practising these ways of working, you will soon get used to the specific style that copywriting requires. Not only does this help build a connection with your audience, but it will help them fall in love with your writing too. And with your brand.
It may not happen overnight, but learning these tricks will take you from a salesperson who writes, to a copywriter extraordinaire. With a much sought-after talent to boot.
---
Now is a wonderful time to be a copywriter. Download this free book to learn how: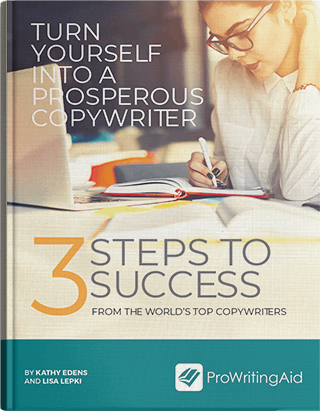 With the advent of the internet, the copywriting industry is exploding. Content is now seen as critical for all online businesses.
This guide breaks down the three essential steps you must take if you think copywriting is the career for you.
---