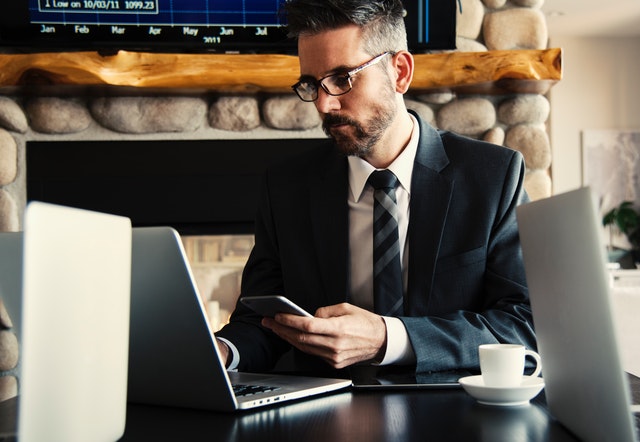 Running a small business is chaotic and involves wearing a lot of hats. You have to be a good communicator, a financial whiz, a marketing guru, an administrative assistant, an IT technician, and even a human resource manager. It's a lot of work.
Most small business owners say that running their business often feels like a lifestyle rather than a job. It's no wonder 72% of them report feeling overwhelmed.
If you're struggling under the weight of it all, take heart. Start using business apps to enhance your productivity and to streamline business operations. The apps can help you do everything – from delegating tasks to employees to organizing business expenses.
If you work more than 50 hours a week, like many small business owners, you'll appreciate what these apps can do for you. You may finally be able to stop working on weekends or go on that vacation you've been planning for years.
But there's a plethora of business apps out there, so how do you choose the best one?
To make your job easy, I'm sharing my seven favorite apps for small businesses. I've also broken them down by category.
1. Best App for Team Communication: Slack
Slack's biggest strength is that it saves you from spending too much time on endless email threads. The instant messaging app can help you to organize your team's conversations into public and private channels. You can also send direct messages.
Slack allows you to create channels for any conversation theme: water cooler chat, projects for clients, and other conversations that work best for your business. Notifications are easy to customize, so you can choose which conversations you want to follow and filter out unnecessary noise.
You can use Slack for quick questions and answers. The app also makes it easy for you to drag, drop, and share files and images right on the platform. It indexes and archives all messages, notifications, and files. That way, you always have records of your conversations.
The good news is you can use the free version of slack for an unlimited number of users. However, you have to pay a few bucks for advanced features like app integration and unlimited searches.
2. Best App for Project Management: Trello
Trello is an awesome tool for small business owners who manage several employees and need to implement complicated processes. The project management app allows teams to collaborate quickly and easily. Its main strength is it is highly visual.
Trello has a card-based system that allows you to easily create, monitor, assign, update, and complete different tasks. For instance, you can create a card for each task in a project and drag the cards from list to list as the status of the tasks changes. The app lets you tag other members, upload documents and images, and create checklists.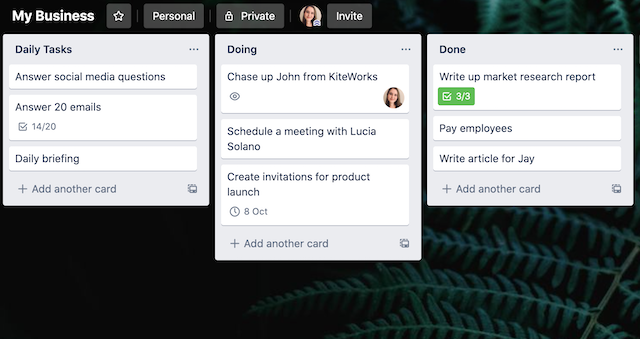 Whenever you move a card, Trello notifies each tagged member via email. Members can also communicate directly on each card. Trello integrates with other business apps like Slack, Evernote, and Google Drive. The project management software ensures that everyone is as productive and efficient as possible.
3. Best App for Accepting Payments: Square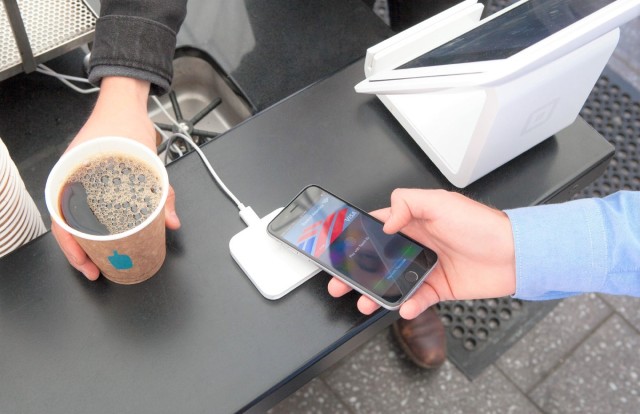 If your small business heavily depends on point-of-sale purchases but you don't have a big budget for a payment system, Square can be a lifesaver. The company gives you a small card reader that attaches to a phone or another mobile device for fast and convenient payments.
You can easily accept all payments no matter where you sell your products or services. You can also accept debit and credit card payments on your phone or create a customized solution on Square's payment platform.
You don't have to be connected to the internet to use Square, and you can send receipts via email or text. The app even allows customers to leave a tip. Square has no monthly fee, but you get charged a small fee for every swiped transaction or if you manually enter the payment details.
However, it's worth mentioning that Square is only ideal for low-volume businesses in low-risk industries. You'll need more than what Square offers as your business expands.
4. Best App for Accounting: QuickBooks Online
QuickBooks is the most popular accounting software, and it's easy to see why. The cloud-based app is easy to use, intuitive, and offers numerous integrations. QuickBooks Online is accessible on iOS and Android devices.
You can use QuickBooks to track profits, inventory, employee hours, expenses, and sales – it all depends on the version you are paying for. The accounting software uploads real-time data to keep you updated on your company's financial well-being.
Whether you run your business alone or have a few employees, QuickBooks has a version that will fit your needs. And regardless of the version you choose, you can use the QuickBooks mobile app.
You can connect the accounting software to thousands of accounts, including PayPal, Square, credit cards, and your business bank account. And in case you're new to using QuickBooks, there are many resources online on how to get started. You can also watch the video tutorials the company offers to learn how to navigate the platform.
5. Best App for Email Marketing: Mailchimp
For every $1 you spend on email marketing, you can expect to get an average ROI of $42. Email marketing has a higher return on investment than any other marketing effort. That's why it's important to have the right tool for the job.
Mailchimp is one of the most popular email marketing apps and most businesses use it for their email marketing campaigns. It is very user friendly and even newbies to email marketing find it easy to get their bearings.
On the free plan, you can send 12,000 emails to 2,000 subscribers every month. You also get access to Mailchimp's marketing automation feature. Once you create an email campaign, you can access more than 80 pre-built templates which are mobile-responsive.
Mailchimp integrates with more than 700 apps and websites and its email deliverability rates are pretty high. It has an automated abuse-prevention feature that scans emails to identify issues that may affect your campaign.
6. Best App for Time Tracking: RescueTime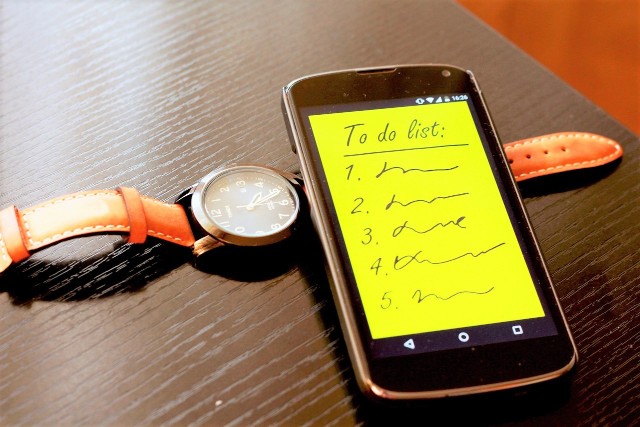 You may be unaware of the fact that you spend too much time on digital distractions like Twitter, Facebook, and online shopping. RescueTime holds you accountable.
It automatically tracks the time you spend on different websites and applications and sends you detailed reports showing your activity. You can easily see how you spent your day.
RescueTime runs in the background of your desktop or mobile phone. You can use it to see how much time you spend on specific activities and to block distracting websites. You can also set alerts to notify you when you spend too much time on specific activities. You can pause the app at any time, like when you go on vacation.
Start with the free plan to see how good the app is, then upgrade to the premium plan. The software is compatible with PC, Android, Mac, and Linux.
7. Best App for Writing and Editing: ProWritingAid
Every web page, email, and social media post you write leaves an impression on your customers and prospects. ProWritingAid can help you to make the right impression.
The editing app does a lot more than check for grammar mistakes. It ensures that everything you write is engaging, clear, and professional. Whether you're writing emails to angel investors or a blog post on your website, ProWritingAid helps you write like the expert you are. It checks your spelling, punctuation, grammar, tone, and much more.
You can also use ProWritingAid to create a company style guide to ensure every employee's communication is clear and on-brand. That way, you present the best public face of the company. When everyone in your company speaks with one voice, the business becomes coherent in its industry.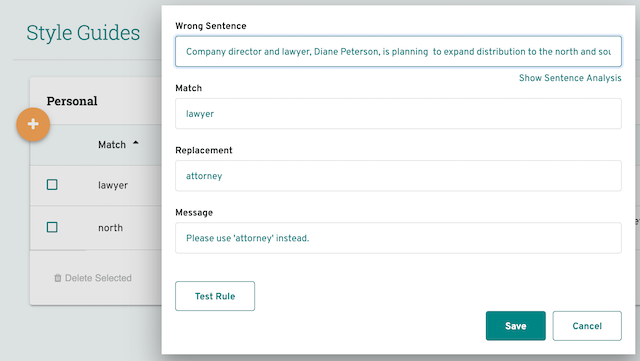 Spelling and grammatical errors do not reflect well on your business. ProWritingAid's browser extension allows you to edit anything you write online. It gives detailed, real-time suggestions and helps improve readability, writing style, tone, and word choice.
The editing software corrects mistakes as you type, ensuring that anything you send to business associates and customers is grammatically and technically correct. It also gives suggestions that enhance your writing.
ProWritingAid makes sure that each member of your team communicates professionally. They are able to write mistake-free documents, posts, and emails that make your business look good. When your business stands out, it can hold its own against the competition.
Get These 7 Apps and Grow Your Small Business
If you're feeling overwhelmed by your small business, use these apps to make life easier. They will streamline your business processes, help you keep track of business finances, and save you time and money. The good news is most of them have free and paid versions, so you can test the waters before making a commitment.
Using apps is the best way to boost your productivity. Your life will become simpler and you can finally start working less and achieving more.
Want to Enhance Your Reputation, Improve Efficiency and Maintain Brand Consistency?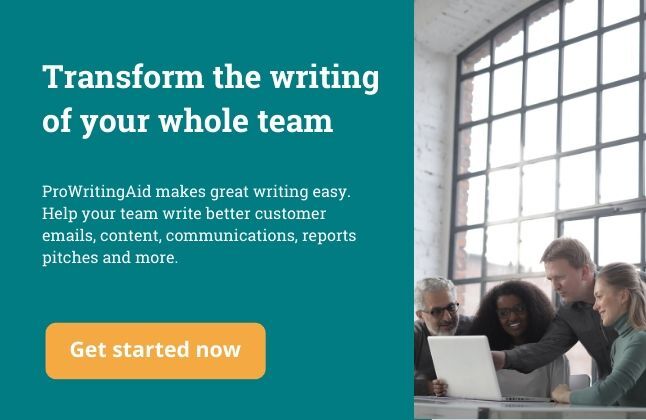 We offer secure, scalable, and customizable writing support for your team. Find out more here!