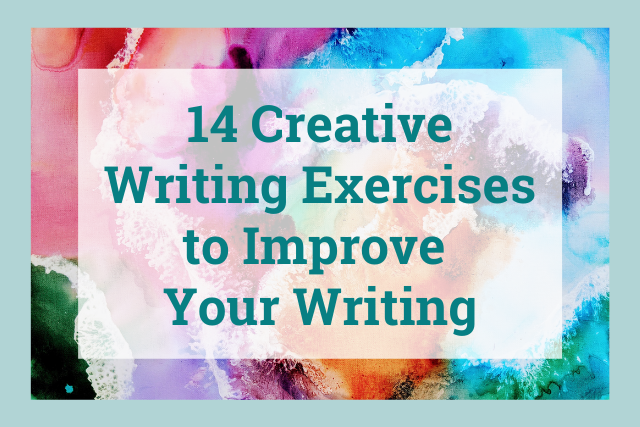 Whether writing is a hobby or a career for you, developing consistent writing habits is key to becoming a better writer.
Blank pages are intimidating. Commit to writing every day to conquer that page and develop your writing skills and style.
By engaging in intentional writing exercises daily, you'll hone your skills and develop a creative mindset.
These creative writing exercises will get you started immediately!
14 Best Writing Exercises to Try (For Beginners AND Pros)
1. Practice Freewriting
To freewrite, set your fingers on your keyboard and start writing; don't worry about mistakes. Your freewriting is for your eyes only and your goal is simply to get words on the page.
Stuck for a topic? Choose an object you can see—your coffee cup; your sofa; the beat-up (or not) car across the street.
Now, write about the object. You might describe it, tell a story about it, analyze its usefulness—anything is fine. Allow your stream of consciousness to flow and bring ideas to the surface.
The endgame of this writing exercise isn't to produce great writing about boring objects; it's to work your writing muscles.
As you search for ways to make these objects interesting, you'll find unexpected ideas, word choices, and wordplays.
Julia Cameron, author of The Artist's Way, calls freewriting exercises "Morning Pages" and advises all writers to practice freewriting every day, first thing in the morning, right after waking up.
2. Use Story Starters
Story starters or writing prompts are creative writing exercises that can help you escape a creative rut.
A writing prompt can be anything—a single sentence, a short paragraph, a word. You could even use the first line of a favorite book or newspaper article and take the story in a new direction.
Try building a story from one of these prompts:
I opened the window.
We disagreed.
"It was a pleasure to burn." (Ray Bradbury, Fahrenheit 451)
There are many places to find story starters and writing prompts online, such as Daily Prompt.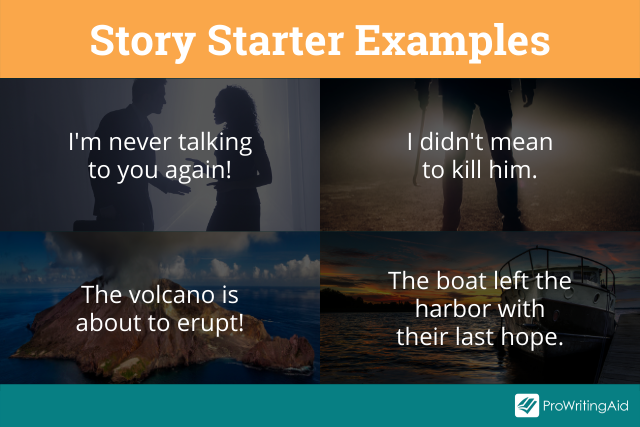 3. Write a "Dear Younger Me" Letter
What would you like to say to yourself five, ten, 20, or 50 years ago? Go ahead and write a letter to that younger self!
Maybe you'll offer advice or reassurance, relive a special moment with them, or tell them how you've changed, or haven't, since you were "their" age.
Another option: imagine what someone else in your life would say to you at a particular time and write from that person's perspective.
This activity is a great creative writing exercise and a way to tap into your emotions.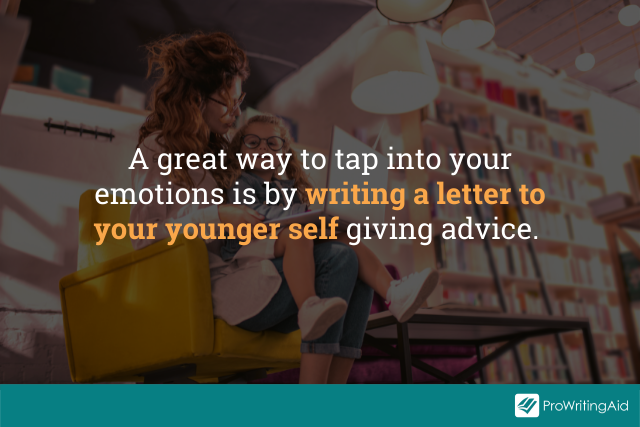 4. Do a Point of View (POV) Switch
Take a segment from a favorite book. Rewrite that segment from a different character's point of view.
Harry Potter and the Goblet of Fire is written in third-person limited POV. A third-person narrator tells the story, but focuses on Harry's thoughts and feelings.
In your rewrite, focus on Hermione's POV. What does she see that Harry doesn't? What is she feeling and thinking?
As you write, notice how the story changes. Chances are, it will take on a distinct form and tone and may inspire an idea for a new story of your own.
Or rewrite the segment from an entirely different point of view. If the original is told from first-person POV, recreate it with a third-person narrator.
Note what other changes you'll have to make because of that switch.
Should you include more or less sensory detail? Should you adjust what's revealed about each character thinks or feels?
This writing exercise can help you determine what POV you like writing in best and demonstrate how a single story can be told in several ways.
5. Put Yourself in the Middle of the Action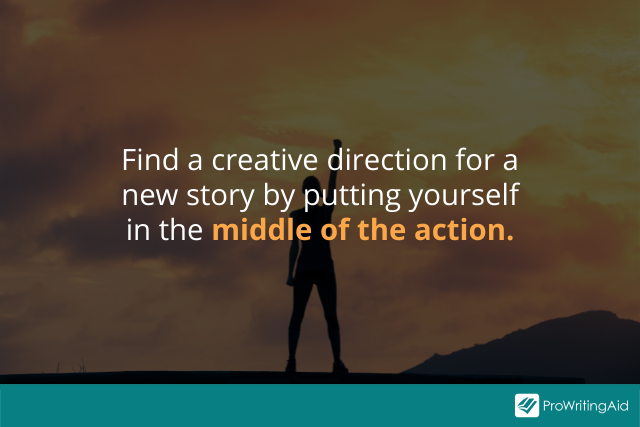 Take a story that resonates with you.
Rewrite the story as if you're the main character.
Now that you've got eyes "inside" the story, can you expand on the details to make a situation more intense or to convey your feelings more fully? Can you think of ways to make the story more engaging?
As you generate ideas you'll likely find a creative direction for a new story.
6. Eliminate Empty Words
Sentences contain working words and glue words. Working words tell your reader key information, convey emotions, and provide meaning. Glue words hold the working words together.
Streamline your phrasing to only use necessary glue words. Unnecessary glue words are empty words that clutter your sentences and slow your writing down.
There are, there is, there are, in, on, of, this, just are common glue words that can become empty.
In this sentence, "There are two birds sitting on the roof," the only purpose of the words "there are" is to make the sentence complete. A better strategy is to use a stronger, more specific verb. For example, "Two birds perch on the roof" or "Two birds idle on the roof."
ProWritingAid's Sticky Sentences Report highlights sentences with too many glue words. With rephrasing and editing, you can streamline those sentences and keep your work moving fluently.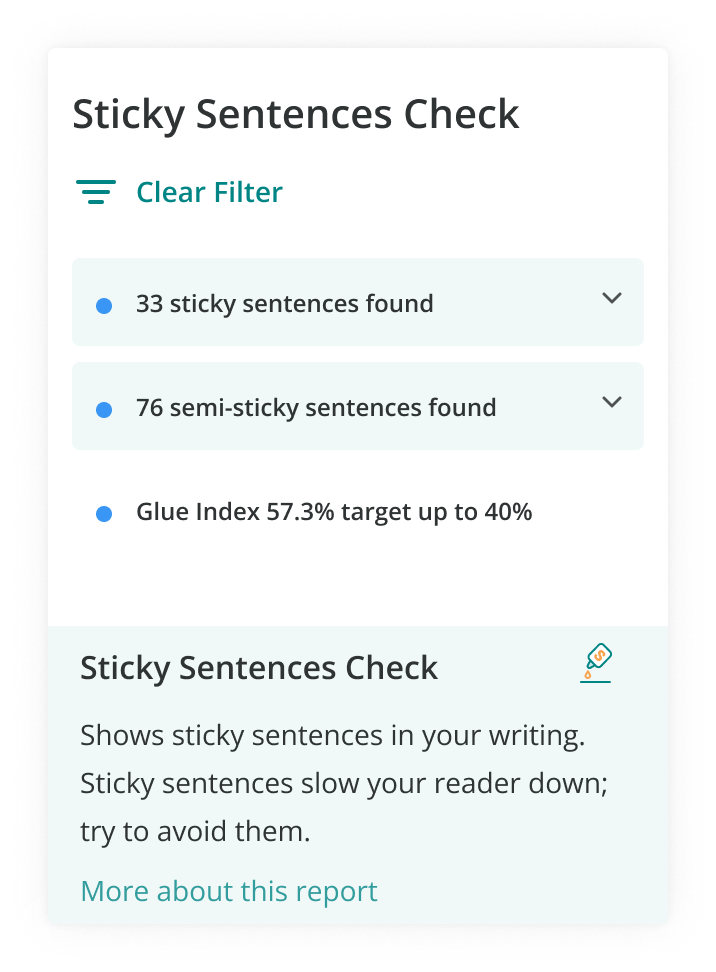 To practice, review a scene in your manuscript and restructure sentences to eliminate glue words.
Replace weak verbs with stronger ones and be economical with your word count. Don't be afraid to cut; you can always go back and add details as needed.
You'll find yourself choosing more precise words and constructing leaner, clearer sentences.
7. Outline Dialogue-Heavy Scenes
To create a natural back-and-forth exchange between characters, outline the dialogue in dialogue-heavy scenes first.
Don't worry about writing descriptions, dialogue tags, or body language cues. Just write the basic dialogue.
Then, go back and evaluate what you need to add to express the characters' tone, feelings, and personality more fully.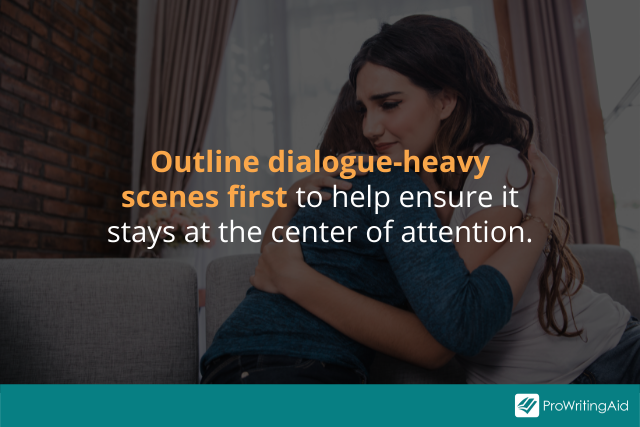 Tip: only use dialogue tags when the speaker's identity isn't clear. When they're needed, it's best to stick with said and asked. If the exchange needs intensity, add action beats—a telling glance or gesture to heighten the moment.
8. Replace Adjectives with Descriptions
Adjectives are powerful. However, they only tell what's happening; they don't give the reader an experience. In this sentence, the adjective tells us Peter's feelings:
Watching the movie, Peter was scared!
Replacing this with a description allows the reader to experience fear along with Peter:
When the headless bleeding corpse slithered out from the box in the attic, Peter screamed and ducked behind the sofa!
Now you try.
Review your draft. Look for adjectives you can replace with descriptions.
Use sensory words so your reader can experience the smells, touches, sights, sounds, or tastes you describe.
ProWritingAid's Sensory Report helps you balance sensory details by analyzing the emphasis you put on each sense. For example, in this sample, my writing has a heavy sight-emphasis.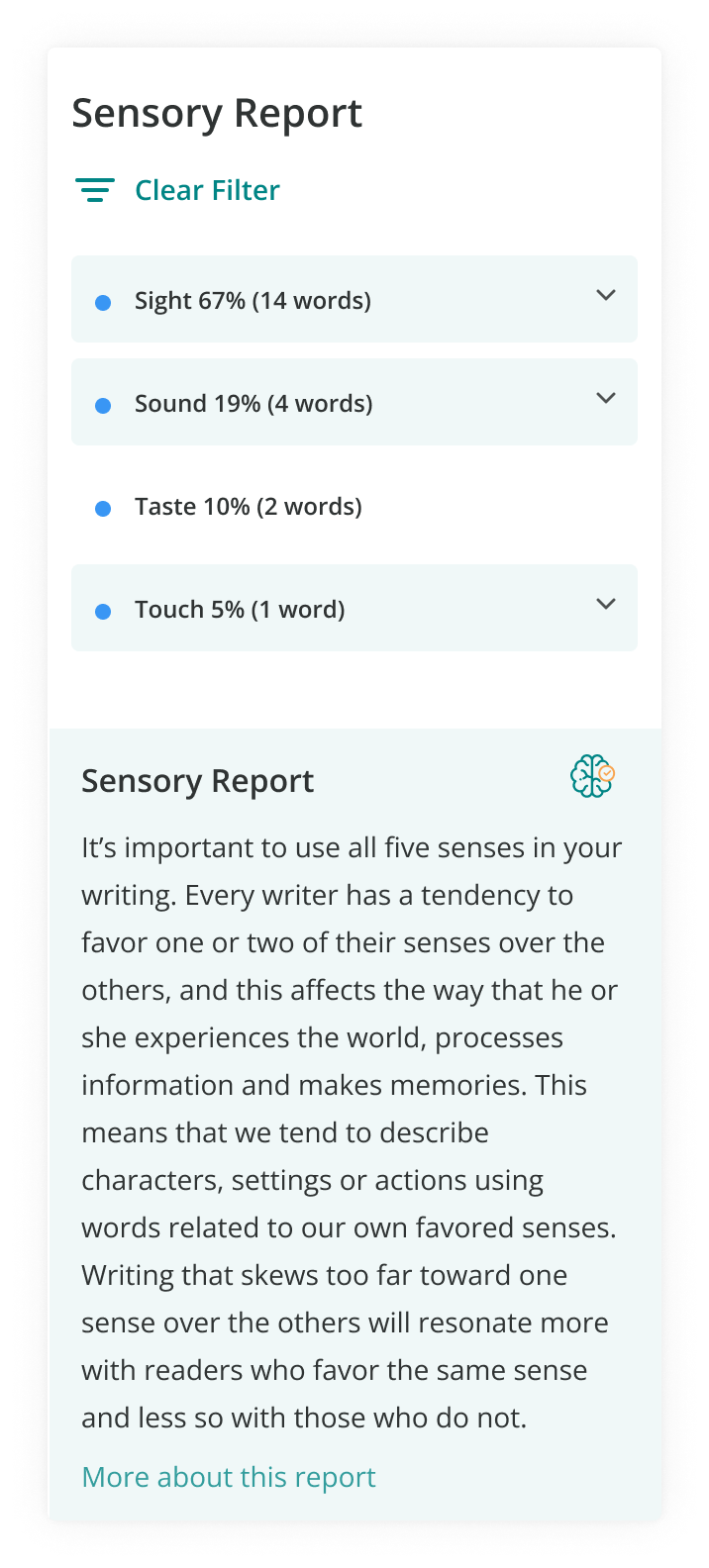 The report measures 67% of the sensory words as appealing to sight, letting me know I might want to make adjustments and create a more balanced experience.
9. Blog Every Day
Blogging every day encourages regular writing habits and is great practice for any writer.
You can consult online resources for tips on how to find a blog topic or niche.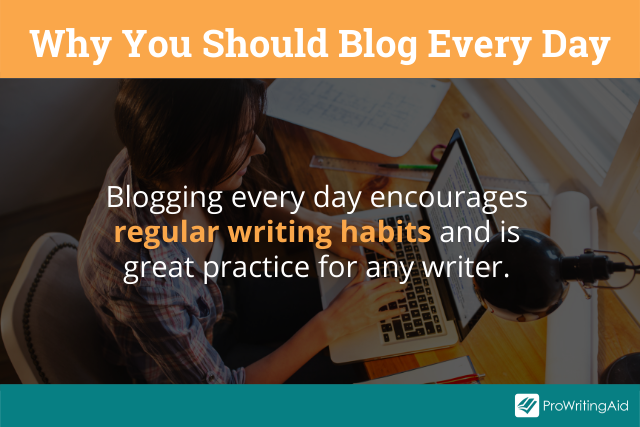 For example, you might decide to focus on food, on being a teacher, on being a millennial, on parenting, or on being a millennial who is a teacher and a parent!
Focus on a different aspect of that topic each day—even if you simply write a "Day in the Life of a _ _ _ _ _" series.
This limited focus provides a framework, but leaves plenty of room for creativity. Explore within that framework as you develop your voice and style.
For an extra challenge, limit the number of words you write. On slower days, the number will serve as a target. On days when ideas flow, it will help you ensure that each word matters.
10. Write a 500-Word Story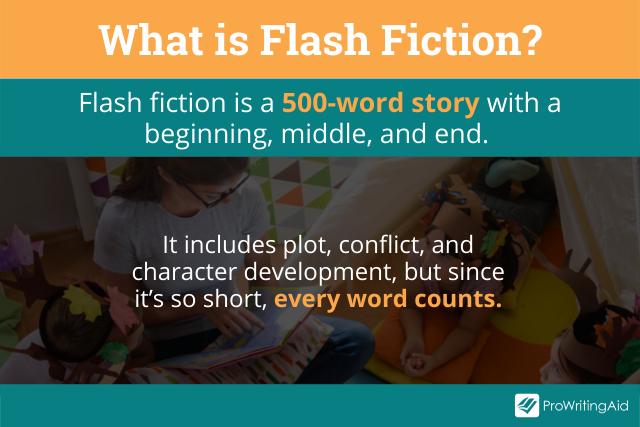 In the writing world, a 500-word story is an example of "flash fiction."
Flash fiction includes all the elements of plot, conflict, and character development, but since it's so short, every word counts.
Want to try? Write a fully formed story that includes these three words: rose, glass, forbid. Add no more than 497 additional words of your choice!
This exercise will help you focus on story structure, word choice, and powerful imagery.
11. Set a Captivating Mood
Readers should be intrigued by the story and drawn into the setting so they can feel for and with your characters. To make that happen, create a mood.
In Creating Short Fiction, Damon Knight suggests imagining you're a character in a room. Describe what's happening in that room and how the character sees, experiences, and responds to those surroundings.
Put the exercise into practice. Imagine an enemy from your past just called you, saying, "I'm outside your door."
Now describe the space around you. Do everyday objects become potential weapons? Is the air heavy with dread or charged with fear or filled with fury?
12. Be Observant
Pay close attention to your own reality and the emotions you experience in response.
Let's imagine you're sitting on a beach. Engage your senses and observe your emotions.
What do you see, hear, taste, smell? What does it feel like to sit in the sun and sand?
Are you feeling excited? Tranquil? Contemplative? What's triggering that emotion?
Perhaps the roaring waves make you feel small and insignificant—or invigorated! Maybe the ocean is quiet, and the small waves' gentle rhythm soothes you,
Capture those details and feelings in a journal (or on your phone!). Later, write a scene based in that setting, using those captured details to create sensations and evoke emotions.
13. Practice Empathy
Being sensitive to the feelings of others and seeing the world through their eyes will help you create well-developed characters.
Imagine a mother struggling with a stroller and shopping bags on the bus. Her kids are loud, they press the stop button repeatedly, and she has to take a phone call. Passengers are obviously annoyed.
Write the scene from the mother's perspective, considering her feelings and frustration. Does she notice the passengers' anger? Who is calling her? Where is she trying to go?
This exercise also works when you make it personal, though it may be emotionally challenging.
Rewrite a part of your life from the perspective of someone you hold negative feelings about—an ex, an enemy, a boss. Consider their feelings and tell "their side."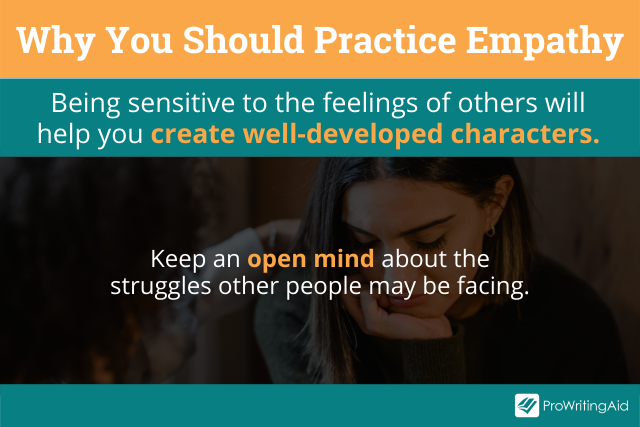 14. Group Writing Exercises
Groups can trigger creative writing ideas.
Give each member time to write one or two themes (one sentence each) for a holiday story.
Shuffle those submissions and redistribute them randomly.
For online groups, post the themes in chat and have everyone use the entry following their own.
Set a timer for ten minutes, during which each writer creates a story fitting their assigned theme.
Then, share your stories! Keep the exercise going with a story swap. Have a new author continue each narrative.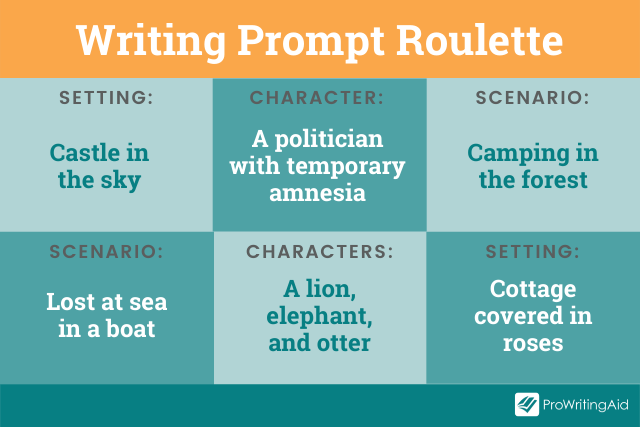 How Do You Improve Your Writing Skills?
Stephen King once observed:
"If you don't have time to read, you don't have the time (or the tools) to write. Simple as that."
Reading and observing the work of other writers is essential to developing your skills, but isn't enough on its own.
You must give your writing skills a workout—and these 14 creative writing exercises provide the perfect starting point.
You don't have to work alone! Professional bloggers, novelists, copywriters, and other writers use ProWritingAid to receive personalized feedback on their work.
It's a one-stop tool to help you evaluate, edit, and improve your writing. Try it out today.
---
Do you want to know how to build a world your readers won't forget? Download this free book now: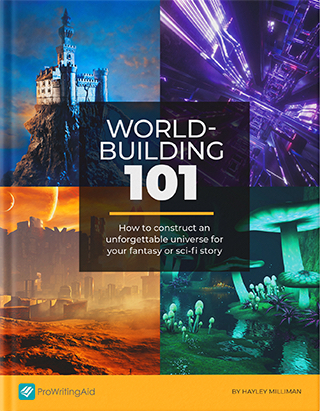 This guide is for all the writers out there who want to construct an unforgettable world that your readers can't help but get lost in!
Learn how to invent species, gods, monsters and more in our immersive guide.