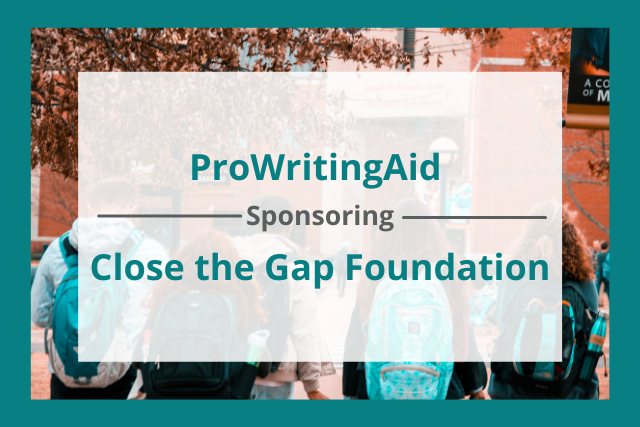 We are delighted to announce that this year we will be sponsoring Close the Gap Foundation's Social Impact Fellowship Program.
For first-generation English speakers and learners, writing can be a real challenge, but access to ProWritingAid's grammar checker can make a positive difference.
That is why we are providing all of this year's aspiring fellows with a free one-year ProWritingAid Premium membership. By helping these students produce their best work for school, they can reach their full potential and build confidence for their futures.
Who Are Close the Gap Foundation?
They are a non-profit organization based in California. Close the Gap Foundation was co-founded by Tai Tran and Jessie Salas who are both first-generation and low-income graduates.
They experienced first-hand the challenges that students from disadvantaged and underrepresented backgrounds face when entering college and the workforce.
Their mission is simple: to "close the gap" between high-income and low-income students.
To achieve this goal, they take a varied approach that combines project-based learning, structured mentorship, cohort-based learning and scholarships, and microgrants.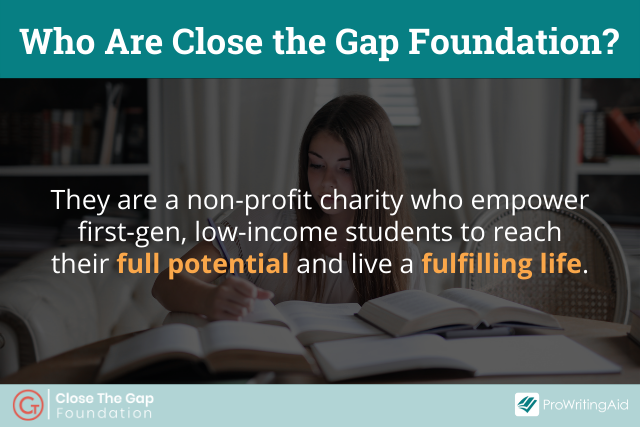 What Is the Social Impact Fellowship?
The Social Impact Fellowship is a three-month program for rising low-income 11th and 12th graders to find mentors, grow their confidence, and give back.
It is in its third year and is being run alongside other programs including microgrants and a running partnership with Forbes.
How Can You Apply for the Social Impact Fellowship 2022?
Applications for this amazing opportunity are open until the 31st March 2022, as long as you fulfill a few basic requirements.
There are four requirements to apply for this year's fellowship.
Be a rising 11th-12th grader for the upcoming school year
Be a high-school student in California
Identify as low-income (In line with HHS poverty guidelines)
Be available to commit and participate between June and September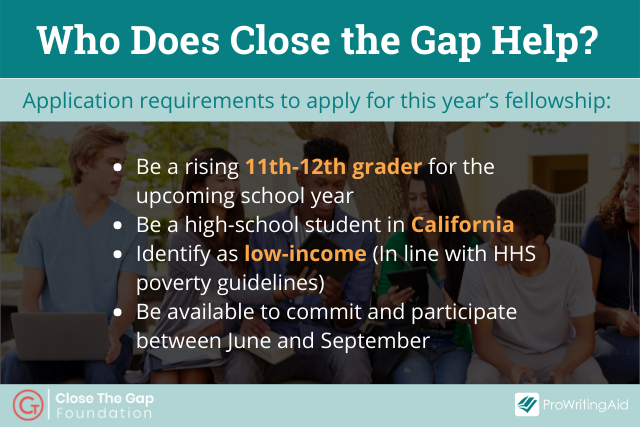 There are no academic requirements to be accepted and attitude is considered over aptitude. Program acceptance is needs-based and applicants are encouraged to share their stories including their triumphs and setbacks.
How the Social Impact Fellowship Helped Students in 2021
Last year, the program involved:
30 low-income first-generation fellows
30 student-led social impact projects
300 community members impacted
3,000 community service hours logged
Statistics are only a small part of the story, so here is what three of the students have to say about their experience.
India Cathcart's Story
"Close the Gap is such an inspiring program. My family hit a rough patch when COVID-19 hit, and I went from having everything to having nothing. I began to realize that there were a lot of people in my community also struggling with food insecurity, and I wanted to give back to them through my project. This scholarship will ultimately help my chance of getting into college where I hope to study law and really make change in the POC community."
Amia Marbles' Story
"I appreciate the whole Close the Gap family for opening so many opportunities for me. This whole program gave me confidence and the ability to create something so amazing with mentorship and guidance. This experience made my whole summer, the people I met and what I learned will forever have a special place in my heart."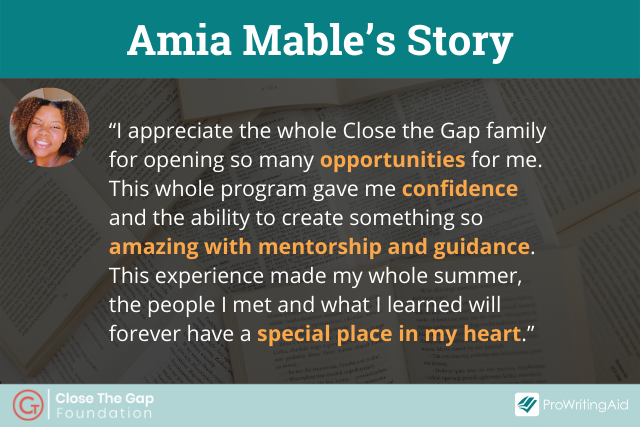 Brandon Morales' Story
"Growing up without a father, my mom had to play both roles which was pretty difficult for her. She still managed to raise my brother and me to become great men. Close the Gap didn't just provide me with people who care about me, they truly opened my eyes to the potential that I have."
What Other Charities Has ProWritingAid Supported in the Past?
Every year we support a variety of charities who all work towards making writing accessible to everyone, regardless of their background.
In 2019 we supported the International Literacy Association who aim to improve the quality of literacy instruction across the world.
In 2020 we supported the Children's Literacy Charity who are working to improve literacy levels of disadvantaged children, thereby making sure that they do not get left behind.
In 2021 we supported First Story who place professional writers in schools in low income communities in order to nurture creative expression and improve students' confidence.
---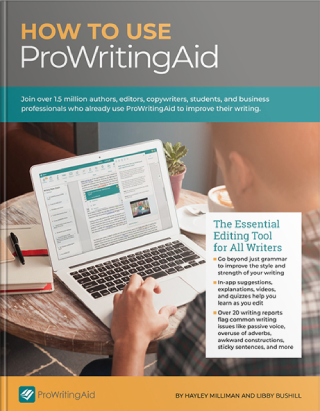 Find everything you need to know about using ProWritingAid in our Ultimate Guide. Download the free eBook now:
Join over 1.5 million authors, editors, copywriters, students, and business professionals who already use ProWritingAid to improve their writing.