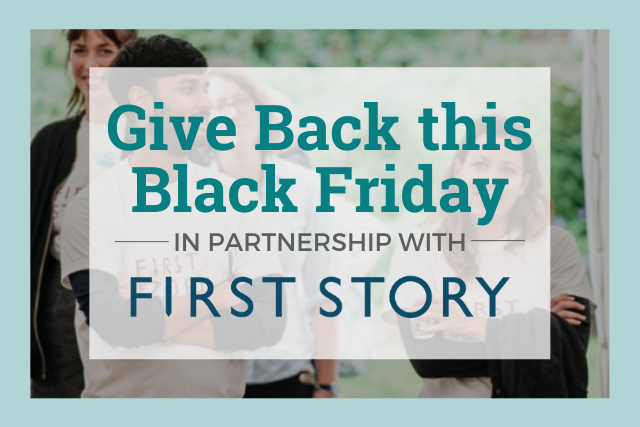 Want to Give Back this Black Friday?
Every year, we like to support literacy charities by donating a part of our Black Friday sales. Over the last two years, we've raised over $1,500 each for the Children's Literacy Charity and the International Literacy Association.
At ProWritingAid, we believe writing is a skill that can be learned—anyone can be a writer. That's why we're so excited to be partnering with First Story this year.
First Story is a creative writing charity for young people. their Young Writers Programme places professional writers into schools in low-income communities, where they work to nurture students' confidence and writing ability by encouraging creative expression.
First Story said:
"We're so grateful that the ProWritingAid team chose First Story to benefit from its generous Black Friday fundraiser this year. Your donations will help empower disadvantaged young people in communities across England with the confidence and skills to tell their own stories."
On November 15–20, ProWritingAid will donate $5 of every purchase in our Black Friday Sale to First Story at no extra cost to you!
NOTE: Make sure to click the button above between November 15–20 to donate $5 to First Story.
How Does First Story Support Young Writers?
How often do you wish that you had a professional writer looking over your shoulder to support you and give you advice on your writing journey?
That's exactly what First Story provides through its Young Writers' Program.
All of First Story's writers are published authors, playwrights, and poets. Over the course of a few weeks, they take groups of first-time writers through intensive writing workshops, where students learn writing technique, how to include the world around them in their stories, and—most importantly—that their own story is worth telling.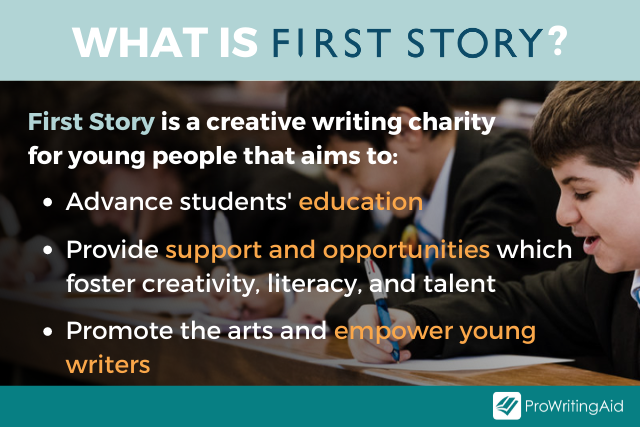 What Will My Donation Do?
By purchasing a ProWritingAid license this Black Friday, you'll be donating $5 to First Story to help them continue to help young people discover their creative potential.
Hear how First Story changed these students' lives:
Elizabeth's Story
"I never imagined myself becoming a writer one day, or having to present my ideas to an audience. It all started just like a dream which has ended up becoming a reality. Writing has enabled me to express my feelings and emotions. Most times, having to express myself verbally can be a challenge. But with writing, it's like it's easy to pour out my feelings."
Abdi's Story
"From being the trouble-maker, to being the published author… There's a long way to go before I end up being where I want to be, but I feel like I can do that, like I can reach that place. Your potential is infinite and what you put in is what you get out—doing First Story helped me to realize that."
Baran's Story
"Before First Story I didn't like writing anything, I felt it was something that I couldn't do. I really hated my English lessons because I had to write. [...]
The workshops allowed me to express my feelings. [...] I didn't have to think about the rules of writing, techniques, spelling and grammar, and I was always encouraged by Ashley (our Writer-in-Residence) to write in whatever way felt natural to me. It felt like I found my own voice."
How Can I Donate to First Story?
If you've been thinking about upgrading to ProWritingAid Premium, this is the time to do it.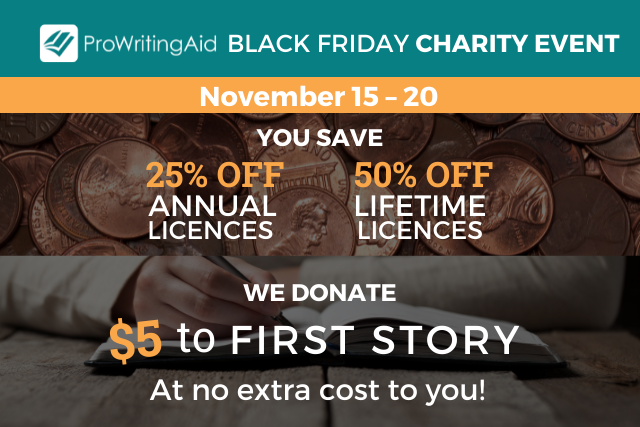 You'll get 25% off an annual license, or 50% off a lifetime license—and $5 from every purchase will go to First Story if you purchase between Monday November 15 and Saturday November 20.
Give back this Black Friday. Purchase between November 15–20 to donate $5 to First Story.
NOTE: Make sure to click the button above between November 15–20 to donate $5 to First Story.