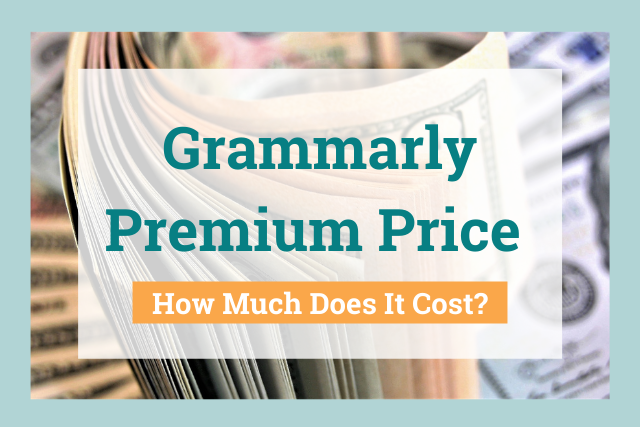 Grammarly is a popular online editing tool that acts as a writing assistant.
Grammarly helps users to improve their writing by identifying a variety of writing errors. These errors can be related to punctuation, grammar, or spelling.
Grammarly also has a plagiarism checker that lets users compare their work against published works.
Grammarly has both a free and premium version but in this article we're going to focus on the latter. We're going to look at the premium features, what it costs, and whether or not the subscription is worth it.
How Much Does Grammarly Cost?
Grammarly offers subscriptions under two categories: Individual and Teams.
Before we get into the pricing, let's take a quick look at what both offer.
Grammarly Premium is for individuals who want to improve their writing through advanced writing feedback.
Grammarly Business is for teams who want to ensure their communication and writing is professional and clear.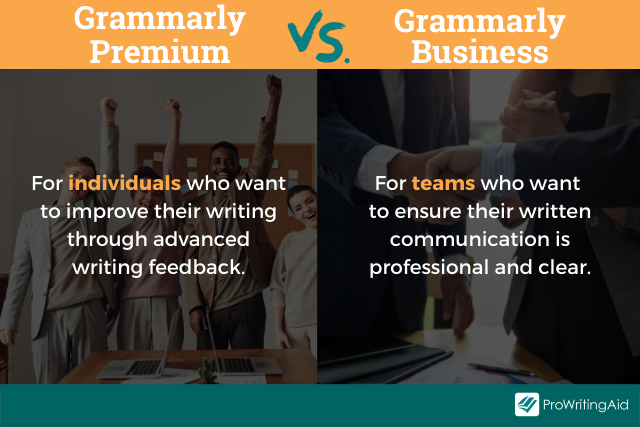 Individual Subscriptions
Grammarly Premium has monthly, quarterly, and annual subscriptions. Here's what each subscription costs:
Monthly Subscription: $30 USD per month
Quarterly Subscription: $60 USD for three months (billed as one payment)
Annual Subscription: $144 USD for one year (billed as one payment)
Team Subscriptions
Grammarly offers monthly and annual subscriptions to Grammarly Business for teams of three and up.
The monthly subscription costs $25/member/month (billed as one payment for all users).
The cost of an annual subscription depends on the number of users on your team:
3 to 9 members: $12.50/member/month
10 to 49 members: $12.08/member/month
50 to 149 members: $11.67/member/month
The prices listed represent the average cost per user per month. However, the annual plan is billed as one charge for all users.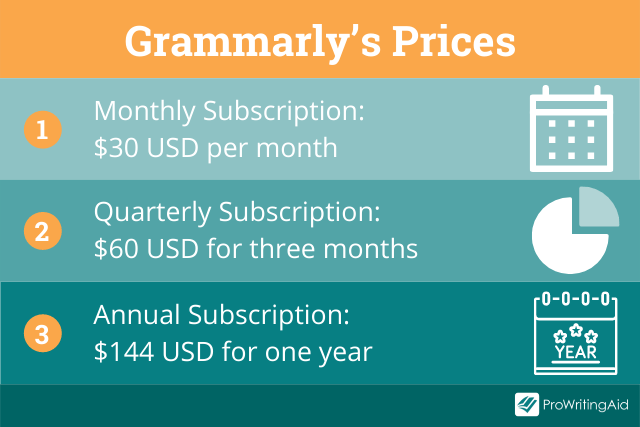 The Grammarly Business plan has all the premium features for teams of 3 to 149.
Teams get access to additional collaboration tools, including admin panels, centralized billing, team usage statistics, priority email support, and more.
While Grammarly Business offers a robust suite of tools and services, it can get expensive if your team is larger or if you don't want to commit to an annual plan.
Grammarly Premium Price for Students
Grammarly does not offer special student pricing discounts or a student-centered app. Like other individual users, students can access the free version of Grammarly but this comes with its limitations.
Students can choose this or pay for Premium access at a cost of $30 per month (this is the more expensive of the two) or $144 per month.
Grammarly offers an enterprise plan for educational institutions like colleges and universities. This plan includes:
Comprehensive writing suggestions
Plagiarism checks
Integration into the websites and desktop apps you use every day
Vocabulary enhancement tools
24/7 support
Grammarly offers customized plans depending on need and team size. If the standard enterprise doesn't suit your needs, you can contact them for a tailored plan.
Grammarly Premium Features
Let's take a deeper dive into what you get with a Grammarly Premium account.
Individual Premium features include everything in the free version plus these additional categories:
Clarity-focused sentence rewriting
Tone adjustments
Inclusive language
Word choice for precision and clarity
Formality level
Fluency to make your writing sound correct
Additional advanced suggestions
Plagiarism suggestions
Business team members receive all the benefits of an individual Premium plan plus additional features.
A style guide for usage and terminology consistency
Snippets—create short text snippets to use for repeated answers
Brand tones
Analytics dashboard
Priority email support
Set account roles and permissions
SAML SSO (for accounts with 50+ users)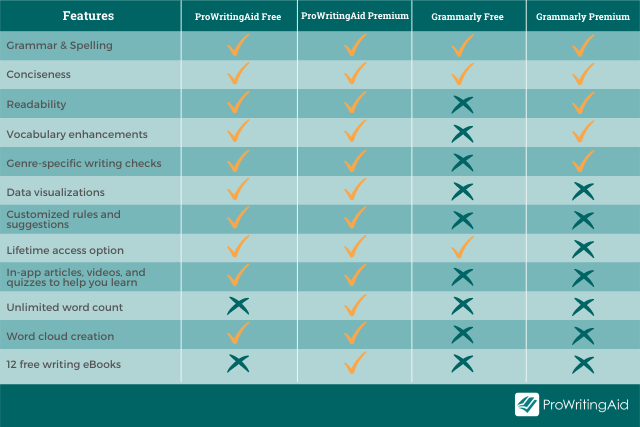 ProWritingAid: The Best Grammarly Alternative
Do you remember that teacher who would go through your essays and point out every single mistake? ProWritingAid is just as thorough but not at all judgy.
ProWritingAid is the full package. It's a grammar checker, style editor, and writing coach all in one.
ProWritingAid wants you to be a better writer—no matter what you write. There's a style guide for everyone, whether you're a fictional writer, university student, content creator, or the CEO of a business.
That's because ProWritingAid understands that different writers have different writing needs. You can even create your own style guides, snippets, and dictionaries so you'll have your own set of rules and reminders.
ProWritingAid has more writing reports than Grammarly. Depending on the type of writer you are, you may not use all of them. However, you can rest assured that there's a writing report for you.
Each report targets a specific area of your writing. While some reports offer quick suggestions, others go more in depth.
The end result is that all 20 reports help you to improve your writing over time. You'll get to work through elements like repetitiveness, vague wording, over-complicated sentence constructions, and so much more.
One of the hardest parts about becoming a better writer is not knowing how much progress you've made.
Yes, you might have fixed your sentence structures and addressed pacing issues, but how much better are you than before?
ProWritingAid makes tracking your progress easy with Writing Goals, where you'll see real time scores as you edit. Goals are like report cards for your documents.
You'll also see an overall score for your document based on spelling, grammar, and style. These highlighted areas will allow you to make more targeted changes so you can feel more confident in your writing.
ProWritingAid allows you to edit wherever you are by offering more integration options than Grammarly like:
MS Word/Outlook
Google Doc
Open Office
Final Draft
Its browser extensions for Chrome, Firefox, Edge, and Safari let you check your writing on almost every website, including Facebook, Twitter, Gmail, Medium, and Wattpad.
The best thing about ProWritingAid isn't that it gives suggestions on how to improve your writing but that it allows you to learn as you edit.
There are a host of in-app suggestions, explanations, videos, and quizzes to help you become a stronger writer.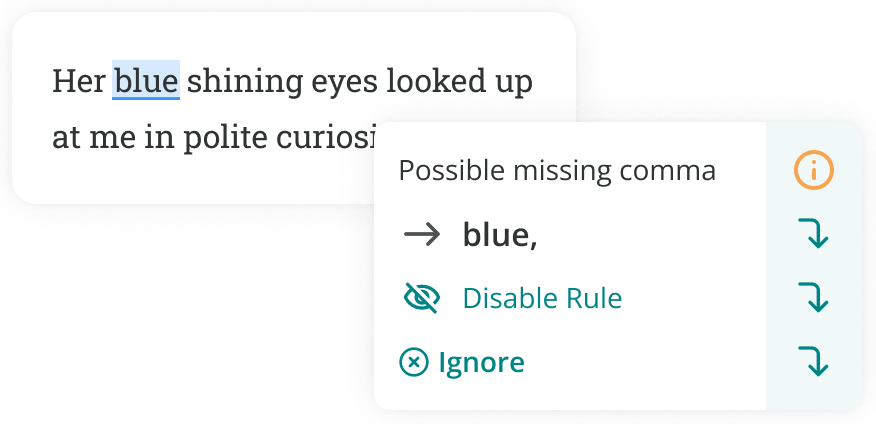 How Much Does ProWritingAid Cost?
ProWritingAid delivers an all round package at a fraction of the cost for Grammarly Premium.
ProWritingAid Free vs. ProWritingAid Premium
ProWritingAid's web editor will always be free to use on up to 500 words. You can also download and use the browser extension on text of up to 500 words anywhere online.
You can perform real-time editing in the free online editor by choosing to accept suggestions or making your own changes. You'll have access to recommendations in over 20 different areas of your writing with the free version.
When you go Premium, you get access to all of ProWritingAid's integrations as well as:
All free features, including passive voice rephrasing, word choice enhancements, fluency improvements, sentence structure checks, inclusive language suggestions, jargon-busting suggestions, and more
Over 10 eBooks from our Writer's Resource Library
Unlimited word count
A customizable customer focus score goal
100% privacy (they'll never access your writing without your permission)
ProWritingAid takes Premium a step further with their Premium Plus account. This subscription comes with a Plagiarism Checker that compares your writing to billions of existing copies across the web.
You also can purchase plagiarism checks ad hoc and according to your specific needs. Unlike other grammar checkers, ProWritingAid doesn't store your text once you've done a plagiarism check.
ProWritingAid also offers a lifetime subscription option. For the price of three years of Grammarly Premium, you get access to ProWritingAid for life.
Both Premium versions of ProWritingAid begin with a 7-day free trial. They also offer a 14-day no question, money-back guarantee. So if you don't like the software, you're not stuck paying for it.
Here's a breakdown of ProWritingAid Premium's pricing:
$20 for a monthly subscription
$79 for an annual subscription
$399 for a lifetime subscription (one-time payment)
ProWritingAid for Students
Unlike Grammarly, ProWritingAid offers a 20% discount to students. If you're a student, claim your 20% discount by simply entering your academic email in the Student App Centre and your discount code will be sent straight to you!
Your professors will love reading your polished, error-free assignments and your grades will thank you.
ProWritingAid for Teams
ProWritingAid also offers a Team Subscription. Teams using ProWritingAid are more effective because they write better, faster, and with fewer mistakes.
An effective team with clear messaging will save your business money and show your clients that you're serious about what you're offering.
Use ProWritingAid to drastically improve the way your team writes customer emails, reports, pitches, and more.
The ProWritingAid for Teams subscription includes:
1,000 term base items
1,000 style guide rules
Centralized user management
Team analytics
Set account roles and permissions
Customer focus score
SSO solutions
ProWritingAid vs. Grammarly: Which Grammar Checker Is the Best?
ProWritingAid and Grammarly will both help you to improve your writing. ProWritingAid takes it a step further with their commitment to your continuous learning.
They don't just correct, they teach.
Thousands of writers from different backgrounds can attest to being a part of the ProWritingAid Writing Community and of the advances they've made in their writing journey.
ProWritingAid is more than a writing assistant, it's a writing partner and a reasonably priced one too.
---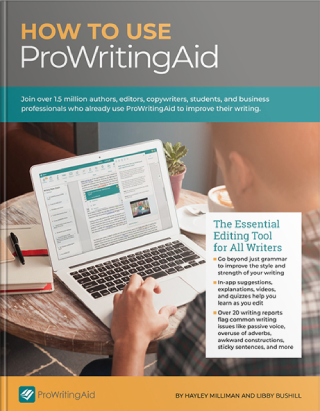 Find everything you need to know about using ProWritingAid in our Ultimate Guide. Download the free eBook now:
Join over 2 million authors, editors, copywriters, students, and business professionals who already use ProWritingAid to improve their writing.