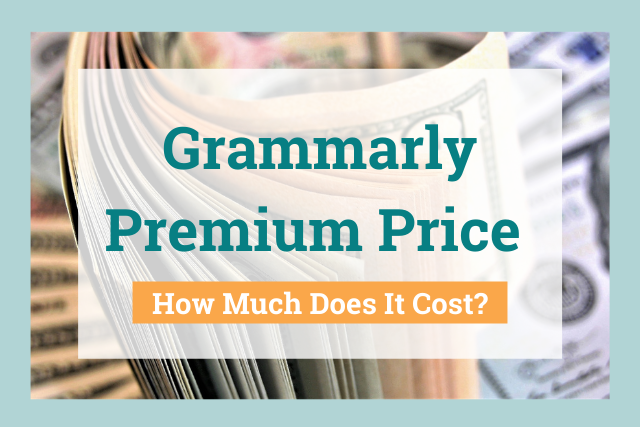 Grammarly is one of several AI-powered grammar checkers and editing apps on the market. But with their free version only offering very limited features, you might wonder if Grammarly Premium is worth the cost.
Let's check out exactly how much Grammarly Premium costs for different users and what features you get for the price.
How Much Does Grammarly Cost?
Grammarly offers a free plan, but the functionality is limited. The free version includes access to the Grammarly Chrome extension and the web editor, but you only get three of their reports. It's not a great option for professional writers or people who need more support to improve their writing.
Below, we've outlined the price of the various paid plans. Keep in mind that businesses frequently adjust their pricing. This pricing is valid as of the publication of this article.
Individual Premium Plan
Most users will fit into the individual Premium plan. This Premium version includes everything that comes in the free plan—grammar, spelling, and punctuation errors, tone detection, and conciseness checks—plus several more features. We'll take a closer look at these features in the next section.
The individual plan is cheapest if you buy a one-year license. This comes out to $12 per month, in an annual payment of $144.
But not everyone can pay that cost upfront, so you can choose from a quarterly payment or monthly payment. The quarterly plan is $20 per month, billed as $60 every three months.
The monthly subscription is a hefty $30 per month, a full 60% more than the annual plan.
Business Plans
Business users get a few more features that are useful for teams, like user management controls. Business plans are $15 per month per user, with a minimum of three users.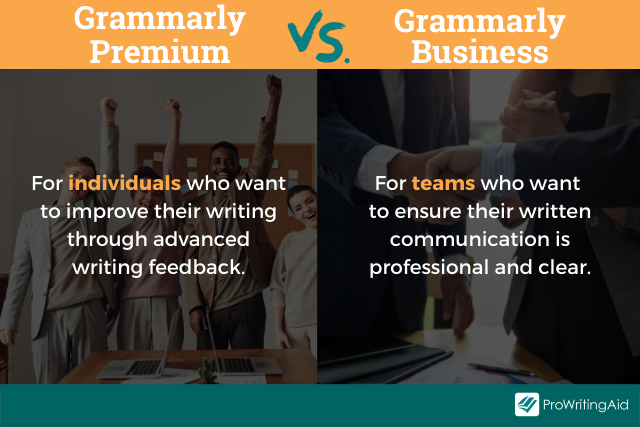 Grammarly Premium Price for Students
Grammarly Premium comes with some helpful features for students, like citation formatting and a plagiarism checker.
Students are usually on a tight budget. Unfortunately, Grammarly doesn't offer discounts to students, so you're stuck getting the $30 monthly subscription or one of the other pricey Premium subscriptions.
Grammarly Premium Features Included in the Price
Grammarly Premium isn't cheap, but is it worth it? Let's look at the features you can get with a Premium subscription.
Grammar Checker
At its heart, Grammarly is a grammar checker. Everyone, even free users, can check for spelling, punctuation, and grammar mistakes. This is great if you're someone who makes many spelling mistakes or struggles with punctuation.
Grammarly Premium gives users the ability to check for consistency in their spelling and punctuation. Let's say you switch between using the Oxford comma and omitting it. The Premium version will flag mistakes like that. Users on the free plan are out of luck when it comes to consistency because it's a Premium-only feature.
A Premium Grammarly account also flags English language fluency mistakes. If you've incorrectly used a synonym for a word, Grammarly will find it.
Clarity in Writing
Both free and Premium users can check their writing for conciseness. This allows you to eliminate unnecessary words and phrases so your writing is less clunky.
Grammarly Premium users can get full sentence rewrites and formatting ideas. The app can suggest if something should be formatted in bullet points or separate paragraphs, for example.
Diction and Flow
Grammarly has two reports that fall under what they call "Engagement." The first is for word choice, which offers alternatives to weak words.
The second report is for word and sentence variety. It analyzes your writing for closely repeated words and sentence structure, then it offers suggestions to make your writing flow better.
Both reports are only available to Grammarly Premium users.
Tone
One of Grammarly's most popular features is its tone detector. The basic tone detection report is available to all users. It shows you the general attitude of your writing and how readers will interpret it.
The Premium service offers more in-depth tone suggestions. You can find rephrasing suggestions for confidence, friendliness, sincerity, formality, and more.
You can also find language that may be offensive to some users. The inclusive language report flags words that may be harmful to marginalized communities.
Citations
Free and paid users can both access the auto-citation feature with the Grammarly browser extension. This allows you to quickly copy an auto-generated citation for your bibliography/works cited page when you're on a research site.
Premium users can also get suggestions for in-text citations. Grammarly will flag citation errors that don't match your style guide so you can comply and avoid accidental plagiarism.
You will also get access to their plagiarism checker to ensure you haven't accidentally copied anything from a source.
Team Features
Grammarly Business users enjoy a few additional features that aren't part of the standard Premium service. Admins can manage account roles and permissions. You can also use Grammarly with your single sign-on provider.
Teams also get the ability to build a custom style guide and set brand tones so that customer-facing employees represent their company correctly. Snippets also allow teams to easily insert common text, which is helpful for sales and customer service scripts.
Admins also get access to an analytics dashboard to see overall improvement in writing skills on their team.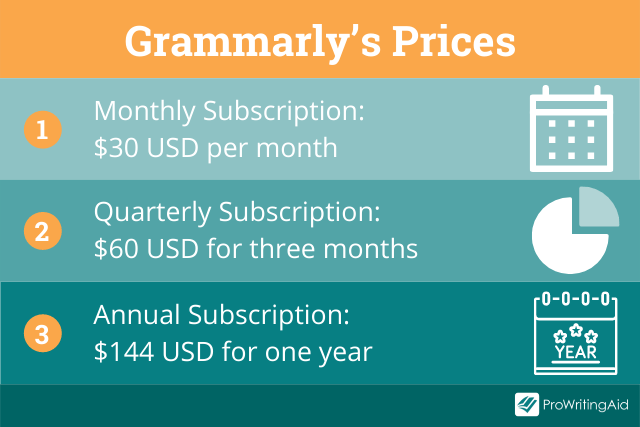 Integrations
Grammarly works on several platforms besides their web editor. There's a Chrome extension and desktop app for both macOS and Windows.
Grammarly also offers a mobile app for iPhones and Androids. The Grammarly keyboard makes suggestions as you type on your phone.
All the integrations are available on the free plan, but you must have the Premium version to use most of the editing features.
ProWritingAid as an Alternative
Grammarly Premium does have some great features, but it comes at a hefty price tag. Now that we've answered the question, "How much does Grammarly cost?" you're probably wondering if there's a cheaper alternative. Yes, there is.
Before I started working for ProWritingAid, I was a YouTube content writer for a different company that required us to run all our scripts through Grammarly before submitting. My lead writer came to me once and said, "Krystal, I really need you to run your stuff through Grammarly. I'm finding so many typos."
But I was! I looked into getting the Premium version, and I couldn't afford it. Then I tried ProWritingAid—and I never had another comment about silly mistakes. Plus, I started using it for fiction writing and bought a license. A couple of years later, I was able to join the writing team for this product I loved.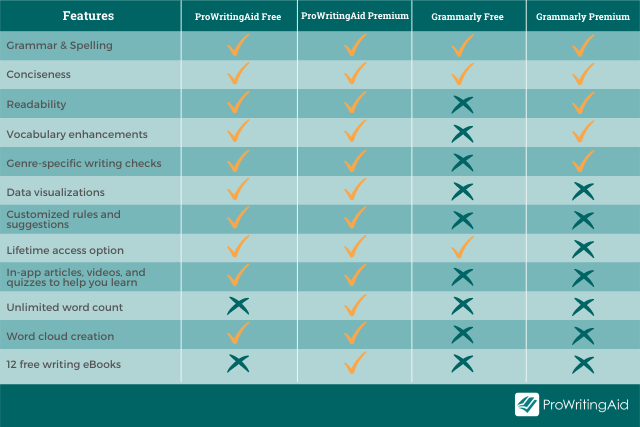 Why is ProWritingAid the best alternative to Grammarly Premium? Let's break it down.
Features
ProWritingAid is an AI-powered writing assistant. We believe everyone has the power to improve their writing skills and communicate more clearly, and we want to help everyone do just that.
We have over 20 reports available to both free and Premium users, as opposed to the three reports Grammarly offers to unpaid customers. Free users can check text up to 500 words in length, while our Premium users have unlimited word counts available.
We're much more than a glorified grammar checker. We offer detailed style feedback, including adverb usage, sentence variety, inclusive language, emotion tells, and more. Our Readability Report points out difficult-to-read sentences and paragraphs and offers suggestions on how to improve them.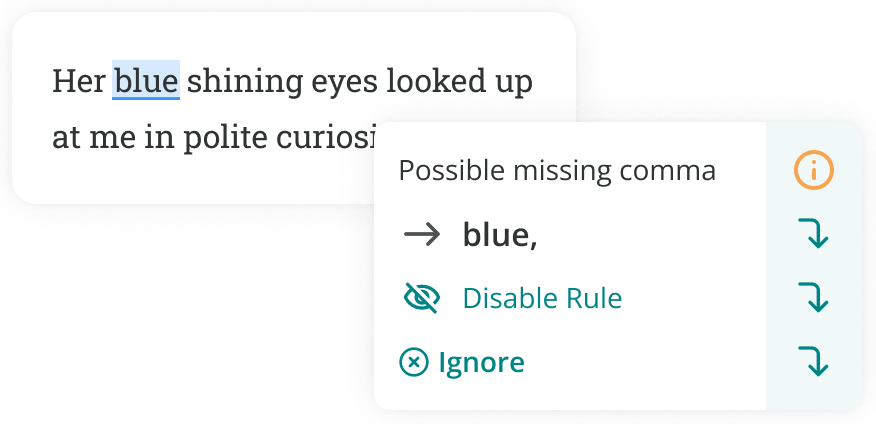 Fiction users love our Dialogue Report and our Sensory Report. We can even check the pacing of your scene with the Pacing Report. Everyone can benefit from the Consistency Report to find punctuation and spelling inconsistencies.
You can also set your document type to get customized feedback for your document. From various genres of fiction to different types of business or technical documents, the Goals sidebar will help you write successfully, no matter what you're working on.
We also want you to learn as you write. You'll get in-app article, video, and quiz suggestions so you can improve your writing skills.
Don't forget the Paraphrase Report and the tool's rephrasing ability. Everyone can access those features, but Premium users get more daily rephrasing suggestions.
Premium users get access to more reports and more settings. You can select your five favorite ProWritingAid reports to run all at once with the Combo Report. You can also select from more than 90 bestselling authors to compare your writing against.
You'll get two plagiarism checks with a Premium license. And anyone can purchase more plagiarism checks as needed.
Premium users enjoy more customizability. You can change settings for the Dialogue Report, add your personal crutch words to the Overused Report, add up to 20 items to your personal style guide, and change the default character for text snippets.
Our integrations include an app that works on your desktop, a Microsoft Office app, and browser extensions.
We also offer Teams licenses to businesses with additional features, such as team analytics, 1,000 term base items, 1,000 style guide rules, and user management for admins, all for a lower price than Grammarly.
Cost
Those are just some features we offer to our users. We offer our Premium plan as a monthly or annual fee—and you'll save some money if you subscribe annually. We also offer a Lifetime license. Check out our most current pricing here.
Students get a 20% discount on our plans. We also offer 20% off to educators, veterans, and nonprofits.
Our Teams license offers affordable business plans per user. You can also get a quote for an enterprise license if you need more customizability for your business.
Is Grammarly Premium the Best Grammar Checker?
We've outlined some of the biggest differences between ProWritingAid and Grammarly. Cost is an important factor, as is customizability and depth of writing feedback, when determining the best grammar checker.
Each app has some similar features and some unique ones. But when you compare them side-by-side for their value, ProWritingAid is the clear winner. ProWritingAid offers more in-depth feedback, more reports, and more resources to improve your writing skills than Grammarly, and it costs less.
Why not give ProWritingAid a try? You'll get more features with our free version than with Grammarly's expensive Premium plan.
---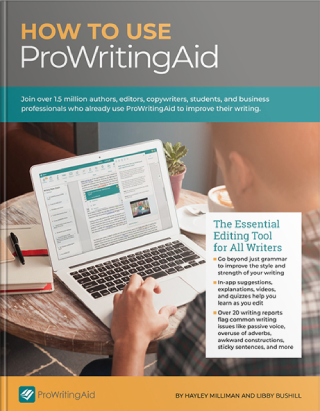 Find everything you need to know about using ProWritingAid in our Ultimate Guide. Download the free eBook now:
Join over 2 million authors, editors, copywriters, students, and business professionals who already use ProWritingAid to improve their writing.
---