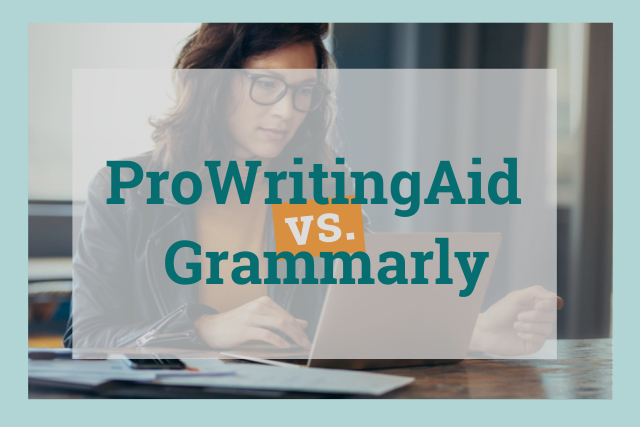 ProWritingAid simply delivers more. You will write more confidently, more knowledgeably, and with more community.
1. You'll get more reports than in any other tool.
More than 20 writing reports give you in-depth feedback that transforms your writing and helps you understand the technique behind each suggestion. You will learn as you go, becoming a better writer with every step.
2. You'll get more integrations than with any other tool.
You will find ProWritingAid everywhere you write: in Gmail, Google Docs, Scrivener, MS Word—and more. This gives you the tools to sound more professional in every email, post, report, or story you send.
3. You'll get more help achieving your writing goals.
ProWritingAid's Summary Report helps you identify the key areas that need improvement so you have a clear, actionable editing roadmap to follow. Your editing phase will become more efficient and effective.
4. You'll get more support and inspiration from our community.
The ProWritingAid community of writers understands the ups and downs of writing. Members support and inspire each other through the whole writing journey. Join weekly free training events with writing experts and become the writer you always wanted to be.
5. ProWritingAid is more affordable.
ProWritingAid is less expensive because our prices reflect our vision. We believe that everyone has an idea to share, and we want to help.
---
What's the Difference Between ProWritingAid and Grammarly?
First, we want to give due credit to Grammarly; like ProWritingAid, it's excellent at helping you weed out embarrassing errors in your work. ProWritingAid, however, goes way beyond just grammar to help you become a better writer. ProWritingAid is more than just a grammar checker—it's an editing tool that can support all kinds of writing.
Grammarly is a short-term fix where ProWritingAid is a long-term investment.
If you are only worried about catching mistakes, then Grammarly is for you.
If you want to catch your mistakes and invest in your writing and communication skills, then ProWritingAid will take you much further.
Let's dive deeper into those 5 reasons.
1. More Reports than Any Other Tool
More reports for less money? Yes, please!
With ProWritingAid you get more for less.
More resources
More reports
More functionality
More integrations
More new writing skills and understanding
Do Grammarly and ProWritingAid Offer Different Reports?
There are more than 20 ProWritingAid reports to help you improve your writing, while Grammarly has only a handful. Why? Because ProWritingAid goes deeper.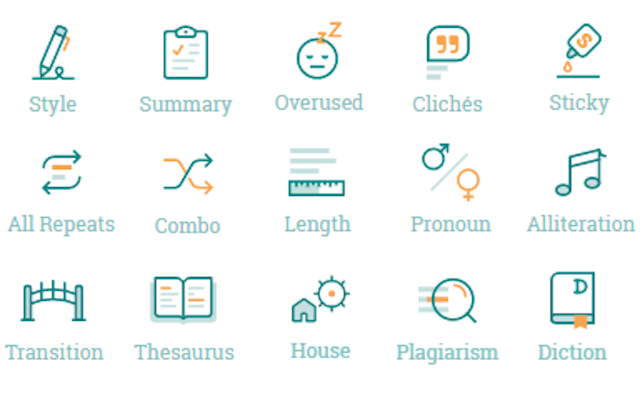 You'll see thousands of key copy-editing issues highlighted, including sentence structure, overused words, sticky sentences, passive voice, varied sentence length, consistency, pacing, and more.
With ProWritingAid's reports you'll improve the strength and clarity of your ideas.
At ProWritingAid we believe the best way to improve your writing is by getting informed.
Grammarly helps you find individual mistakes—ProWritingAid helps you identify (and fix) patterns.
Understanding your bad-writing habits and quirks helps you avoid common errors while writing, saving you time in the editing stage later on.
You'll also see how different elements like sentence structure, passive voice, word choice, and repeated words work together to impact the overall readability of your text.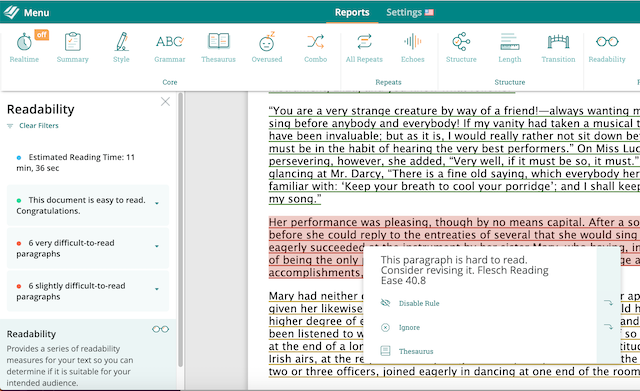 ProWritingAid's writing reports were built by writers, for writers. They help you target key areas of your writing that affect how clear, readable, and effective it is.
Let's look at four key reports that will transform the way you write.
A key indicator of good writing is clarity. If your writing is easy to follow, your ideas will shine through.
If your reader has to fight through awkward sentence structure, passive voice, overly-complex word choices, and hidden verbs to reach your meaning, chances are they'll give up before they get there.
Grammarly's free editor can help you with word order. But it won't help you with hidden verbs, passive voice, or word choice.
ProWritingAid's Style Report highlights all of these common problem areas to help you spot places where you could improve your writing to make it clearer and more direct. It gives you all the tools to improve the clarity of your writing in once place—and it doesn't put any of them behind a paywall.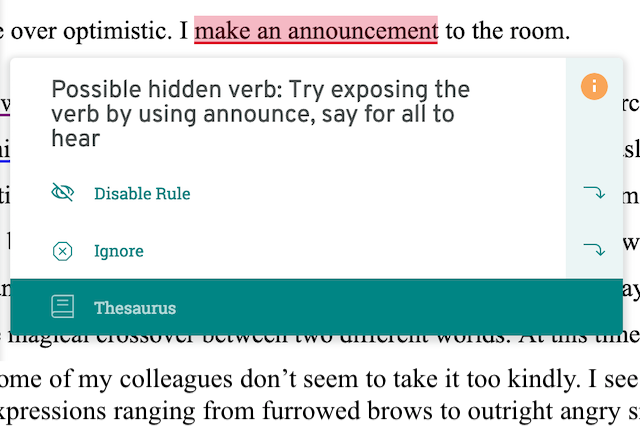 Once you've run your document through the Style Report, you'll know that you've taken key steps towards making your writing more readable.
Grammarly underlines your wordiest sentences in blue and suggests concise rewordings. ProWritingAid goes a step further.
ProWritingAid's dedicated Sticky Sentences Report highlights overly-wordy sentences and gives you an overall stickiness rating for your document so you know how you're doing on the whole.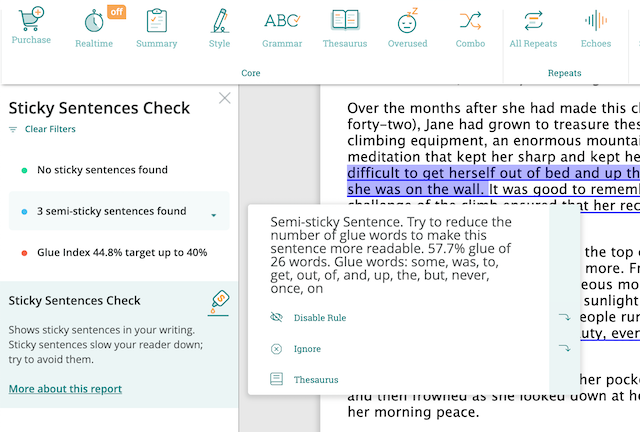 But what is a sticky sentence? Every sentence has working words and glue words. Working words drive the meaning of your sentence; if you change the working words, the whole meaning changes.
Glue words hold everything together, but too many of them can get in the way. Take a look at this sentence:
Jane was able to speak to a number of people about her problem and use the information that she had in her files and then come to a solution about the problem.
This sentence has too many glue words, making it hard to read.
Our aim at ProWritingAid isn't to standardize your writing. That's why our Sticky Sentence Report shows you the glue words in your sentence so you can choose to remove or rephrase them however you'd like.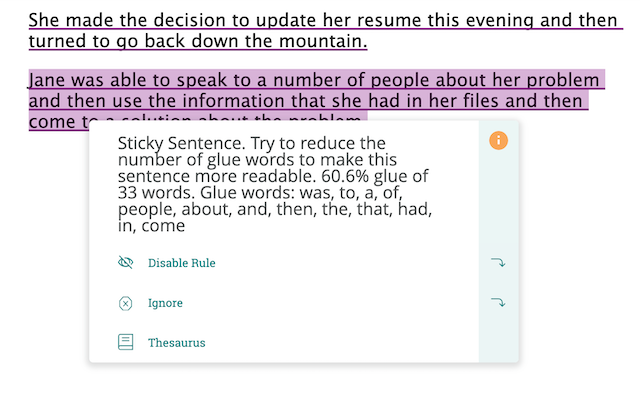 Using the information in the suggestion pop-up, you can re-write the sentence to prioritize your reader's understanding:
Jane used information from her contacts and files to find a solution for the problem.
Much better.
This is great for business writers looking to write as concisely as possible or for fiction writers looking to tighten their prose.
Now we'll move on to the reports Grammarly Free doesn't offer.
While you're writing, it's natural for certain words to stay at the top of your mind. But using the same words repeatedly makes your writing feel boring.
For business writers and students, it's particularly important to demonstrate mastery of your topic. Closely repeated words dilute your meaning and blur your points. You'll sound like you're going over old ground rather than moving your argument forward.
With the ProWritingAid Repeats Report you can:
Avoid reader confusion—repeats make them stop and ask "Didn't I just read that?"
Scan your document to double check you haven't included a point or paragraph twice
Ensure you're using key terms frequently throughout an essay or report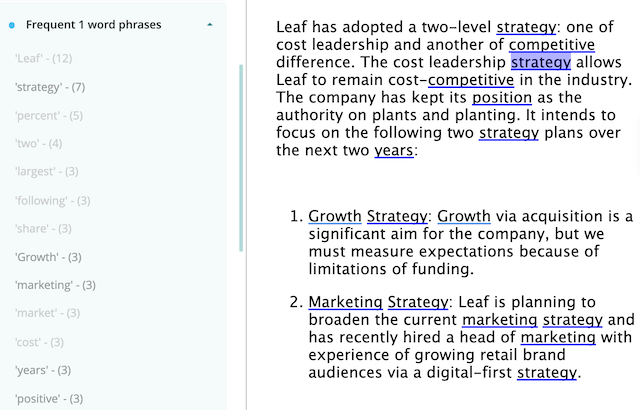 ProWritingAid's Repeats Report saves you time on proofreading. It spots the words you might skim over, improving the comprehensiveness of your edit. When you run the report, you'll see every repeated word in your document.
The side panel allows you to review your repeats and hide highlights for words you're happy to repeat. This lets you focus on the terms that might be setting off unwanted echoes in your readers' minds.
Switch out repeated words for fresh phrasing to make every sentence count.
Students, do you ever wish you had a tool that could scan your essay and tell you if you were on the right track with your essay requirements?
ProWritingAid can't analyze your arguments, but it can help with key essay-writing techniques like writing in the active voice, avoiding run-on sentences, and using transition words.
The Transitions Report highlights all of the transition words in your document to help you make sure you're signposting your argument.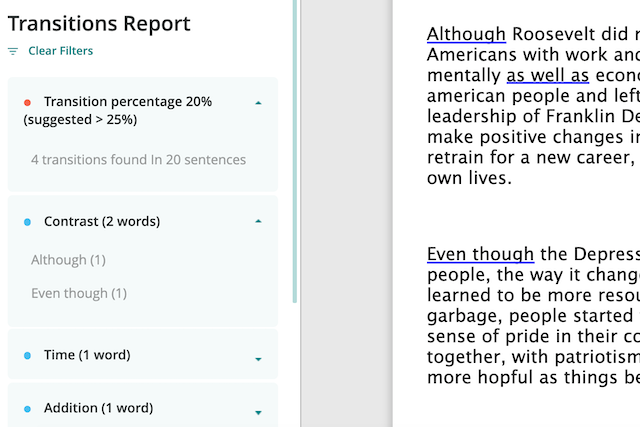 Words like "consequently", "alternatively", "on the other hand", and "therefore" help demonstrate that you know how your points link together and that you've thought about your structure.
The most readable essays have around one transition in every four sentences. Use ProWritingAid's Transitions Report to make sure you're using them consistently.
---
Tip: Some reports won't always be useful for every writer. Part of ProWritingAid's reports-based approach is giving you power over your process. You can select the reports that matter the most to your process so that you can be confident you're submitting your best essay, report, manuscript, or article, every time. Click here for more information about all 20 reports.
---
2. More Integrations than Any Other Editing Software
No matter where you write, there is a version of ProWritingAid for you. You'll find more integrations than any other software, including MS Word, GoogleDocs, Scrivener, Final Draft, Chrome, Firefox, and more.
ProWritingAid and Grammarly offer integrations for:
Chrome, Firefox, Safari, and Edge
Microsoft Word
Outlook
Google Docs
Open Office
But only ProWritingAid works with:
3. More Help to Achieve Your Writing Goals
Understanding why you're making changes is key to becoming a better writer. And that's where ProWritingAid comes in.
There are three key-ways to help you improve:
The Summary Report will help you zero in on the changes that will make the biggest positive impact on your document.
The unique "goals" feature helps you track your progress.
Suggestions, explanations, and videos help you learn good writing and editing techniques.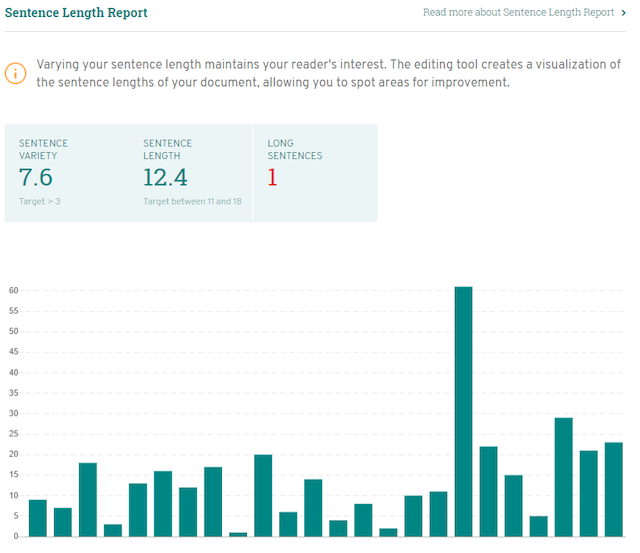 1. The Summary Report helps you figure out where to begin
Getting started on your edit is often the hardest part. How do you know what's good and what needs work? The Summary Report helps you focus on the improvements that will really make your work shine.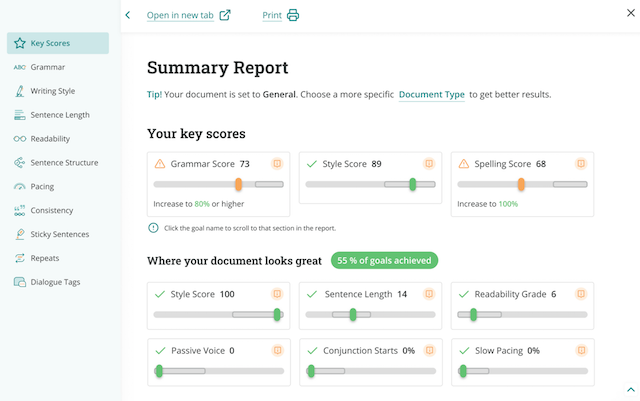 Set up your personal editing roadmap in a glance with visualizations that help you see your writing in a new way and identify potential issues.
2. Goals to help you assess your progress
Grammarly sets goals for correctness, clarity, engagement, and delivery, but it doesn't give you the specifics you need to achieve them.
In ProWritingAid you'll find those four principles broken down into clear, achievable goals. You'll understand exactly what you need to do to make your writing clear, engaging, and accurate.
3. Become a better writer with in-app suggestions, explanations, and videos
You want to improve your writing skills, not just find mistakes. You'll find several educational elements to our tool (explanations, videos, quizzes) that are not part of Grammarly.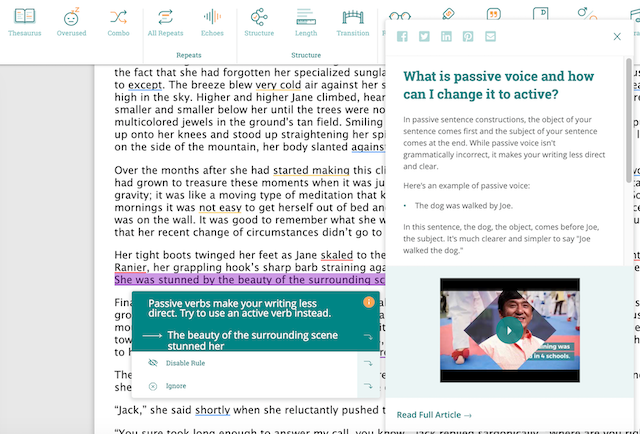 These educational elements are there to help you understand the theory behind the suggestions. This way, the more you use the app, the better your writing becomes.
No more making the same mistake over and over again.
Bonus: Edit Faster, Edit Smarter
Sometimes you need to create polished content quickly. With ProWritingAid's Realtime report you can make key improvements to your document in just a few clicks.
---
Free Account Limitations
ProWritingAid Free shows all potential improvements but limits the word count to 500 words at a time. Grammarly Free only shows suggestions for a couple reports, so you will miss key improvements.
Grammarly Free vs. Premium Version
Grammarly gives users access to their integrations but limits access to some of its most popular reports. Free-version users are limited to checking for grammar and spelling errors and their "conciseness" report. All other reports are premium only.
ProWritingAid Free vs. Premium Version
ProWritingAid gives free-plan users access to all of their comprehensive writing reports but limits the number of words that can be analyzed at one time.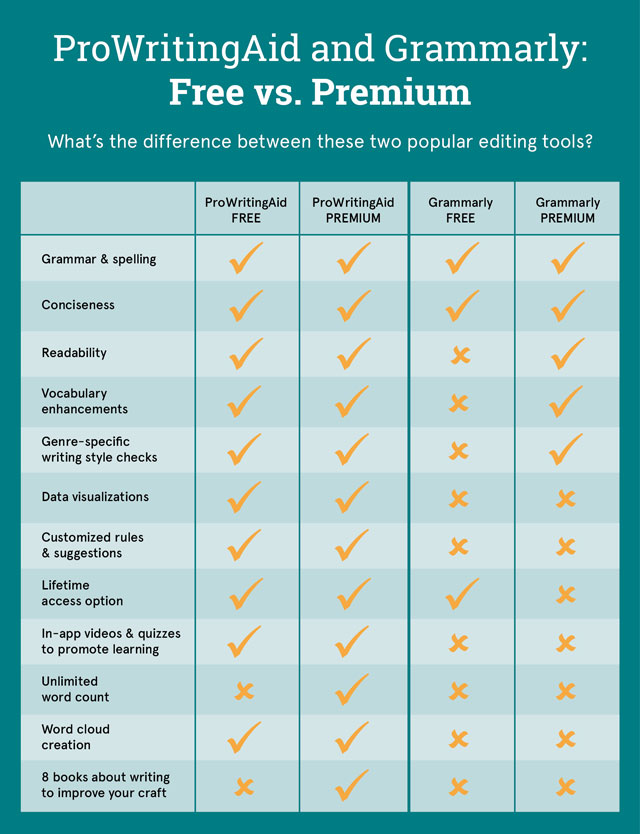 4. More Support and Inspiration from Our Community
How many times have you heard writing described as a solitary endeavour?
Here at ProWritingAid, we believe that writing is better together. That's why we're dedicated to building a community of writers that support and lift each other—whether through sharing questions and experiences with your fellow writers or joining us for live community webinars with industry experts.

Live Writing Training Sessions
There's more to writing than good grammar—there's even more to writing than copyediting! ProWritingAid's commitment to your continued learning and progress doesn't stop at sentence level.
Each month we invite experts in everything from self-publishing and fiction writing to business writing and customer service to join us for free live sessions for writers.
Join hundreds of others in the ProWritingAid community to learn valuable skills and ask your questions.
Check out this live loglines workshop with story development consultant Jeff Lyons, and check out all of our upcoming events here to join in the fun:
We also offer five recurring monthly sessions to help you keep building your writing skill:
All sessions are completely free to join. See you there!
If you're looking for meaningful support, inspiration, and accountability on your writing journey, you'll find it here. Over 5,000 writers have joined us in our online writing community.
You'll discover helpful writing content, engage in fun writing discussions, and have the space to ask all the writing questions you'd like advice on.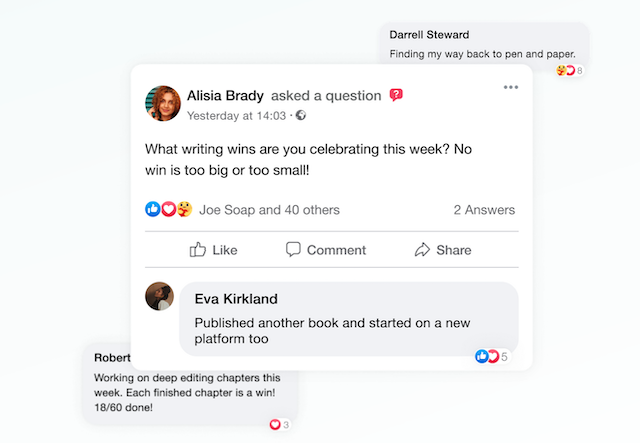 Whether you're looking for a subject expert, are hoping to partner with a beta-reader, or want to ask the ProWritingAid team a question, the ProWritingAid Writer's Community will help you connect to your fellow writers.
5. ProWritingAid is More Affordable
Check out the full pricing comparison below.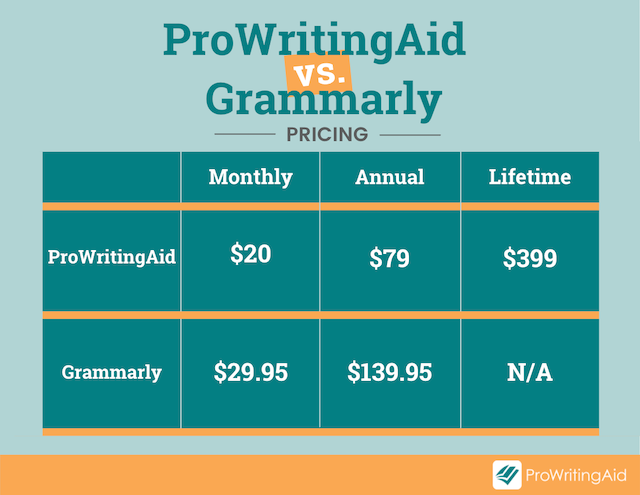 We've Grown Because Writers Recommend Us
ProWritingAid's prices are reasonable because our users love our tool and recommend us—we don't need to spend all our money on advertising.
Lifetime Payment Option
ProWritingAid also gives you the option of a one-off lifetime payment if you prefer that over an ongoing subscription. A lifetime license includes all future updates of the software.
For the cost of less than 3 years of Grammarly Premium, you get ProWritingAid Premium for life.
Bonus: We Take Your Privacy Seriously
At ProWritingAid we specifically state that we do not retain any rights to the writing uploaded to our site. Grammarly claims the right to use your content for whatever they want.
As stated in ProWritingAid's privacy policy:
"We never review your content, except in circumstances where it's required in order to: comply with the law, enforce our site policies, protect our or others' rights, property, or safety. We do not retain any rights to any of the documents or other content uploaded into our system."
In contrast, Grammarly's Terms of Service state:
"You own the intellectual property rights in your User Content. As a result, we need your permission (in legal language, this is called a license) to use your User Content to provide our Site, Software and Services to you."
This means Grammarly can access your writing and use it for pretty much anything they want.
ProWritingAid vs. Grammarly—Which One Should You Choose?
ProWritingAid gives you more functionality for less. Our focus on your progress as a writer puts the tools you need to improve in your hands.
Sure, both Grammarly and ProWritingAid will save you from the dreaded typo, but ProWritingAid gets you to the heart of what makes good writing great.
Save money, build your skills, and edit like a pro.
---
Try ProWritingAid's Editor For Yourself