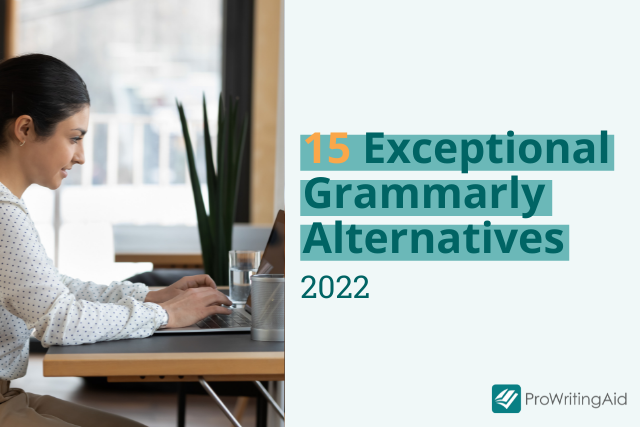 Looking for the best grammarly alternative? We've tested 15 grammar checkers to help you choose.
The 15 Best Grammarly Alternatives
There are many Grammarly alternatives out there that offer different things depending to your needs. In this article, we'll list the top 15 Grammarly alternatives and describe the key differences to help you choose the best one for you.
ProWritingAid is an editing tool with specialized reports and features for fiction, business, academic, content, and casual writers. But is ProWritingAid better than Grammarly?
ProWritingAid helps you figure out what is working in your writing—and what isn't. It offers 25+ writing reports that help you create your own editing road map based on real data from your document. Grammarly only offers four reports.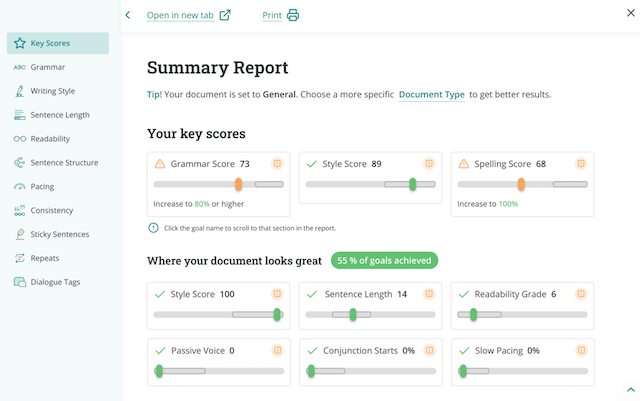 With ProWritingAid's free and premium plans, you get:
Realtime grammar, spelling, and style checking
25+ in-depth writing reports on readability, structure, repeated words, dialogue, and more
Tailored goals according to 30+ document types so you can make the most important edits for your purpose
In-tool articles, videos, and quizzes so you know why you're making changes
Document storage in our Web Editor
A browser extension so you can edit wherever you write
And with our Premium plans, you get access to:
Text expander tool
Integrations for Windows, Mac, MS Word (Windows & Mac), Google Docs, Scrivener, Final Draft, Chrome, Firefox, Safari, Edge
With ProWritingAid, you get all the tools you need to edit line by line and for the big picture. You'll learn writing techniques, edit everything from a novel to a Tweet, and track your progress all with one program.
ProWritingAid Premium is available for $20/month or $79/year, making it one of the most competitively priced, comprehensive checkers on the market. You get more reports, more integrations, and more editing tools for less.
ProWritingAid is also the only grammar checker on this list to offer a lifetime subscription. For $399, you'll get access to premium for life, including all future updates, features, and integrations. Or, you can get just under 3 years of Grammarly Premium for the same price.
Bottom line: If you want a better alternative to Grammarly then try ProWritingAid for free.
Hemingway is a readability checker designed for all kinds of writers. It's best for people writing shorter documents who want to make their writing easier to read.
If you're looking for grammar checking, Hemingway isn't for you. It only helps you simplify complex words and sentences. It also becomes difficult to use when editing longer pieces.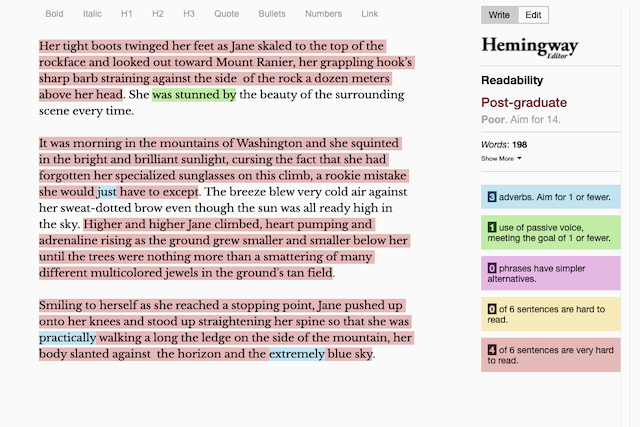 Hemmingway's Online Editor is free to use. Their Desktop App will cost you $19.99 as a one-time purchase.
Bottom line: Not suitable if you're looking for grammar checking, but useful for a final clarity check.
Paper Rater is a grammar checker designed for students. Both the free and premium versions check for grammar and spelling mistakes, and plagiarism. It also gives you a provisional score for your paper (though this isn't always reliable).
The spelling, grammar, and punctuation suggestions are limited, and the interface isn't intuitive—you have to review your suggestions in a list and locate them in your document yourself.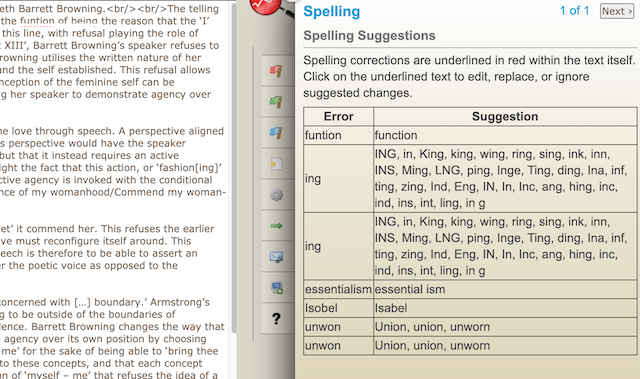 Paper Rater offers a premium version for $14.95/month or $95.40/year. This is more expensive than several of the other checkers on this list that offer more features, cleaner interfaces, and higher accuracy levels.
Integrations: Online version only (works in all browsers)
Bottom line: Other grammar checkers do more for less, though the free version is a practical option for plagiarism checking on a student budget.
WhiteSmoke is a grammar checker aimed at non-fiction writers—specifically business or academic writers.
It offers grammar, spelling, punctuation, and style corrections, as well as plagiarism checking and automatic translation.
The interface is pretty basic. While WhiteSmoke offers one-click proofreading, we've caught inaccurate suggestions when testing, so you could be adding errors to your work without realizing.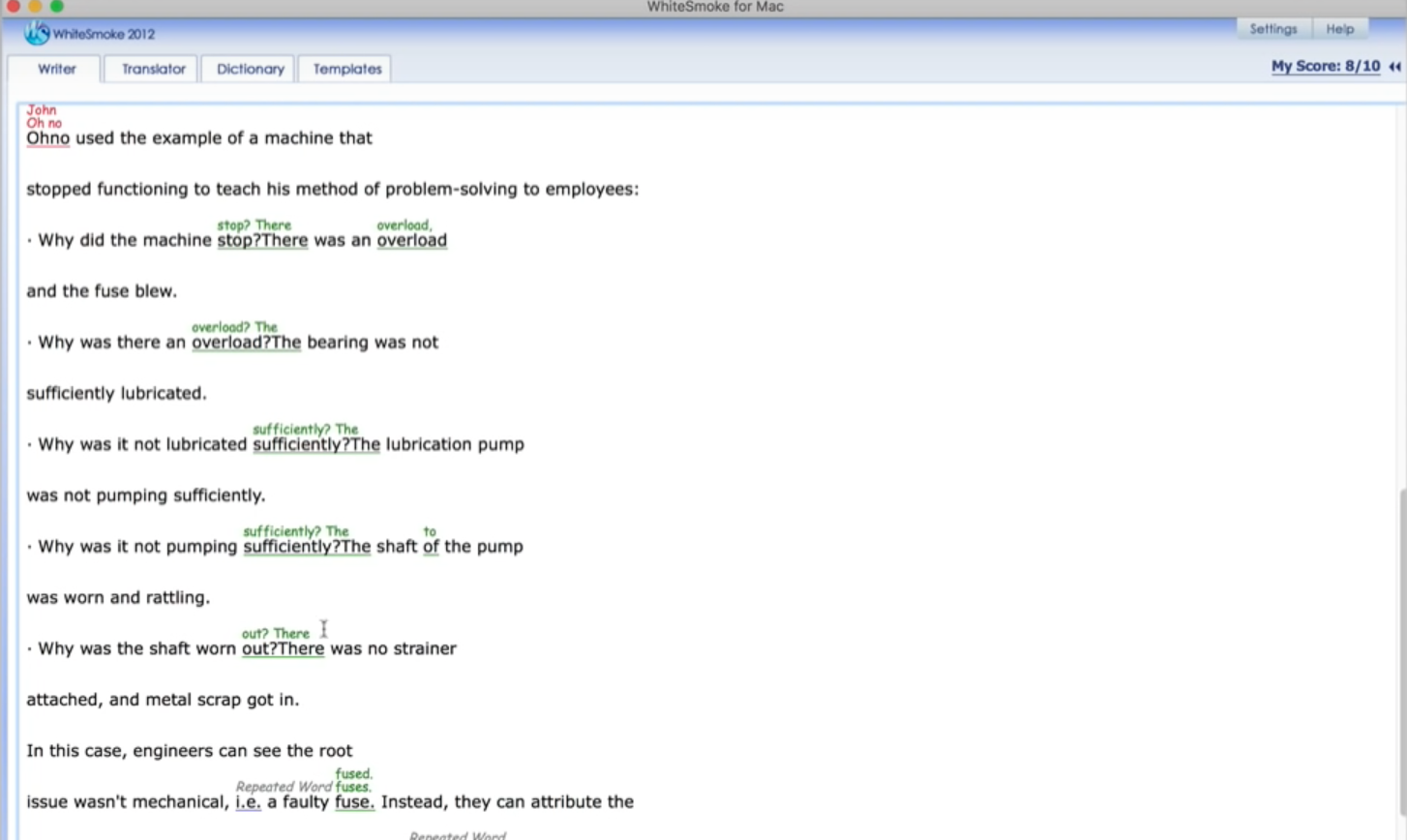 There is no free version or free trial for WhiteSmoke. You have to commit to a yearly or three-year subscription right away. You can buy either a web or a premium subscription, which also includes a desktop app and one-click instant proofreading.
WhiteSmoke costs $59.95/year for the web version, $79.95/year for the desktop version, and $137.95/year for a 3-user business license.
Integrations: Desktop App for Windows, Mac, and a Web App for Chrome, Edge, Firefox, Safari, and Opera.
Bottom Line: Other grammar checkers on this list offer easier editing experiences with more features for less.
Ginger Software is designed for fiction and non-fiction writers.
The premium version offers translation into 60 languages alongside grammar, spelling, and style checking. Ginger also includes a text reader so you can hear your words read aloud.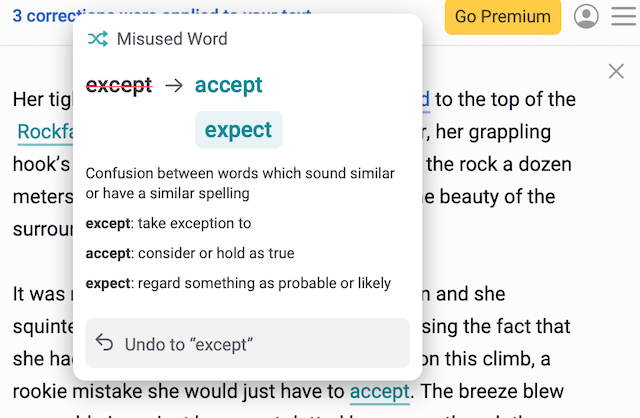 Ginger works via copy and paste, so you'll lose all of your formatting when you upload. Its grammar and spelling suggestions aren't as accurate or sensitive as some of the checkers on this list, and you don't get much high-level feedback on your writing.
Ginger Premium costs $19.99/month, $150/year, or $240/2-years. They don't offer a lifetime subscription.
Integrations: Desktop for Windows, Mac, iOS and Android
Bottom line: Competitively priced with useful features in both the free and premium versions, but not the most accurate or intuitive grammar checker on this list.
Linguix is a grammar checker designed for non-fiction writers. It offers spelling, grammar and style checking, as well as a paraphraser and document storage.
You'll also see statistics for your document as a whole, including for readability and sentence length. This high-level approach is something Grammarly doesn't offer.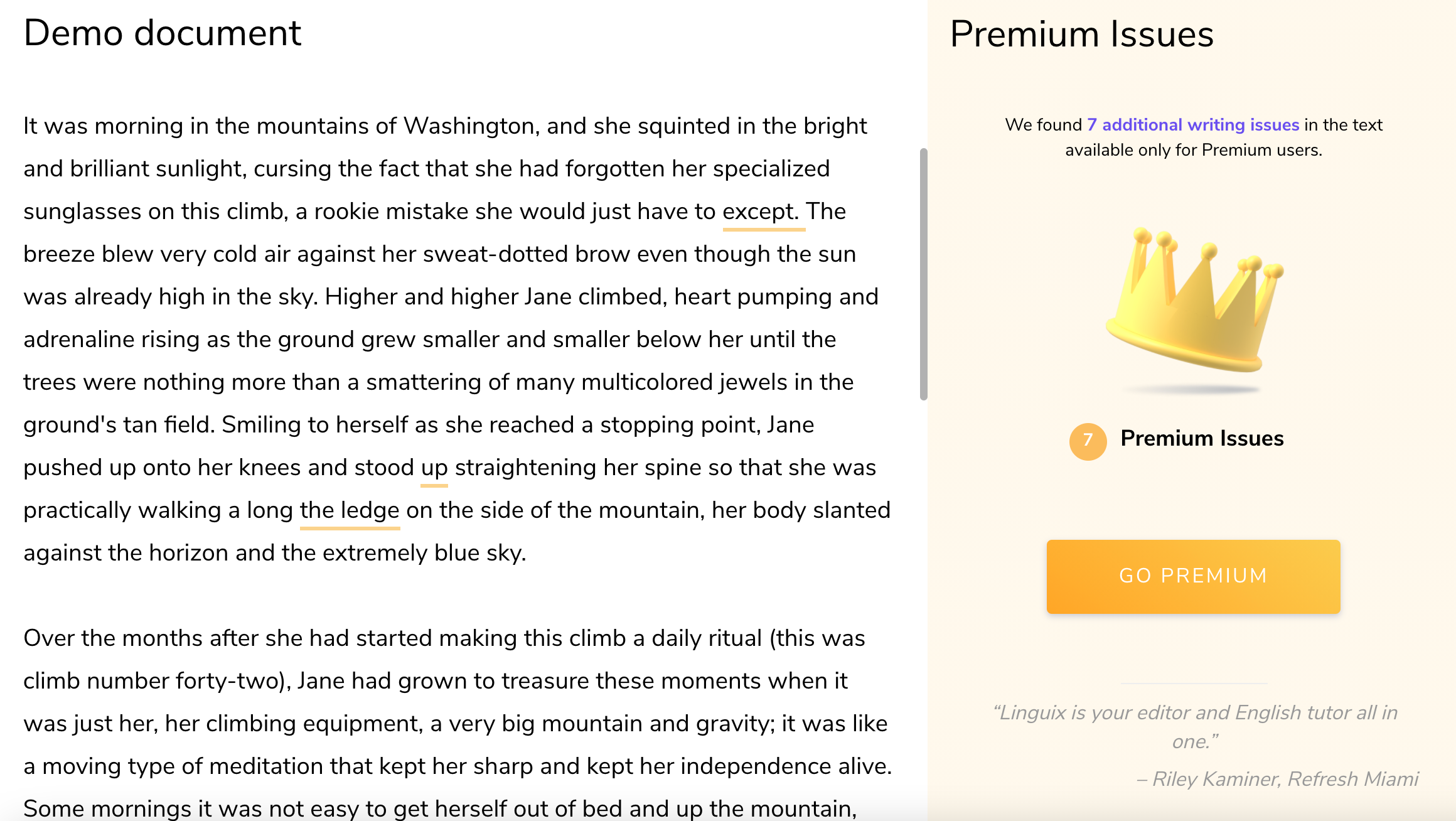 Like Grammarly, Linguix hides details for their Premium suggestions. You'll miss out on help with redundancies, confused words (like except/accept in the screenshot above), and some prepositions. Readability and structural insights are also hidden for free members.
You can't upload documents to its editor, so you may lose your formatting when pasting work into the program.
You can get Linguix Premium, which includes the paraphraser, private mode, synonyms, and text expander tool, for $96/year. They don't offer a monthly subscription. This also includes enhanced security, suggesting that your writing isn't as safe in the free version.
Integrations: Online Editor, Word Add-In, Chrome
Bottom line: A comprehensive, intuitive, and competitively priced alternative to Grammarly for proofreading your work. For deeper content improvements, Linguix falls short.
Sapling AI is aimed at customer facing teams within businesses. Its main use is in integration with customer service platforms such as Freshdesk, Zendesk, LiveChat, and others to help customer support agents deliver error-free communications.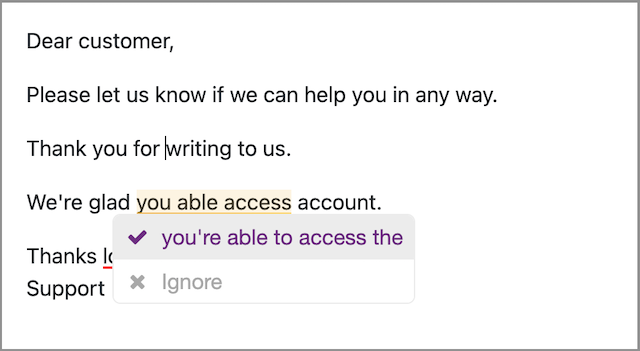 It also offers sentence auto-completion based on common customer service responses, as well as a text expander tool for saving your own most-used phrases and responses.
Integrations: Chrome and Firefox Extensions
Bottom Line: Best for customer service teams looking for quick proofreading and time-saving tools built specifically for that purpose.
LanguageTool is a grammar checker for individuals and teams writing in multiple languages.
Unlike Grammarly and many of the other checkers on this list, LanguageTool supports grammar checking in over 30 languages. It checks for grammar, spelling, and style issues, as well as incorrect ISBN and IBAN numbers, titles, and name spellings in emails.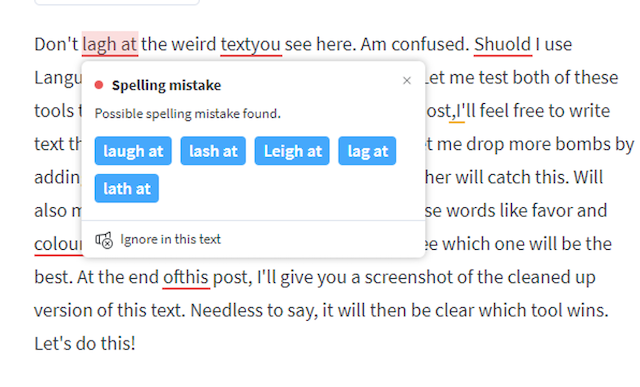 The premium version limits you to editing 100,000 characters (around 20,000 words) at a time. This means that LanguageTool isn't suitable for writers wanting to edit long form content.
Integrations: Desktop App for Mac, Windows, Microsoft Word, Google Drive, OpenOffice, and LibreOffice.
The premium version unlocks all features beyond basic spelling and grammar checking, and costs $19/month, $39/quarterly, $59/year or $99/2-years. Business pricing starts at $106/year for two users.
Bottom line: One of the best grammar checkers for corporate teams working in multiple languages. Of less value to fiction and content writers—other tools on this list offer more features for you.
9. Writer.com
Writer.com is a grammar checker specifically for corporate users, like marketing teams, social media agencies, and Sales and HR departments.
It offers a dedicated style tool, is SOC2- and HIPPA-compliant, and integrates with many common content management systems and sales platforms. You'll see how your writing scores for tone, and can check you're using your company's chosen terms.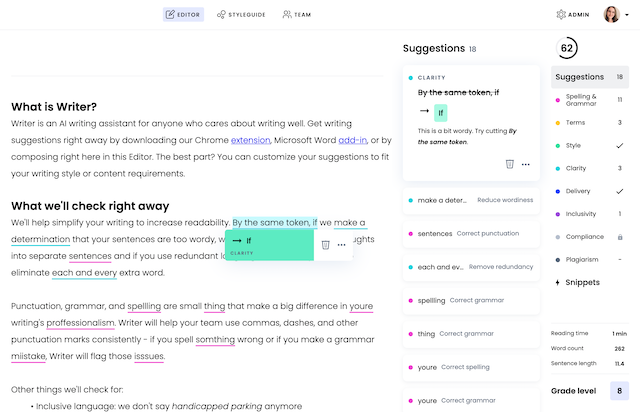 Writer.com costs $99/year for individuals and starts at $162/year for teams.
Integrations: Chrome, Google Docs, Figma, Outlook, MS Word
Bottom line: A cheaper alternative to Grammarly Business with many of the same features.
Outwrite is designed for short-form content writers.
Outwrite offer spelling and grammar checking, a thesaurus, and writing statistics (including readability and grade level) on their free plan. With premium, you get style suggestions, a paraphrasing tool, and passive voice re-phrasing.
Unlike some of the other checkers on this list, Outwrite doesn't offer in-tool explanations for its suggestion to help you understand why you're making changes. The free version also hides some suggestions, but does include all of Outwrite's integrations.
Outwrite Pro costs $19.95/month or $96/year.
Integrations: MS Word, Web, Browser Extension, Web App
Bottom line: Offers fewer features than some of the cheaper alternatives.
11. StyleWriter by EditorSoftware
StyleWriter is an editing software mostly aimed at journalists, business, and technical writers. It focuses on helping you write in plain English, removing jargon and simplifying language.
StyleWriter integrates resources used by real editors into its editing software, including a graded wordlist. When compared to the other checkers on this list, StyleWriter is quite a few years behind both in features and interface.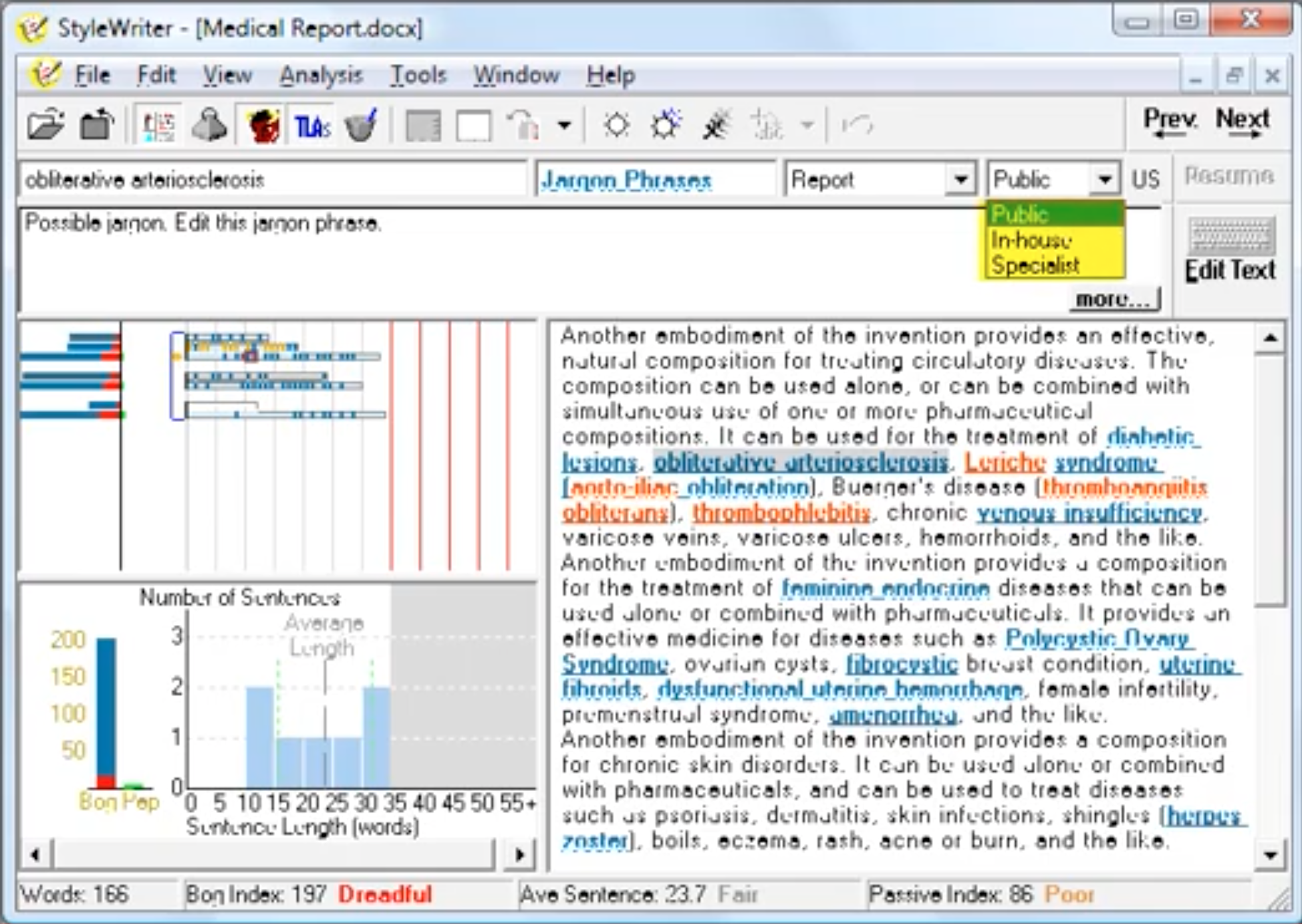 It's difficult to see what you need to do to make improvements. There are many other softwares that take the same resources and generate actionable, user-friendly reports.
StyleWriter costs $90 for the basic version, $120 for standard, and $190 for professional. You'll then need to pay $30 to upgrade the software each year. You also have to pay for tech support.
Integrations: Desktop App for Windows
Bottom Line: Out of date interface, difficult to use, and priced out by more advanced (yet cheaper) alternatives.
Scribens is an English grammar checker for all kinds of writers (though it suits short form writers best).
It offers many of the same grammar, spelling, and style checks as the more advanced grammar checkers on this list, but with a less advanced interface. If you're willing to deal with a less intuitive interface, Scribens may even offer a more comprehensive proofread than some of its snazzier competitors.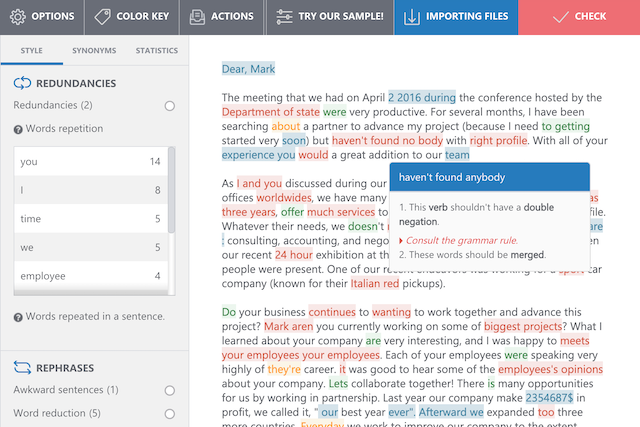 The premium version limits you to 200,000 characters, though, and the interface gets difficult to use for longer documents.
Scribens costs $9.90/month, $19.90/3-months and $49.90/year.
Integrations: MS Office, Windows, Android, Open & Libre Office, Browsers, Web App, Google Docs & Slides
Bottom line: Very affordable with comprehensive grammar checking capabilities, though few extra features.
Slick Write is aimed at all kinds of writers, but only offers grammar and style edits.
You can't see your suggestions on the editing screen, so you have to flick between your critique and your writing to make changes. Slick Write also doesn't check spelling errors, so you'll need to combine editing tools for best results.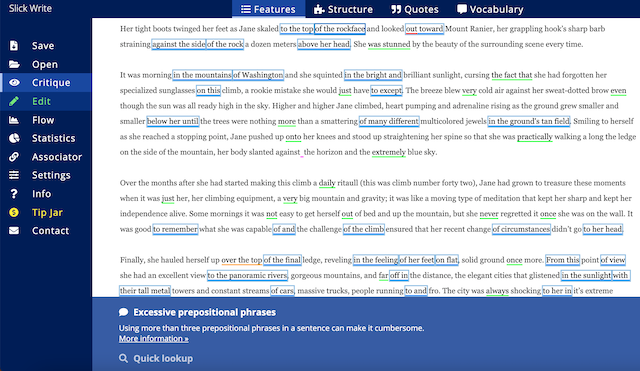 Slick Write is free to use.
Integrations: Browser Extensions for Chrome and Firefox, Web Version for all browsers.
Bottom line: Slick Write Offers basic versions of just a few of the features included in other checkers as standard.
NOUNPLUS offers grammar checking in English, French, and Chinese.
As you can see in the screenshot below, some of their suggestions are incorrect. The interface is very basic, and the NOUNPLUS website itself features some English grammar, spelling and punctuation errors.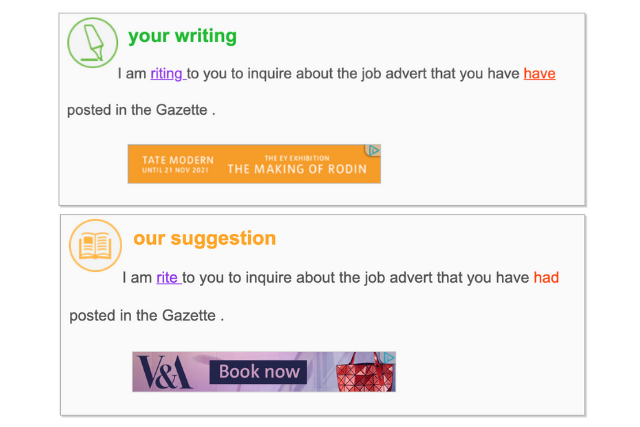 NOUNPLUS is free to use. Paste your text into the text field on the website to see their suggestions.
Bottom line: Don't use NOUNPLUS to check your writing.
15. Virtual Writing Tutor
Virtual Writing Tutor is a free grammar checker for English as a Second Language learners and students.
The editor checks your essay against rubrics to give you scores for different categories and grammar recommendations. You can set your desired paragraph length and see your score for argument strength. These are tools specific to academic writing that VWT offers that the other checkers on this list don't.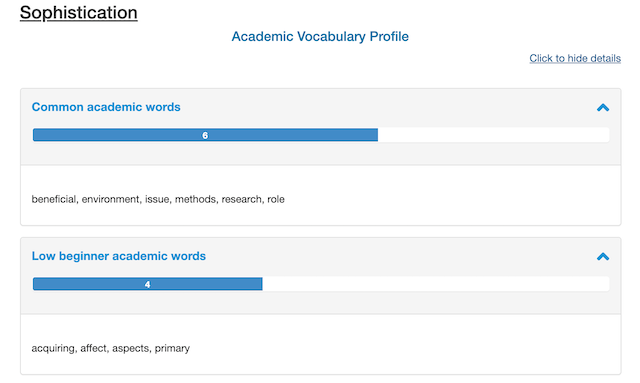 The software generates your feedback in a report separate from the editing screen. You'll need to implement their suggestions in a separate writing program.
Virtual Writing Tutor is free to use. You can edit more words if you sign up for a free account.
Bottom line: Virtual Writing Tutor is useful to see how your document breaks down statistically according to rubrics, but you'll need to use another grammar checker to edit your content efficiently.
Which Grammarly Alternative Should I Use?
There are a lot of grammar checkers out there, and it's hard to cut through the noise to find something reliable, convenient, and reasonably priced.
Choose an editing tool that fits your writing process. After all, if you have to go out of your way to use something, chances are you won't use it.
ProWritingAid integrates wherever you write. We're the only grammar checker to offer a Scrivener integration, and customizable, comprehensive editing by document type or genre comes as standard. Unlike with some of the checkers on this list (including Grammarly) we explicitly state that we do not retain any rights to your content.
If you want a better alternative to Grammarly then try ProWritingAid for free.
---
Find everything you need to know about using ProWritingAid in our Ultimate Guide. Download the free eBook now: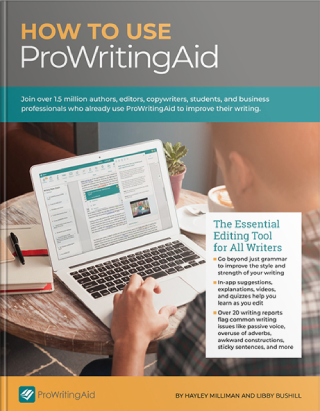 Join over 1.5 million authors, editors, copywriters, students, and business professionals who already use ProWritingAid to improve their writing.