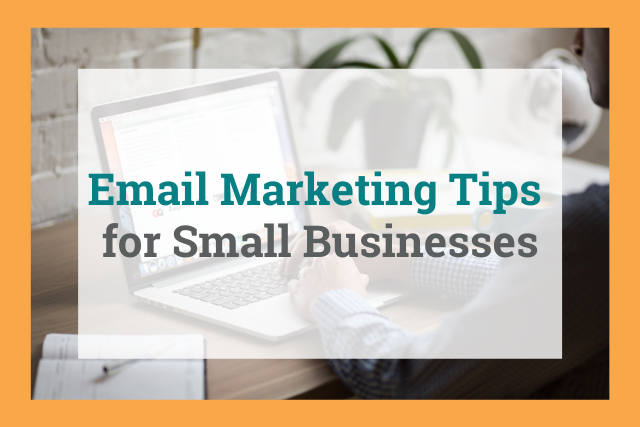 Email marketing is just as important for small businesses as bigger ones. And with a smaller budget, and likely a small or no marketing team, email can be an easy and affordable way to sell and upsell more to your current audience.
Customers who are marketed through email spend 138% more compared to those who do not receive an email. As a result, every small business should be sending emails as part of their marketing strategy.
You don't need to be a marketing professional to increase sales with emails. To help you be successful we've put together a list of the top 10 email marketing best practices to help you nurture and grow your business.
1. Build Relationships with Personalized Emails
Emails provide direct access to your audience's inboxes. This access is a privilege so don't abuse it with sloppy or valueless content.
People have very specific needs, wants, and interests. Generic pitches rarely hit home. However, personalized emails stand out in the inbox as highly relevant, tailor-made material.
Personalized emails have been shown to[increase engagement rates by nearly 75%.
Personalizing your emails is much more than adding your customer's first name. It's understanding their needs and interests, then tailoring your emails to deliver relevant content.
You can personalize emails based on:
The type of content users previously interacted with
User purchase behavior
Celebrating a user's birthday
See how YouTube sends out emails with specific information on the channel owner's views and subscribers? There are fun and easy metrics you could include in your emails too!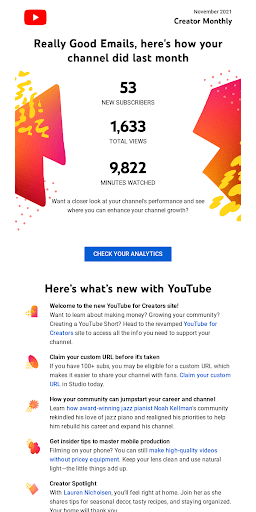 Source: ReallyGoodEmails
2. Send Emails Your Customers Love Using Segmentation
Send more relevant content to your audience by creating groups formed by common interests. This process, known as email segmentation, is a way to personalize your audience's experience.
It allows you to send targeted emails to a portion of your audience who are more likely to interact with your content or offer.
When using email segmentation you should take into consideration things like:
Location
Point in buyer's journey
Past purchases
Industry/job title
Behavior/site navigation
Interests
Brand relationship
Like personalization, email segmentation shows you value your subscriber's time. If you send out your content in a one-size-fits-all newsletter, many of your contacts will likely write your emails off as a poor fit. Over time you may see fewer people interacting with your emails.
3. Save Time with Email Automation
Send the right email to the right audience at the right time (without hijacking your schedule) with email automation. When you use automation you can write emails and set them up to send based on a specific action.
For example, an automated email should instantly be sent out as a confirmation and thank you after a purchase. Likewise, an automated tracking email can update the buyer when a product ships.
You can also automate an entire series of welcome emails to go out regularly to new subscribers. Check out this very welcoming and helpful automated email you get when you sign up for Canva's free account: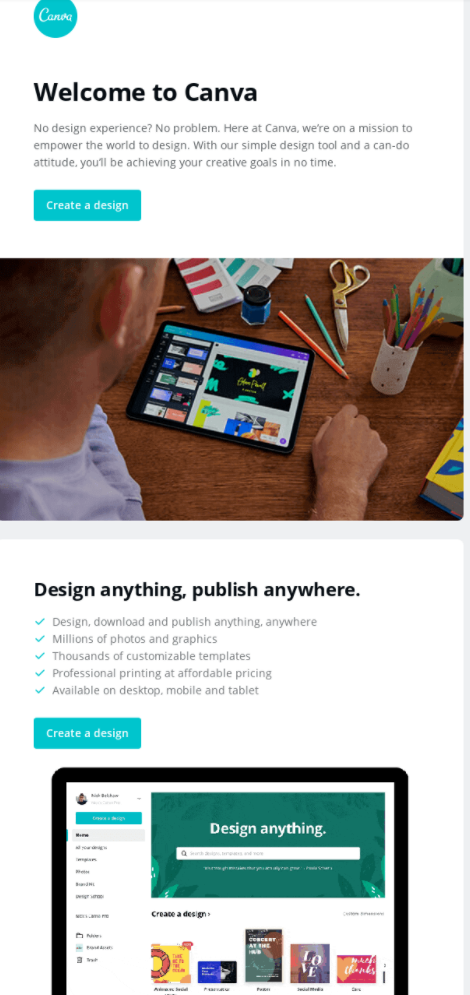 Source: ReallyGoodEmails
Abandoned cart reminders are another form of automated email, typically triggered after an hour or two of inactivity.
Check this out for more information on setting up email automation and streamlining your workflow.
4. Create Loyal Customers by Nurturing a Relationship
Email marketing is not just about the sale; it's about cultivating a relationship that will last for years. Your emails should focus on the customers, not your own company.
You can start by writing emails that focus on solutions to your audience's problems. Make sure all your content, videos, headlines, and CTAs (calls to action) are specific and benefits-focused.
Don't forget that email is one of the best ways to get in touch with your audience, too. So send out helpful information, updates, deals, reminders, support, and more through your emails.
Your customers want to know if your office is taking a mental health day or you have something new for them to try. Build the relationship with them by being open and helpful.
Relationships go both ways so don't just tell your audience things; ask them.
You can ask your audience what they want to see in future emails for direct insight; use polls and surveys to adapt your strategy to your audience's needs, and just check in to engage with your chatty superfans.
The clothing store Eton uses this email well to survey their customers about sustainability: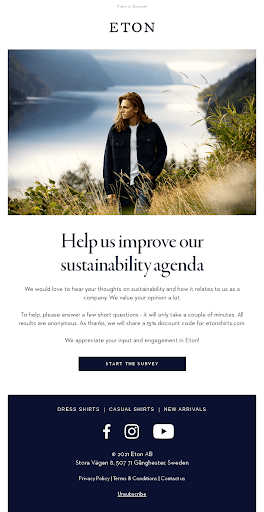 Source: ReallyGoodEmails
5. Strengthen Your Email Delivery with Confirmed Opt-In
You don't want your emails to be seen as spam by your audience. Use confirmed opt-in (or double opt-in) to ensure people want to receive your emails.
Once someone signs up for your list, the double opt-in sends out an email with a button your subscriber will click to confirm they want to receive your emails. It's also essential to have email authentication protocols such as DMARC/ DKIM properly set up to ensure your email gets delivered.
This process might seem like an unnecessary hoop for your contact to jump through, but it reduces the number of accidental sign-ups and provides proof that your contact's email address is valid.
This process keeps your email list clean and helps with deliverability.
Ultimately, the quality of your list is much more important than the quantity. You don't want a list filled with people who don't want to hear from you.
This email doesn't have to be annoying, though. Just ask the subscriber to confirm you have the right email address like PremiumBeat does in this email: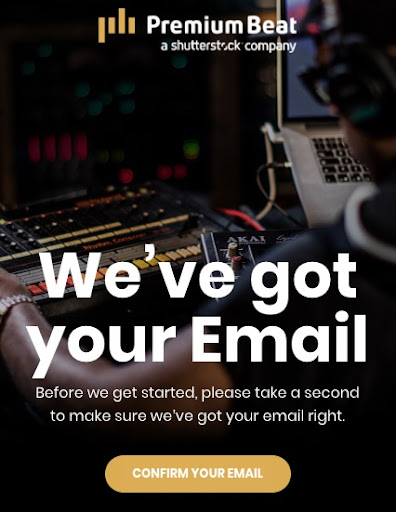 Source: ReallyGoodEmails
6. Boost Credibility by Avoiding No-Reply Addresses
It's important to have a reply address that your customers can respond to. Your reply address is the "from" address that comes from you. By having a "from" address that people can reply to, you are ensuring a better customer experience.
A no-reply email address may also decrease deliverability because it may be caught by spam filters, plus they are more likely to be marked as spam by the recipient.
Instead of having the sender address as noreply@domain.com, have it come from an actual person in your company or customerservice@domain.com.
And don't neglect that inbox either! To ensure your customers' questions are answered in a timely manner, assign someone to actively manage this email address.
7. Appeal to Larger Crowds with Responsive-Design Emails
While many emails are still read on desktops or laptops, more are read on smartphones. Make sure people can easily view and read your emails on a mobile device with a responsive design that adapts to the size of the display screen.
According to emailmonday, 61.9% of emails are opened on mobile phones.
Mobile-friendly emails ensure your recipients aren't looking at microscopic text and pinching just to navigate your email. You put a lot of time into your message, images, buttons, and layout, so make sure it looks good for your entire audience.
See how the view of this email from Road Scholar changes depending on the device you're viewing the email from.
8. Don't Be a Spammer—Never Purchase an Email List
Buying email lists is never worth it. If there's one email marketing rule that every business needs to follow, it is to never purchase contact lists.
Nothing will ruin your reputation faster than emailing lists of people who never asked to be contacted by your brand. Hello spam filter!
People on a purchased list did not opt-in to receive your emails, and they aren't going to appreciate being cold-contacted. They will likely assume you are a spammer and report your emails (hurting your deliverability rates, credibility, and domain reputation).
Plus sending unsolicited bulk emails can result in penalties. In the USA, for example, you can be fined up to $16,000 for every email you send that's not CAN-SPAM compliant.
9. Improve Your Emails by A/B Split Testing
Testing is important for improving your email performance. We tend to make assumptions about what we think will or won't work with our audience.
A/B testing gives you the opportunity to test out your theories by sending a different email to two different groups.
A/B testing will help you get a clearer picture of what triggers a positive response from your audience.
To perform an email split test:
Determine what you want to test
Set goals for your tests
Only make one change between both emails (color, size, message, etc.)
Define what outcome you expect and why
Continue to test to keep up with audience changes
Check out this A/B Split Testing Guide to start testing your emails.
10. Analyze Your Data to Adapt Your Strategy
You should always be looking at your email data to determine what's working and what needs to be improved.
Some of the most important metrics to look at include:
Delivery rate: The percentage of emails that got delivered without bouncing.
Open rate: The percentage of people who opened your email campaign.
Click-through rate: The percentage of people who clicked on a link in your email.
Conversion rate: The percentage of people who took a desired action, such as placing an order.
Unsubscribe rates: The percentage of people who opt-out, or unsubscribe, from your email list.
Send Better Emails with AWeber
AWeber is an easy-to-use email platform with in-house support, tools for automation and testing, and a world-renowned deliverability reputation. And, hey—you can start today with a free account.
Sign up now or schedule a call with our expert migration specialists (free of charge).
---
Try ProWritingAid's Editor for Yourself
---