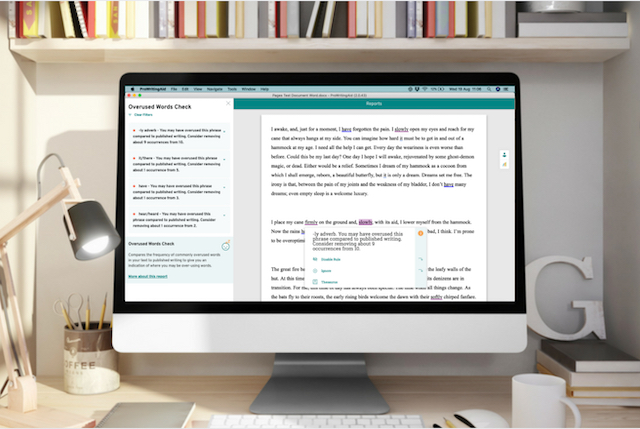 Writing isn't easy. Thankfully, there are all kinds of apps out there to make the process easier by helping you stay organized and focused. Whether you are writing for a living or just writing a grocery list, these free apps for writers will help you complete your project with ease.
Come on. You were expecting this. But our writers really do believe that ProWritingAid should be at the top of this list. ProWritingAid is an online editor, writing coach, and style guide, all rolled into one. It highlights a range of potential pitfalls in your writing that your average grammar checker misses, like overused words, transitions, vague and abstract words, and more.
The free ProWritingAid online editing tool allows you to upload your documents and access more than 20 in-depth writing reports, which will help you improve the strength and clarity of your texts quickly and easily.
You'll get an overview of your writing, with tips on how to make the most improvement in the shortest amount of time. You'll also keep learning while you write with informational videos and blog articles that pop up as part of ProWritingAid's suggestions.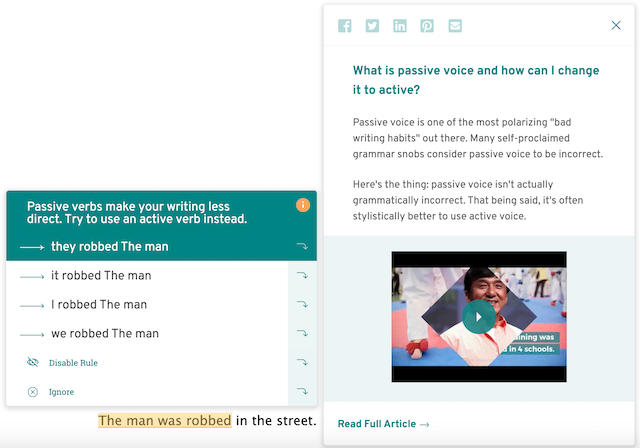 Check out this review and tutorial by bestselling author, Joanna Penn:
ProWritingAid also has more software integrations than any other editing software, including MS Word, Google Docs, Scrivener, Open Office, and Chrome so that you can edit wherever you write.
Ready to try it for yourself? Click the button below to get started.
2. Hubspot's Blog Ideas Generator
Even the best writers run into blocks sometimes. Hubspot's Blog Topic Generator can help you when it feels impossible to come up with new content.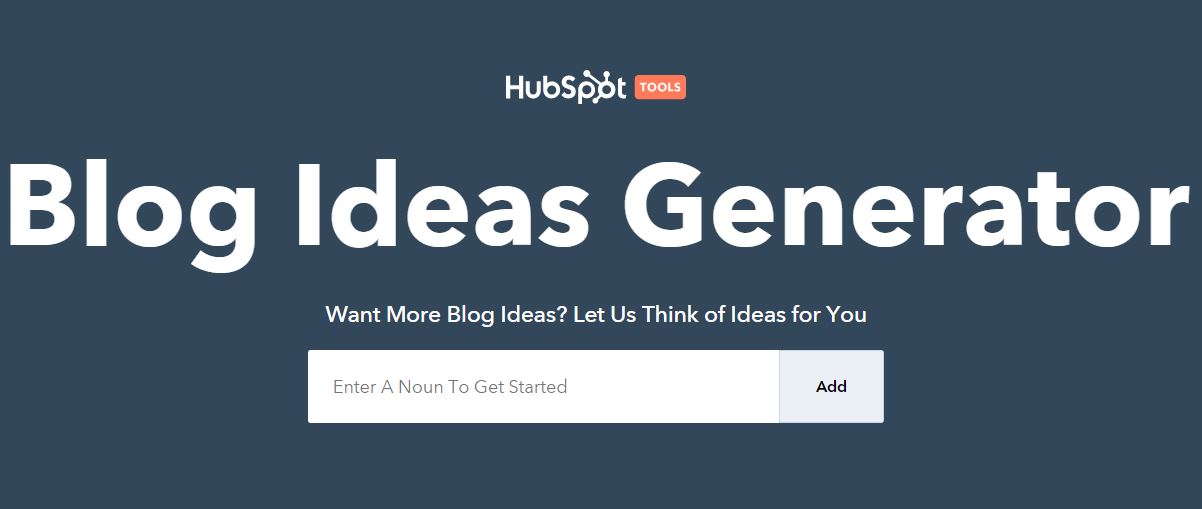 Hubspot's Blog Topic Generator Simply input three nouns into the generator and get a week's worth of topics in seconds! Now, THAT was easy!
3. Canva
As writers, we don't just have to worry about the words we put on the page (or screen). Many of us have to create images for our work, whether that's a cover photo for a blog post or a graphic to promote your book on social media. Canva is an amazing, powerful free tool to help create beautiful images.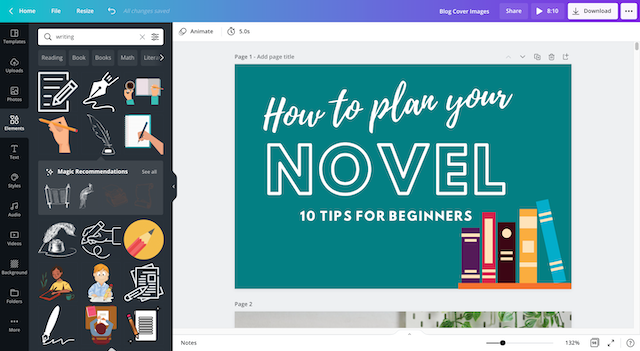 Canva's drag and drop templates can help you create everything from a Pinterest graphic to a book cover. If you're hesitant to learn Photoshop, Canva is an amazing alternative to help you create rich, high-quality graphics.
4. Milanote
Milanote is an easy-to-use tool to organize your ideas and projects into visual boards. As a writer, visualizations can help you keep track of everything from character relationships to the order of scenes.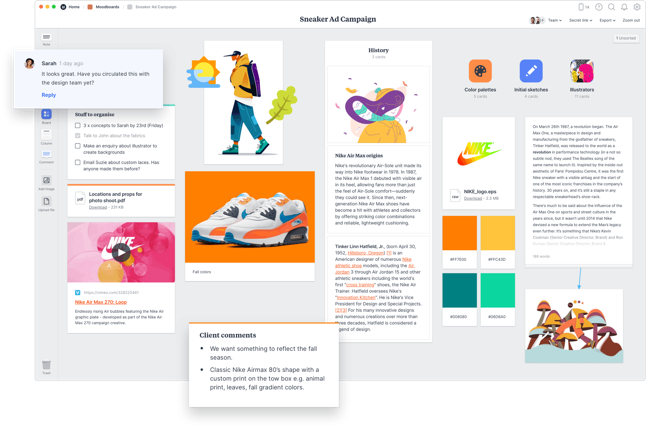 Milanote's flexible interface allows you to do things like:
Write notes and to-do lists (handy for keeping yourself on track with your book writing plan)
Upload images and files (useful for keeping visual inspiration for everything from scenery to character outfits)
Save images, texts, and links from the web
and even more!
5. LibreOffice
LibreOffice is an amazing word processor option for people who are looking for a free alternative to Word.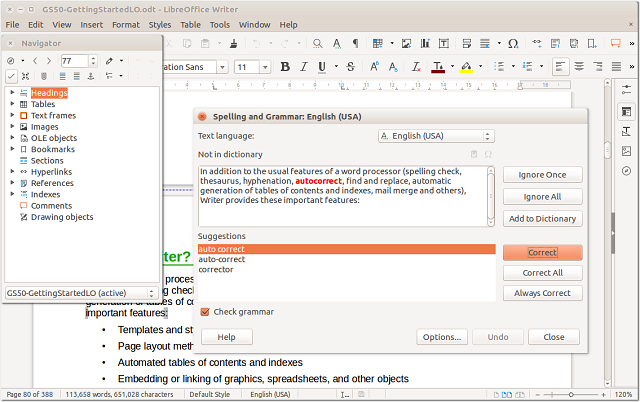 LibreOffice has a number of great features, including a clean and sophisticated word processing layout and support for a vast number of file formats. You can create everything from a simple memo to a complete book using the online editor, which makes it a great choice for people looking for a word processor for all types of projects.
6. Scribus
Do you need to create beautiful layouts for your words? If so, Scribus may be for you!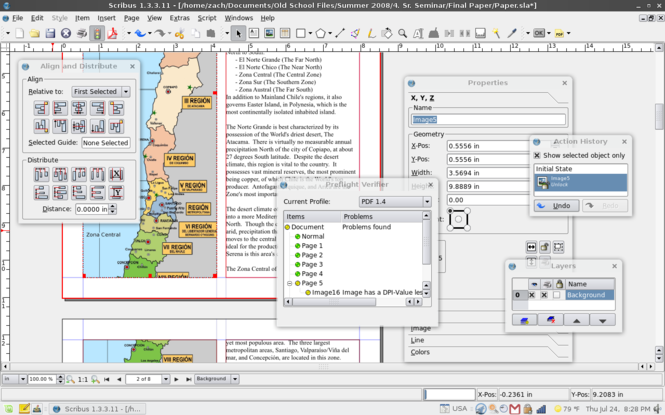 Scribus is a free, open source platform that allows you to create rich, professional layouts for everything from one-pagers to magazines. While it takes a bit of learning to get started, Scribus is both easier to use and cheaper (since it's free!) than tools like Adobe InDesign.
7. FocusWriter
Distraction is Enemy #1 to many writers. Facebook never looks as enticing as when you're on a tight deadline or trying to meet a goal. If this sounds like you, FocusWriter is here to help.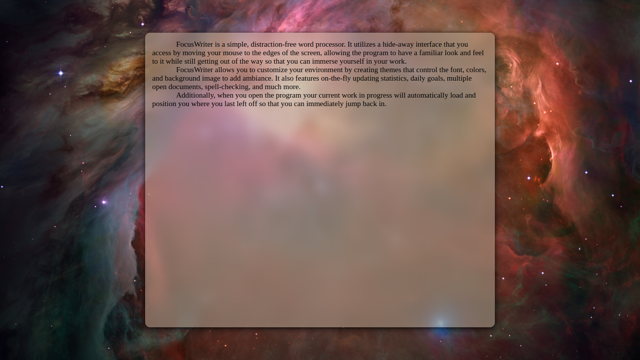 FocusWriter minimizes your work into a clean, distraction-free word processor interface, so you can simply write without worrying about the clutter on your computer screen. FocusWriter isn't the best tool for going through your second or third draft, but it's great for getting through that first run so you can do the in-depth editing elsewhere later.
8. Evernote
Evernote is an amazing "second brain" which allows you to flexibly take notes and capture ideas in a variety of areas.
You can do just about everything in Evernote, from creating to-do lists and checklists to drawing out specific notes to capturing receipts for tracking business expenses. Evernote offers up to 60 MB of space on its free plan, which is plenty if you're just using plain text notes. If you'd like to add more graphic or larger files, you can upgrade your storage for small fees.
9. Diaro
Your life is precious, and if you're the documenting type, you want to remember every moment, good or bad. Diaro is an advanced diary application, but it can be used for keeping a journal or simply writing notes.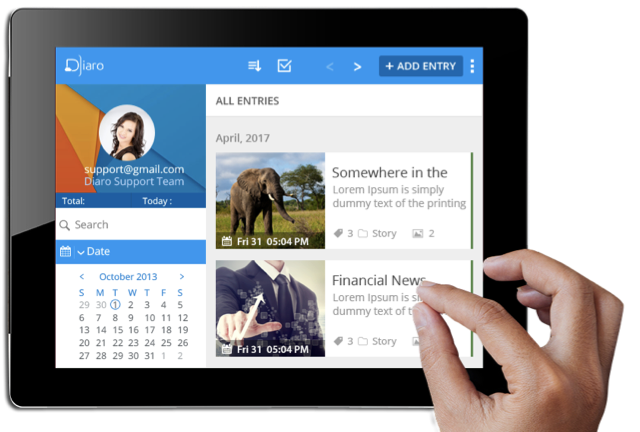 Use Diaro to help you keep your thoughts and memories organized and well documented. Attach photos or locations to your entries and share with others via email and social networking sites. With Diaro, you never have to worry about others stumbling across your deepest darkest secrets, because your diary will be password protected.
10. Todoist
The best writers are able to organize and prioritize their work. Todoist is a task management application that helps you create to-do lists and custom schedules so you can work more effectively.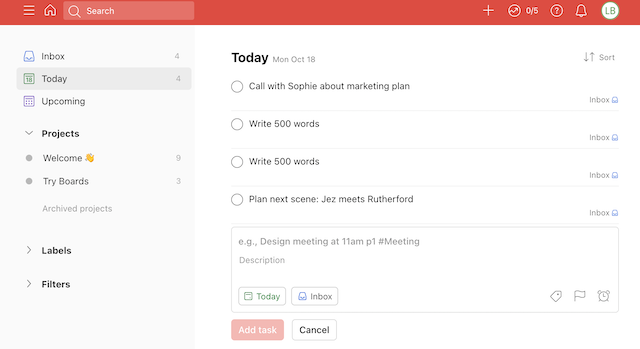 With Todoist, you can create recurring tasks (e.g. "Write every day at 7 p.m.!") to help yourself set and achieve goals. Never worry about forgetting an important task again!
With Colorcinch you can instantly create, edit and turn your photos into artwork. It is the #1 photo editor & cartoonizer designed to be simple, beautiful, and free.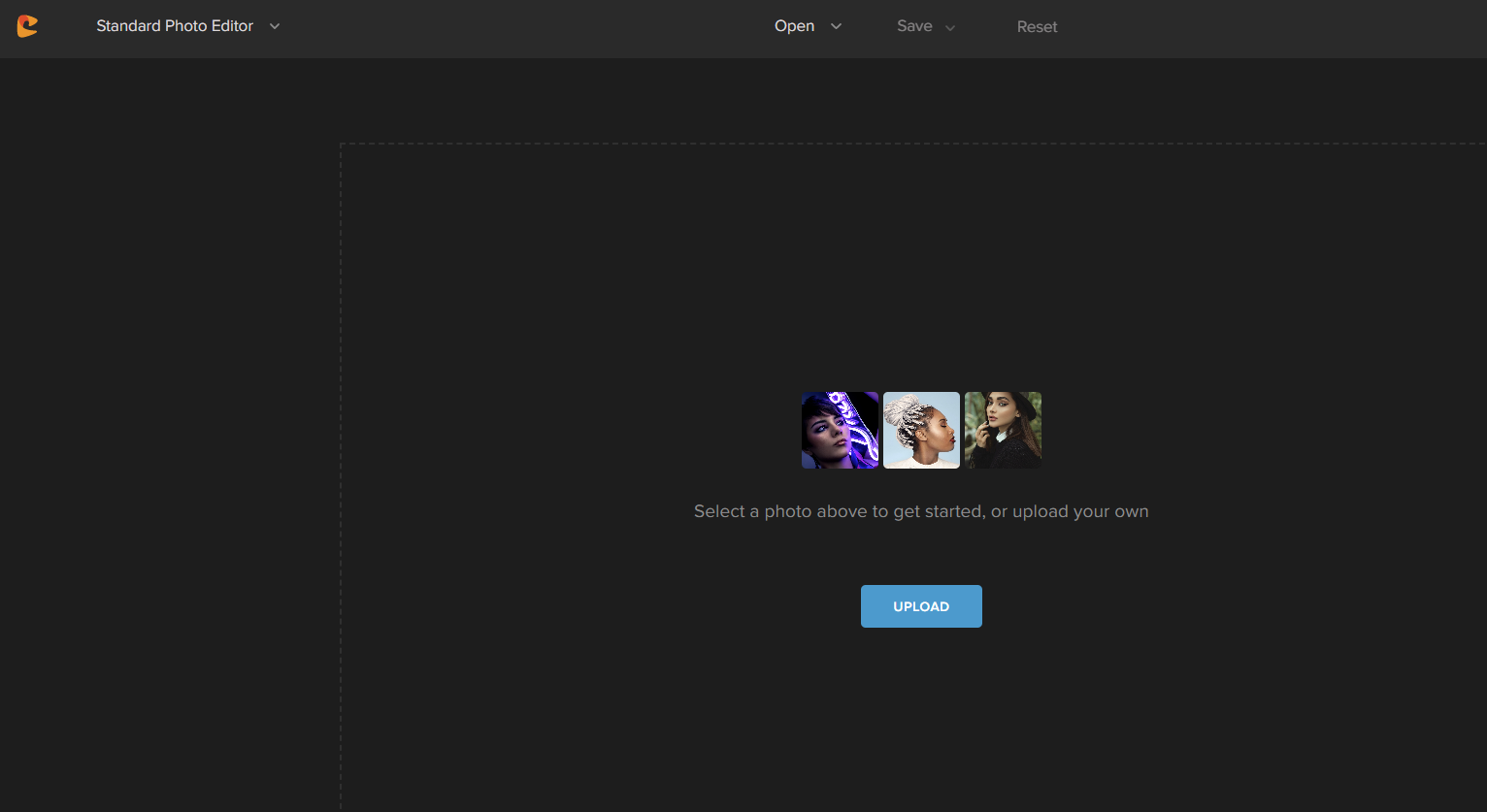 You can go from photo to cartoon in one click. Turn your photos into truly unique art using the cartoonizer, sketcher, and hundreds of other specialty filters and effects.
Make Writing Apps Work for You
These apps are never going to replace you as a writer, editor or designer. But they'll definitely help you become a better one. Without the right app, writing is harder than it needs to be. Simplify your life and kickstart your success with these writing apps.
Improve Your Grammar with These Sites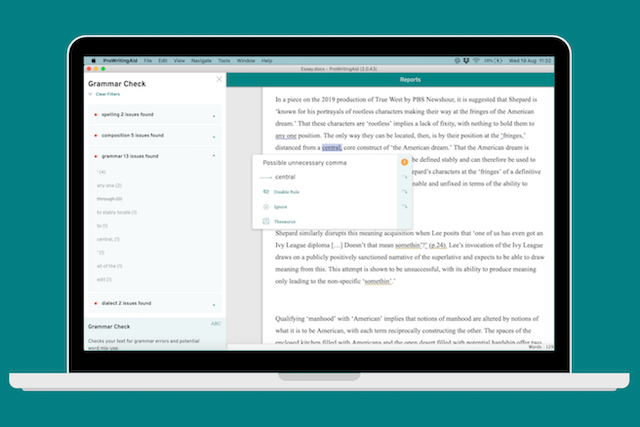 Whether you're a native English speaker or an English language learner, English grammar can be tricky to master. Take the examples below:
The young boy loved cooking, his dog and going outside.
Cute.
The young boy loved cooking his dog and going outside.
Eek! With the simple omission of a properly placed comma, that sentence goes quickly from cute to macabre.
No matter how long you've been writing, you can always freshen up your grammar skills. Thankfully, there are numerous sites online that exist purely to help you write correctly. Here are 10 of our favorites.
1. The ProWritingAid Blog
From quick lessons on commonly misspelled words to in-depth examinations of pleonasms, the ProWritingAid blog is a great place to dive into the intricacies of the English language.
Here, you'll find articles, videos and quizzes that teach and examine common grammatical errors, with plenty of contextual examples to help you learn.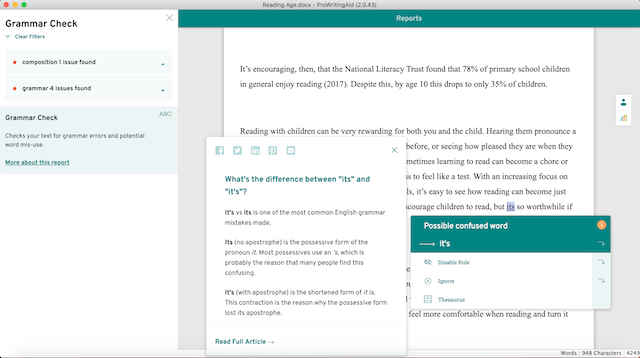 Practice always makes perfect, so once you're done perusing the blog, hop over to ProWritingAid's Editing Tool and input your work. ProWritingAid's in-depth reports will check your work and see how well you've mastered your study.
Try ProWritingAid's editor for yourself below:
---
2. Writing Forward
The Writing Forward blog, created by a passionate writer, offers tons of posts on creative writing, grammar and more. The "Grammar Tips" section will walk you through tons of pesky grammar rules, from whether or not you can end a sentence with a preposition to figuring out subject-verb agreement.
The blog also offers great advice about every part of the writing process from plotting to publishing, so be sure to check out the rest of the site's informative content.
3. 5 Minute English
What 5 Minute English lacks in style, it more than makes up for in quick, useful lessons. 5 Minute English's lessons are designed for non-native speakers, so they cover some of the trickiest language topics, such as parallel verbs and reflexive pronouns.
Visit 5 Minute English if you're looking for a fast, fun review of some of the most complex and confusing English language topics.
4. Grammar Girl: Quick and Dirty Tips
Winner of the 2017 "Best Education Podcast" Award, Grammar Girl (aka Mignon Fogarty) exists to help "you do things better." Like grammar, for instance.
Articles on Grammar Girl cover all sorts of topics (such as the weird history of oxymorons or the meaning of the phrase "in the doldrums") so you can visit to not only brush up on your grammar skills, but get a lesson in English language history. The articles are snappy and fun to read, so you don't feel like you're engaging with boring material.
5. Daily Grammar
A self-described "fun, convenient way to learn grammar," Daily Grammar is a comprehensive teaching tool for anyone needing to polish up their English grammar skills.
Daily Grammar is more a course curriculum than a blog, with over 400 free lessons and over 80 free quizzes for you to learn and then test your knowledge. You can visit the site to access topics or have them delivered to your inbox through their complimentary email service. By visiting Daily Grammar, you'll be on your way to grammar mastery in no time.
6. Lousy Writer
Lousy Writer's main goal is to help you become a better writer, fast. Lousy Writer focuses on how to communicate effectively by breaking down word usages and sentence construction into clear, easy-to-understand tips.
Of particular use on Lousy Writer are the cheat sheets, which help you understand tricky concepts like possessive nouns or homonyms. These cheat sheets are great refreshers on difficult topics for English language speakers and English language learners alike.
7. The Purdue Online Writing Lab (OWL)
The Purdue OWL (Online Writing Lab) offers over 200 free resources on writing, teaching writing, grammar and mechanics, English as a Second Language, and style guides. Sponsored by Purdue University, this website is a great resource for people looking to teach and learn.
In addition to their grammar lessons, you can find formatting guides for styles such as MLA and APA, as well as suggestions on how to avoid plagiarism in your work.
8. FluentU
One of the best ways to learn English grammar is to hear English being spoken aloud. FluentU's library of real-world English houses videos that are timely, fun, and useful for people looking to master the English language.
While FluentU does have a subscription fee, you can access a limited free trial to see if you like the service and find it useful before deciding to commit to pay.
9. English Grammar 101
Are you one of those people who simply loves learning from a textbook? If so, English Grammar 101 is the site for you!
English Grammar 101 is basically a grammar textbook, only digital, so you don't have to worry about hurting your back lugging it around every day. You'll go through hundreds of in-depth lessons on everything from nouns to capitalization, with quizzes, reviews, and tests for each topic to assess your mastery.
10. Grammar Ninja
Who says learning grammar can't be fun? With Grammar Ninja, you'll play games that help reinforce the grammar rules you've been learning.
Playing games is one of the best ways to improve your understanding and mastery of concepts, and grammar is no exception! If your eyes are going a bit crossed after studying one of the more serious lessons, pop on over to Grammar Ninja for an exciting, refreshing take on the same concepts.
You CAN Master English Grammar
No matter how tricky or frustrating it might seem, you can master English grammar! The free resources listed in this article will help you become a stronger writer in no time.
Have we missed one of your favorite sites? Tell us in the comments!
---
Ready to take your writing to the next level?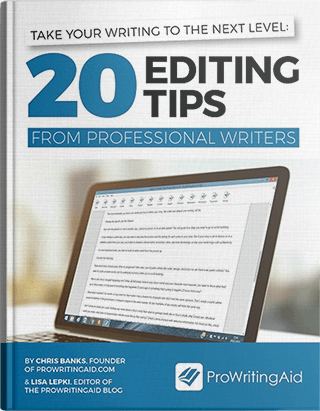 Whether you are writing a novel, essay, article or email, good writing is an essential part of communicating your ideas.
This guide contains the 20 most important writing tips and techniques from a wide range of professional writers.