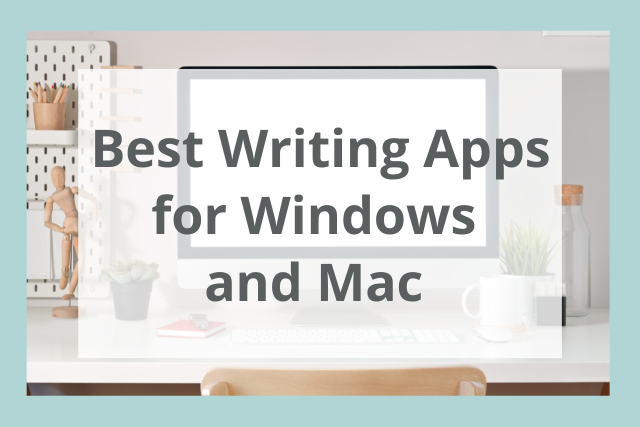 For writers, technology is a major asset. You no longer have to rely on countless journals, loose pages, and scribbled notes to write a book, article, or essay.
There are hundreds of writing apps available, and it's easy to get overwhelmed by all the choices. How do you know which writing apps are worth the money? Which applications are right for your needs as a writer?
As an author and content writer, I have a genuine passion for writing technology. It's become a bit of a joke in my fiction group that I'm always switching programs to find The One True Writing App.
Let me save you the trouble of trying every new option that comes your way. Check out all the reasons you need a writing app, what to look for, and what the best programs on the market are for every writer's needs.
What Is a Writing App?
A writing app, short for writing application, is any software designed for writing. That seems obvious, but these days writing apps go far beyond a traditional notepad application.
Today, writing applications support multiple areas of the writing process: brainstorming, plotting, drafting, editing, and even formatting.
Not every writing application does all these steps. Each app has its strengths and weaknesses, so it's important to understand what you need for your personal writing process.
Keep in mind that no app is perfect because every writer is different. But I've selected the apps that are pretty close to perfect—depending on your needs.
Top 3 Benefits from Using Writing Apps
Why use a writing app? Is it really worth giving up your trusty pen and paper for a piece of technology?
Absolutely. Even the most basic writing apps will help you improve your writing process.
1. Organization
The best feature of a great writing app is that everything you need can be safely stored all in one place. Writing apps can hold all of your notes, dabbles, outlines, and drafts in one place.
Basic writing apps focus solely on word processing and aren't designed with long documents in mind. With basic writing apps, you can use headings for easy navigation, or you can save things to one folder for your project. More advanced apps will allow you to quickly navigate between your notes and your draft.
You'll never have to wonder where you jotted down that one great scene. You don't have to worry about grabbing the wrong journal when you go on a writing retreat, or about suspicious coffee stains blurring your outline.
2. Efficiency
Whether you're drafting a book or a blog post, writing is a multi-step process. A great writing app will save you several steps, making the entire process flow that much easier.
Can you brainstorm, write, edit, edit again, format, and send to your editor all with one program? Some writing applications will get you pretty close. But the best writing apps allow you to combine at least two steps of the writing process into one program.
3. Big-Picture Views
It's easy to get stuck on one part of a manuscript or article. You're zoomed in, thinking about how to fix a plot hole or improve your prose. It's difficult to view your project as a whole when you're hyper-focused on one piece.
When you have outlines, notes, and quick navigation to other sections in one app, it's much easier to take a step back. You can focus on cohesive writing with excellent pacing when it's all right in front of you.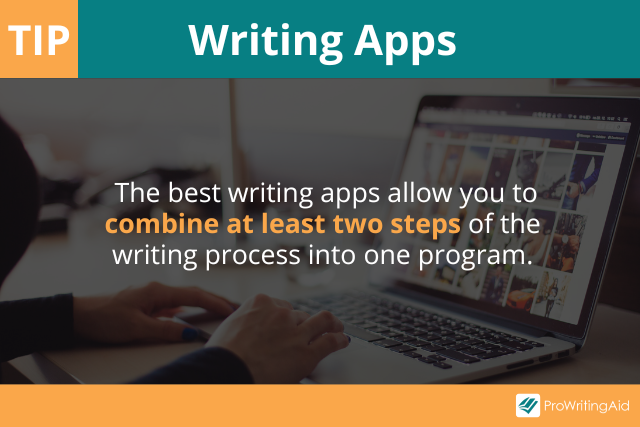 Features to Look for in the Best Writing Apps
Everyone has different requirements for their perfect writing software, which is why there are so many great apps on the market. But there are a few features that make a great writing app, no matter what your individual needs are.
Easy to Learn
Writing has enough steps—you don't want to spend a ton of time learning a new app. Look for a writing program with a simple user interface. You should also look for plenty of tutorials or in-depth help pages.
"Easy to learn" is difficult to classify because everyone has different comfort levels with new technology. It's a great idea to try out a trial or free version of a new writing app when possible.
Cross-Device Accessibility
A great app will be accessible on different devices and platforms, so your writing will sync no matter where you are. What happens if your main computer dies? Can you pick up your manuscript where you left off?
Cloud-based programs are great, but be sure they also have offline access in case you're writing in a cabin in the woods. Mobile apps are fantastic when you want to jot down the perfect scene during a trip to the grocery store.
Security
Security is two-fold when it comes to writing apps. First, you want a reliable program that won't leak your personal information or sell it to partners.
But, you also want your writing to be safe. You don't want your drafts to disappear. Be aware of how writing apps store your data. If there's a glitch, you want your work to be easily recoverable.
One-Stop Shop
The more your writing app can do, the better. It will save you time and money when you don't need multiple programs for every step of the process. Look for an app that can manage at least two steps of the writing process.
Great Customer Service
It's guaranteed that issues will arise with any technology. But a great customer support experience makes all the difference. You may not get a chance to try out customer service before you buy, so check out reviews from people who have.
9 Best Writing Apps for Windows and Mac
So, what writing apps make the cut? It really is hard to choose, but I've picked some of the best writing applications for all levels and all types of writers.
1. ProWritingAid
Before I worked at ProWritingAid, I was a loyal user. So when I say ProWritingAid is one of the best writing apps, I mean it.
ProWritingAid is so much more than a grammar checker. It's truly a writing app because it doesn't just tell you what to change. It helps you improve your skills with stylistic feedback, document goals, tutorials, articles, webinars, and more.
You can create sub-docs in the web editor if you're working on longer documents with multiple sections. It's easy to stay organized.
You can write directly in the web editor and edit as you go. You can also use one of the many integrations, like the Chrome Extension or ProWritingAid Everywhere.
ProWritingAid gives you the type of feedback you get from critique groups or line editors. You can set goals for dozens of document types. It's great for anyone who writes, not just professionals.
ProWritingAid also has some of the highest security qualifications, so you can guarantee that your writing and your personal information are safe.
2. Google Docs
There's nothing wrong with a simple writing app, so Google Docs is a great option. And you may not realize just how customizable the program is for your writing needs.
It's easy to create folders to store notes, outlines, or drafts. You can create sub-folders, too.
For example, you might have a folder for your entire book, then a sub-folder for character profiles. You can use separate files or headings in one document to navigate between chapters and scenes.
Let's say you use the same outline for all your quarterly reports at work. You can create templates for yourself and quickly make a copy. There is even a templates gallery from Google for certain document types.
Google Docs' biggest strength is in collaboration. Share your document across teams at work, with your critique group, or with your editor. Leave in-line comments or toggle between editing and suggesting modes.
You can even add extensions to turn Google Docs into a true one-stop shop. Try ProWritingAid's Google Docs extension to edit and improve your writing.
3. Microsoft Word
Microsoft Word has been around for a long time, and there's no shame in keeping it old school. It's a powerful and reliable word processor.
When you're writing a long document, like a book or thesis, you can use headings and the navigation pane to rearrange sections. Your formatting options are practically endless with Microsoft Word, although there is a learning curve.
You can use Microsoft OneDrive to save all your work to the cloud and access it on different devices—even your phone! There's also a web version of Microsoft Word and other Office products if you're writing on a device like a Chromebook.
While Word has a built-in spell checker, it's very basic. Use ProWritingAid's Word integration for in-depth editing right in your document.
4. Scrivener
Scrivener remains the gold standard for novel-writing software, even with new competitors. Scrivener users have brand loyalty and for good reason. It's a powerful tool that you can use for plotting, drafting, and formatting.
There's a big learning curve to get the most out of all of Scrivener's features, but it's a great app for in-depth planners. Plus, you can find templates from other writers if you aren't quite sure where to start.
The dual-pane layout allows you to pull up multiple scenes or notes at the same time. Scrivener uses a corkboard layout that is great for visual thinkers.
An advantage of Scrivener is that it's a one-time payment rather than a subscription. But you can only use your license on one computer at a time. Scrivener also has an iOS app that syncs in real time, but it's not available for Android users.
Scrivener will backup to whatever location you choose on your computer, and it creates backups every few minutes. I always recommend saving your projects to a cloud storage folder, like OneDrive or Dropbox. This way, if you need to put your license on a new computer, you can pick up where you left off.
Another great feature is the formatting tool. You can format for eBooks, paperbacks, or agent queries with a click of a button. You can also integrate ProWritingAid Everywhere with Scrivener to edit directly in the app.
Are you a student? Scrivener has dissertation templates. You can store your research and your drafts all in one place.
5. Campfire
Campfire is making a name for themselves as one of the most powerful novel-writing apps. Campfire has a focus on worldbuilding, with features such as languages and maps for fantasy and sci-fi writers.
But any writer can benefit from Campfire's writing features. Create plot timelines, detailed character profiles, and more. The manuscript feature allows you to write directly in the same program that you take notes, plot, and build your world bible. Crafting a series? Digitally link elements in the same fictional world to access across all your books.
Because Campfire is so customizable, there's a learning curve for each module. Luckily, there are amazing, short video tutorials. You can even publish your work on your Campfire profile, and there's a collaboration feature to share with other users.
Campfire has recently launched their mobile app, and it just gets better with every update. You can use a desktop version of the writing app, work in your browser, or work on your phone.
I can vouch for their excellent customer service. I encountered a strange glitch, and they responded in a timely manner with a fix.
One thing that sets Campfire apart from competitors is their a la carte pricing. If you're writing historical fiction or contemporary romance, you might not need a species module or a language module.
Only pay for what you need—although you do get a limited amount of every module for free to see how it works.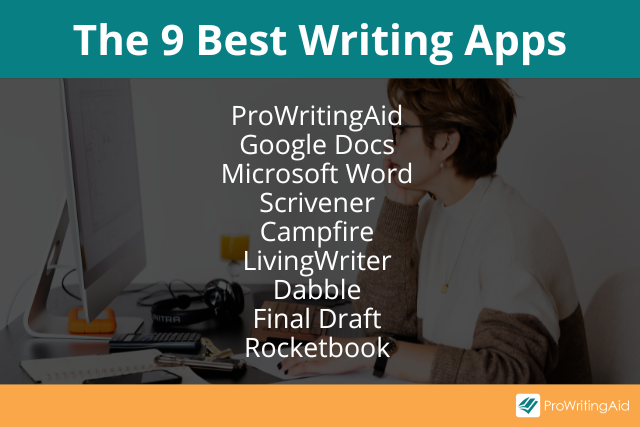 6. LivingWriter
LivingWriter is another great novel-writing app. It's got a clean interface and easy-to-use manuscript feature.
This app has amazing plotting features, much like Campfire and Scrivener. But LivingWriter focuses on plot structure more than the others. There are common plot templates you can use to outline your story. Even nonfiction writers can draft their book in this app.
Once you've plotted, you can link your outline and other elements to scenes in your story. Character names will link to their individual profile—so if you've forgotten if your love interest has green or blue eyes, you can find the answer quickly.
You can navigate and drag-and-drop scenes using a sidebar or a cork board layout. You can also create mind maps if you're more of a visual plotter. Set writing goals for yourself, and share chapters and scenes with your writing buddies.
LivingWriter also has an excellent mobile app for both iOS and Android.
7. Dabble
Dabble is a great writing application option for people who want something fancier than Microsoft Word but not as in-depth as other novel software.
Dabble allows you to store all your notes and backstory alongside your manuscript. The interface is clean and simple.
This app has one main plotting tool: a drag-and-drop plot grid. You can easily see where your plot lines merge at a glance. Video tutorials will show you how to use this plotting device.
Dabble also boasts a focus mode, which is perfect for easily distracted writers. There's a desktop app and a browser version, both with full functionality, so you can write on any device, online or offline.
8. Final Draft
We can't forget the screenwriters among us! The industry standard for screenwriters and playwrights is Final Draft.
Final Draft will provide the formatting for you as you write. You can even include dual dialogue (when multiple characters speak at once).
Need a visual for the prop master? Quickly insert images directly into the screenplay. The collaboration and editing tools are also easy to use. Insert in-line comments and track changes from co-writers, directors, and editors.
Final Draft is available on any Mac or PC, and you can activate your license on two computers at once. After it's downloaded, you can write offline or online. IPad and iPhone users can also download the Final Draft app for on-the-go writing.
The company also offers discounts for students, teachers, military, and first responders.
9. Rocketbook
Some writers really prefer to handwrite their notes and first drafts. But transcribing those notes can be a time-consuming hassle.
Enter Rocketbook. With a special notebook and pen, you can handwrite lists, conference notes, plot ideas, or whole scenes.
Then use the Rocketbook app on your phone to sync your notes to a cloud storage of your choice. You can send your writing to multiple locations at once—you can even email it to people.
The app can search your handwritten notes for keywords. It will also transcribe your handwriting into typed formatting with just a click.
Plus, Rocketbook is reusable, so it's better for the environment.
Conclusion on the Best Writing Apps
It's hard to decide on the best writing app for yourself. Luckily, most of these apps have free trials or limited free versions, so you can check them out and see if they are right for you.
What are your favorite writing apps? What features do you look for in a writing program? Let us know in the comments.
---