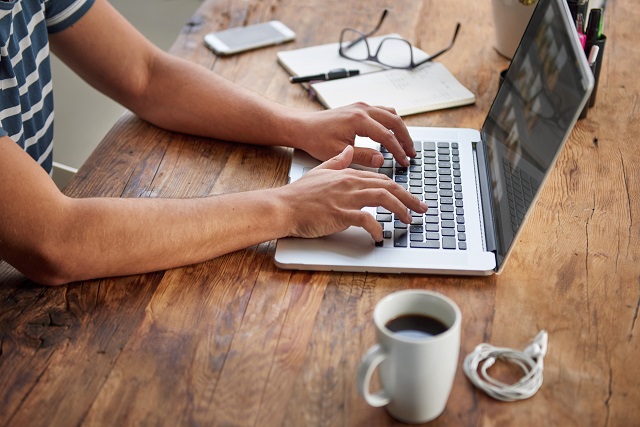 The internet is full of writing tips for freelance writers and bloggers. You already know to use action verbs and avoid passive voice. Current guidelines for creating content also stress using natural language that speaks to a prospect or customer — this is more dangerous. Following this advice, you may use words that are common in spoken conversation but will weaken your prose.
The words you use in your content can strengthen or weaken your prose. Boost the power of your content by eliminating non-words and weak phrases that take up space but dilute your statements. The end goal of content creation is to inform and convert customers. Whether you write for your own business or create content for other entities, powerful content gets your message read.
The Dirty Dozen Words and Phrases to Avoid
1. Really
Quantify instead of being vague. If you are referring to an object as really big, state a weight or height or both. Eliminate the vagueness. Where you may use really to emphasize or exaggerate, use a more specific adjective that will get your point across directly.
ProWritingAid's Realtime Checker will highlight your really's whenever you could use a stronger replacement.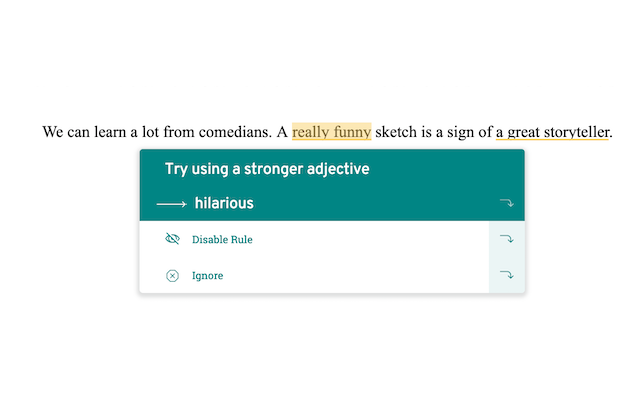 Adding details or switching 'really' out for something stronger can take your description from vague to accurate.
2. Think / Believe
These words turn your statement into an opinion. Give your reader facts. If your purpose is to deliver information, these words will give your reader a sense you are not sure of yourself. Convey clear information to reassure your reader that your content supplies useful intelligence and data.
3. A Lot
It's as vague as really. Give your readers an experience with specific information. Otherwise, they don't know how much. Use units of quantification like percentages or weights. You'll add clarity to your statement making it easier for readers to respond to what you say.
4. Always / Never
These words are untrue. Rather than exaggerate, use words that modify. For always use words like "most" or "many" or "frequently." For never tone down your statement with "few" or "rare" or "occasional." When you don't have exact data use these modifiers rather than distorting. Readers will appreciate your rational, toned down approach.
5. Entirely / Completely
Remove these words. They act as fillers. If you want to illustrate completeness, employ descriptive terms. Convey an image with a phrase like The cup is full to the brim with hot coffee. Use a specific or delete these adjectives.
6. Absolutely
Another word to delete. It is redundant to the message. He took the absolutely final step to reach the top. "Final" means final. This is one of those words that appear in casual conversation but has no place in written content.
7. Thing
A nondescript and non-committal noun to replace with a specific. Use it and you weaken your sentence. Rewrite the sentence to be more descriptive. For example, change Feeling ignored is a thing we can relate to, into We can all relate to feeling ignored. Stronger sentence, more powerful copy.
8. When it comes to
Leave it out. Change a weak sentence to a strong statement. Transform When it comes to swimming, the ocean is my favorite to Swimming in the ocean is my favorite. You'll change an unwieldy sentence into a strong remark.
9. Obviously / Undoubtedly
You've made your point. These adverbs take away from your statement rather than emphasizing the importance. Bump them out.
You should use all adverbs sparingly in your writing. They are often redundant or can be replaced with a stronger verb.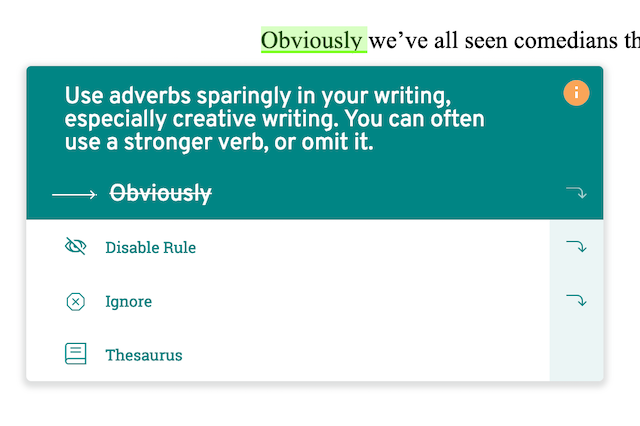 ProWritingAid's Style Report will highlight adverbs in your writing, and advise you to replace or omit them.
10. Kind of / Sort of
These phrases make your writing sound uncertain. You either mean what you say or you don't. You write content to convince. Don't hedge, it weakens your premise.
11. As a matter of fact
Delete it. You don't need this phrase to introduce a statement. Make your point in one clear sentence. If you are contradicting a previous statement, clarify the opposition to the point just made. Either way, eliminate the phrase.
12. Very
Instead of modifying an adjective, use a stronger one. Change a very bright day to a day with brilliant sunshine. You'll increase the impact of your sentence.
Be Specific
These words and phrases have one thing in common: a call to specifics. The purpose of content is to inform, answer questions, and convert. Page visitors respond to information presented in clear statements. Whenever your content is vague or hedges, you weaken your message to consumers.
Improve your writing and your message by cutting filler words and phrases. As you edit your content, consider each word. If it does not add to the meaning, get rid of it. Then work to make your content strong.
Use action verbs.
Minimize adjectives and adverbs.
Avoid cliches, overused phrases, and filler words.
You'll end up with strong, clear content that speaks to your reader. ProWritingAid helps edit for strong word usage and spelling and grammar clarity. Use it to edit for strong copy.
---
Now is a wonderful time to be a copywriter. Download this free book to learn how: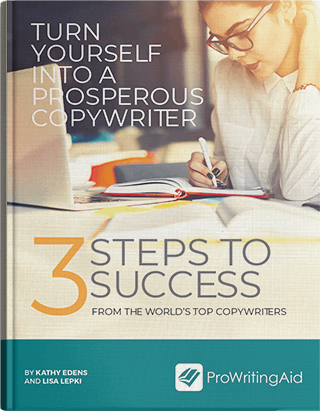 With the advent of the internet, the copywriting industry is exploding. Content is now seen as critical for all online businesses.
This guide breaks down the three essential steps you must take if you think copywriting is the career for you.