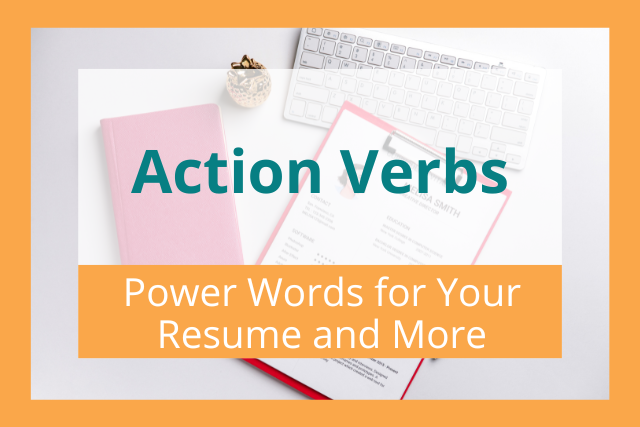 Action verbs, also called action words, are vivid verbs that show a state of doing rather than a state of being.
Using strong action verbs is great for all types of writing, from fiction to business writing. But great action verbs are especially important for resumes. They impress hiring managers and HR representatives and help you get interviews.
We've compiled a list of resume action verbs you can use to beef up your job duties and work experience, making you a standout candidate for any job.
What Are Action Verbs (AKA Action Words)?
We can divide verbs into two categories: being verbs and doing verbs.
Being verbs show a state of existing rather than demonstrating an action. For example, you might say that in a past job you were a customer service representative.
An action verb, on the other hand, will focus on what you actually did. You helped customers with their problems and questions. You improved customer satisfaction.
When we talk about resume action verbs, however, we are often talking about power verbs. These are action verbs that are extra strong. They're specific and positive, and they make your resume stand out to hiring managers.
For example, you resolved customer complaints. You achieved a 96% customer satisfaction rate. You recommended solutions based on customers' needs.
Action verbs are a good way to avoid using the passive voice in your resume, as well. Passive voice doesn't showcase you as a worker the way active voice does.
Examples of Action Verbs Used in Sentences
To understand the best way to use the words in this action verbs list, let's look at some examples of how to use action verbs in sentences.
Let's say you want to describe your professional experience in sales to potential employers. You want to craft a perfect summary to put at the top of your resume or CV.
Let's check out an example of a resume summary that uses more being verbs, or weak verbs, rather than strong action verbs.
I am a seasoned sales manager who has a good rapport with my clients. I like to use data-driven sales techniques. I want to find a position where I am part of a team that can increase sales and have lasting client relationships.
Note the use of words like "am," "like," and "has." These are weak because they aren't descriptive. But the resume action words can make this summary shine. Let's look at an improved resume summary.
As a seasoned sales manager, I develop a rapport with my clients while implementing data-driven sales techniques. I'm eager to find a position where I can collaborate with a team to improve revenue and build lasting client relationships.
These summaries say the same thing, but one shows what you can DO, rather than who you are or what you want.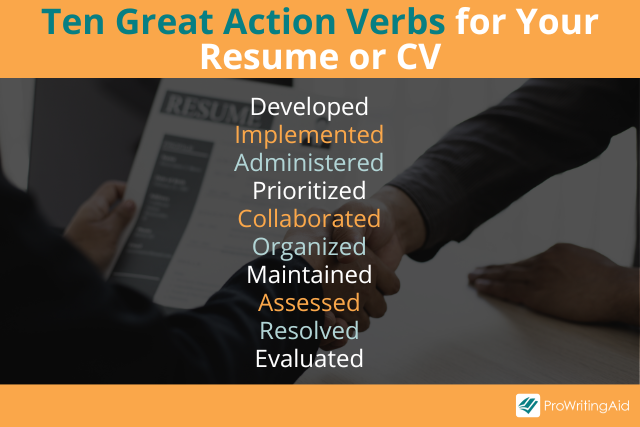 List of Action Verbs for Your Resume
If you want to stand out to a hiring manager, it's best to avoid a generic resume. Resume action words are the easiest way to take your resume to the next level.
A great place to find action verbs to use is in job descriptions. You should tweak your resume to each position you apply for. Using some of the same words from a job description will help you get past automated hiring software.
But you also don't want to look like you just copied a job posting. So, use action verbs for your base resume to describe your past experience, and then sprinkle some of the job description words in.
Use the following action verbs list to craft an exceptional base resume. We've divided the first part of this list into different types of job duties and careers.
Powerful Action Verbs for Leadership
Leadership requires excellent people skills and innovation. Using words like "managed" or "lead" are dull. Here are some powerful action verbs you can use to describe your leadership roles or include in your skills section.
Administered
Advocated
Allocated
Appointed
Approved
Authorized
Centralized
Chaired
Coached
Consolidated
Coordinated
Counseled
Coached
Delegated
Directed
Empowered
Endorsed
Enforced
Established
Facilitated
Founded
Hired
Implemented
Interviewed
Inspired
Instituted
Integrated
Mentored
Moderated
Motivated
Orchestrated
Organized
Piloted
Pioneered
Reorganized
Reviewed
Regulated
Sanctioned
Shaped
Spearheaded
Supervised
Taught
Unified
Action Verbs List for Lead Generation and Sales
Words like "found leads" and "sold" are overused in resumes. Here's a list of action verbs to better demonstrate your relevant experience in lead generation and sales.
Acquired
Boosted
Campaigned
Closed
Communicated
Converted
Corresponded
Enlisted
Expanded
Forged
Formulated
Identified
Increased
Maximized
Negotiated
Partnered
Promoted
Proposed
Pitched
Publicized
Oversaw
Queried
Signed
Sourced
Stimulated
Streamlined
Upsold
Yielded
Action Verbs List for Customer Support
Supporting customers when they have complaints and questions requires valuable interpersonal skills that many people overlook.
Customer service representatives must understand company policies, products, and communication systems while also problem solving and maintaining a cheery attitude.
If you have professional experience in customer support, use this action verbs list.
Administered
Advocated
Assessed
Assisted
Clarified
Classified
Demonstrated
Diagnosed
Ensured
Explained
Fielded
Identified
Informed
Instructed
Maintained
Mediated
Processed
Recorded
Represented
Supported
Tracked
Trained
Verified
Action Verbs List for Research
Whether you have a job as a researcher or research is a major component of your career, there are many ways to describe the various responsibilities that come with research.
Researchers do more than just look for information. They must ask questions, organize data, and present their findings. Check out these great action verbs for research positions.
Analyzed
Assembled
Assessed
Audited
Calculated
Co-authored
Collected
Compared
Compiled
Concluded
Consolidated
Delivered
Diagnosed
Evaluated
Examined
Experimented
Finalized
Forecasted
Formulated
Gathered
Hypothesized
Interpreted
Inventoried
Investigated
Mapped
Measured
Modeled
Outlined
Performed
Presented
Probed
Projected
Qualified
Quantified
Recommended
Researched
Reviewed
Simplified
Standardized
Studied
Surveyed
Systematized
Tabulated
Tracked
Action Verbs List for Communication
Most jobs require excellent communication skills. Everyone says they have good communication skills on their resumes. But don't just tell. Show you know how to communicate with strong resume action words
We've already included some communication verbs in the previous sections, but here are more ways to say you are an exceptional communicator.
Addressed
Advised
Aided
Answered
Arbitrated
Assembled
Authored
Conceptualized
Consulted
Cooperated
Dispatched
Drafted
Educated
Encouraged
Enlisted
Guided
Harmonized
Ignited
Interpreted
Intervened
Introduced
Lectured
Lobbied
Persuaded
Reconciled
Recruited
Resolved
Summarized
Translated
Undertook
United
Action Verbs List for Success and Achievement
Resumes are an opportunity to brag about what you've achieved. Talking about your achievements is more than listing awards.
Success can include reaching or exceeding numerical goals for your position, implementing great ideas, and more. Use this action verbs list to highlight successes in your professional life.
Accelerated
Accomplished
Achieved
Advanced
Attained
Bolstered
Completed
Conceived
Demonstrated
Doubled
Earned
Effected
Enriched
Exceeded
Finished
Initiated
Innovated
Invented
Launched
Lifted
Mastered
Originated
Outpaced
Outperformed
Perfected
Raised
Reached
Recognized
Reduced
Saved
Showcased
Strengthened
Succeeded
Surpassed
Transformed
Upgraded
Won
A–Z Action Verbs List
With so many job types in the world, we can't list every power verb for your specific resume. If you haven't found the right words for your job description or professional skills, this action verbs list includes a range of words from generic to industry-specific.
Acted
Adapted
Adapted
Adjudicated
Adopted
Aligned
Allocated
Amplified
Applied
Arbitrated
Arranged
Assembled
Assigned
Automated
Balanced
Blended
Blocked
Budgeted
Checked
Coded
Collaborated
Composed
Computed
Condensed
Conserved
Constructed
Convinced
Corrected
Crafted
Cultivated
Customized
Debugged
Dedicated
Deducted
Defended
Deployed
Derived
Developed
Devised
Differentiated
Discovered
Displayed
Edited
Eliminated
Employed
Enabled
Engineered
Envisioned
Established
Executed
Expedited
Fabricated
Familiarized
Filed
Fixed
Formalized
Grew
Halted
Handled
Illustrated
Incorporated
Inspected
Installed
Instituted
Intervened
Itemized
Joined
Lessened
Lowered
Merged
Minimized
Mobilized
Navigated
Operated
Optimized
Paid
Partnered
Patched
Pinpointed
Planned
Predicted
Prepared
Prioritized
Processed
Produced
Programmed
Proofread
Provided
Published
Purchased
Raised
Rebuilt
Redirected
Referred
Reorganized
Repaired
Replaced
Restructured
Retrieved
Revamped
Revised
Rewrote
Scrutinized
Secured
Solved
Specialized
Specified
Stimulated
Suggested
Sustained
Transcribed
Troubleshot
Volunteered
Wove
Conclusion on Action Words
Action verbs are the quickest way to improve your resume and impress hiring managers.
You can use ProWritingAid not just to edit and proofread your resume and CV but also to help you find the best words. Double-click on any verb in the web editor to find synonyms.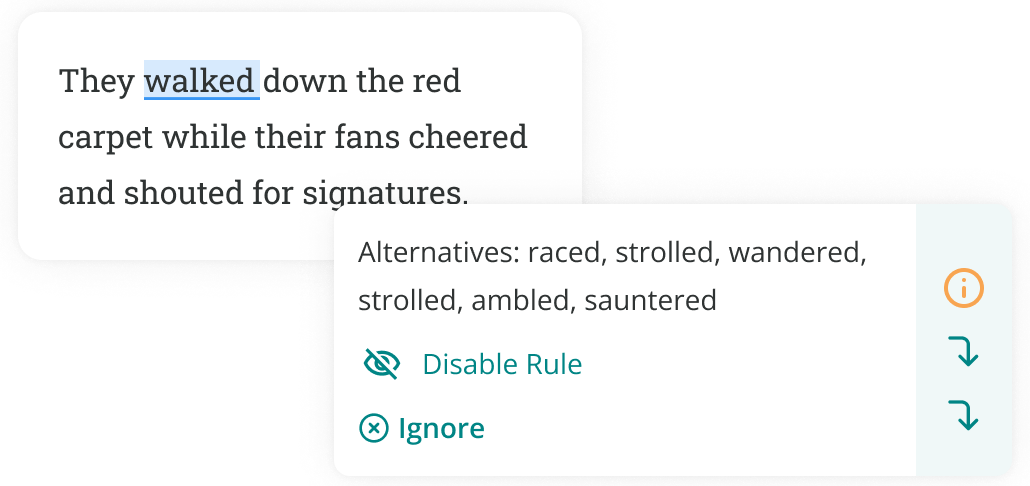 You can also open the Word Explorer to find contextually related words to use to describe your professional experience.
---
Take your writing to the next level: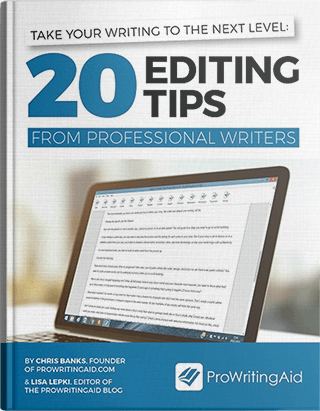 Whether you are writing a novel, essay, article, or email, good writing is an essential part of communicating your ideas.
This guide contains the 20 most important writing tips and techniques from a wide range of professional writers.