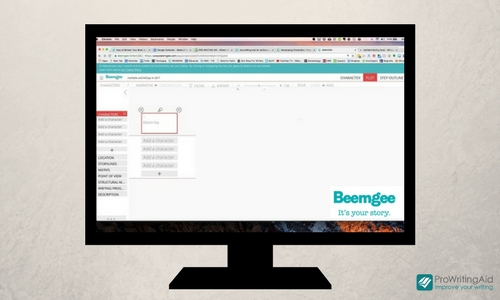 Everyone at ProWritingAid loves tech that helps us write better, faster, easier, etc. It's one reasons we get up every morning. When we stumbled across Beemgee and their amazing writing tool, we wanted to partner with them for a fun competition. If you're not aware of the Plot of Gold 30-Day Challenge, you can read about it here. (NOTE: Win awesome prizes and prep for NaNoWriMo.)
Let's take a closer look at the Beemgee novel outlining and storytelling tool to see how it can help you develop compelling characters and an engaging plot.
Getting Started
If you've signed up for the 30-Day Challenge, you should have full access to Beemgree Premium with all the bells and whistles. (If you haven't, what are you waiting for?!)
Beemgee starts you off with an in-depth character analysis, one character at a time. Here's what the screen looks like when you click on a single view of a character: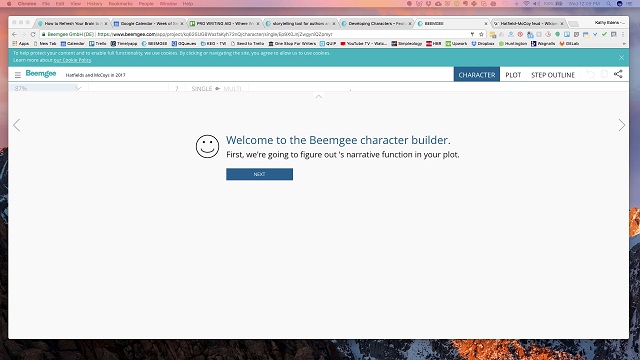 The character analysis tool walks you through step-by-step, using intuitive questions to help you dig deep so you intimately understand your characters. Let's take a look at the next screen and view the first question:
If you notice in the upper left-hand corner, our project is titled "Hatfields and McCoys in 2017." And we typed the external problem we identified for our story in the box to the right of the question.
Clicking the arrow to the right of the answer box takes you to the next question. If you want to revisit and revise a previous question, simply click the arrow to the left of the question. Here is a sampling of questions Beemgee asks to help you create an engaging character:
Want. What does X want or desire? What ideal state does X want to achieve in order to solve the external problem and be happy?
Goal. What is X's goal? What specific achievement would let X feel the ideal state has been reached?
Task. What is X's outward task? Is X conscious of a mission?
Perceived Need. What does X believe is needed in order to achieve the goal?
Action. What action does X take in order to achieve the goal? Which plot events or scenes exemplify this?
Stake. What would be the consequence of X's failure? What's at stake?
Fear. What is X's anxiety or fear?
Special Ability. Does X have any special abilities? How and when do they help?
There are 30 more questions to get to the nitty gritty of each character in your novel.
Here's what your screen will look like after you finish fleshing out this single character: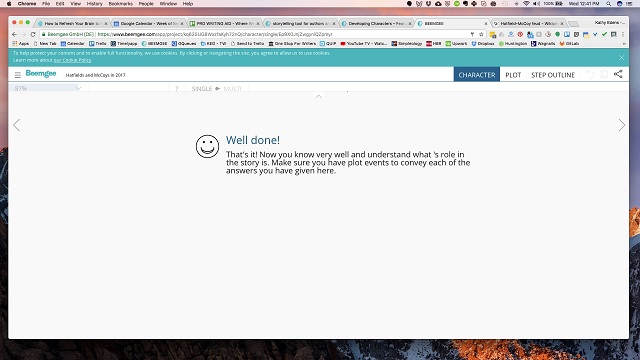 Once you've reached this fork in the road, you have two options: you can work on more characters or move on to your plot. When you click the next arrow at the right of the screen, you're taken to a new character builder for your next character. Do this for each character you need to flesh out.
When you're done with characters and ready to move on to plot, click "PLOT" in the upper right-hand corner of the screen next to "CHARACTER." Here's what your screen will look like: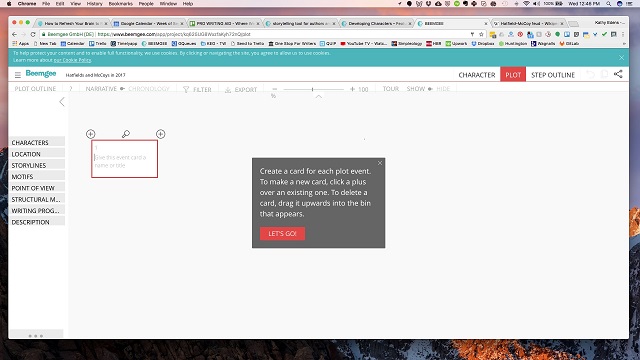 Each element you noted for your characters in the character building exercise should relate to a plot point on a "plot event card."
You have two options to order your plot event cards: 1) in chronological order of events, or 2) in the order in your narrative you relate them. Let's take a look at what a plot event card looks like: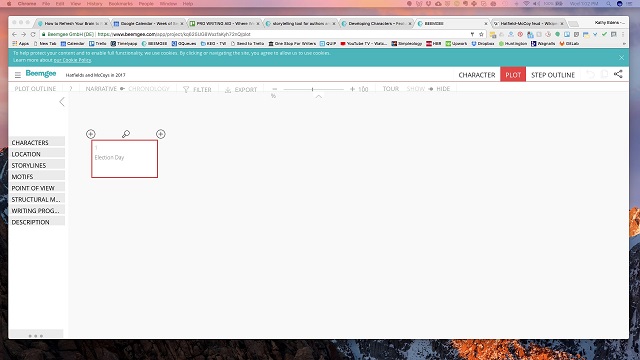 The plus signs above your plot event card add an event either before (the sign to the left) or after (the sign to the right) of the active plot event card. Don't worry though if you don't get the order right from the start. You can always drag and drop cards to reorder them.
Now the tough work begins. You build your plot event card using the elements in the menu to the left of the card. Let's say you want to identify the characters in the scene you're working on. Here's what the screen looks like when you click on "CHARACTERS" in the left menu when you haven't added any characters yet and then click on the "pencil" icon that shows up to let you edit characters: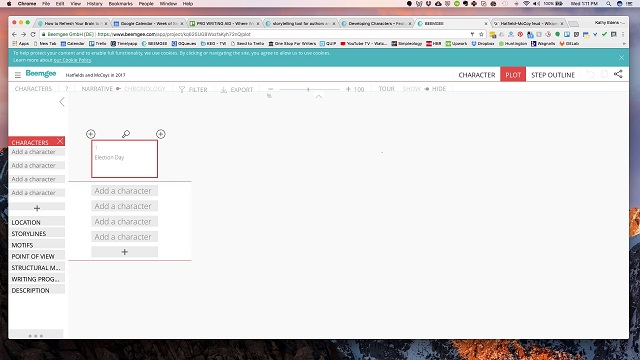 For each element in the menu at the left-hand side, you can add details that help you build your plot. And if you're not certain what each element comprises, simply click on the question mark at the left-hand side of the top menu. To find the question mark in the picture above, look between "CHARACTERS" and "NARRATIVE."
Here's what the screen looks like when I clicked on the "STRUCTURAL MARKERS" element in the left-hand menu screen and then the question mark at the top: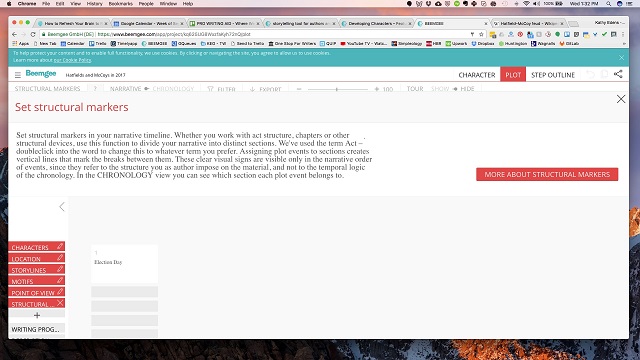 Once you're done building your plot, it's time to work on your Step Outline, which shows your complete story synopsis, event by event. Your Step Outline pulls all DESCRIPTION texts of your plot event cards and shows a scene by scene account of everything that happens in your story. This makes it incredibly easy to see gaping plot holes at a glance, and you can edit your plot event cards here.
Conclusion
Beemgee doesn't write your story for you; it's not a word processing program. Rather, Beemgee helps you think deeply about the elements that go into a good story. There are tons of resources available to make sure you understand each story element and how it works in your story. And when you're ready, you can export your Step Outline and supporting documentation to a PDF from which you can write your novel.
If you've ever wanted a writing advisor giving you tips on the technical elements that go into creating a great story, Beemgee is your answer. And if you want to nail NaNoWriMo this year, Beemgee can help you create a fairly detailed outline from which to write your fingers off by the end of November.