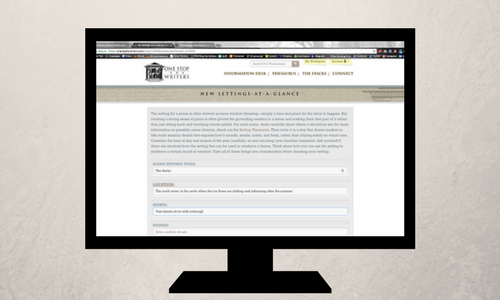 The founders of Writers Helping Writers have created an innovative platform for writers to boost their creativity and enhance their skill set: One Stop For Writers. The creators call it the "library," and it's complete with an "Information Desk," "Thesaurus," "The Stacks," and more.
Whether this is your first rodeo and you need some entry level writing help, or you're an old hand and just want a fun way to plan your novel, One Stop For Writers has scads of resources, templates, online tools, and lessons to help you write the best novel yet.
We're going to cover just the highlights because it can take you days of roaming around the "library" to see and experience everything.
Getting Started
You can sign up for free to take a test drive and see some of its functionality. You get more functionality when you buy a subscription, and the prices are reasonable for a 1-month, 6-month, or 12-month subscription. Of course, if you see its value, you can purchase a 12-month subscription at a discount and have at it for the long haul. The 1-month subscription for $9 is less than the cost of a Starbucks, and gives you plenty of time to experience the full functionality and see the value in a longer subscription.
You'll spend the first day scrolling around and visiting the different sections in the menu bar at the top:
Information Desk
This is the place to get started. No seriously, there's a section here called "Getting Started." You'll also find a comprehensive description of the features and tools that offers examples of how and when to use them. There's some housekeeping pages, like Plans and Pricing, Media, and FAQ for more information.
Thesaurus
If you love your thesaurus, you'll flip over this amazing collection of thesauri. It's a bit like a standard online thesaurus, but separated into important writing categories, each packed with topic-specific description ideas to encourage show, not tell. There is a comprehensive thesaurus for each of the following categories:
Emotions
Emotion Amplifiers
Negative Traits
Positive Traits
Weather
Settings
Talents and Skills
Physical Features
Emotional Wounds
Symbols and Motifs
Textures
Shapes
Colors and Patterns
As an example, flipping through the Emotions thesaurus, I was drawn to "pride." Then I looked at Emotion Amplifiers and was drawn to "hunger." Imagine a character full of pride who hungers for something psychological, emotional, or even physical—there are plenty of ways to spin this into a complex, 3-D character using all of the thesauri above.
The Stacks
Here's where you'll find a lot of tools. There are templates and worksheets to help you create everything from the physical characteristics of your main character to the emotional value of a setting (e.g., why is a scene happening here; what emotion does it evoke?). There is an idea generator so you never need fall into the dreaded black hole of writer's block. There are story maps, scene maps, timelines, and a world building survey that all help you create a complex and in-depth story arc with scenes and a world to support your novel. Everything can be created and saved, which we'll cover next.
My Workspace
This is where the magic happens. One Stop For Writers lets you create projects to capture all of the information for each book you're working on, and within a project, you can create and save notes, templates, worksheets, maps, timelines, and even your story's world.
Let's walk through a popular novel, The North Water by Ian McGuire, to see how My Workspace functions. I've created a new project for this novel: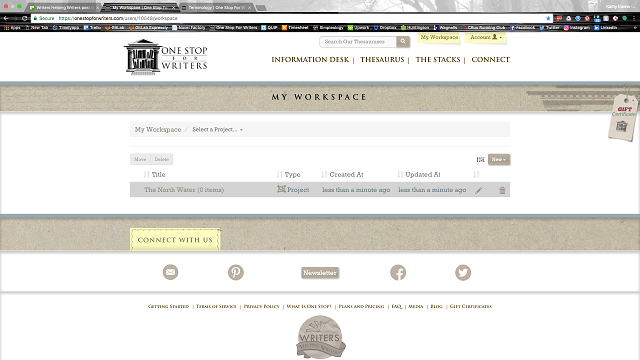 Next you have options on what you'd like to work on first. If you've got a solid story line going in your head, you might want to create your story map. Or if you're writing a sci-fi thriller, you may want to start with world building. Here are all of the options you have: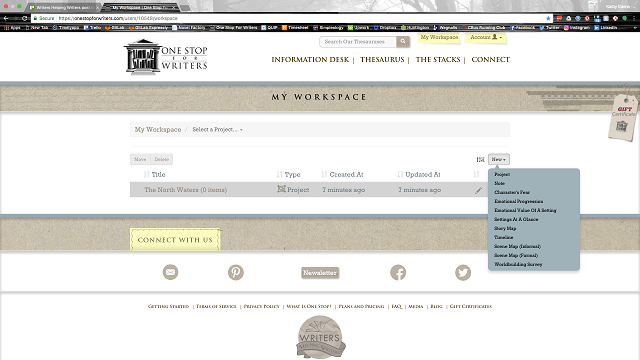 Since setting plays a huge role in The North Water, I'll start with Settings at a Glance.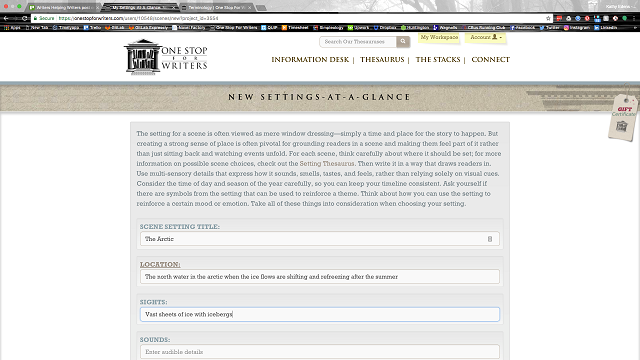 You can see how I've started to fill in some of the details of the setting that's so important in this novel.
You can work on your character's fear that drives him or her to act certain ways and make decisions both good and bad. Or you can work out your story map based on Michael Hauge's Six Stage Plot Structure. There are plenty of instructions and even videos to guide you through this process.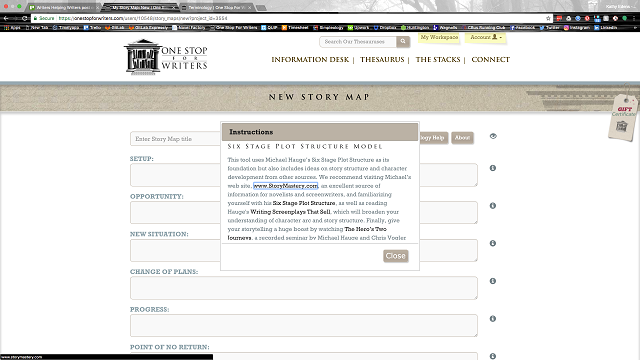 My Workspace lets you create detailed notes and save them in your project file for when you're ready to stop brainstorming and start drafting. Here's what my project The North Water looks like after I saved the setting notes about the Arctic Ocean.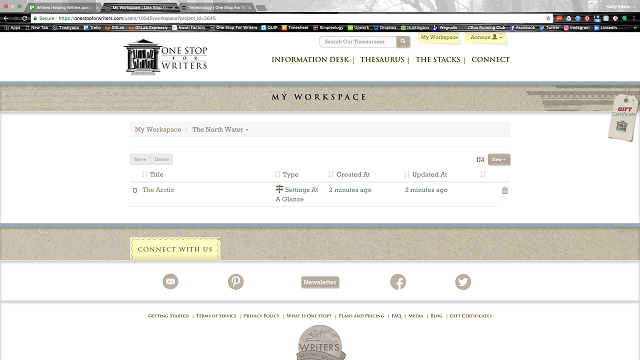 Additional Features
If you want to be able to print out your worksheets, you need to download the template from "Templates and Worksheets" in the Stacks section. Templates can be downloaded as a PDF or Word file and saved on your computer to edit and print. When you choose "My Worksheets" however, they're only stored online in the My Workspace section of your account and can't be printed.
Also, there are comprehensive and informative lessons in The Stacks for everything you may need to work on to take your craft to the next level. Here's a list of everything you can learn: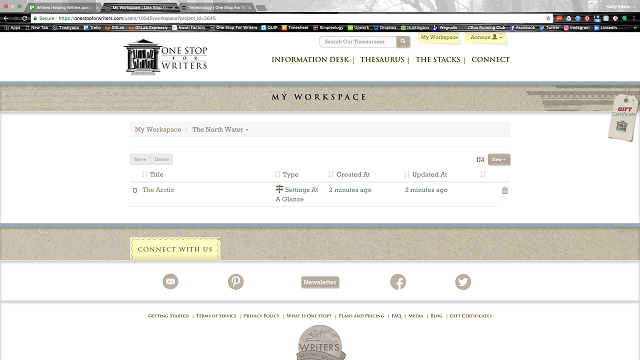 Simply click on a category for an in-depth look at each lesson including multiple examples to help you understand.
Conclusion
One Stop For Writers offers a little bit of everything to get you going and keep the creative juices flowing. When you're stuck, use the Idea Generator. When you're struggling to picture a fully formed character in your mind's eye, go to the thesauri and gets some hints.
If you like structure to help guide you through the creative process, One Stop For Writers has just enough structure to set your imagination free without suffocating the creative process.
Special Offer: Ready to give it a try? Use code ProWritingAid to get a one-time 25% discount at One Stop For Writers.
---
One Stop For Writers is a collaboration between Lee Powell, the creator of Scrivener for Windows and Linux, and Becca Puglisi and Angela Ackerman, the founders of Writers Helping Writers.
Want to check out other other posts in our Writing App Reviews… series? As promised, here they all are: