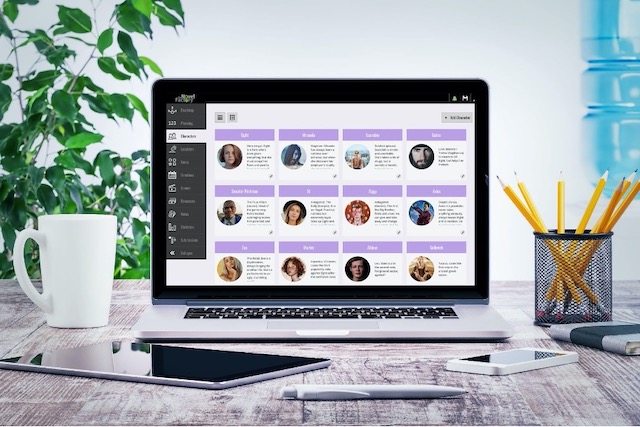 Today we're looking at one of our favorite novel-writing apps, The Novel Factory.
This innovative software program gives you the structure to flesh out your novel in a logical process—good for us planners.
The Novel Factory contains a wealth of useful tools for writers, including plot templates, character questionnaires, subplot managers, and timelines—but its clean, simple interface means there's no steep learning curve.
In this article we'll explore the main features of The Novel Factory, to help you decide if it might be helpful for you.
Who Is It For?
Planners
If you love nothing more than creating a bulletproof plot structure; developing complex characters and exploring their inner and outer values; and researching the senses and details of your locations, then The Novel Factory is definitely for you.
With its dedicated sections for plotting, characters, locations, and even items, The Novel Factory at its core is a way to easily keep track of all the complex data associated with a novel, so you're not constantly hunting around in drawers or digging through notebooks.
New Writers
But there is another key feature aimed at new writers—which is The Novel Writing Roadmap.
This is essentially a step-by-step guide to writing a novel that teaches you how to take your initial idea and turn it into a watertight premise, develop it into a compelling plot, create your cast of characters, and bring it all together into a polished manuscript.
You follow the steps while completing your novel, so it's practice and theory all rolled into one.
How It Works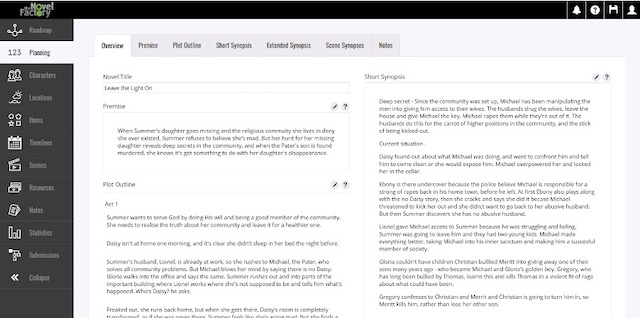 The Novel Factory has all its major areas accessible via a navigation down the left-hand side, and these are the sections:
Roadmap
Planning
Characters
Locations
Items
Timelines
Scenes
Resources
Notes
Statistics
Submissions
We won't go into each of the sections in detail here as it would take too long. Instead, we'll focus on the feature we found most useful as we were getting started with the tool.
The Novel Writing Roadmap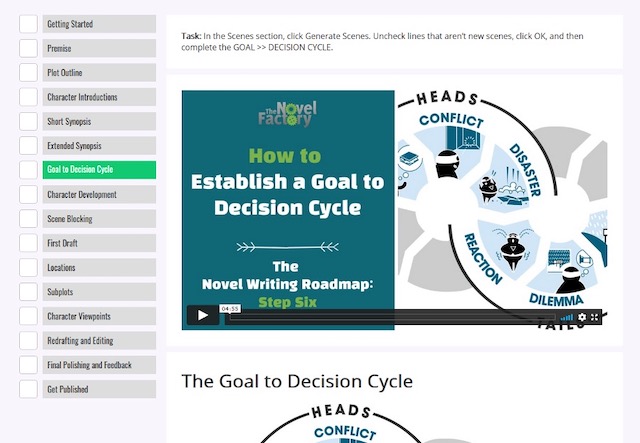 The Roadmap is similar to the Snowflake method of novel writing, where you start with a simple idea and methodically expand on it until you have a whole novel.
This incredibly detailed novel-writing guide takes you through each step in the process of building your novel:
Beginning with your premise (or what your story is about)
Fleshing out your story arc (they call it the Plot Outline)
Identifying your characters
Writing a short synopsis (and they do mean short) to give you a general idea of how the story unfolds—just the highlights
Writing an extended synopsis by filling in a lot more of the details
Generating scenes to fill in your narrative
Creating detailed character sketches
Building your story's world
High level plotting where you figure out how to weave together all of your plot details
Going deeper into your character's viewpoints
Scene blocking
and much more… until finally, you pull everything together and your manuscript is ready for submission.
It even walks you through the submission process—whether you're sending to a publisher or an agent—and how to format your manuscript professionally. The software program can also help you write a great cover letter.
Each step includes a detailed article explaining the theory. There are supporting videos and examples from bestselling novels, and plenty of templates and other supporting resources. Each step concludes with a manageable task for you to complete, and builds on the step before.
It Teaches You Along the Way
What makes this program so incredibly useful is that instead of reading about the process in a book or through a bunch of articles, the app walks you through each step, teaching you more about the process of writing a novel as you go and helping you put together something cohesive and coherent.
It's like having a mentor standing over your shoulder, telling you what to do next and how and why you should do it.
Plotting and Planning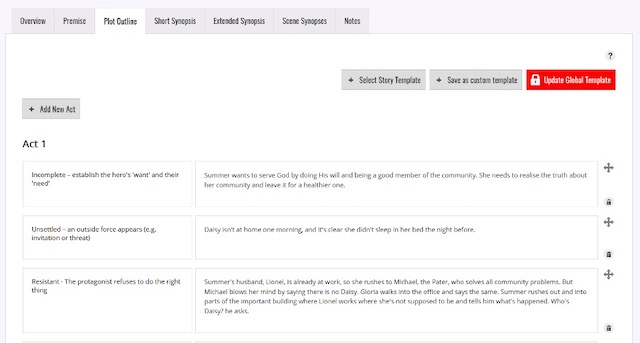 Planning Section
In the planning section you can build your premise (which is broken down into the five key story elements), short synopsis, extended synopsis and scene synopses.
There's also a Plot Outline tool, where you can choose from a selection of plot templates:
The Hero's Journey
Character-Driven Hero's Journey
Detective Noir
Universal
Short Story
Screenplay
Each of the plot templates explains the different beats of the structure, what their purpose is and how you might use them. Then you can shuffle, add and delete parts of your plot arc until it's perfect.
Subplot Manager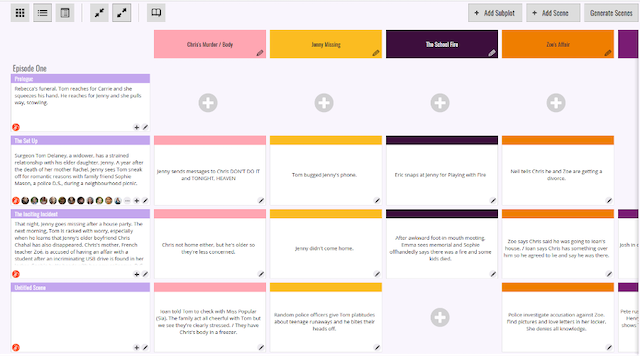 As well as the Plot Outline, there's a dedicated tool to manage the subplots of your novel and make sure everything is woven together tightly.
In the Subplot Manager, you can add subplots for characters, themes, mysteries, or anything else you want to track, then easily drag and drop the plot threads and plot elements.
Character Development Tools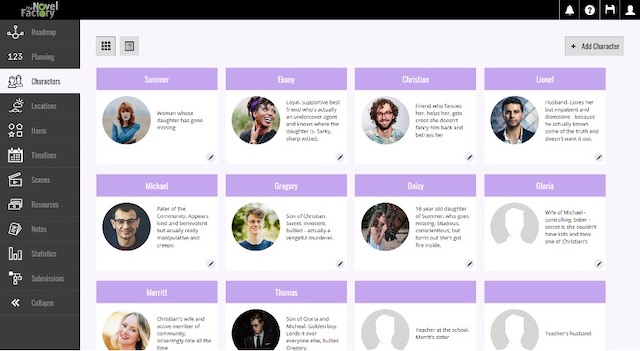 The character section is pretty cool, and allows you to explore many different aspects of each character.
As well as noting down basic details such as appearance, eye color, occupation and the like, you can explore aspects which will affect their arc, such as internal and external motivation, flaw, and positive and negative traits.
There's also a section for character voice, and an incredibly detailed character questionnaire with over 150 questions.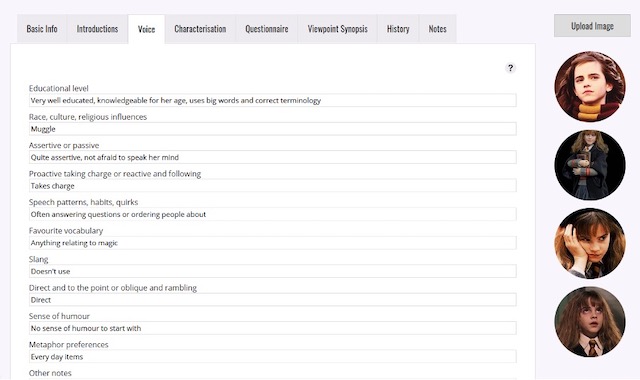 One of our favorite parts of the character section is the fact you can add multiple pictures to each of your characters, to get visual inspiration for their features, body type, clothing, etc.
Character Viewpoint Synopsis
Another favorite part is the Character Viewpoint Synopses. This allows you to explore each scene from each character's point of view, which means the characters are much more likely to come across as three dimensional and having their own lives off the page.
You're pushed to think about what they were doing before and after each scene, and how they view events, which might differ from the central point of view.
Data Organisation and Linking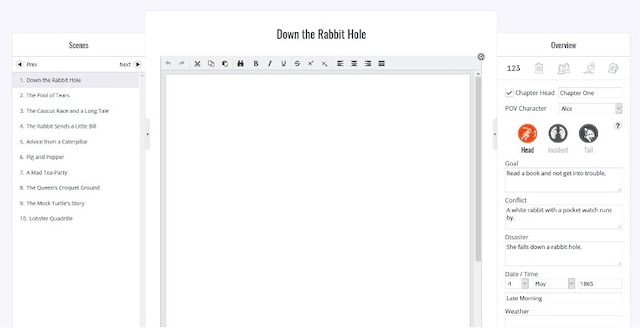 As mentioned above, one of the core features of the software is its data organisation.
It's like a dedicated digital filing cabinet for novel writers.
As well as sections for your characters and locations, there is a dedicated place for tracking items, resources, and notes.
And it doesn't just keep things tidy and organized, it helps the creative flow further by displaying useful related data as you're writing. So you can link characters and locations to scenes, and view them easily as you're writing.
Plus you can note down data relating to each scene, such as time, weather, and conflict development.
Other Features and Tools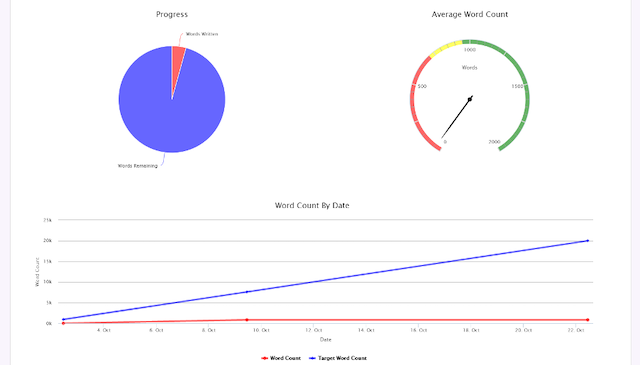 There are a bunch of other tools and features, including:
Statistics: keep track of your word count and progress against targets
Submissions tracking: keep track of where you've submitted your work
Exporting: transfer all your data easily to Word
Timelines: view scenes and events chronologically
And Much More…
There's much more to The Novel Factory's program than I can go into here.
The program is directly accessible by registering online, so can be used on any device which has the internet, including your phone for when you're out and about.
They offer a free 30-day free trial and give you full functionality to play around with.
Let us know in the comments below what you think of The Novel Factory. We love tech that helps us write!
Disclaimer: When we find a piece of writing software we love, we often reach out to the company and ask if we can help promote it. As such, this review contains affiliate links. This means if you buy it, ProWritingAid receives a small commission at no extra cost to you. It's a great way to help our team keep improving the editing technology you love.
---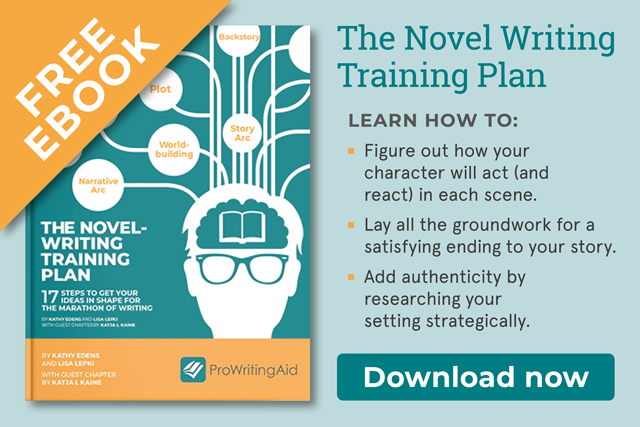 This guide helps you work out your narrative arc, plan out your key plot points, flesh out your characters, and begin to build your world.