People's attention spans are getting shorter and a huge portion of the population identify themselves as visual learners. In this environment, using infographics can be the perfect way to get your point across.
Infographics allow you to compress information in an engaging way, bringing numbers and statistics to life. But they rely on a good balance of graphics and content, and that's not always easy to achieve.
Here are seven online tools to make fast and easy infographics that quickly engage your audience's senses:
Canva has been dubbed "the greatest alternative to Photoshop". Their site offers a wide range of design choices and guides you through easy-to-use grids.
Here at ProWritingAid, we use Canva to create many of the images and infographics on the blog. It's easy, quick, and best of all, FREE!
Even if you're not a professional designer by practice, Canva can transform your work into informative and engaging messages, with a strong emphasis on visuals. Feel free to play around with the templates and array of stock images until you land on the right design.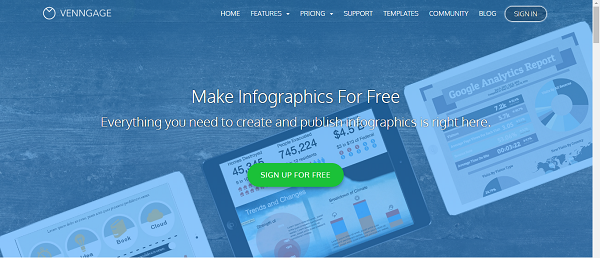 While some sites have a wider scope, Venngage is specifically for infographics, with a particular focus on charts and graphs.
This online tool helps you create your design in three easy steps, with a wide variety of templates at your disposal from the get-go. You can customize and edit its contents to fit your own data needs.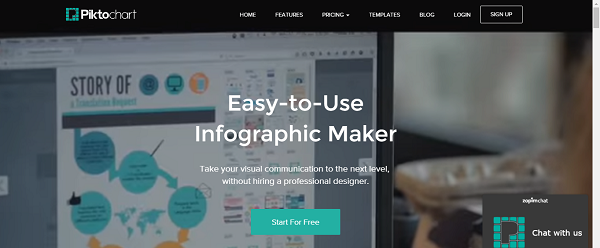 If you're running late for that report and want to add an appealing and informative statistical chart, then PiktoChart may just help you out. This fun blog site offers a wide array of templates and design tools.
Kyle Anderson, content editor at the essay website scholaradvisor, loves the great tips PiktoChart sends to its subscribers who want to learn more about design. Their blog is invaluable help for both professional designers and those starting out with their craft.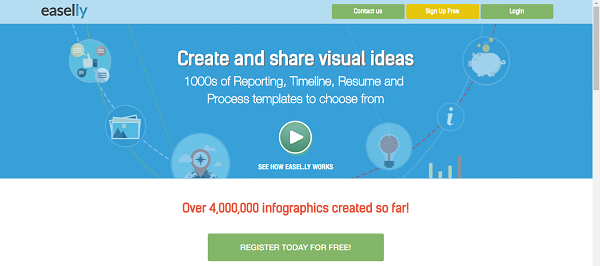 A beginner's infographic may be something as simple as a flowchart, in which case this website is for you. Easel.ly has simple flowchart components like arrows and shapes, so you'll be able to form your own diagram in no time.
Engaging design and white space can quickly turn around any plain old flowchart into a compelling infographic.

This site has a single goal: to make infographics out of your résumé.
Be creative in expressing yourself. Create charts and diagrams of your main strengths. Showcase your skills with a clean and interesting design. Visualize.me can help you marry presentation and content so that you secure that all-important interview.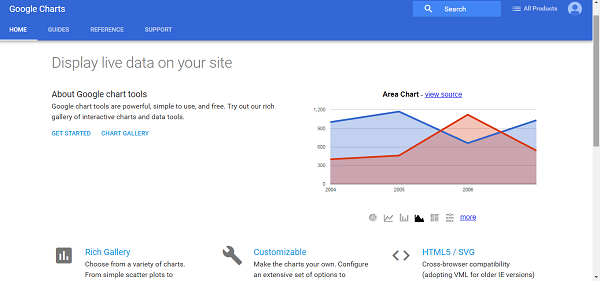 Now you can say that Google really has it all. Combining analytics, statistics, and neat design, Google Developers is a great infographic maker for your site.
Don't have time to collect all that data? Since it's synced with all the other Google tools, Developers can help you easily retrieve, collate, and organize resource materials into understandable charts.
The simple interface and interactive design let even a layman understand what you want to relay. Feel like a pro at design and data gathering with Google Developers.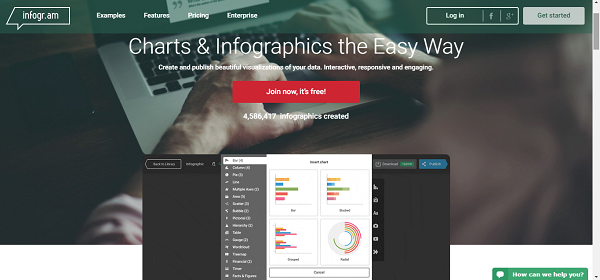 Everyone needs Excel. Spreadsheets make data easier to digest and better to organize. But Excel spreadsheets don't make for attractive visual aids. You'll want to export all those numbers to a different platform if you want to reach out to your audience.
Infogr.am is like an Excel spreadsheet, but with better graphics. It makes use of charts, flowcharts, and other informational visual aids to transform your statistics into something engaging for audiences.
8. (NEW TO THE LIST!) Visme
Visme allows you to make infographics or create presentations online for free. It's everything you need to tell powerful visual stories in the form of engaging presentations, infographics and other visual content.
Love creating great content? You also might enjoy these posts from our archive:
---

---