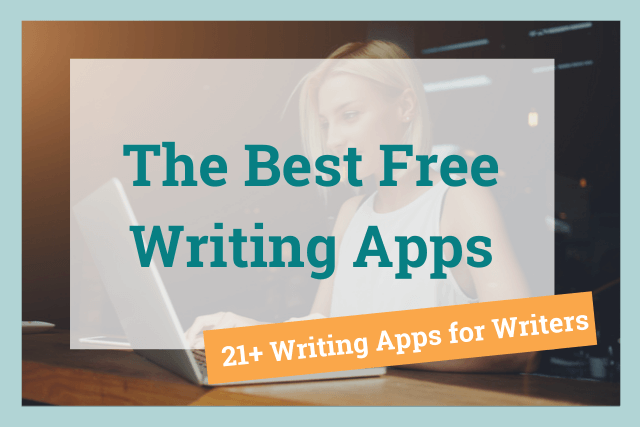 We often think that writing is a natural talent. But at ProWritingAid, we believe writing is a skill that can be learned and strengthened over time. All it takes is having the right tools.
Writing software helps writers to streamline their processes and make more time for what actually matters—writing.
We've gathered together the best free and paid writing software to help you build your best writing practice.
Note: Some of the links below are affiliate links. This means that if you end up purchasing anything through one of the links, we'll receive a small percentage. You get a shiny new writing app and you help us to keep improving ProWritingAid for you. Win-win! We only share resources with you that we would use and do use ourselves.
With that, let's get started!
---
Before we get to the list, we just wanted to make sure that you have already signed up for your free ProWritingAid account.
ProWritingAid was built by writers, for writers, focussing on the problem areas that stop you reaching your full writing potential. ProWritingAid goes beyond grammar, though it will check that too. You'll find over 20 reports looking at readability, structure, repeated words, pronoun use, sticky sentences, transition words, and more. Each report will help you learn more about your own writing—and how to make it better.
With the free version of ProWritingAid, you get:
20+ reports you can run an unlimited number of times
Personalized writing and editing goals tailored to your purpose
A comprehensive overview of your writing through our Summary Report
Hundreds of in-tool articles, videos, and quizzes to help you learn as your write
Instead of just accepting suggestions, ProWritingAid gives you the tools to learn why you're making changes, helping you avoid repeat mistakes and learn how to write better first time.
---
Now on to the lists!
10 Apps to Plan Your Writing
Campfire Blaze is a cloud-based web app from the makers of the Campfire Pro desktop app.
It has everything you need to create your story all in one place—and it has a free tier.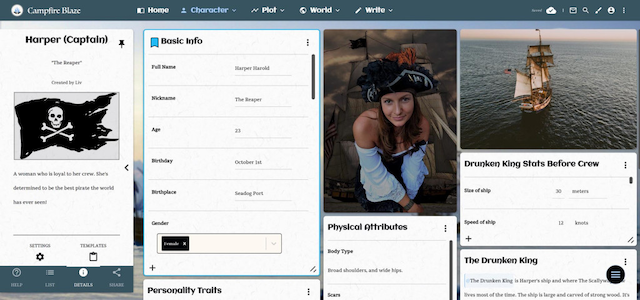 With Campfire Blaze, you can create:
Character profiles
Timelines for your story
World-building bibles for settings, religions, cultures, and more
Price: Free, then priced on a pay-for-what-you-use basis
Best for: Keeping all your novel's key info in one place that you can access anywhere.
See what author Krystal Kraiker thinks about Campfire Blaze.
---
Dynalist's unique feature is its focus on "nesting."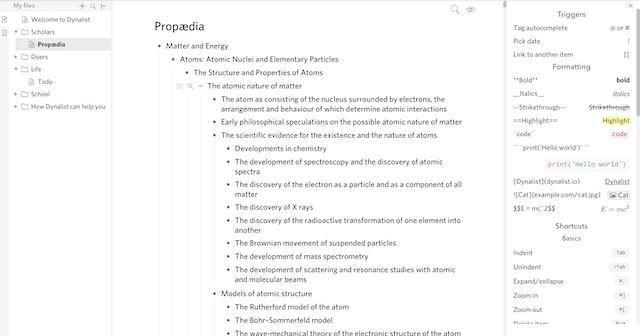 Each Dynalist bullet point can be collapsed, leaving you with the core outline of your project. When you want to work on a specific section, just click to expand (and you can expand infinitely.)
All formatting and controls are accessed through keyboard shortcuts. This can take a bit of getting used to, but it does encourage you to keep typing and avoid getting distracted.
Price: Free
Best for: Writers who want the option to outline in as much or as little detail as they like.
---
If you're not into super-detailed outlines, Simplenote's clean, easy-to-use notes app is perfect for making sure your ideas don't get lost.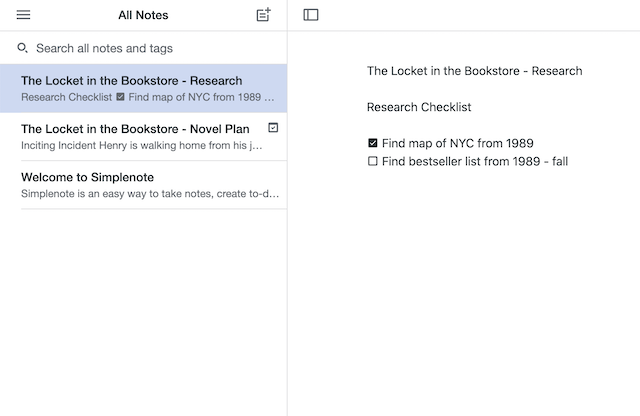 Simplenote's key features:
Available in browser and as an app on Android, iPhone, Mac, and PC
Uses cloud storage so you can access your notes on all your devices and work collaboratively
Add checklists, headings, and bullets to structure your ideas and stay organized
Tag your notes to group them by project
Offers markdown support—perfect for bloggers
Simplenote is like an advanced notes app. If you want different document types, this isn't for you.
Price: Free
Best for: Pantsers who want somewhere to keep all their notes in one place.
---
Trello is a drag-and-drop style organization tool based on the Kanban system. Kanban involves writing tasks on cards and then moving them between lists according to how close they are to being complete.
Here's what that looks like in Trello: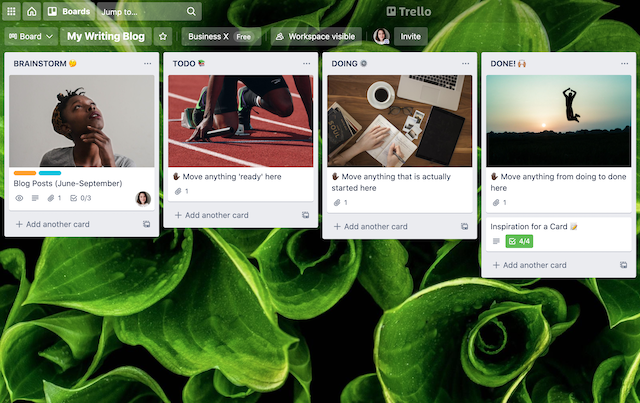 With a Trello board, you can add ideas, plot points, articles, and to-dos to cards to help you visualize your writing process, story outline, content workflow, and more.
Potential uses:
As a writing planning tool: move blog post ideas or author tasks across the board from to-do to done as you work on them
As an outlining tool: Create columns for your character, setting and research info, and movable cards to help you plot your novel
Price: Free
Best for: Planners who like a bird's-eye view and want the freedom to move things around.
---
Milanote is great for visual planners. If you want to be able to see all of the different parts of your novel at once, their pin-board–like interface is perfect. It's also super-simple to set up, with tailored project templates to help you get started: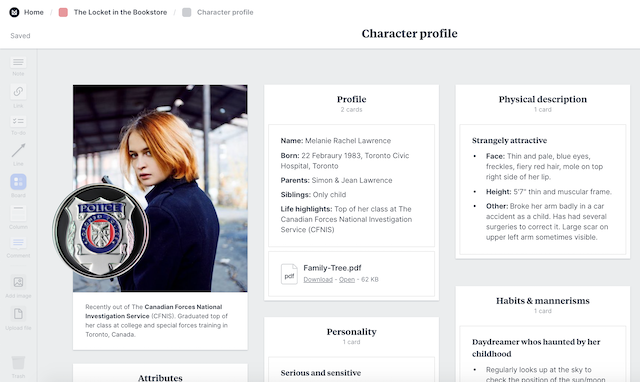 Milanote's flexible interface allows you to do things like:
Write notes and to-do lists (handy for keeping yourself on track with your book-writing plan or content schedule)
Upload images and files (useful for keeping visual inspiration for everything from scenery to character outfits)
Save images, texts, and links from the web
Price: Free
Best for: Visual planners looking for an adaptable plan template.
---
If you liked the text-editor based interface offered by Simplenote, but want a few more planning, organization, writing, and formatting tools, Evernote has you covered.
You can do just about everything in Evernote, from creating to-do lists and checklists to drawing out specific notes to capturing receipts for tracking business expenses.
Evernote offers up to 60 MB of space on its free plan, which is plenty if you're just using plain text notes. If you'd like to add more graphic or larger files, you can upgrade your storage for small fees.
Price: Free
Best for: Writers who want to plan in a variety of styles in different document types.
---
Journalling has become increasingly popular recently, but Day One's journalling software can do far more than act as a digital stand-in for your diary.
Day One is built to be a journal, but this can open up some fun new aspects of outlining. Each journal entry allows you to add headings, checklists, highlights, and quotations. You can add images to an entry as well as your location. If you're looking to build your writing habit into a daily practice, DayOne could give you the tools you need.
Plus, once you've finished a project, you'll be able to look back on exactly what you did each day to work towards your goal.
Price: Free
Best for: Pantsers who like to write on the fly, or writers looking to create a daily writing practice.
---
The fantasy writers in the ProWritingAid community love World Anvil. It's the tool for world-builders.
World Anvil has every feature you could think of from interactive maps, historical timelines, and wiki-like articles to an RPG Campaign Manager and novel-writing software.
We were joined by Janet and Dimitris from World Anvil for a full software walkthrough:
Price: Tiered, ranging from free to $93/year
Best for: Novelists creating immersive worlds in their stories who want to plan every detail.
---
Plottr is another great tool for visual planners. You start by creating a timeline for your novel, which is then used to automatically generate a linear outline that you can begin to flesh out.
There are screens for character creation and profiling, space for your setting and world-building notes, and a tagging system to keep everything organized.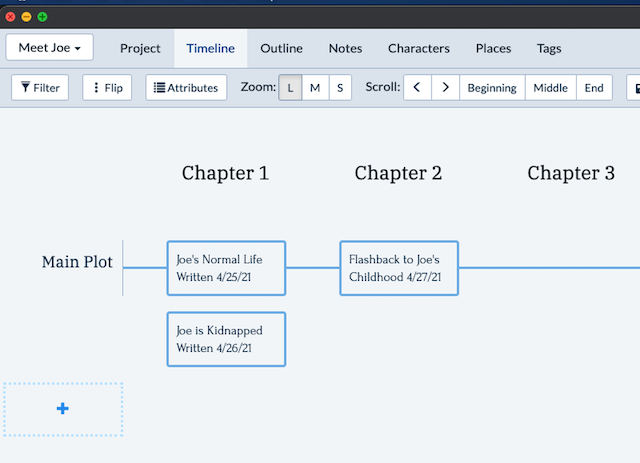 You can export your outline directly to Word or Scrivener when you're ready to start writing, and if you're writing a series, you can link the timelines together in Plottr to maintain continuity.
If you'd like a full run-down of what outlining looks like on Plottr (as well as some great outlining tips), they wrote a full guide for our community.
Price: $25/year for one license (one device) – $65/year for five licenses (use on 5 devices). Get a 30 day free trial here.
Best for: Visual, linear planners.
---
This software is based on the popular book by the same name. It's a fill-in-the-blanks style guide to pinning down your ideas and writing your novel.
The workbook is based around the three-act structure and guides you through each stage with lessons and tips to help you make the most of your outlining time.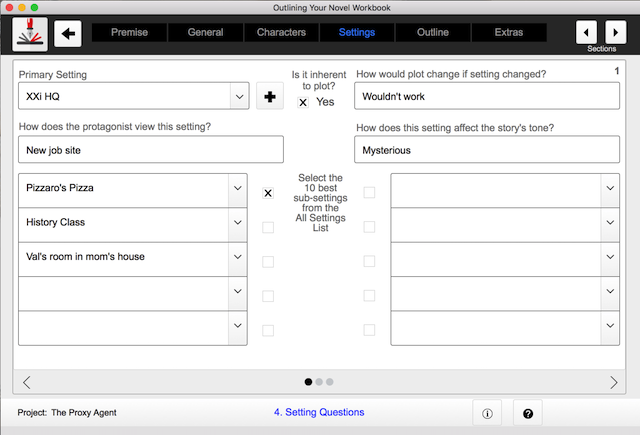 Credit: Outlining Your Novel Workbook
If this all sounds a bit too structured for you, don't despair. You can move back and forth between sections, and there is space to import mind-maps and world maps, create character profiles with a built-in character interview and even make story-specific playlists.
Price: One-time purchase of $40
Best for: Writers looking for structure and guidance that you can shape to your story.
7 Best Novel-Writing Apps
LibreOffice is an amazing word processor option for people who are looking for a free alternative to Word.
LibreOffice has a number of great features, including a clean and sophisticated word processing layout and support for a vast number of file formats. If you've been using Word till now, you'll be able to edit your Word docs in LibreOffice.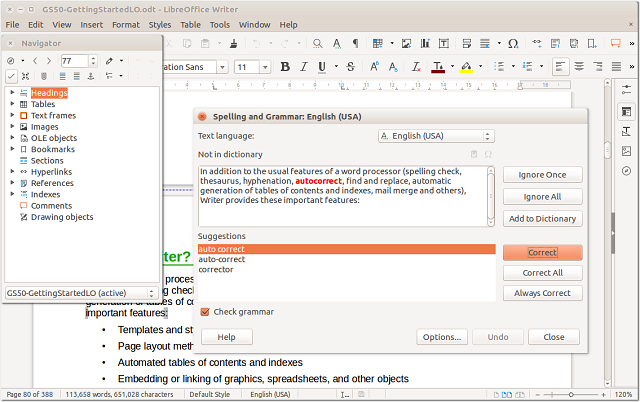 You can create everything from a simple memo to a complete book using the online editor, which makes it a great choice for people looking for a word processor for all types of projects.
Price: Free
Best for: Individual writers—this is probably the best free first-time author writing software to try out before you graduate to more tailored platforms.
---
FocusWriter minimizes your work into a clean, distraction-free word processor interface, so you can simply write without worrying about the clutter on your computer screen.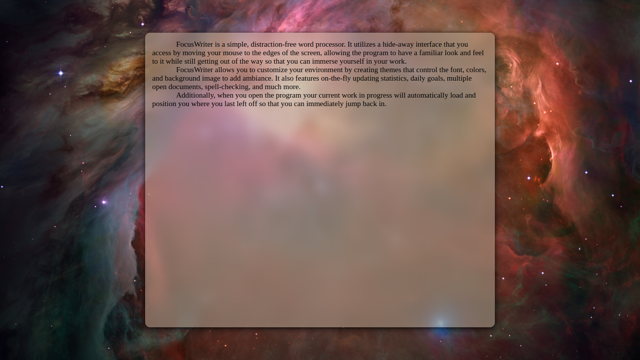 This program is nowhere near as comprehensive as Word when it comes to word processing, but if you're just looking to put words on the page and worry about formatting later, this could be for you.
FocusWriter features include:
Clean, no-fuss writing interface
Daily goal setting
Writing session timers
Basic spellcheck
Adjustable display (so you can create your own dark mode if desired)
Price: Free
Best for: Writers looking for a slightly more advanced notes app to get them started with their writing.
---
So many writers in the ProWritingAid community swear by Scrivener. It really is one of the most comprehensive writing tools out there. The only thing it's missing is in-built editing software... but ProWritingAid's Desktop App integrates with Scrivener seamlessly.
You can use it to outline your novel, set writing goals, organize your scenes and chapters, keep your notes and research in the same place as your book, and (of course) write.
Scrivener's stand-out feature is its binder view, which allows you to separate your novel out into sections. This could be chapters or scenes—whatever you need to organize your work.
You can import documents from Word (and other file formats) and include them in your binder (or "Project") so that everything is in one place.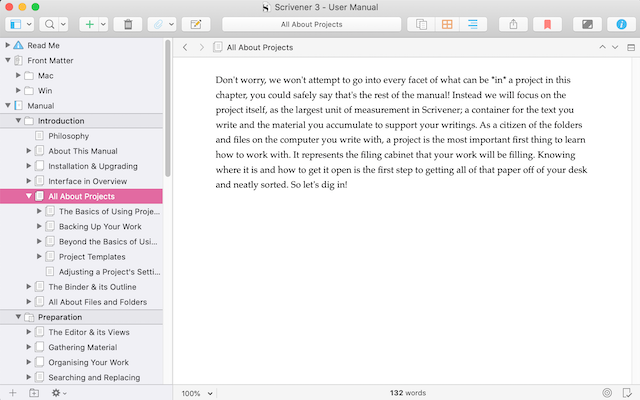 We asked Scrivener expert Kristen Kieffer to show us how to outline using Scrivener. You can read her guide to Scrivener's Outliner and Corkboard here.
Price: $49
Best for: Writers who want to keep everything in one place from plan to final draft.
---
LivingWriter is a web-based writing app for fiction writers. You could describe it as Google Docs, but specifically for storytellers.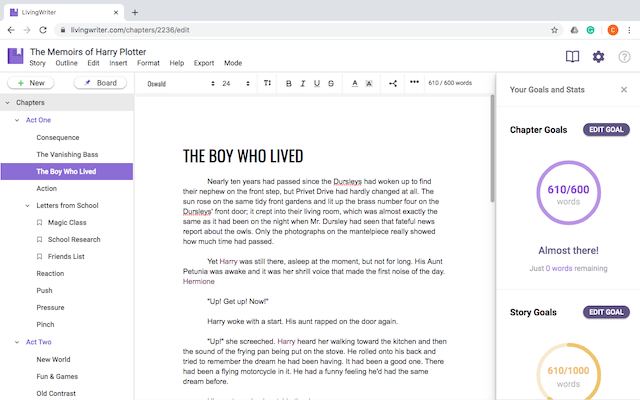 As well as the capability to drag and drop scenes and chapters within your manuscript, LivingWriter also gives you the tools to create your own world-bible. It also offers several well-known plotting templates to get you started, or you can create your outline and structure from scratch.
Price: $96/year
Best for: Writers who like a general outline without creative restrictions.
---
Ulysses is a no-nonsense text editor that lets you write without distractions. The aim of the software is to keep your writing process as distraction-free as possible by streamlining things like file and note organisation and formatting.
The text editor is mark-up based, so all you see as you write are your words. In Ulysses, you do all formatting, highlighting, and note-taking through typed shortcuts and characters, so your hands never stray from the keyboard.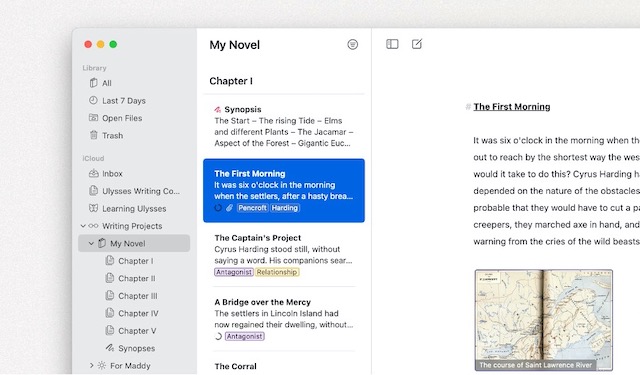 If you're looking to stay focussed on the content of your writing, Ulysses will keep you on track. The app is suitable for all kinds of writing from blog posts to manuscripts. Like Scrivener, you can add images and notes in hierarchical files so everything you need is in one place. It's arguably simpler to use than Scrivener, too.
Price: $49.99/year
Best for: Writers who want to keep their writing process (and documents) all in one place and access it from anywhere.
Read our full Ulysses review here.
---
If you liked the sound of FocusWriter but want something more robust with many more features, Novlr might be the answer.
Novlr boasts a sleek writing interface that helps you focus in on the words you're writing. The software comes with chapter and scene organisation, granular stats, goal setting, and built-in grammar, spelling, and style checking.
Kim Montgomery from Novlr joined us for a software walkthrough last year so you can get a taste of everything Novlr has to offer:
Price: $100/year
Best for: Distraction-free writing without sacrificing the finer details.
Check out more of Novlr's features in our complete review.
---
This software bridges the gap between planning and writing software. If you like to plan as you write, but still have a detailed outline, keep reading.
The Novel Factory helps you learn how to write a novel while writing a novel. This software will guide you through common story structures, vital plot points and other key components of a story readers will love.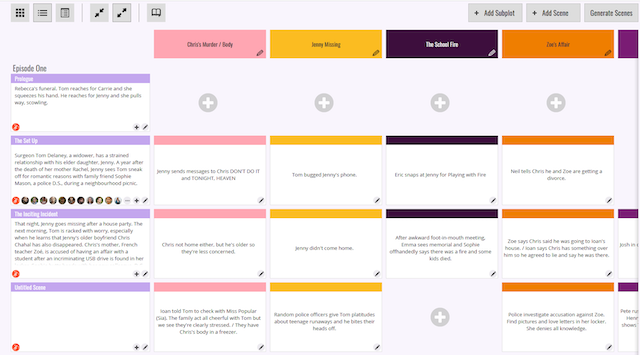 If you like to work with templates and prompts, The Novel Factory could be your new favorite writing partner. If you're not a planner, you might find this approach a little jarring—but give it a go before you dismiss it completely. The in-built learning resources help make this a brilliant tool for first time writers.
See how author Kathy Edens got on with The Novel Factory.
Price: $75/year for the basic plan
Best for: Writers who want to learn the fundamentals while still getting their writing done.
---
You've got your writing environment sorted, you've set aside time to write and... you're out of ideas.
When you get stuck, try Daily Prompt. This app will send you a new writing prompt every day to kick start your writing session.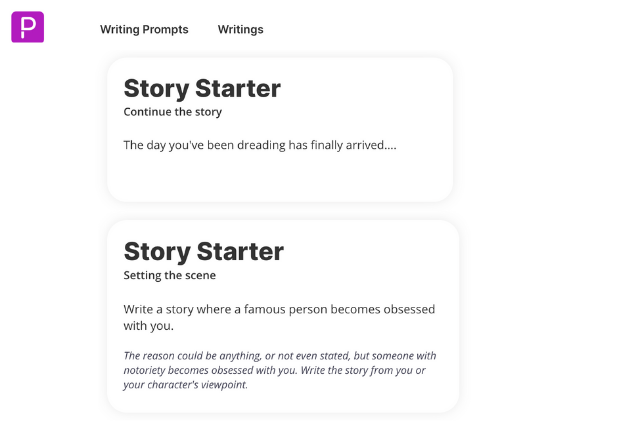 Whether you use them as a short warm-up exercise or to add new angles to an existing idea, these prompts are great fun and can help get you out of a writing slump.
You can access the prompts on their website or through an app. You can also read other writer's responses, give and receive feedback, and find inspiration.
---
Writing Interfaces: Pros and Cons Infographic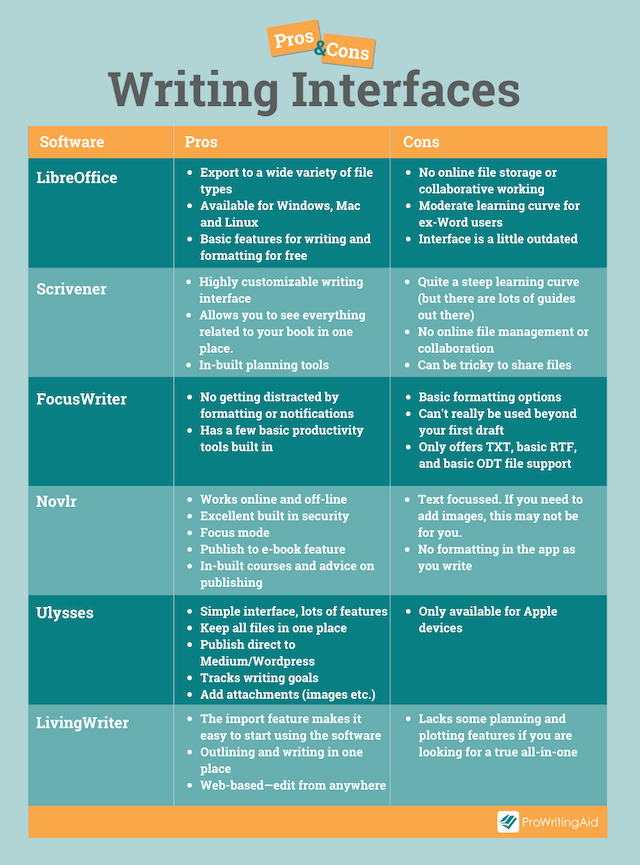 ---
2 Great Editing Apps
When we asked our community if they love or hate editing, the response was pretty much 50/50. Self-editing is an essential part of the writing process, even if you hire a professional editor.
Here are two top bits of software to help you take control of your editing process.
Story editing means taking a high-level look at your writing and fixing issues with your structure, characters, point of view, settings, and plot.
This can feel pretty overwhelming—those are all of the major parts of your story after all!
Enter Fictionary. Fictionary is an online tool for editing your story. You'll work through 38 key story points to make sure that every aspect of your work is the best it can be.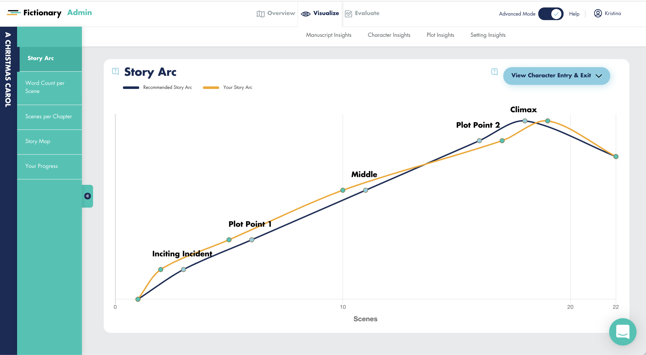 When you upload your manuscript to Fictionary's Storyteller software, it automatically generates a visual story arc so that you can see every plot point mapped out.
Other features include:
Automatic analysis of your character names to show you how often they appear—check that your protagonist is getting enough screen (or page) time
Keep track of your POV characters and visualize your POV throughout your book
Set editing goals for each of the 38 story elements and track your progress—you'll always know what to work on next
We were joined by Fictionary CEO Kristina Stanley for a full software walkthrough. See how it works for yourself:
For Copy Editing: ProWritingAid Premium
Once you've finished your story edit, you can start to zoom in on your sentences in the copy edit.
ProWritingAid's editing software features over 25 reports all built around suggestions real copy editors would make. When you've been writing for months, it's easy to miss distracting mistakes like repeated words, readability issues, over-use of passive voice, and more.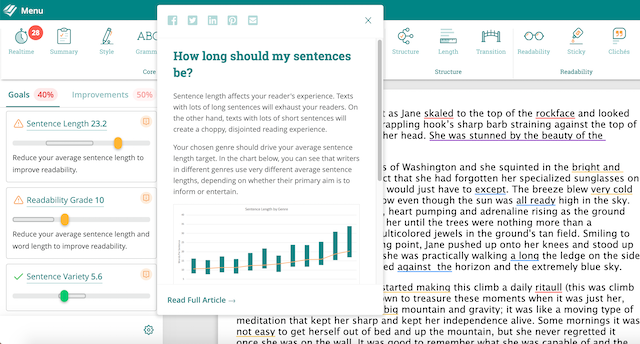 ProWritingAid helps you structure your editing process and work towards goals tailored to your genre and document type.
Its in-built articles, videos, quizzes, and explanations help you learn as you edit. You won't just passively accept suggestions—you'll learn as you edit, making you a better writer.
With ProWritingAid Premium, you get access to our integrations for Scrivener, Word, Google Docs, and your web browser so you can write well wherever you write.
Try ProWritingAid today to improve your editing game.
---
2 Top Self-Publishing Apps for Formatting and Layout
Vellum helps you create a professional, publish-ready manuscript. The basic idea is that you do all of your writing in a word processor like the ones listed above, and then export your manuscript into Vellum.
Vellum will pick up on your headings, creating a table of contents automatically. This also allows you to navigate through your book with ease: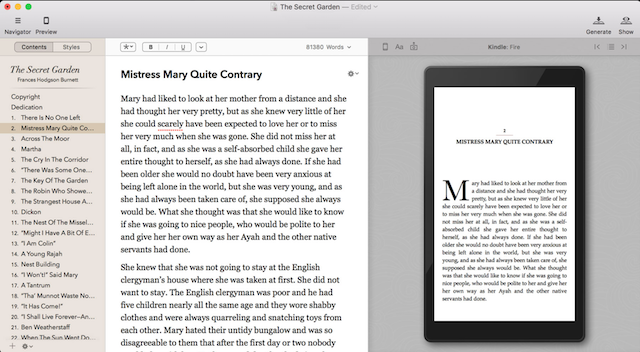 Credit: Vellum
You can also preview what your book will look like on different devices so you can ensure a quality reader experience.
Price: $199.99 for the eBook-only software
Best for: Vellum is perfect for writers who aren't sure where to start with formatting their book for self-publication. Everything from the cover to the blurb is taken care of.
---
Do you need to create beautiful layouts for your words? If so, Scribus may be for you!
Scribus is a free alternative to Adobe Indesign. It allows you to create rich, professional layouts for everything from one-pagers to magazines. While it takes a bit of learning to get started, Scribus is both easier to use and cheaper (since it's free!) than tools like InDesign.
Price: Free
Best for: Writers who want to format their own books with images and custom text layouts.
---
4 Apps for Creating Better Blog Content
Do you work collaboratively? Then you need Slite.
This document management tool offers you everything you need to write, plan and organize your content.
On the writing side, it offers easy formatting (including tables, inline code and headings) and a clean interface. Slite docs offer the perfect space to write long and short-form articles, take notes, create checklists and manage your process.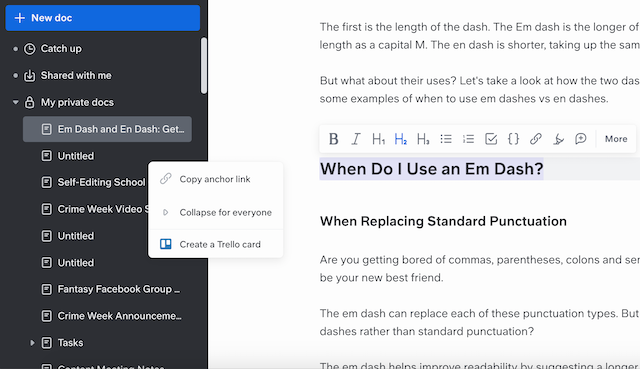 You can export your Slite docs to markdown for easy publication and create templates to help speed up your writing process.
If you work in a team, you can create a workspace that allows you to link and comment documents, tag other users and connect to Trello so that all of your project management tools speak to each other.
Price: Free up to 100 docs, $6.67/user beyond this
Best for: Blogger teams looking for a place to write and organize their content.
---
As writers, we don't just have to worry about the words we put on the page (or screen). Many of us have to create images for our work, whether that's a cover photo for a blog post or a graphic to promote your book on social media. Canva is an amazing, powerful free tool to help create beautiful images.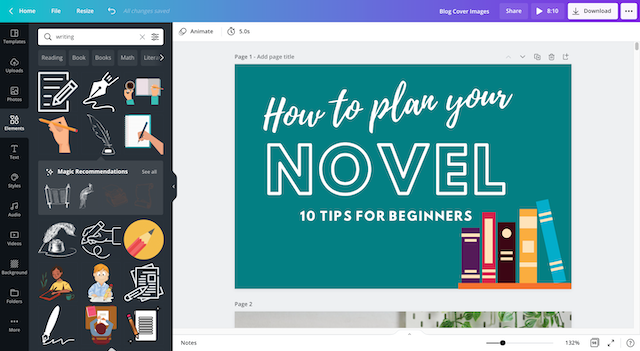 Canva's drag and drop templates can help you create everything from a Pinterest graphic to a book cover. If you're hesitant to learn Photoshop, Canva is an amazing alternative to help you create rich, high-quality graphics.
Canva does offer a paid subscription, but the free version gives you all the tools you need to create great designs. If you're looking for a wider range of elements to add to your graphics, as well as the ability to resize your design, Canva Pro is definitely worth the subscription fee.
Price: Free
Best for: Design novices who want to create professional graphics for their content.
---
But what if you can't think of an idea in the first place? Even the best writers run into blocks sometimes. Hubspot's Blog Topic Generator can help you when it feels impossible to come up with new content.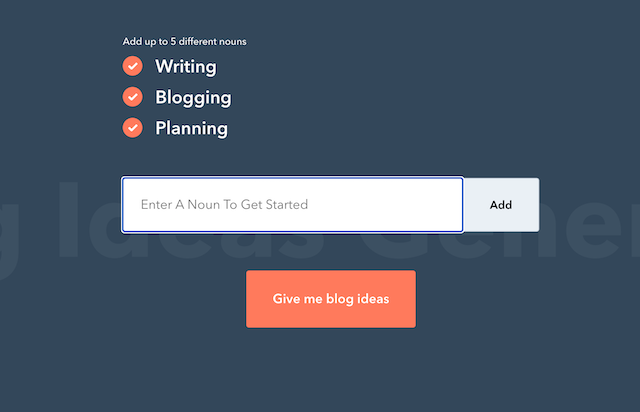 Simply input three nouns into the generator and get a week's worth of topics in seconds! Now, THAT was easy!
Price: Free
Best for: Bloggers who feel like they've written everything there is to write on a topic.
---
We love this tool at ProWritingAid. Balancing SEO and reader focus in headlines can be tough, but CoSchedule's handy scores will help you strike the right tone.
You can analyze your headlines for word choices and types, length, type, clarity, and skimmability. You can also compare the last three iterations of your headline to work out what combination works best.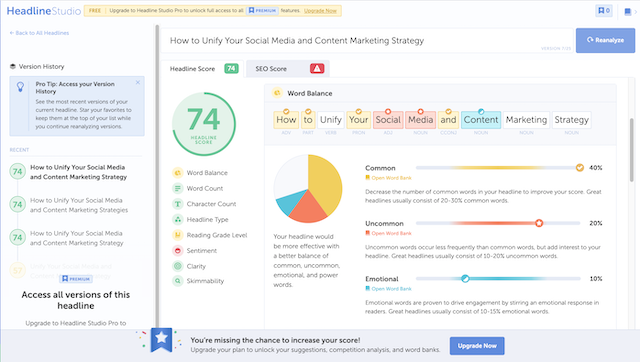 As you can see in the screenshot above, the free version is slightly restricted. You don't get access to the analyzer's bank of tried and tested synonyms to help you improve your headline, and there is a fair bit of "upgrade" messaging.
But the free version is still great for helping you make sure your article gets in front of as many readers as possible.
Price: Free
Best for: All bloggers—especially those trying to rank on Google.
---
The Best Writing Apps: The Lowdown
There are as many writing apps out there as there are types of writers. Fortunately, this means you should be able to find something on this list that improves your process (or at least makes it a little more fun.)
And if you just decide to stick to Word? Upgrade by adding ProWritingAid's Word Add-in to your toolbar. You'll have access to 25 writing and editing reports right where you write.
---
Are you prepared to write your novel? Download this free book now: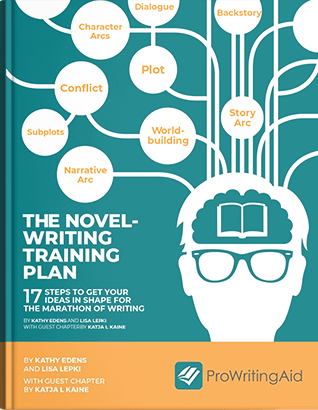 So you are ready to write your novel. Excellent. But are you prepared? The last thing you want when you sit down to write your first draft is to lose momentum.
This guide helps you work out your narrative arc, plan out your key plot points, flesh out your characters, and begin to build your world.