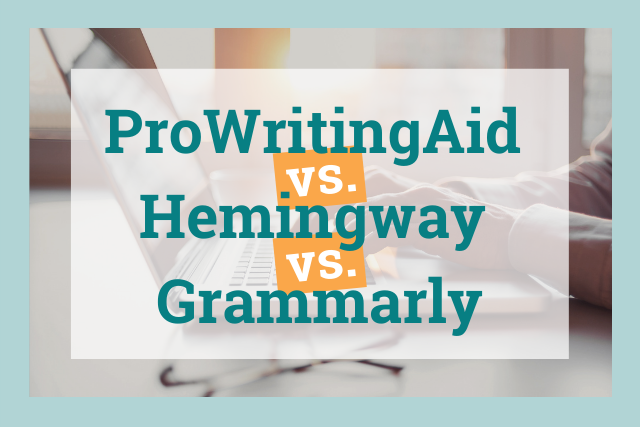 There's no doubt that editing software can help you improve your documents. Your writing goal is to present your information clearly in the most accessible way for your reader. Whether you are writing a paper, explaining products or services to customers, or expressing your opinion, you want your writing to have an impact.
Hemingway Editor, Grammarly, and ProWritingAid are three powerful editing tools that can help you achieve your writing communication goals. We'll look at all three in depth to help you decide which grammar checker is the best for you.
What Does Each App Do?
ProWritingAid inspects your document in 25 different categories for improvement and offers hundreds of actionable suggestions so you can keep everything you need to improve close at hand.
Hemingway Editor scans your document for readability improvements. It doesn't offer suggestions to help you replace complex language or rephrase sentences, but it will show you where to focus.
Grammarly searches your document for correctness, clarity, engagement, and delivery. You'll see suggestions relating to each of these areas.
Let's take an in-depth look at each editing tool to see which will give you the most comprehensive edit.
What Suggestions Do Hemingway, Grammarly, and ProWritingAid make?
All three tools provide basic suggestions for improvements to your writing. Hemingway focuses on readability. Grammarly compares your writing to industry standards through personalized goals. ProWritingAid takes a tailored approach to each transcript, understanding that every writer is unique, providing suggestions that not only help to improve the writing but also the writer.
Let's start with grammar, spelling, and style suggestions.
Realtime Editing in ProWritingAid
ProWritingAid is a comprehensive writing tool: a grammar checker, style editor, and writing mentor. The tool has over 20 free reports as well as a host of other helpful features.
ProWritingAid's Realtime Report scans your writing for spelling mistakes, misplaced punctuation, potential readability enhancements, passive voice, repeated sentence starts, and more. With just one report, you can make quick progress towards making your writing accessible for your reader.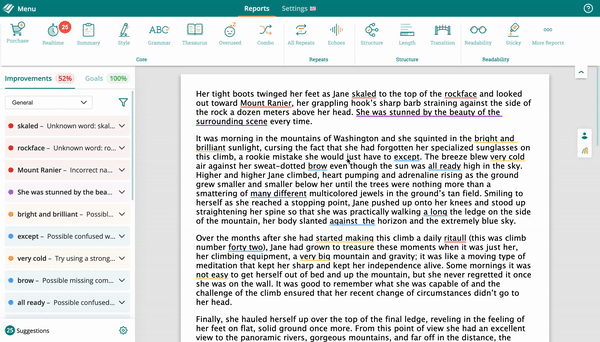 The suggestions appear both as highlights in your text and in a side panel for quick review. Hovering over a highlight brings up the suggested correction as well as options to ignore, accept, and move next, or to find out more.
With the Realtime Report, you can make quick work of fixing embarrassing errors in just a few clicks.
Editing in Hemingway
Hemingway Editor is a distraction-free writing application with editing checks to create highly readable text. You can use it online or install the app on your device. The online version is free.
Once you've written your text, the editing mode guides you through places in the text that you can improve for clarity.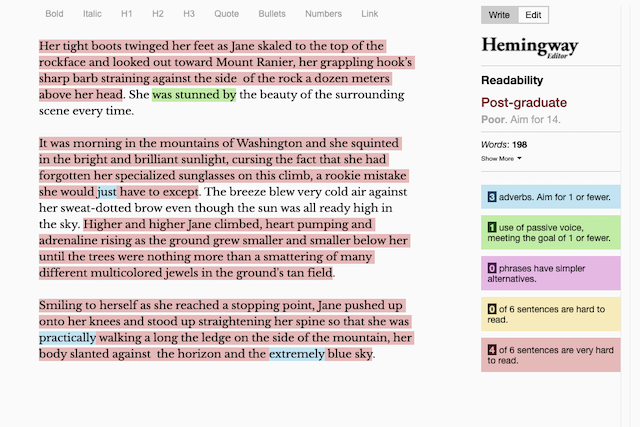 Hemingway calculates the readability grade level (based on the US school grading system), which is the lowest education level needed to understand your prose. The grade level indicates how understandable your text is. The average American reads at the tenth-grade level, so that should be a suitable target for your text.
Hemingway helps you to improve your readability—but it won't help you check your grammar, spelling, and punctuation. When you enter text into Hemingway, it highlights hard-to-read sentences, adverbs, complex or wordy phrasing, and where you could use simpler words.
This is the key difference between ProWritingAid and Grammarly, compared with Hemingway. If you're looking for a tool to help catch typos, sentence fragments, missed capitalization, spelling inconsistency, and poor sentence structure, Hemingway won't fit your needs.
Informed writers are powerful writers. While Hemingway does help you identify places where you could improve, when it comes to making those improvements, you're on your own.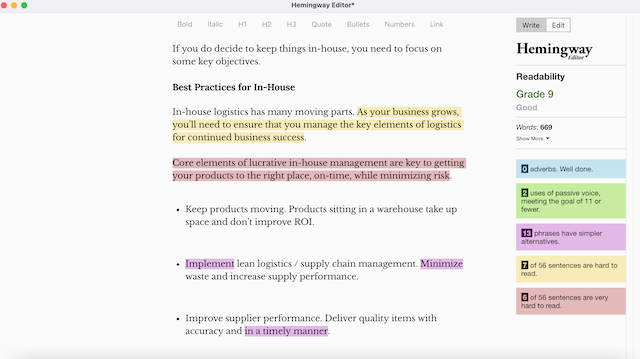 Although your text may be clearer to read after using the Hemingway editor, you won't have finished your comprehensive edit.
You will still need to check for:
Spelling mistakes
Grammatical errors
Punctuation inaccuracies
Repeated and overused words
Sentence variety
...and more. See what you should include in your editing process here.
These essentials of writing are important for readability. Plus, search engines use spelling, grammar, and punctuation as guidelines for ranking—important to remember if you're writing online content.
We recommend taking more editing steps before you publish.
With ProWritingAid, you get all of the readability highlights Hemingway offers with suggested replacements and in-tool educational resources to help you make those changes. You can also check readability and your spelling and grammar at the same time, saving you time switching between tools.
Grammar, Spelling, and Style Editing in Grammarly
Grammarly is an editing application designed to catch spelling, grammar, and punctuation mistakes before publishing your writing. Grammarly groups those checks under a category called correctness.
Like ProWritingAid, Grammarly will correct your grammar, spelling, and style as you write. So what's the difference?
Grammarly's interface also includes both in-text highlights and a side-panel for editing—though you can't use both simultaneously. If you want more information about a suggestion, you'll need to open the side panel and accept the change there.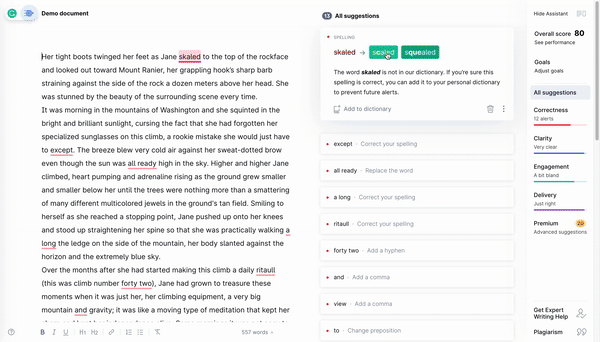 When you edit using in-text suggestions, you can more easily re-read the sentence you're changing as you edit it. You'll be more likely to make changes that really work for that sentence.
By keeping everything you need in the in-text suggestion boxes, ProWritingAid keeps key information and tools closer to your editing space.
Unlike Hemingway, both ProWritingAid and Grammarly give you the option to see your overall progress towards writing goals as you edit. However, again, you can only see this when editing your writing with Grammarly's assistant, not when using the in-text highlights.
As you can see, Grammarly and ProWritingAid both help you check your writing in more areas than Hemingway. But which is more comprehensive?
ProWritingAid vs. Grammarly: Goals
Grammarly shows your progress towards four goals as you edit:
Clarity
Correctness
Engagement
Delivery
However, on the free version you'll only see suggestions for clarity and correctness. That means that you're missing out on potential improvements.
ProWritingAid shows you how you score for over 20 goals. This might sound overwhelming, but when you select your document type you'll see the most useful goals for your purpose first.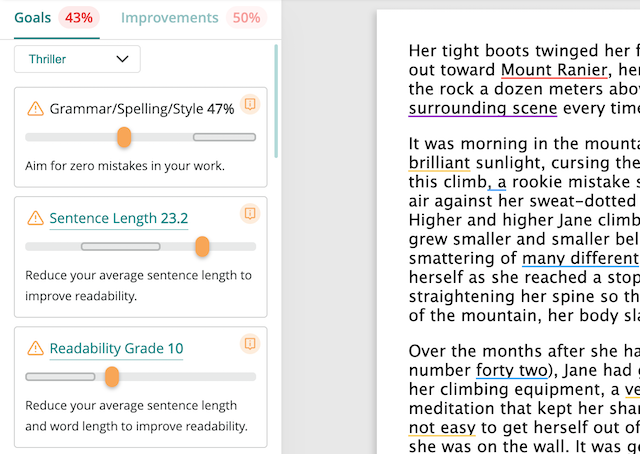 This also helps you break down vague aims like "clarity" into clearer, more actionable steps. Instead of "engagement," you're working towards improved sentence length variety, a low glue index, and precise language.
With the goals side panel, you can see how each edit you make affects your progress.
What Reports do Hemingway, Grammarly, and ProWritingAid offer?
Here's a comparison: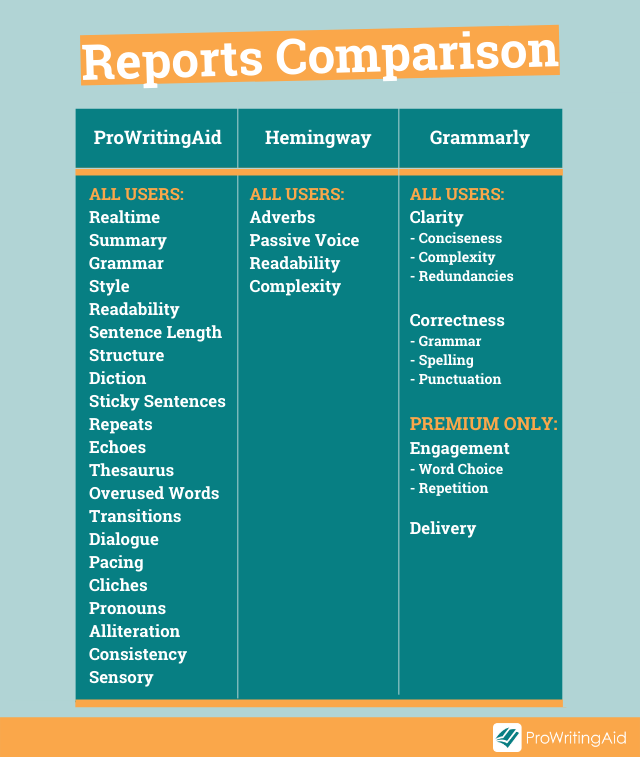 All three editors will offer useful insights to help you improve your readability and clarity. But ProWritingAid helps you break those insights down to give you an idea of the bigger picture.
Its reports work together to help you create a customizable editing process that you can adapt to the document you're working on and to your writing habits.
ProWritingAid's Summary Report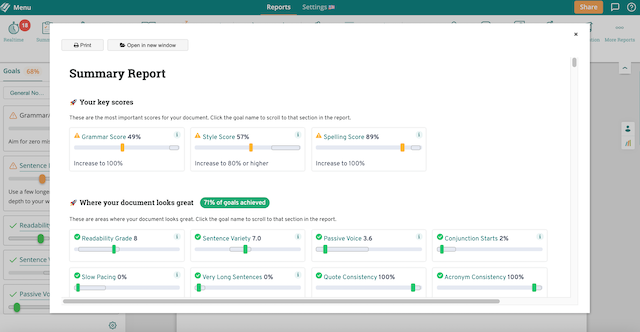 ProWritingAid's Summary Report lets you get an overview of your document's score before you start editing so you know where to start.
When you launch the Summary Report, you'll be able to see at a glance where your document looks good and where it might need improvement. You'll see how your writing shapes up across a variety of categories, with your progress towards each goal being displayed as a progress bar.
The benefit of the report is that, rather than working piecemeal, you can concentrate your improvement efforts where they are most needed. You'll also see visualizations of key statistics and reports tailored to your document type: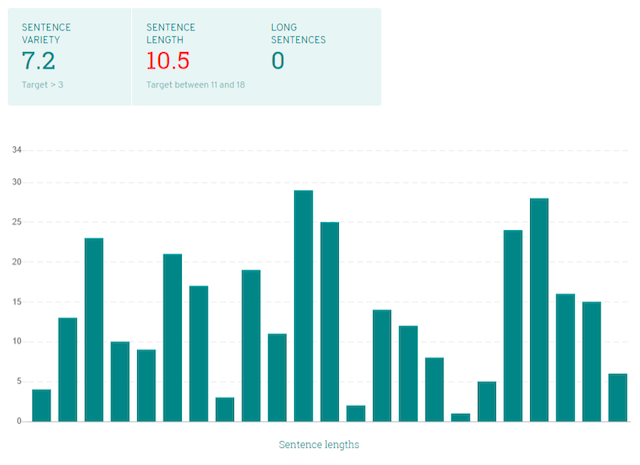 Focus your efforts on the areas where your document needs work to make that impact. ProWritingAid highlights those areas in the Summary Report.
Integrations and Apps
A key thing to look for in an editing software is the ability to edit wherever you write. You shouldn't need to jump from one software to another to produce a polished piece of writing.
Hemingway offers an online editor and a desktop app, compatible with Mac and Windows. The app doesn't require an internet connection, includes formatting tools, and allows you to publish directly to Wordpress.
Grammarly offers:
Browser Extension
Desktop App
Word and Outlook Add-In
Google Docs Add-On
Android Keyboard
ProWritingAid integrates with more programs than any other editing tool: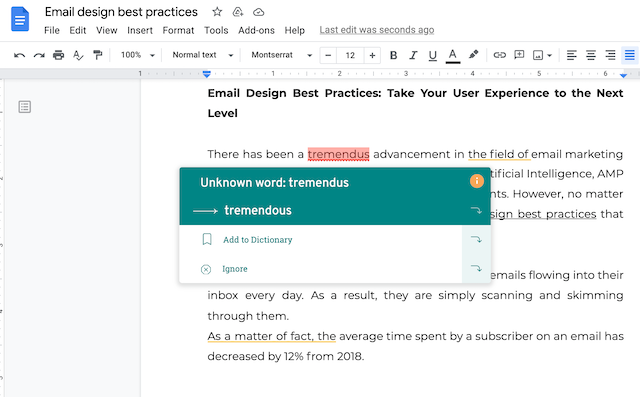 If you write in Scrivener or Final Draft, only ProWritingAid will allow you to edit and save your changes directly back to your original file.
Extra Features and Tools
Hemingway: Distraction-Free Writing
In its most basic form, Hemingway Editor provides two modes for writers: distraction-free writing and editing.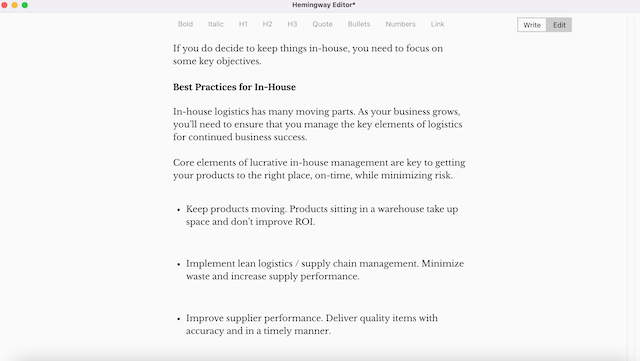 The write mode in Hemingway Editor presents a blank slate for distraction-free writing meaning that you can get all your thoughts down before you edit.
The tool offers basic formatting to meet the needs of most content, including headings, bold text, and italics.
Once you have written and formatted your content, you can then switch to editing mode, which we looked at earlier.
Grammarly: Tone Detection
Both Grammarly's free and premium versions offer tone detection. This can help you make sure you're striking the right tone in an email or document by analyzing your language and telling you how your message may be interpreted.
Only the premium version offers tone improvement suggestions.
ProWritingAid's inclusivity suggestions and customer-focus-score feature can also help you make sure your writing sounds professional and on-message.
ProWritingAid: Snippets and Style Guides
If you're looking to personalize your editing software to your process, ProWritingAid offers the most customizable functionality.
Style Guides let you create your own rules to appear in the ProWritingAid editor. For business writers, this could help you and your team remember to use a particular term for a product.
You could add a character name to make sure it is spelled or capitalized consistently, or set up a rule to remind you to use the Oxford comma.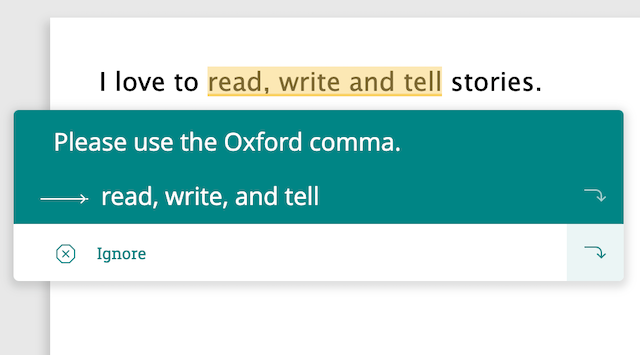 The Snippets tool allows you to save short pieces of text that you use regularly under shortcuts. So, instead of beginning fifty customer service email replies with "Thanks for getting in touch, I'm happy to help," you can just type /thanks to add that text to your email with a click.
Best Grammar Checker Premium Subscription
Hemingway: Free vs. Premium
Hemingway's free version gives users access to most of their features but it is limited to their online interface.
Hemingway has a very straightforward payment system. The single-payment option of a one-time purchase of $19.99 gives you access to all of their features and their desktop version.
Grammarly: Free vs. Premium
Grammarly's online version is free forever. It checks for grammar, spelling, and punctuation. Just upload or copy and paste your document into the website. Then copy and paste the final edits wherever you need them.
You can also use Grammarly's other integrations as part of the free version, but you will be limited to two reports.
Individual Premium features include everything in the free version plus additional categories:
Clarity-focused sentence rewriting
Tone adjustments
Inclusive language
Word choice for precision and clarity
Formality level
Fluency to make your writing sound correct
Additional advanced suggestions
Plagiarism suggestions
Grammarly offers three individual payment plans.
Monthly at $30.
Quarterly at $20/month billed as $60.
Annual at $12/month billed as $144.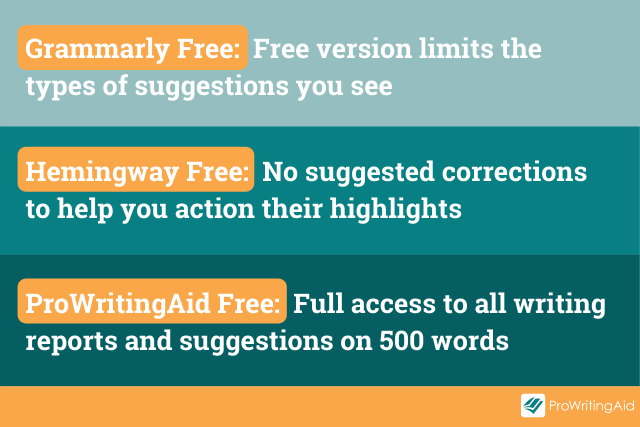 ProWritingAid: Free vs. Premium
ProWritingAid's web editor will always be free to use on up to 500 words. You can also download and use the browser extension on text of up to 500 words anywhere online.
You can perform real-time editing in the free online editor by choosing to accept suggestions or making your own changes.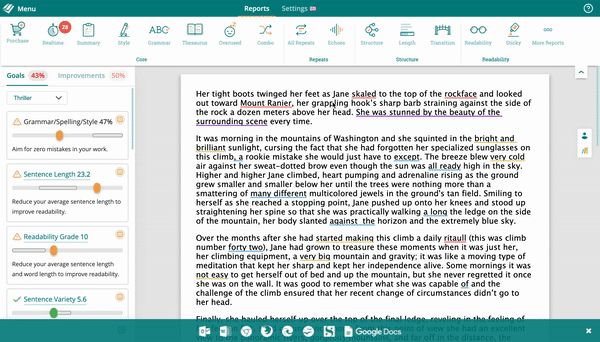 The free version doesn't limit you on reports. You'll have access to recommendations in over 20 different areas of your writing. ProWritingAid's extensive reports will help you refine your writing style, offering suggestions to help you identify places to improve your text.
When you go premium, you get access to all of ProWritingAid's integrations as well as:
All free features, including passive voice rephrasing, word choice enhancements, fluency improvements, sentence structure checks, inclusive language suggestions, jargon-busting suggestions, and more
Over 10 ebooks from our Writer's Resource Library
Unlimited word count
A customizable customer focus score goal
Plagiarism checker (with ProWritingAid Premium Plus)
ProWritingAid also offers a lifetime subscription option. For the price of three years of Grammarly premium, you get access to ProWritingAid for life.
Best App for Business Teams
Keeping your whole team on brand and consistent in their writing could be a full-time job in itself. Reviewing documents, maintaining a written style guide, and sending feedback can take up valuable time.
When you're looking for a grammar checker to help, you need one that adapts to the needs of your team and your business. Grammarly and ProWritingAid both offer team subscriptions, so let's see how they compare.
---
ProWritingAid For Business Teams
ProWritingAid also offers a Team Subscription. Teams using ProWritingAid write better, faster, and with fewer mistakes. It's the tool that makes teams effective and efficient. And effective teams save your business money.
Most professionals write nearly all day long: reports, emails, applications, pitches, or presentations. In the fast-based corporate world, mistakes look unprofessional and yet there is little time to self-edit.
A team plan ensures that your business maintains consistent spelling and writing style regardless of who is writing. ProWritingAid helps business writers deliver concise, error-free communications that clearly get ideas across to colleagues and clients.
A business team subscription includes:
1,000 Term Base Items
1,000 Style Guide Rules
Centralized User Management
Team Analytics
Set account roles and permissions
Customer focus score
SSO solutions
See how you can use ProWritingAid to implement your team style guide here.
With Term Bases, you can add helpful definitions and messages to ProWritingAid that will appear as you and your team write. Whether that's a reminder to use certain terms (or to avoid others) or a quick explainer, this saves you time in sending feedback and explanations by catching confusion as it happens.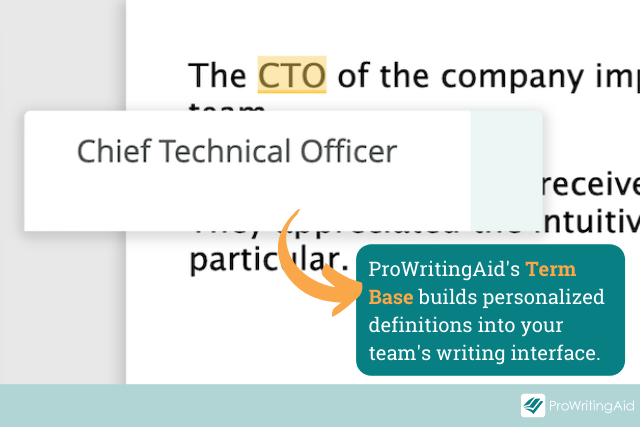 Grammarly's Teams Subscription
Businesses can sign up for team subscriptions starting at $12.50/month per user. Teams of 10 or more receive a discount, while paying annually for a team generates a 50% discount. ProWritingAid's teams system comes in cheaper at $6 for individuals or $8 per team member as part of a joint subscription.
Business team members receive all the benefits of an individual premium plan plus additional features.
A style guide for usage and terminology consistency
Snippets—create short text snippets to use for repeated answers
Brand tones
Analytics dashboard
Priority email support
Set account roles and permissions
SAML SSO (for accounts with 50+ users)
Which Editor is Best for You?
Hemingway, Grammarly, and ProWritingAid will all help you improve your documents. Each has a web base and desktop app and will help you improve your writing.
The costs vary considerably from Hemingway's onetime payment of $19.99 to Grammarly's annual subscription at $144.
The cost variables make Hemingway and ProWritingAid better value. We believe that when you pay an annual subscription to ProWritingAid, the information and guides you receive give you more than Grammarly. And when you consider the amount of information and guidance included in ProWritingAid vs. Hemingway, there is a clear winner: ProWritingAid.
We believe ProWritingAid offers the most thorough evaluation and guidance for you to achieve the intended goal of each document you create.
---