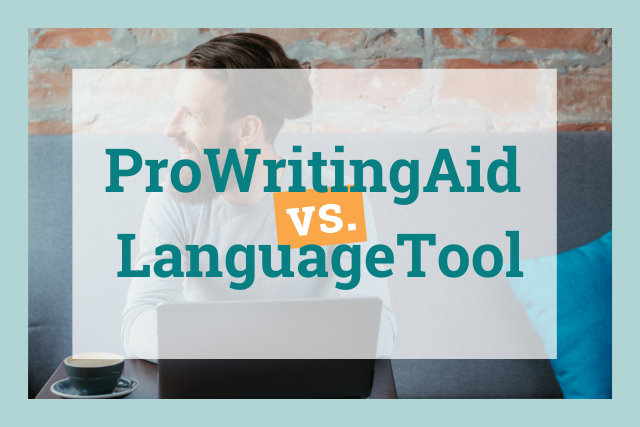 You want your writing to be amazing. You already know your craft, but you need a grammar checker to give it some pizzaz—and avoid typos. Should you use ProWritingAid or LanguageTool?
In this blog post, we will compare these two. We'll look at each tool's features and determine which one is best for your needs.
You want a tool that is easy to use and accurate. It should go beyond just grammar and check for style as well. For a great overall experience, you also need to ensure it integrates with your favorite tools and offers stellar customer service. And, of course, the pricing should be just right.
Before the battle begins, we'll take a look at the basics of what these tools are and what they do.
Let's start with an overview.
LanguageTool vs. ProWritingAid: At a Glance
We'll get into the details later, but first, here's a bite-sized look into both tools.
What is LanguageTool?
LanguageTool is a grammar checker that has been around since 2003. It has a free, open-source version and a paid version. LanguageTool checks text for spelling, grammar, and style errors and supports over 30 languages.
But if you're looking for LanguageTool alternatives for writing in English, then ProWritingAid tops the list.
What is ProWritingAid?
ProWritingAid is a tool that offers suggestions on how you can improve your writing. It checks for spelling, grammar, style, readability, and plagiarism issues.
It also gives thorough reports to help strengthen your writing. If ProWritingAid was a human being, it would be your personal editor, plagiarism checker, and tutor. You won't find a more comprehensive alternative. It has a free and paid option.
The Big Question: Which Tool Will Serve You Best?
Both tools check for spelling, grammar, and style issues. And they're both freemium products.
Remember what we talked about in the intro? You want something that will give you a great overall experience—accuracy, usability, pricing, support, and extra features.
You also don't want to keep hopping from one tool to another. You want something that adapts to your process and can keep being your writing assistant for years.
So what makes these two tools different? Which one will suit you best? Could ProWritingAid be the LanguageTool alternative for you?
Let the grammar checker battle begin.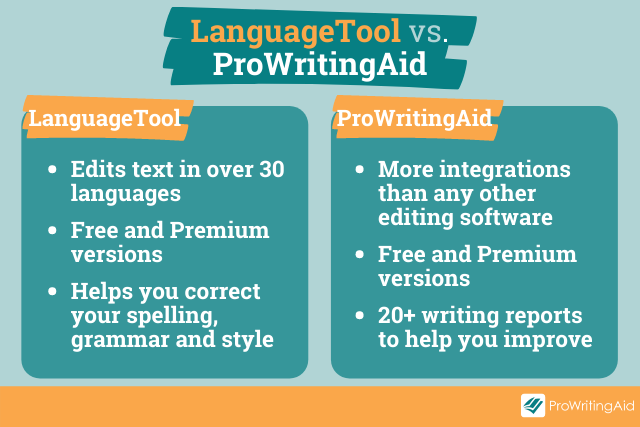 Usability: Which Tool is Easier to Use?
An excellent grammar and style checker should work seamlessly. Typos already cause you headaches. The tools you use should alleviate that pain, not add to it.
Getting started with both tools is super easy. Once you hit their homepages, you'll be able to use their online web editors or integrate them with your favorite browsers and word processors in a few clicks.
We'll talk more about integrations and extra features shortly. Here we're focusing on how easy it is to use each tool.
Let's create some text with intentional errors that we can edit using these tools. Here we go:

Here's how this looks on ProWritingAid:

And here's what LanguageTool gives us: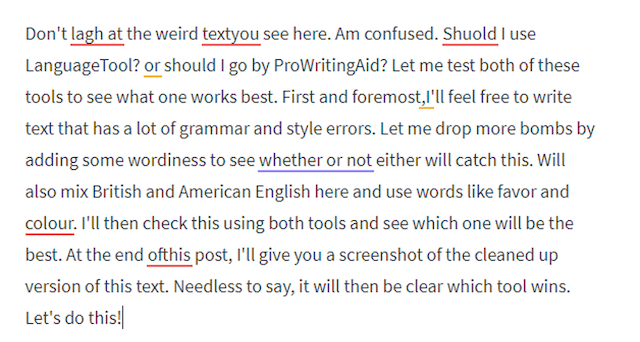 Both apps highlight errors so that they are easy to find.
In this sample text, ProWritingAid has highlighted 11 errors, while LanguageTool has only highlighted eight.
In usability, interface matters. When you click on an error, ProWritingAid shows this: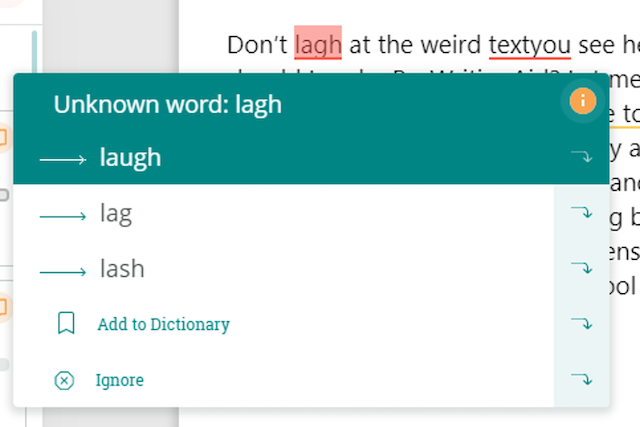 The same error on LanguageTool looks like this: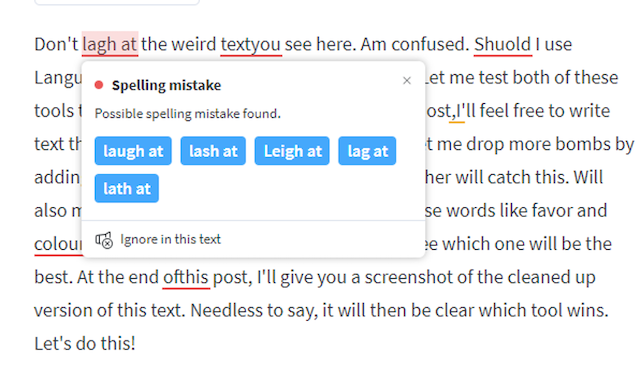 LanguageTool's interface isn't as user-friendly as ProWritingAid's. It uses a tiny font, which makes it difficult to see its suggestions. Its toolbar could definitely use a better design.
ProWritingAid has a clean interface with a bigger font that's easy to read.
Its suggestions make better sense. Here, I'd mistyped the word "laugh". ProWritingAid gave three alternatives: laugh, lag, and lash, which are all proper English words.
The correct phrase was "laugh at". LanguageTool's included poor suggestions like "Leigh at" and "lath at". Yes, it had "laugh at", but it messes with the user experience to include ungrammatical phrases as possible corrections.
If you look at ProWritingAid's interface, there's that small orange information button at the top of the suggestion. Clicking on it gives you more information.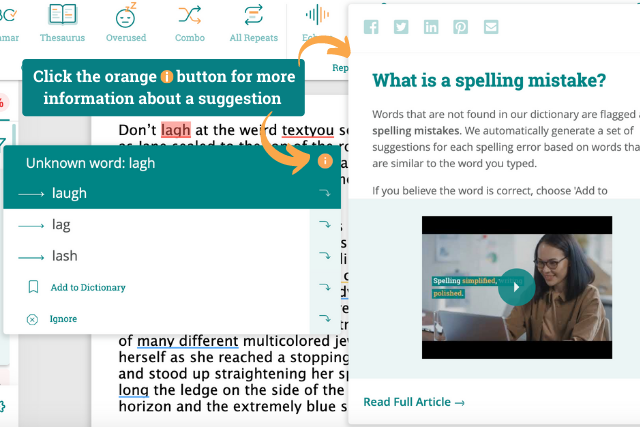 Usability Verdict: ProWritingAid Wins
ProWritingAid is easier to use than LanguageTool. It has a clear and colorful interface with a font that's easy to read.
It gives grammatical suggestions in bullets, which enhances readability as opposed to how LanguageTool lists words horizontally. You also get a button that gives you more information about the error you've made so you can learn as you go.
LanguageTool's toolbar is tiny, and its font is smaller than what you'd find in most popular grammar-checker apps. It includes some ungrammatical suggestions.
In our example above, the correct phrase was "laugh at". But the suggestions LanguageTool gave included "Leigh at" and "lath at"—phrases that are not used anywhere in the English language.
ProWritingAid gave 11 suggestions, while LanguageTool gave only eight. ProWritingAid's contextual spelling corrections mean that it will only show suggestions that fit your context. It's clear that ProWritingAid checks for more issues and does a better job here.
Feature Comparison: ProWritingAid vs. LanguageTool
LanguageTool doesn't offer as many features as ProWritingAid. Having more features is not synonymous with superiority. All the features must be valuable to the end-user. Let's compare what both tools have.
ProWritingAid's Feature List
ProWritingAid checks for grammar, style, readability, and plagiarism issues. Here are some of the errors it highlights:
Spelling
Punctuation
Word choice
Sentence structure
Plagiarism
Readability
Voice
Sentence variety
Clichés
Weak adverbs
Glue index
Sentence length
Sentence complexity
Overused words
Repetition
Transitions
Conciseness
Diction
Consistency
ProWritingAid gives more than just suggestions. You get detailed articles and videos that will help you improve your writing. There are also useful quizzes that will test your understanding.
It has a powerful contextual thesaurus that shows you synonyms to help you enrich your vocabulary. The Word Explorer is a handy feature that will give you definitions, examples, synonyms, collocations, and quotes, among others.
ProWritingAid generates useful reports on key areas of your writing. The Summary Report scores your writing on spelling, grammar, readability, and other key areas tailored to your document type and tells you what to work on. It's like a top-notch tutor. Your summary report will show:
Your key scores
Where your document looks great
Where your document may need work
Grammar score
Spelling score
Passive voice
Bad adverb usage
Bad adverbs breakdown per 1,000 words
Consistency check
If you're a visual thinker, you can visualize your key document stats with graphs, charts, and more information. Remember this sample text?

Here's a partial screenshot of what the detailed report shows from this sample text:
Checking your personalized writing reports frequently helps you improve your overall writing skills by showing you how the edits you make affect your overall scores.
ProWritingAid also offers the following additional features:
Personalized Style Guide
A Desktop App and Word Add-In for Mac and Windows
Editing support for US, UK, Canadian, and Australian English
From this feature list, it's clear that what ProWritingAid offers is useful to writers.
How does LanguageTool stack up?
LanguageTool Feature List
LanguageTool will highlight your grammar and style issues. It covers over 30 languages, giving it an edge for people who want to improve their writing in multiple languages.
Here are some of the errors it highlights:
Spelling
Spacing
Wordiness
Tonality
Complex sentences
Colloquialism
Overused words
Redundancies
Other LanguageTool features include:
Standalone desktop software that you can use on MacOS
A mode it calls "Picky Mode" that checks deeper for colloquialisms and inappropriate phrases
Keyboard shortcuts
LanguageTool also lets you switch easily between language variants such as British and American English. Here's a screenshot from our sample text: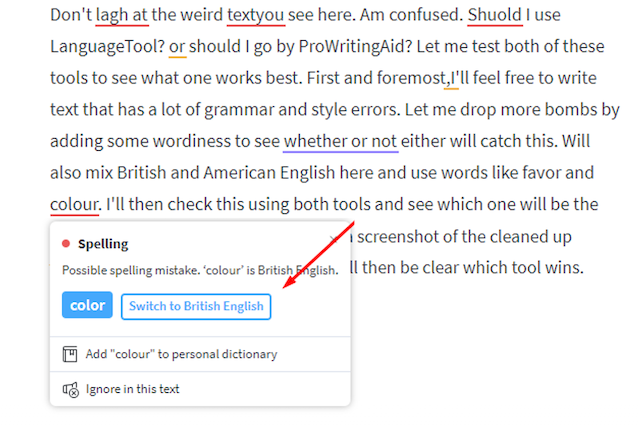 Features Verdict: ProWritingAid Wins
ProWritingAid highlights more grammar, style, and readability errors than LanguageTool. It has remarkable features that help you write better, clearer, and more concise content. It also has a plagiarism-check feature that you won't find in LanguageTool.
Both tools show you how to improve content, but ProWritingAid gives you more detailed information to work with.
Software: Which One Gives You Better Integrations?
Your preferred choice should easily integrate with the writing apps you use both now and in the future. So, go for a grammar and style checker that integrates with as many platforms as possible. Let's see how LanguageTool and ProWritingAid compare.
LanguageTool Integrations
LanguageTool has a great web editor and a standalone app for macOS that you can even use offline. You can also integrate it with:
Chrome
Mozilla Firefox
Microsoft Edge
Safari
Opera
Microsoft Office
LibreOffice
Google Docs
ProWritingAid's web editor gives you tremendous reports. You can also use the ProWritingAid desktop app that works with Scrivener, Final Draft, and Rich Text files, among others.
To make life easier for you, ProWritingAid integrates with:
Chrome
Safari
Edge
Firefox
Google Docs
Microsoft Office (Windows and Mac)
Scrivener
Final Draft
Libre and Open Office
Outlook
Here's how ProWritingAid integrates with Scrivener: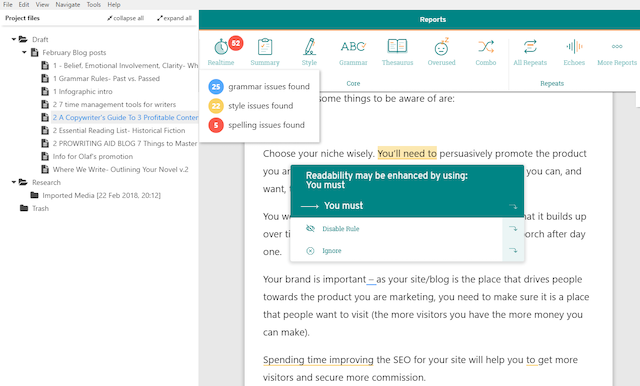 Integrations Verdict: ProWritingAid Gives You More
Both LanguageTool and ProWritingAid integrate with your favorite browsers and word processors. They also each have powerful APIs.
There are some minor differences. For example, LanguageTool doesn't have an add-in for Outlook, and it doesn't work with Scrivener or Final Draft. ProWritingAid doesn't have an Opera add-on, so you'll miss out if that's your browser of choice.
However, each tool has sufficient integrations for most of its target users.
Customer Service: Where Will You Get Better Support?
Support is more than calling or emailing a company. Yes, you need to contact them when you get stuck, but you can save a lot of time if you can access useful information quickly.
Let's see how support works on these platforms.
ProWritingAid Support
You can reach out to ProWritingAid by sending a quick email. The friendly team will give you timely and helpful feedback.
The best news is that before you send that support ticket, there's a lot of information you can quickly access. ProWritingAid support features include:
Email support
Webinars
FAQ page
Social media: Facebook, LinkedIn, Twitter, and Instagram
YouTube videos
A constantly updated blog
Writing resources
An information button to show you more about their editing suggestions
LanguageTool Support
You can contact LanguageTool via email. The support team will handle your tickets quickly and professionally.
LanguageTool support features include:
Email support
LanguageTool forum
FAQ page
LanguageTool has some social media presence on Facebook, Twitter, LinkedIn, and Instagram. However, it's not very active. You don't get replies to your public comments and can't direct message them on social media.
To get help, you must either email them, post in their forum, or check out their FAQs.
Support Verdict: ProWritingAid Wins
ProWritingAid has webinars, in-person email support, an active blog, YouTube videos, FAQ text, and other helpful resources.
LanguageTool doesn't. You only get email, FAQs, and a forum. No blog. No videos. Minimal social media activity.
Subscriptions: Plans and Pricing
No matter what features a platform has, it has to fit your budget. And even if you can afford the app, you'll also want to know if it's worth your money.
Great news here—both tools have free versions. Here's what you get for free:
Free ProWritingAid Features
With ProWritingAid free, you'll be able to edit up to 500 words in the web editor. You get access to:
All 25 powerful reports to help fix issues with grammar, spelling, sentence structure, and other writing errors
Realtime editing: the Realtime Editor gives you immediate feedback as you type
Document storage in the Web Editor
In-tool quizzes, articles, and videos to help improve your writing
AI-powered suggestions to enhance your readability and fix sentence length, passive voice, repeats, etc.
ProWritingAid's browser extension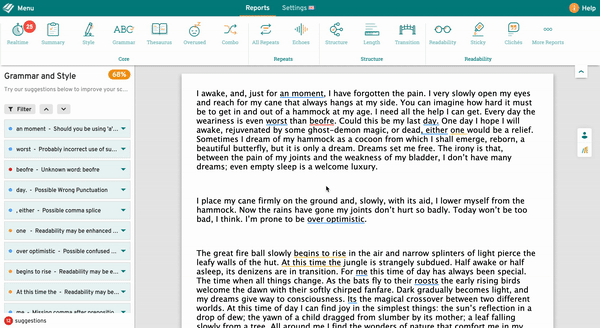 Free LanguageTool Features
By default, LanguageTool is free, open-source software.
In the free plan, you get:
Basic grammar check—some suggestions are hidden for free members
Basic punctuation and style checking
Improvement suggestions on only up to 10,000 characters for each piece of writing
Limited features on browser add-ins
When reviewing text on the free plan, you'll get a notification stating that there are more errors that the premium version can highlight. ProWritingAid shows you all of the suggestions for a piece of text up-front.
Let's check out the paid plans and pricing of each tool.
ProWritingAid Premium Features and Pricing
While ProWritingAid doesn't penalize it's free users by restricting reports, you do get access to some extra features and resources with your premium subscription. With ProWritingAid Premium you can:
Check for writing, grammar, style, and readability errors
Get 25 in-depth writing reports that include sticky sentences, clichés, diction, consistency, repeats, passive voice, etc.
Assess unlimited text
Access all integrations: Chrome, Safari, Firefox, Word, Google Docs, Outlook, Edge, Scrivener
Check for plagiarism with the Premium Plus plan
Grab useful eBooks from the Writers' Resource Library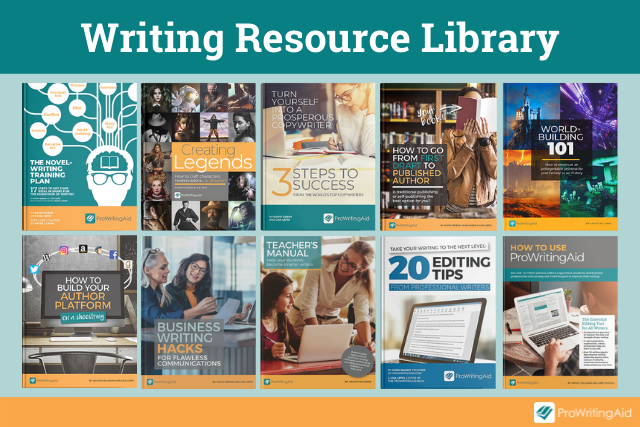 You can check out ProWritingAid's pricing plans here.
If you want to include plagiarism checks in your plan, you can hop onto the Premium Plus package.
LanguageTool Premium Features and Pricing
Just like ProWritingAid, you expect to get lots more features in LanguageTool's paid plans. With Premium LanguageTool access you can:
Get enhanced grammar, style, and punctuation checking
Assess up to 60,000 characters per piece of content
Get suggestions on how to improve style and tone
Detect incorrect numbers such as IBAN and ISBN numbers
Identify incorrect titles and names in emails
Use all LanguageTool integrations
LanguageTool has two paid plans:
The "For Individual Users" plan goes for $9.50 per month, $29.50 per year, or $49.50 for every two years.
Its "For Teams" pricing plan depends on the number of users. The minimum is two users, and you can only pay annually. If you go with the minimum, you'll pay $53.10 per year for two users.
Plans and Pricing Verdict: LanguageTool Is Cheaper, ProWritingAid Is the Better Value
Yes, here the winning platform depends on what you're looking for.
LanguageTool takes it if you want something cheap. If you take the two-year "For Individual Users" plan, you'll only pay $49.50 and rest easy for two years. And it will help you check for grammar and style issues.
However, ProWritingAid wins if you're looking for overall value. It has more features and a lifetime plan. The lifetime plan gives you an edge since you pay once and use ProWritingAid for the rest of your writing life. No extra payments and access to all future updates.
What Does Edited Text Look Like in ProWritingAid and LanguageTool?
Seeing is believing. We put both tools to the test using a sample of ungrammatical text above. Now, let's see what it looks like after cleaning it up using both ProWritingAid and LanguageTool.
Here's what we get from ProWritingAid:

And here's what you get from LanguageTool: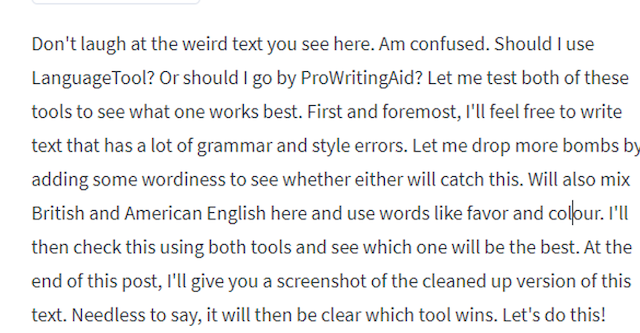 Reading both, you can tell that ProWritingAid does a better job.
There are still a few errors in the text, and that's why you still need to edit further, even after using renowned grammar checkers. Here's the final text after an actual human edit:

Always take time to proofread or get a human editor to look at your work. While even the best grammar checkers will never fully replace a human editor, software like ProWritingAid will make their—or your—job easier.
Of the two tools, ProWritingAid cleans up better and helps you understand how to avoid future mistakes.
ProWritingAid vs. LanguageTool: Which One Should You Use?
Here's why I'd choose ProWritingAid every time:
It helps you check more than grammar and style.
You'll check your grammar, style, consistency, repeats, plagiarism, transitions, and more.
In fact, you get 25 powerful reports that you can combine to build your best editing process. Plus, over time, using the software will help you improve your writing by telling you why it's making suggestions.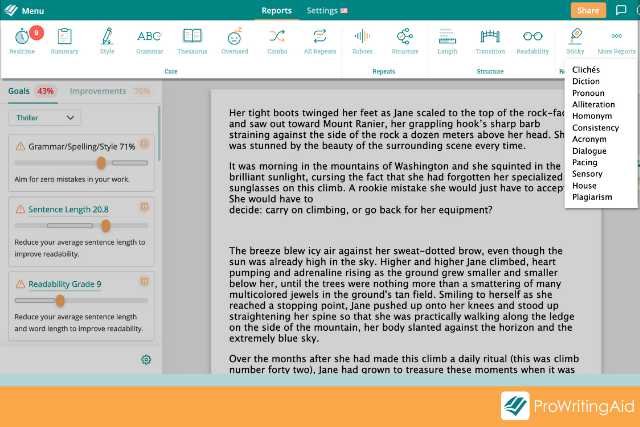 It has more features.
LanguageTool works. It will help you sort out your grammar and style issues. Compared to ProWritingAid, it misses other key features like enhancing readability, checking for plagiarism, teaching you how to improve your writing, and detailed reporting.
It offers better support and value for money.
ProWritingAid gives you better support through email, webinars, social media, writing resources, and more. LanguageTool only gives you email, FAQs, and a forum.
LanguageTool is cheaper. But ProWritingAid gives you more value since it combines writing assessment with mentorship resources. With ProWritingAid's lifetime plan, you end up saving more since you'll not have to pay again. Ever.
Bottom line: ProWritingAid will refine your content better than LanguageTool. And it will help you become a better writer.
So, if you want the best of the two, go with ProWritingAid.
I'm a writer. I'm always looking for the best tools to help me improve my writing and make my process easier. And ProWritingAid has been invaluable.
Hopefully, this article has shown you that ProWritingAid is the better choice on features, integrations, and value for money. If you're still unconvinced, give their free trial a whirl—what have you got to lose?
---
Try ProWritingAid's Editor For Yourself