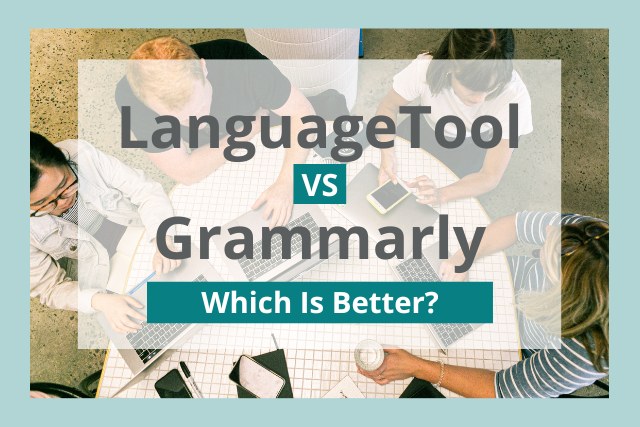 A great editing tool can help you take your writing to the next level.
LanguageTool and Grammarly are two of the many grammar checkers you can find on the market. Grammarly is a grammar checker that helps you strengthen your prose, while LanguageTool is an open-source grammar checker software that offers similar features for a cheaper price.
So, which one is better for you?
This article summarizes the strengths and weaknesses of LanguageTool vs Grammarly and helps you decide which one to invest in.
What Is Grammarly?
Grammarly is an AI-powered writing assistant that helps you check your writing for grammar and spelling errors.
In addition to spotting errors, it also highlights any areas where you can strengthen your writing style. For example, it points out confusing sentence structures, redundant words, and more.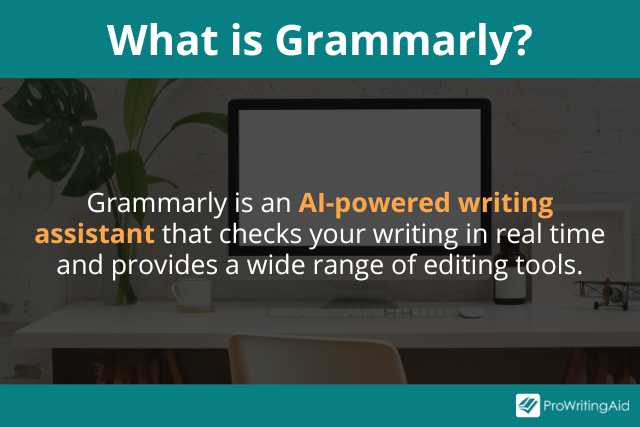 If you have convoluted or confusing sentences, Grammarly offers clarity-focused sentence rewrites to rephrase those sentences in stronger ways.
You can tell Grammarly what tone you're aiming for, such as formal, casual, or creative. Going forward, Grammarly can suggest tone adjustments to help you hit that goal.
Grammarly also gives you a readability score from 1 to 100 based on the text's vocabulary level, sentence length, and word count. The best score is 100, but any score above 60 means your work is easy to read for someone with at least an eighth-grade education.
A plagiarism checker is also available for Grammarly's premium users, which tells you if you're plagiarizing any existing text. This feature is particularly useful for students and educators.
To use Grammarly's tool, you can either type into Grammarly's website or copy and paste content you've written elsewhere. Alternatively, you can use one of Grammarly's plug-ins to use the tool directly in your web browser, which will automatically check your writing on any website, such as Google Docs, LinkedIn, or Facebook.
What Is LanguageTool?
LanguageTool is an open-source tool founded in 2005, which can help you correct mistakes related to spelling, grammar, punctuation, and writing style.
Spelling errors are highlighted in red, grammar mistakes in yellow, and punctuation errors in blue.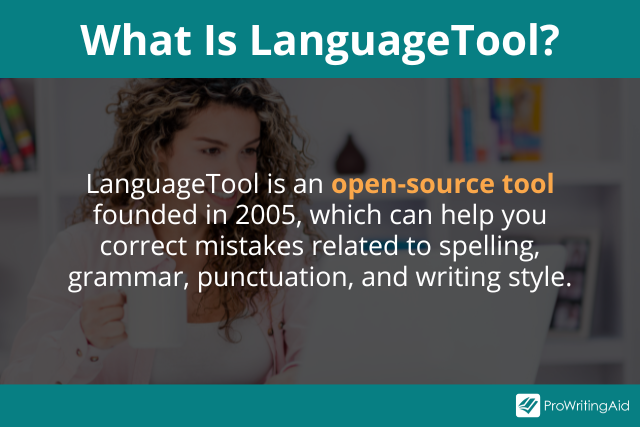 LanguageTool's suggestions are accurate but not particularly advanced. There are a lot of weaknesses and mistakes Grammarly can catch that LanguageTool might miss.
You can double-click on words to see synonyms. If you don't want to see red highlights on certain words, you can register those words in a personal dictionary.
One fantastic perk is that you can use LanguageTool for over 20 languages. If you tell LanguageTool what your mother tongue is, it will look for extra errors whenever you're writing in a non-native language.
You can use LanguageTool as a browser extension in your favorite web browser. Alternatively, you can integrate LanguageTool with MS Office, Visual Studio Code, LibreOffice, and more.
Key Features of LanguageTool vs Grammarly
So, what are the strengths and weaknesses of each tool?
Here's our assessment of how Grammarly and LanguageTool stack up in four key categories: grammar and spelling check, integrations, languages, and other features.
Grammar and Spelling Check
Grammarly excels at checking for grammatical errors. It can catch even subtle errors, and it even gives you some sophisticated stylistic suggestions that can make your prose stronger.
LanguageTool has much more limited grammar checking capabilities than Grammarly does. It can catch basic mistakes, but more advanced errors may slip through the cracks.
Overall, Grammarly's grammar and spelling check is much more thorough and comprehensive than LanguageTool's.
Integrations
Both Grammarly and LanguageTool integrate with most web browsers, including Chrome, Firefox, and Safari. That way, you can check for mistakes whenever you write on websites like Facebook, LinkedIn, or Google Docs.
Grammarly and LanguageTool tie for integrations because you can use both tools fairly easily with your favorite word processor or web browser.
Multiple Languages
One of the major drawbacks of Grammarly is that it only works if you're writing in English.
LanguageTool, on the other hand, supports over 20 languages, including English, Spanish, French, Japanese, Italian, German, and more. If you're writing in a language that isn't English, it can be a useful proofreading and grammar checking tool.
That's why LanguageTool is a particularly useful proofreading software for people who write in multiple languages or people who are learning a language that isn't their native tongue.
Other Features
Grammarly comes with more advanced features than LanguageTool does, which can be a big draw if you're looking for these specific capabilities.
One useful feature is Grammarly's plagiarism checker, which will tell you if you're plagiarizing any existing sources. You can do unlimited plagiarism checks with the premium version of Grammarly. LanguageTool doesn't have a plagiarism checker.
Grammarly also lets you set goals, so you can tell the intent, emotion, audience, and domain of your writing. That way, you'll only see suggestions that are specific to what you're writing. LanguageTool doesn't let you customize what types of suggestions you see.
Finally, Grammarly offers clarity-focused sentence rewrites, which rephrase your text in more readable ways. LanguageTool doesn't offer any rewriting or paraphrasing capabilities.
Pricing of LanguageTool vs Grammarly
Both LanguageTool and Grammarly have free versions with limited features, as well as premium plans that let you access their full potential.
If you stick with the free version of LanguageTool, you can only check your work up to 20,000 characters, and it only offers basic suggestions for grammar and style.
The free version of Grammarly can help you improve grammar, spelling, and punctuation for any amount of text. However, it doesn't include plagiarism checks, rewriting capabilities, or vocabulary enhancements.
If you decide to invest in the premium versions of each tool, LanguageTool is significantly more affordable than Grammarly Premium.
You can purchase LanguageTool with four different payment plans:
Monthly: $9.95 per month
Quarterly: $6.50 per month (billed as $19.50 per quarter)
Yearly: $2.50 per month (billed as $29.95 per year)
2-year subscription: $2.08 per month (billed as $49.50 every two years)
Similarly, Grammarly Premium also offers multiple payment plans:
Monthly: $30 per month
Quarterly: $20 per month (billed as $60 per quarter)
Yearly: $12 per month (billed as $144 per year)
As you can see, even the most expensive payment plan for LanguageTool ($9.95 per month) is still more affordable than the cheapest payment plan for Grammarly ($12 per month).
Why ProWritingAid Is the Best Alternative
Grammarly and LanguageTool aren't the only grammar checkers on the market.
If you're considering these tools, you should also consider ProWritingAid.
ProWritingAid can integrate seamlessly into your favorite web browser or word processing software, including Microsoft Word, Google Docs, Scrivener, Final Draft, and more.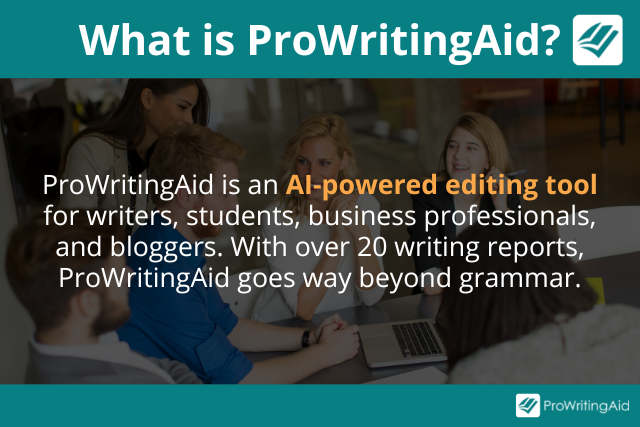 With ProWritingAid, you can tailor the suggestions you see depending on the genre of writing you're working on. You can customize your experience based on the following document types:
General
Academic (sub-options: Academic Essay, Abstract, Admissions Letter, and more)
Business (sub-options: Cover Letter, Email, Case Study, and more)
Technical
Creative (sub-options: Nonfiction, Fantasy, Historical Fiction, and more)
Casual (sub-options: General Casual and Dating Profile)
Web (sub-options: General Web Copy, Short Web Article, and more)
Script
Once you've chosen your document type, ProWritingAid gives you access to over 20 reports that assess the strengths and weaknesses of your writing, which is more than you get with any other grammar tool.
You'll get all these features:
Grammar Report: uses an advanced AI to catch grammar and punctuation mistakes, as well as misused words such as "adverse" vs "averse"
Writing Style Report: highlights areas of your text that a copyeditor would tell you to revise, including the passive voice, overuse of adverbs, repeated sentence starts, and more
Contextual Thesaurus Report: enables you to explore a wide variety of synonyms for each given term
Clichés and Redundancies Report: picks up on tired phrases and sentences so you can find fresh ways to express your ideas
Sentence Length Report: makes sure you're employing a variety of sentence lengths to engage the reader, rather than using too many long or short sentences
Transition Report: looks for transitional phrases like "similarly," "nevertheless," and "as a result" to make sure you're utilizing the best transitions to lead your reader through your writing
Plagiarism Report: verifies that you have properly cited any material you have used by comparing your work to over a billion webpages and articles
Author Comparison: allows you to compare your writing with that of well-known authors
These advanced suggestions can help you improve the style, structure, and readability of your work in just a few clicks.
Best of all, ProWritingAid's 14-day free trial doesn't require you to enter your payment details, so you can try it for free anytime.
Conclusion on LanguageTool vs Grammarly
Both Grammarly and LanguageTool are effective writing tools that can help you strengthen your prose.
Grammarly is an accurate grammar checker that offers more sophisticated and reliable suggestions for a pricier subscription, while LanguageTool gives you slightly fewer grammar and spelling suggestions at a more affordable price.
You get more in-depth analysis with ProWritingAid than with either Grammarly or LanguageTool. Give ProWritingAid a try if you're seeking an online editing tool that makes your writing stand out.
---