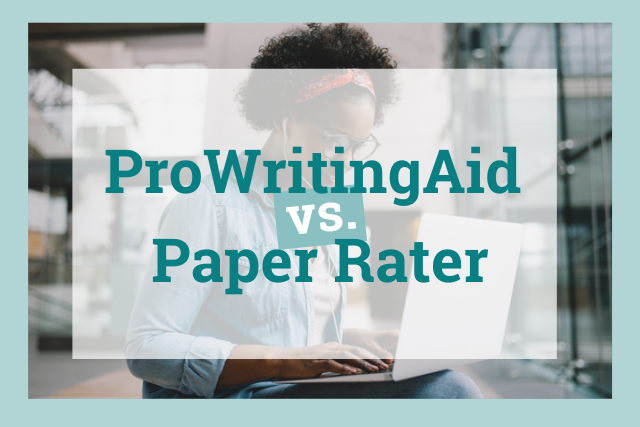 When you want writing help for a paper, your first thought is probably a grammar and spelling checker. Next, you want to make sure your paper is original. A plagiarism checker keeps you writing in your own words.
Online writing tools help you refine your written words to eliminate errors. What you want in an editing tool is comprehensive coverage. You want to cover all the bases to make your paper clear, easy to read, and error-free.
The best proofreading software goes beyond basics like grammar, spelling, and punctuation to smooth your syntax, improve the language you use, and make your sentences and paragraphs easy to read and understandable.
ProWritingAid and PaperRater are both proofreading software programs that can help you write an error-free essay. In this article, we review both to help you work out which will help you make your essays shine the most. And, we show screenshots so you can see them in action.
Set Your Writing Goals
Your first step using editing software is to set writing goals. Different styles of writing require different language, so having the option to define what kind of paper you're working on is key in an essay checker. Your choice determines how the artificial intelligence examines your paper.
In ProWritingAid, you can set your writing style to academic. Changing the writing style changes the statistics used to calibrate against your paper.
Your paper is scored against a reference set of documents in the academic genre. These are high-quality pieces of writing that are published. We have analyzed these to calculate an acceptable baseline for academic writing. Then, in reports such as the Overused Words Report, we change the target levels depending on the style.

Under the Academic Writing Style, the following rules are enabled besides our normal set of checks:
Simple sentence fragments checks to make sure a fragment contains both a subject and a verb. In other styles of writing, a sentence fragment (i.e. either the subject or the verb can be omitted and inferred from the context) can be stylistically effective, but in formal writing we recommend using them both.
Smileys rule, which suggests removing smileys from formal writing.
Anti-jargon rule, which finds common jargon and suggests replacements.
Passive voice checking is limited because it is more acceptable in academic writing. With this one simple style selection, you can make sure your paper conforms to basic academic principles.
Beyond this, you can set your specific document type to tailor your suggestions even further. You can choose from:
General Academic
Abstract
Academic Essay
Admissions Letter
Book Review
Compare and Contrast Essay
Critique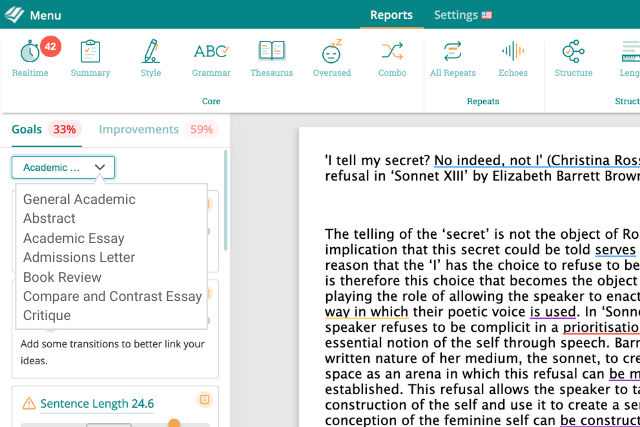 In PaperRater, you can choose the type of paper you enter from 15 choices. This helps the AI match your writing to the intended style.
You have several choices when writing a paper with PaperRater: essay, thesis/dissertation, lab report, or research paper. Look closely at your assignment to determine which type of filter suits your requirements.
Compare Results between PaperRater and ProWritingAid
Both alternatives allow you to compose in the app or enter existing text into the grammar checker. You can see the results of the artificial intelligence scan of your document in each. At first glance, the results look similar.
The major difference is that you can choose from a variety of specialized writing reports in ProWritingAid. We'll look at those reports in a minute.
Grammar, Spelling, and Punctuation Suggestions
Both PaperRater and ProWritingAid highlight grammar, spelling, and punctuation errors, but the way you deal with those errors varies between the apps.
In PaperRater, any found errors appear in a side panel, like this: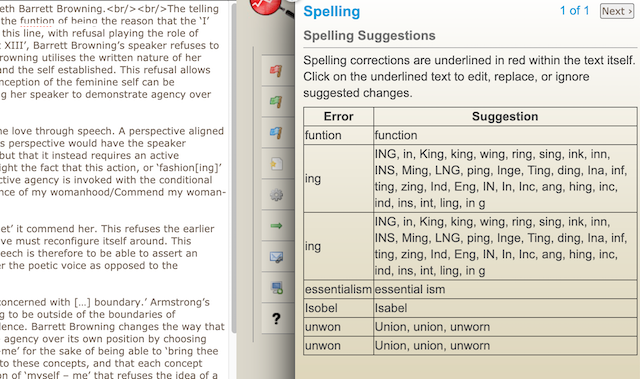 It's difficult to locate the error in the text of your essay itself. You can also see that some of the other suggestions are difficult to understand and identify in the essay text.
In ProWritingAid, your suggestions are highlighted both in the text itself and in a side panel for review.
Just click on a highlight to accept or ignore a suggestion and immediately jump to the next suggestion by clicking the arrow icons to the right of the panel: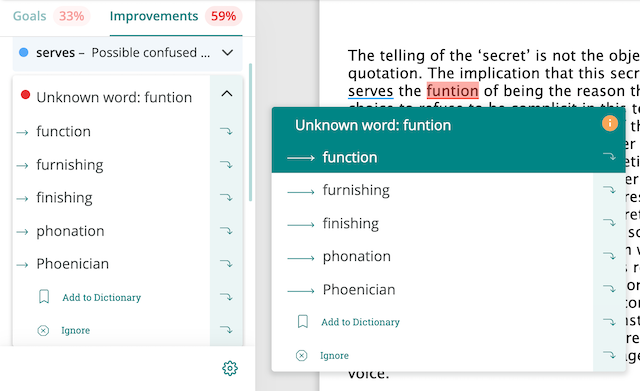 Each offers suggestions on how to correct the error, but only ProWritingAid lets you correct it with a click.
In ProWritingAid, grammar is the top goal listed in the sidebar. Before you make all your corrections, take a look at ProWritingAid's other goals. Stylistic and syntax goals may suggest editing and rewriting sentences that may make some of these errors disappear.
Style, Vocabulary, and Syntax Suggestions
The PaperRater results panel breaks down results into different categories along with grammar.
Spelling
Grammar
Word Choice
Style
Vocabulary Words
Grade
E-Submission
Advanced
Where Next?
Word Choice examines the quality and quantity of trite phrases and clichés. It identifies the words and suggests using a thesaurus to replace the word or phrase.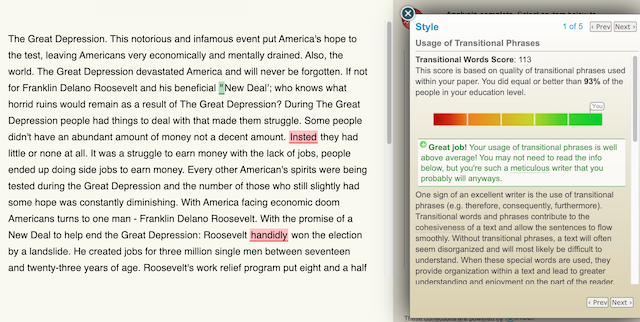 In ProWritingAid, double-clicking on any word will bring up synonyms. Or, you can run the Thesaurus Report to see synonyms for all the adjectives, verbs, adverbs, and nouns in your essay.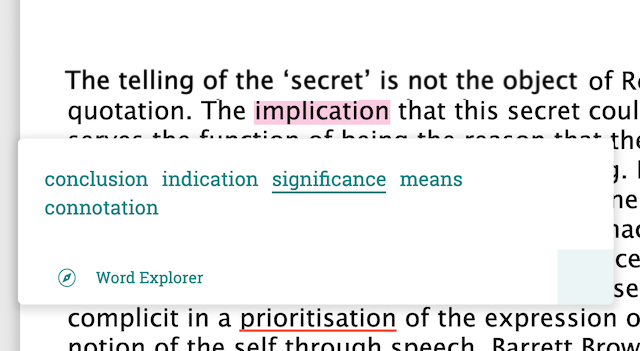 The style result examines five factors to improve your writing:
Transitional Phrases
Sentence Length
Readability (Premium only)
Passive Voice
Vocabulary Words
ProWritingAid results display as goals in a sidebar as well.
Grammar, Spelling, Style
Transition usage
Sentence length
Readability (available in the free version)
Sentence variety
Passive voice
Weak adverbs
Conjunction starts
Very long sentences
Glue index

-ing starts

Many of the goals are the same as PaperRater, but there are several additional suggestions that can take your essay from good to great.
ProWritingAid's extensive reports will help you refine your writing style, offering suggestions to help you identify places to improve your text. Your paper will read smoothly and be easy to understand.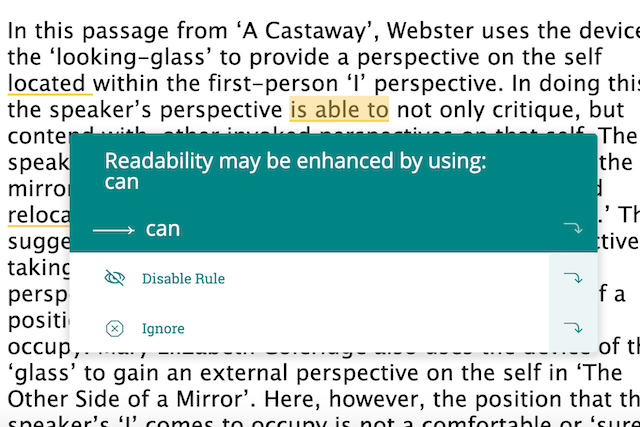 Use specific reports to refine your language. We recommend Diction, Acronyms, Transitions, and Summary Reports for academic papers.
Let's see what each report does.
Write With Clarity with the Diction Report
The Diction Report highlights awkward phrasing that gets in the way of your ideas. It will suggest ways to re-word them to improve clarity and make them easier to understand. This is one of the best ways to help your paper communicate your thoughts to the instructor.
The Diction Report also brings attention to vague and abstract words you can improve to make your writing clearer. Especially in academic papers, you want your words to convey precise meaning to help you build your argument.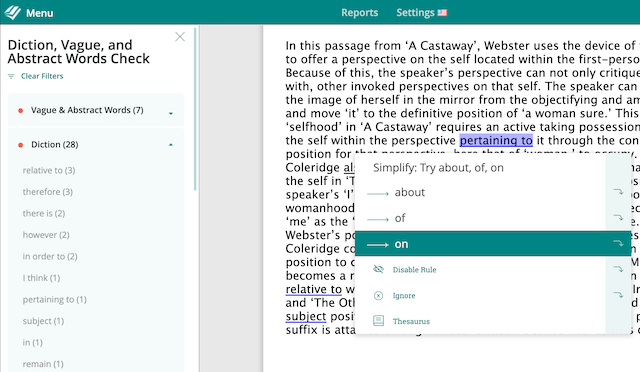 The report spots words like more, poor, good, excellent, some, large, better, or considerable, which are all ambiguous. What you view as good may differ from your instructor's understanding.
It'll also highlight phrases like "I think", which are not recommended in formal academic writing, as well as inflated or unnecessarily wordy language. This is especially helpful to students just beginning academic work who may think longer phrases sound more knowledgeable. Simple diction makes your paper easier to read and understand.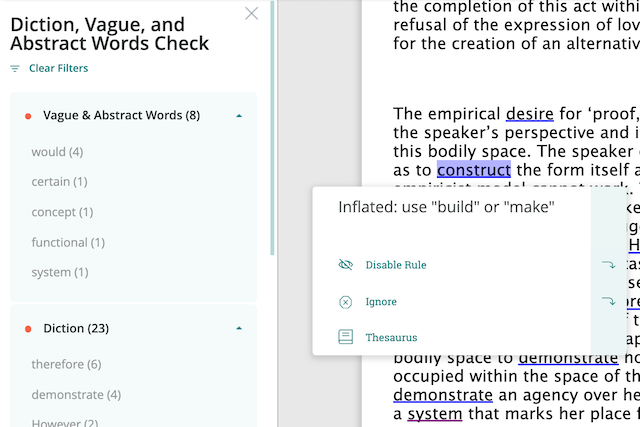 ProWritingAid highlights all of the phrases below (and more) to help you write more concisely:
demonstrates ➡ shows
due to ➡ because
requires ➡ needs
in order to ➡ to
however ➡ but
therefore ➡ so
the use of ➡ (suggests omitting)
attempt ➡ try
in close proximity to ➡ near
You won't always need to accept these suggestions. It's fine to use "however" and "therefore" in your essay. But the Diction Report helps you spot places where you should tighten your language to improve the flow of your writing.
The Diction Report transforms your writing into clear phrases with precise language. Your paper will be easy to read and understand, even though you are writing in an academic style.
Keep Consistent in Your Acronyms
Acronyms are useful references to keep your word count under control. But you want to make sure you introduce each acronym before you use it.
The Acronym Report identifies and counts the use of each acronym in your text. It spots acronyms that you have not introduced so you can add that introduction to your paper. It also makes sure you've capitalized each acronym consistently.
The Acronym Report assures your paper manages all references to acronyms with a clear introduction, so each reference follows the original explanation.
Signpost Your Ideas with Transitions
Transitions help a reader follow the logic of your argument because they show the relationship between your ideas. Factual writing that has fewer than one transition per four sentences is less understandable.
The Transition Report scans your writing for transitions and scores the percentage of transitions you use. A score of 25% means you use one transition for every four sentences. Aim for this score or higher in your paper to get your meaning across to your reader.
Let's take a look at how you can track your transitions use with ProWritingAid.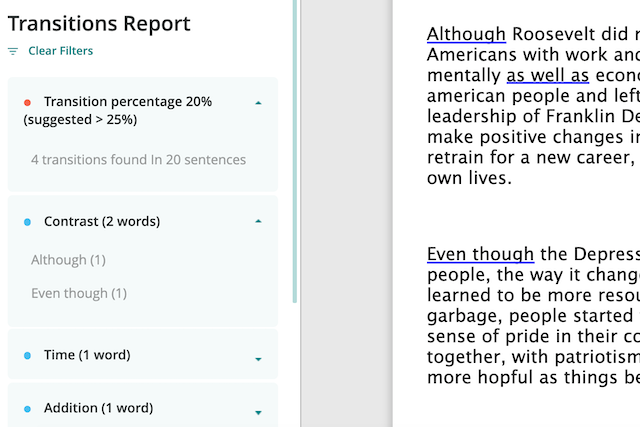 First, you spot that your transitions score is low in Goals. You can click on the orange information button to read more about transitions and to see some examples of transition words you can use in your essay.
Next, run the dedicated Transitions Report. Now you'll see the types of transitions you've already used. Add some more and re-run the report. Now you can see that your score has improved and that your essay builds on and contrasts its arguments.
You want your instructor to understand the logic of your paper's argument. Transitions make it easier to follow your ideas as you go from one to the next.
Get Feedback Before You Submit with the Summary Report
The Summary Report gives an overall view of your paper. It identifies your strengths and places where you need more work. It's the big picture of how your writing is shaping up.
You'll see three main sections:
Your key scores for the entire paper
Where your paper looks great
Where your paper may need work
Give yourself a pat on the back for all the hard work you've done writing your paper and where it looks successful. Then hone in on the places that may need work. This action can mean the difference between a paper that's just okay and a paper that receives high marks.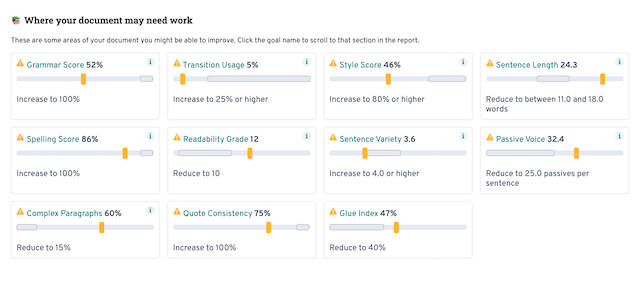 Identifying the weak areas of your writing is a unique element of ProWritingAid as an editing tool. Unlike PaperRater, you don't just see individual improvements. Instead, you see how these improvements work to improve important elements of your essay. Responding to the report and taking action are the best tactics to improve your paper.
Use the summary to focus on improving your writing to make the best impression on your paper. Before your instructor sees your paper, you'll get feedback on where the weak spots are and have suggestions for improvement.
Make Every Word Count: Avoid Sticky Sentences
Every sentence contains working words and "glue" words. Glue words stick your sentences together. We need them to create meaning, but too many of them can get in the way.
The Sticky Sentences Report identifies strong and weak words in your paper. Minimizing those weak "glue" words tightens your language. Tight language makes your paper more readable.
If you are writing in English as a second language, the Sticky Sentences Report helps the language in your paper sound more fluent.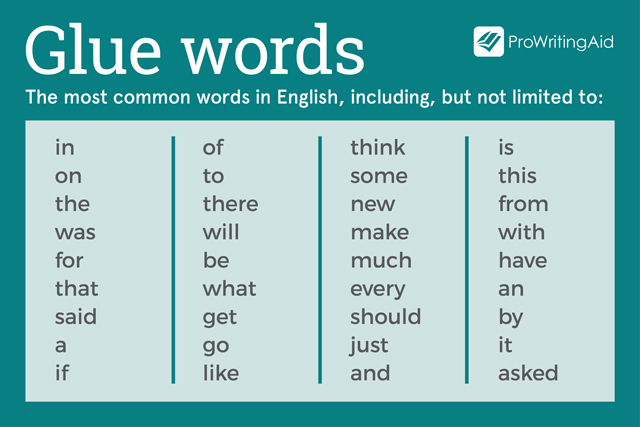 Calculating Your Grade
PaperRater's unique grade result calculates a numeric and a letter grade, for example, 84, B. This grade takes into account spelling, grammar, word choice, style, vocabulary, and more.
Be aware that the grade does not examine the meaning of your words, how your ideas are structured, or how well you support arguments. PaperRater also has a disclaimer that the automated grader does not always get things right. So use it with a grain of salt.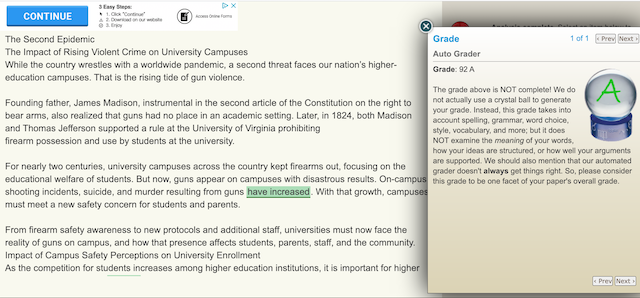 ProWritingAid doesn't give you a letter grade for your work. But by working your way through the suggestions and reports outlined above, you'll make changes to your essay that drastically improve its style, readability, and effectiveness.
While PaperRater can tell you that you might get an A, ProWritingAid will actually help you get there.
PaperRater or ProWritingAid? Key Differences
Finding the best writing tool to help your paper read well and convey your message can feel challenging. If you are considering PaperRater or using it now, you'll find that ProWritingAid delivers superior help editing and correcting your paper. It goes beyond a grammar and spell check to offer proofreading suggestions with artificial intelligence software to improve the language in your essay.
When you look for software editing alternatives, you'll find ProWritingAid's technology not only checks grammar, spelling, and punctuation but improves each sentence so your paper is easy to read.
Both programs have free and premium access. The subscription fees differ. PaperRater costs less per month, while ProWritingAid costs significantly less with an annual subscription.
Let's take a look at what you get in your annual subscription to both tools: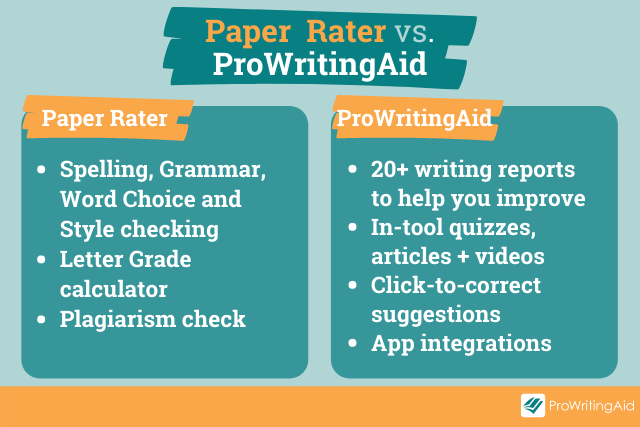 While PaperRater spots grammar errors, ProWritingAid gives you suggestions to help you learn why the grammar is inappropriate. ProWritingAid helps you learn as you write. This is true for all 25 reports.
You can also integrate ProWritingAid wherever you write, including:
Online
In Word with our Word Add-In
In Google Docs with our Google Docs Add-On
With Open and Libre Office via our Desktop App
Over time, using ProWritingAid increases your writing knowledge so you can spot errors as you write, reducing your editing time. You learn over time to reduce your writing errors.
One feature PaperRater offers in the free version is spotting plagiarism. You need to subscribe to identify the source, but you can change the wording.
Although PaperRater offers a potential grade for a paper, keep in mind that it could be far from the actual grade you receive. The grade is based on the reports inside the software and not on the content or your presentation logic.
PaperRater can be a good choice for younger students who want basic error spotting.
We believe that for older students and adults ProWritingAid is the logical choice for creating a polished paper.
Ultimately, what you want is a tool that helps you improve your writing over time.
---