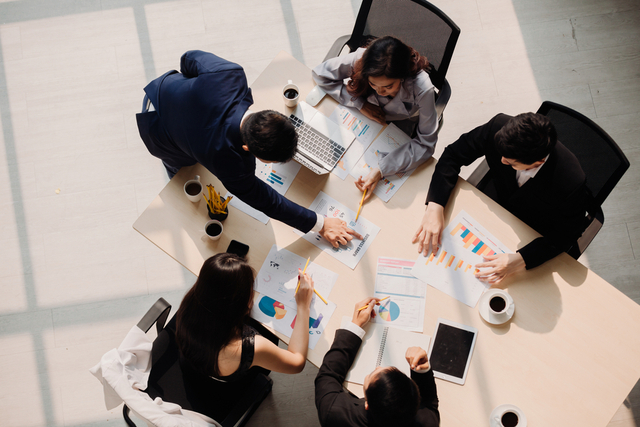 According to a study carried out on business communications, companies with effective communication practices have lower employee turnover levels—way below the industry average.
And that's not all. Here are a few more statistics on business communications.
Teams that use communication tools like Office 365 can increase their productivity by 30 minutes every day
28 percent of businesses say poor communication is the primary cause for failing to deliver a project on time
The cumulative cost per worker per year because of productivity losses resulting from communication barriers is approximately $26,041
When organizations have well-connected employees, productivity increases by up to 25%
Writing plays a big role in business communications and affects a company's productivity.
We are not all writers, but we all write. We create business proposals, we email clients and co-workers, and we pen internal memos and marketing materials.
With all this writing, how much time does your team spend to ensure that their written communication is clear, concise, and effective?
According to the Harvard Business Review, most Chief Executive Officers and busy managers think it's fruitless to set aside time to improve their writing skills.
However, good writing can work wonders for business profitability and workplace productivity.
Your team members may have great ideas, but you won't be able to understand and execute them as a team if you can't communicate properly. The good news is everyone can improve their writing.
Here's how your team can improve the writing process.
Eliminate Distractions
Jonathan Franzen, who wrote the bestselling novel Freedom, once told TIME Magazine that when he was writing the book, he disabled the internet connection so he could focus.
He stuck a cable into the ethernet port, sealed it with crazy glue, then cut the cable to ensure the plug effectively sealed the port.
While this was a bit extreme, we can all agree that distractions are the enemy of productivity.
We live in an age of distractions. People, gadgets, and apps are constantly vying for our attention. The average employee gets interrupted 50 to 60 times a day, and approximately 80% of those interruptions are unimportant.
You might say, "Well, that's just working in the modern world." It is, but it doesn't have to be. If your team members can control distractions, they can communicate better, be more productive, and get out of the office sooner.
To eliminate distractions, they can switch off their gadgets, make their workspaces clean, put blinders on their computers, and work in closed offices instead of open-plan ones.
Use a Writing Tool
A lot of us don't spend time focusing on all the writing we do in the course of our career. In fact, most professionals are surprised by the amount of writing they do.
We write emails, business plans, letters of termination, employee manuals, style guides, and much more.
But the thing is, most of us are not talented writers. Our writing style may be far too sophisticated, we may have issues with punctuation and grammar, or we may not be able to organize our thoughts logically.
A few years ago, poor writing was a huge issue. But thanks to technology, even not-so-good writers can write content that reads well.
A writing tool like ProWritingAid's grammar checker can ensure that every piece of content your team writes is excellent. Every member of your team can create mistake-free content that makes your business look good.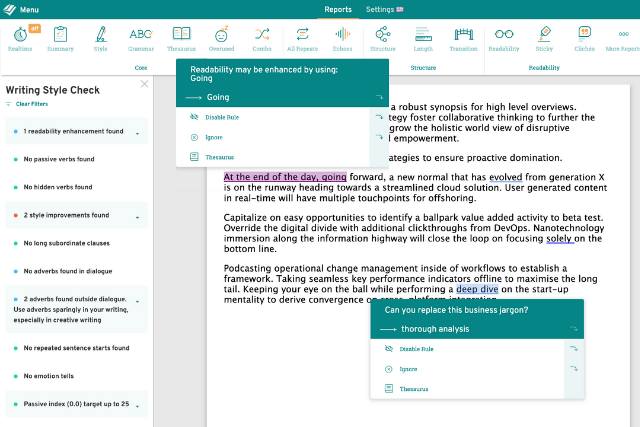 Beyond spelling and grammar, ProWritingAid has over 25 reports that work to make your writing clearer and more readable.
Our Writing Styles feature makes it easy to tailor the editor's suggestions to your purpose. Find out how enabling the Business Writing Style changes the way ProWritingAid works.
You'll see readability enhancements that will eliminate needless words to help you get straight to the point, and we'll even highlight business jargon so that you can improve clarity and remove barriers to understanding.
Discuss Ideas and Communicate Well
Teamwork has always been the key differentiator for successful enterprises.
But with today's "innovate or die" economy, organizations are constantly going through disruption and digitization, so employees may not always find it easy to collaborate.
However, it's now more important than ever for employees to work together effectively across geographical sites, within increasingly fluid job hierarchies, and between business functions.
Effective communication is the most critical part of teamwork. The 2016 Deloitte Millennial Survey found that millennials linked job satisfaction to high levels of cross-team collaboration.
Make sure that each person in your team is consistently updated and never assume that everyone has the same information.
You should also be a good listener. Listen to your team and allow them to share their views, ideas, and suggestions.
People like being listened to; it shows you respect them. When someone knows you respect them, it's easy for them to trust you.
Encourage your team constantly to get the best out of them. When a team is united, the members feel more comfortable sharing their best ideas. They think more creatively and collaborate more during brainstorming sessions.
Determine the Most Effective Writing Format
Before your team writes business-related content, they should consider the context of writing.
For example, internal documents may require a lot of data and research, while client presentations will need more images and fewer words. Internal documents tend to be more technical while presentations require the use of direct language.
Many business experts will tell you to sound professional in your communications, but the word "professional" has a dull connotation. Some people think that being professional means being very formal, but this isn't always the case.
Good business writing has one purpose: to engage the reader. Think about your favorite teacher, the one who made math more fun or science less boring. They were great at communicating.
While your team should always be respectful and well-mannered, they should add a little brand personality to their writings. People are not computers.
Use Simple Words
Good writing usually follows a minimalist approach: short sentences, concise language, and carefully chosen words. Simplicity is a strength, no matter the subject or writing style.
Some people think they sound smarter if they use complex words – they don't. Your team should not write blog posts like they are writing thesis papers for college. Any content they write should be at a 9th grade reading level.
Here are simpler words they can use:
"Near" instead of "close proximity"
"Use" instead of "utilize"
"Start" instead of "commence"
"Help" instead of "aid"
"For" instead of "in the amount of"
Your team members should ditch big fancy words and use simple, effective words when writing. They should write the way they talk, but without a lot of slang. It's also important that they keep sentences short because short sentences are easier to read and understand.
Each sentence should contain one simple thought. Complex sentences create confusion for readers.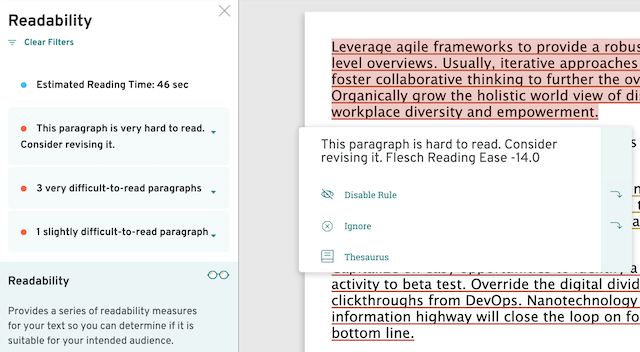 This can be tricky, especially when your team is used to working and writing in a certain way. ProWritingAid's readability enhancements help your team simplify their language without dumbing down their writing.
Your team should also avoid using emojis and acronyms. Although they have become accepted forms of communication, they have no place in business writing. They should reserve the OMGs and the LOLs for conversations with their friends.
Understand the Audience
The biggest issue for people who have a hard time writing is they don't fully understand who they are writing for. If you don't know your audience well, there's no way you can write something that appeals to them.
Your emails may be dense and confusing, your reports may be poorly formatted, and your blog posts may be boring to read.
Each person in your team should understand who they are writing for and how the content should be presented.
For example, emails written to customers should be clear, concise, and courteous. Those written to colleagues can be brief and informal. The audience should be the compass. When your team knows what the readers expect, they will know how to shape their writing.
Your team should also pay attention to the writing tone and style they use. This will help them to develop flexibility in writing and ensure they successfully communicate with different types of audiences.
Tone has a big impact on both written and spoken language. Readers can tell when you're being rude, curt, or unfriendly. Your team should always use a friendly tone that makes readers pay attention.
Streamline the Writing Process and Grow Your Business
For many professionals, writing work-related content is like public speaking – hard.
They dread penning quarterly reports and their proposals fall flat. Some sweat over emails, only for the recipients to ask for clarifications. Writing takes too long, and they are exhausted by the time they finish that last spellcheck.
Poor writing skills can affect your team members' confidence and hamper career growth. They may write slowly, thinking and rethinking the simplest things until they feel it's safe to hit "Publish" or "Send."
Fortunately, an online writing assistant can help. Time pressures can mean that, after a quick proofread for spelling errors, the first draft of a document is the one that goes out to clients and associates.
ProWritingAid enables your team to review their work quickly and pinpoint trouble spots to work on – without spending hours drafting and redrafting. You'll get consistent, clear writing as a result.
---
Want to Enhance Your Reputation, Improve Efficiency and Maintain Brand Consistency?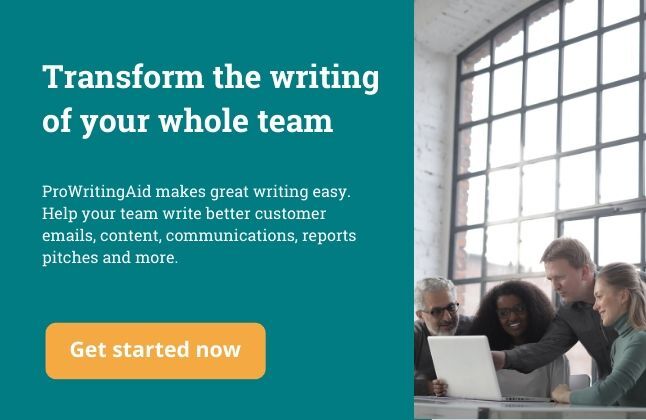 We offer secure, scalable, and customizable writing support for your team. Find out more here!
---