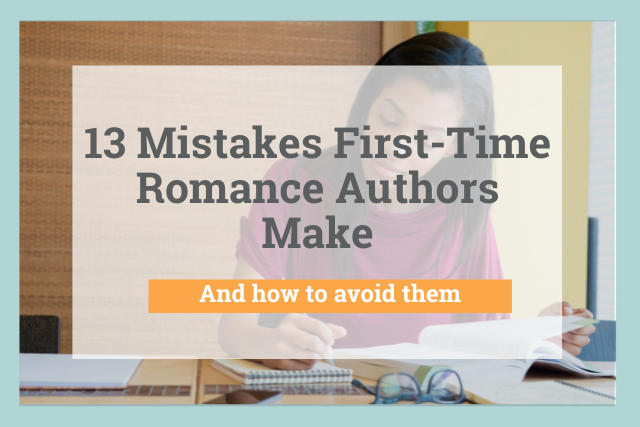 Are you a first-time romance author feeling overwhelmed with everything required to publish your book?
My romance-writing friends and I have got you covered. Take a deep breath, grab your favorite beverage, and heed the advice of these romance authors willing to share the mistakes they made when starting out.
The Writing Process
Mistake #1: No Happily Ever After
I'll be honest, the first romance I wrote was terrible! The characters were dull, they had no emotions (a huge part of romance writing), and worst of all, the story didn't have a "happily ever after" (or simply HEA).
Thankfully, that story wasn't published. While I was annoyed at the time, now I understand why.
With very few exceptions, romance novels need a good HEA. If that story had been published, readers would have skinned me alive!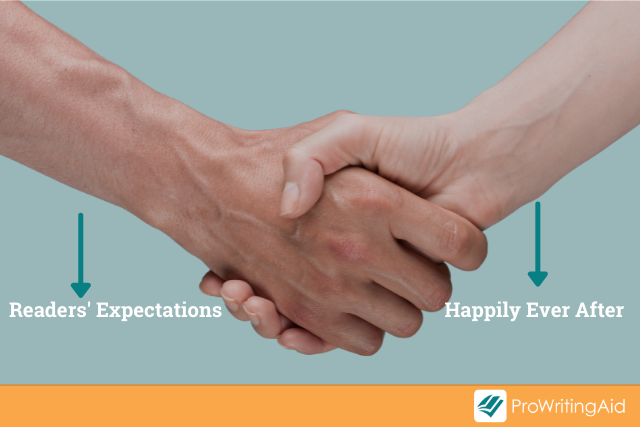 Mistake #2: Not Reading Enough Romance Novels
Sweet Romance author Savannah Adams says:
"One of the biggest mistakes I see new romance authors make is not reading enough books in the genre they want to write before they begin writing. It's really the best way to get a feel for what a potential reader expects to find in a book marketed a certain way. Also, a lot of new writers don't read reviews of other books in their genre. That's another great and easy way to know what readers are actually looking for and how you can make them happy with your own writing."
Reading in your genre should be fun—it's what you want to write, after all. Start with a list of the best romance books of all time to make sure you've covered all bases.
And, really, it's just due diligence. Adequate research is a key element of a good story—which might look like looking into best practices for your chosen genre.
ProWritingAid has a really cool author comparisons feature that allows you to select your favorite author and compare their writing to yours in a number of areas.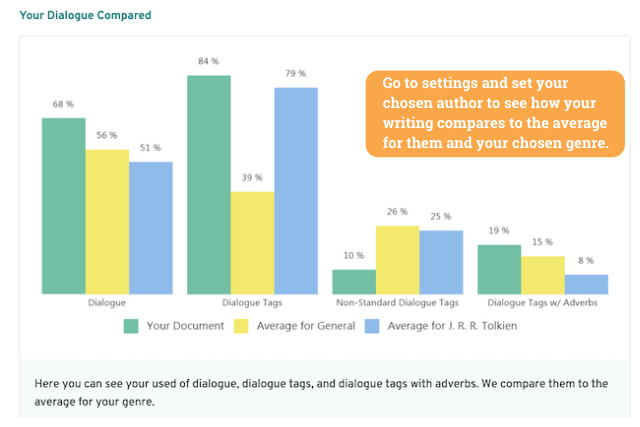 Mistake #3: Not Reading Reviews
Romance readers are a vocal bunch. You can find what they like (and what they don't like) in their reviews. Read the reviews before you start working on your own book.
Mistake #4: Winging It
Jennifer Rebecca says she made the mistake of winging the first book.
"I wanted to see if I could do it before I jumped in head first and spent all the money. I didn't have a professional editor, I didn't plot, I didn't plan, I just held my breath and published two novellas. Fast forward two years and they've both been re-edited and are now full-length novels that I'm proud of."
Luckily, a grammar checker like ProWritingAid can help with this. It's your editing tool, grammar checker, and writing coach all in one convenient place. From the over 20+ reports to its Writer's Resources Library, it has everything you need to get you writing and editing like a pro.
Mistake #5: Not Accepting Critical Feedback
Corinne Michaels, New York Times Bestselling Author, says she wasn't open to critical feedback in the beginning. It's tough to accept criticism of your work, but it's how you grow as an author.
Mistake #6: Skipping the Self-Edit
We all know that your first draft isn't the one that will end up in the hands of readers. It has to go through several rounds of editing and revision first, and the first of those is the self-edit.
Sending your book off to an editor is vital but expensive. You want to make sure you are getting the most valuable feedback in the shortest amount of time.
If your editor has to fight their way through spelling and grammar mistakes, clichés, overly-complex sentences, pacing issues, and repeated words and phrases, they'll have less time to focus on story arc, characterization, and plot.
You can remove these obstacles by using ProWritingAid. Our editing tool has over 25 reports all based around suggestions that a real copy-editor would make. You'll find the tools you need to approach your manuscript like a reader and build an editing plan.
Award-winning author Mary Adkins "learned the hard way what a toll not knowing how to revise properly can take on your life and your writing process" after rewriting her first novel nine times.
You can find out how she refined her revision process using self-editing in the video below:
Mistake #7: Not Asking for a Sample Edit
Leaona Luxx learned a tough lesson about editors in the beginning.
"I made the mistake of not asking for an example of their work using mine. There are a ton of editors out there and you truly get what you pay for. Spare no expense!! I've even recently had all of my backlist edited again because I learned the editor I had been using for years only listened to my manuscript to edit it... Call me old-fashioned, but I want eyes on it!"
Mistake #8: An Overly Complicated Plot
Evie Graham says she started out "trying to do too much in one story." Plots that are too complicated aren't good.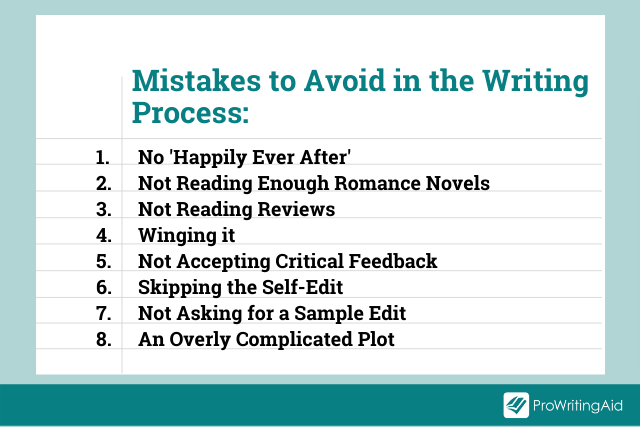 Marketing Yourself and Growing Your Readership
If you intend to write romance novels as a career, you need to market yourself and find readers. It's easy to make marketing mistakes if you've never had to promote yourself.
Mistake #9: Covers Not Matching Your Genre
Over to Savannah Adams again for this one.
"The other mistake I've seen is people trying to get too creative with their covers. Covers are packaging, not a piece of art. If all the other books in your genre have pictures of hot guys on the cover and yours has a vector or a woman with a cat on her shoulder, it confuses the reader and they will pass right by your book. The cover needs to make it easy for a reader to know at a glance what they will be getting if they pick up your book."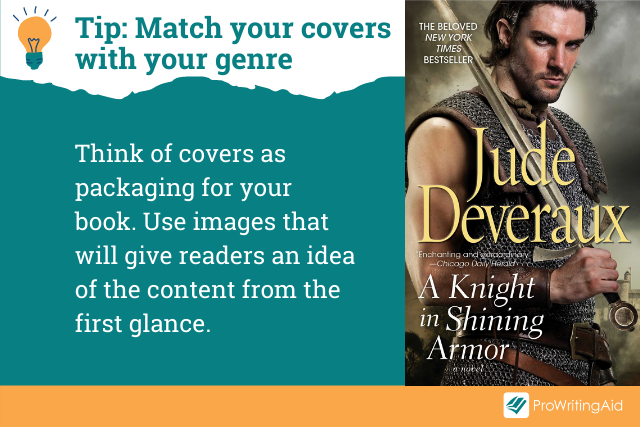 Mistake #10: No Website or Newsletter
Two key places where you can grow your readership are your website and newsletter. Not having either of these was a mistake Angela Nicole made in the beginning.
Mistake #11: Not Being Prepared to Capture Readers
You'll also want to consider when you plan to release your novel so marketing channels like your website and newsletter will be ready to go before your book comes out.
Victoria Pinder, USA Today Bestselling Author, thought she could set everything up later when her book came out.
"I should have seriously tackled the website, having a newsletter sign-up, and done some work before ever releasing to the world."
Business Building
Being an author means you're a business owner, regardless of how you publish. Most businesses fail in the first three to five years because of cash-flow problems, so it's worth considering the business side of things.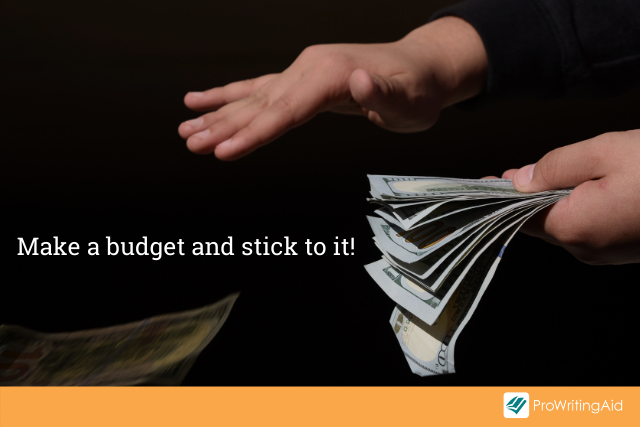 Mistake #12: Not Setting a Budget and Sticking to It
Michelle Fernandez says,
"I just did my taxes yesterday, and I obviously did not budget my spending with this writing gig... use a budget!"
Not setting a budget and sticking to it was a mistake USA Today bestselling author Grahame Claire also made, while Lyssa Cole says her beginner mistakes were "definitely editing and budgeting!"
Mistake #13: Not Being a Book Ahead
To be a successful business owner, you need to strategize. It's important to consider your books and when you will publish them.
International bestselling author Anne Mercier says, "It's always best to be a book ahead." The mistake she made in the beginning was not starting book two before book one was published.
Brittney Olson agrees on the importance of being a book ahead.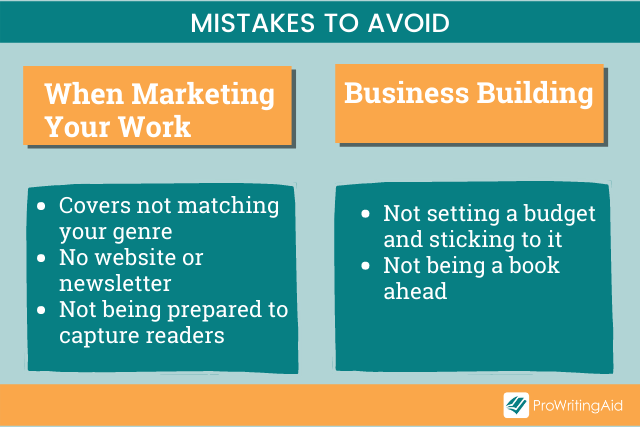 Taking Action
Romance author Cary Hart says, "I made so many. So so so many mistakes." She graciously provided a list of all the things she wished she had done differently with her first three-book series.
It provides a great summary of the mistakes above, and I've re-framed it as things to consider doing as a first-time romance author:
Complete two of the three books in a series before release
Research covers
Find an editor who is qualified and have them edit a sample of your book before hiring them
Research, research, research
Come up with a marketing plan
Save money to put that marketing plan into action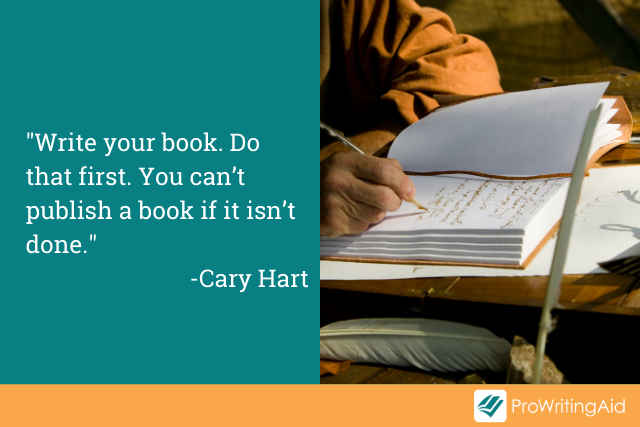 It's okay to write a book and hold it until you have the funds to release it properly. If you do this, then you should make money off your book to fund the next one.
Cary Hart's final piece of advice is, "Write your book. Do that first. You can't publish a book if it isn't done." Well said, Cary!
Thank you to the amazing romance authors who contributed the mistakes they made when starting out.
As a first-time romance author, I hope you can take these examples and apply them to your own author career. Best of luck on your romance-writing journey!
---
Are you prepared to write your novel? Download this free book now: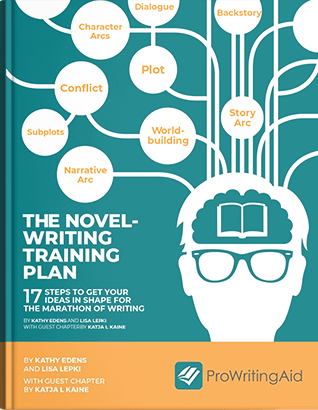 So you are ready to write your novel. Excellent. But are you prepared? The last thing you want when you sit down to write your first draft is to lose momentum.
This guide helps you work out your narrative arc, plan out your key plot points, flesh out your characters, and begin to build your world.
---