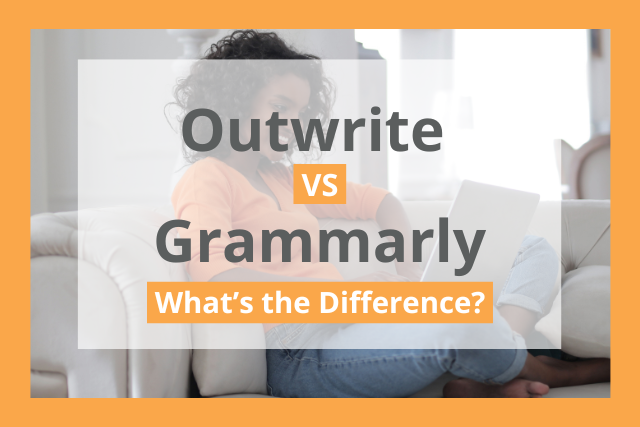 Today's online world abounds in communication: emails, articles, social media posts, and messaging. Online editing tools help you communicate more efficiently and effectively.
Outwrite and Grammarly are two AI-powered online grammar checkers designed to help you edit as you write to improve clarity.
So which tool is better for you?
In this article, we'll give you an overview of the features that each grammar checker offers and help you decide which one is worth your money.
What Is Outwrite?
Outwrite is an editing tool that helps writers improve text with what they call "eloquence." It makes sure the text flows for readability and the vocabulary is precise rather than vague.
Outwrite uses artificial intelligence (AI) to spot writing corrections as you write.
In Outwrite, suggestions appear as highlights. You click on the suggestion to implement it in your text, and the editor immediately jumps to the next suggestion.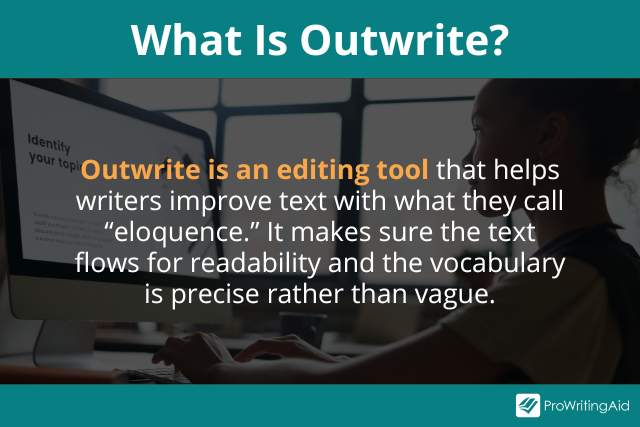 In the free version, you get access to grammar and spelling suggestions. Outwrite's style and structure feedback, including synonyms and some comma suggestions, is reserved for premium members. You'll still see the highlights for them, but not the suggested change.
In addition to basic suggestions, the free version offers five sentence-rewrite suggestions per month. You can highlight any sentence to see Outwrite's suggestions.
You can get more features with the premium subscription. Outwrite's Pro features include:
Style improvements: suggestions for more eloquent wording
Structural suggestions: modifications to sentence word order or changes from passive to active voice
Sentence rewriting (unlimited): choices for diction and fluency
Plagiarism checks (50/month): checks the originality of your document by searching and comparing it to publicly available text on the internet
The Pro version centers on helping writers create streamlined prose with a click. The suggestions offer grammar and syntax choices designed to create text that is easy for your audience to understand.
Outwrite's suggestions are helpful, and the rephrasing tool is useful for when you can't pinpoint how to make your writing clearer. It's all about helping you improve your style and readability.
What Is Grammarly?
Grammarly is an AI-powered writing assistant that provides a wide range of editing tools.
You don't need to copy and paste your writing into the app because it proofreads for you in real time as you type in your preferred word processor.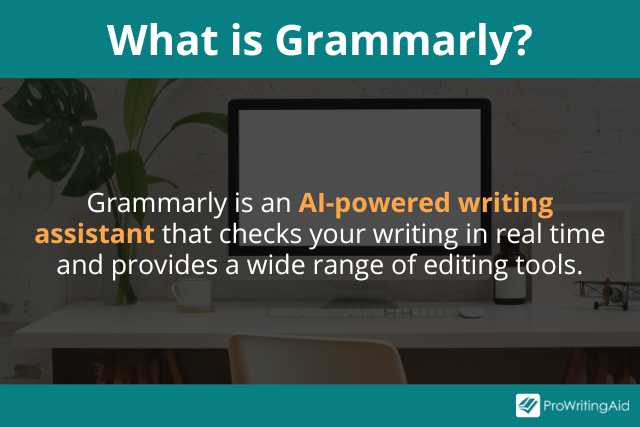 Grammarly offers style recommendations in addition to checking for spelling and grammar issues. It draws attention to overly wordy sentences, improper commas, repeated words, and other similar flaws.
Grammarly includes the following features:
Spell check: checks for spelling errors and lets you add words to a custom personal dictionary if needed
Grammar check: looks for common grammar and punctuation mistakes
Tone adjustments: helps you strike the right tone in your writing
Plagiarism checker: compares your writing to other web pages and articles to give you a plagiarism score
Readability score: looks at word length, sentence length, and vocabulary choices to create a readability score from 1 to 100
Writing style suggestions: provides word choice suggestions based on the intended audience and tone of your work
Writing assistant: includes an AI-powered writing assistant that proposes new suggestions for you
Grammarly's suggestions can make sure your writing is error-free. It catches more mistakes than Outwrite and does a better job cleaning up your work, though it doesn't help as much with stylistic choices.
Key Features of Outwrite vs Grammarly
So, what are the strengths and weaknesses of each tool?
Here's our assessment of how Outwrite and Grammarly stack up in five key categories: grammar checker, plagiarism checker, readability assessments, usability, and other features.
Grammar Checker
It's no surprise that Grammarly wins as a grammar checker, given its name. Grammarly is great at checking grammar for all types of writing, from blog posts to academic essays.
With Outwrite, you can correct basic grammar and spelling errors and identify where you could use more precise wording to improve style and simplicity.
Both Grammarly and Outwrite can catch basic errors, but Grammarly is more accurate when it comes to grammar errors, while Outwrite is more accurate when it comes to style choices.
Plagiarism Checker
Grammarly's plagiarism checker lets you detect potentially plagiarized content and replace it with more original content. The premium plan lets you do unlimited plagiarism checks.
Outwrite's plagiarism checker lets you check up to 50 documents per month for plagiarism. This might not be enough if you're a teacher working with a lot of students, but for normal writers, it's plenty.
Readability Assessments
Grammarly gives you a readability score based on your word length, sentence length, and vocabulary choices, so you can see how readable your writing is.
Outwrite is all about improving readability. It focuses on this aspect of your writing more than Grammarly does.
For example, Outwrite has a grade level detection tool that shows you how complex your writing is. If you're writing a textbook for 6th graders, but Outwrite says your writing is more suitable for 9th graders, you can adjust accordingly.
Usability
Both Outwrite and Grammarly integrate with many common software options. You can access these tools in your internet browser, Microsoft Word, and Google Docs, just to name a few.
As a result, they both tie on usability, since you can easily integrate them into your writing process.
Other Features
Grammarly includes a tone detection tool that can tell you how your content sounds, such as formal, confident, or optimistic. For example, if you want to write a cover letter that doesn't feel too informal, you can use Grammarly to help adjust your tone.
Outwrite has a feature that lets you restructure your sentences by double-clicking on them. You can set your writing goals, such as increasing word count or increasing fluency, and ask Outwrite to rewrite the sentence for you.
Pricing of Outwrite Pro and Grammarly Premium
Both editing tools offer you more features as part of their premium subscriptions.
The Pro version of Outwrite has both monthly and annual payment plans. The monthly plan is priced at $24.95 a month. You'll receive a significant saving by paying the annual subscription of $9.95/month billed annually at $119.40.
Team subscriptions receive a further discount per user. The monthly billing is $14.95 per user, and annual billing is based on $7.95 per user per month, billed annually at $95.40 per user. Either way, team pricing comprises a significant saving for businesses.
Grammarly offers three individual payment plans for its premium version. The monthly plan is priced at $30, the quarterly plan is priced at $20/month, and the annual plan is priced at $12/month.
Just like with Outwrite, it's a lot more cost-effective to invest in Grammarly's annual plan, instead of paying one month at a time.
Why ProWritingAid Is the Best Alternative
If you're choosing between Grammarly and Outwrite, you should also consider ProWritingAid.
ProWritingAid is more than just a basic grammar checker. In addition to looking for mistakes, it also makes in-depth suggestions that can help you polish your writing in more sophisticated ways.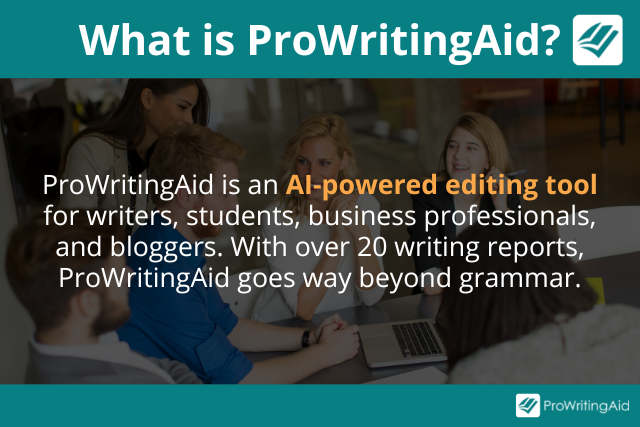 ProWritingAid comes with over 20 reports you can use to evaluate your writing. You can improve the style, structure, and readability of your work in just a few clicks.
Here are a few of ProWritingAid's reports:
Repeated words
Close echoes
Vague and abstract words
Commonly overused language
Sticky sentences
Sentence structure visualizations

A full summary of your document to help you plan your editing

...and more!
If you're unsure what a suggestion means, or why you're being told to change something, ProWritingAid comes with in-tool learning resources to help you out. Just click on the orange "i" icon on a ProWritingAid suggestion to learn more.
Both Grammarly and Outwrite only offer automatic correction without added learning resources. With ProWritingAid, you can learn about the issue and improve your writing skills over time.
Furthermore, ProWritingAid offers more integrations than any other writing app:
Web Editor
Open Office, Rich Text, HTML, and Markdown
Scrivener and Final Draft docs
MS Word Add-In for Mac and Windows
Google Docs Add-On
Browser Extensions for Chrome, Firefox, Safari, and Edge
Custom API solutions
This means you only need one tool to help you improve your writing wherever you write.
Best of all, ProWritingAid's 14-day free trial doesn't require you to enter your payment details. When the trial ends, you won't be charged automatically.
Conclusion on Outwrite vs Grammarly
Ultimately, both Outwrite and Grammarly are useful editing tools. Grammarly is better for fixing spelling and grammar errors, while Outwrite is better for improving readability and style.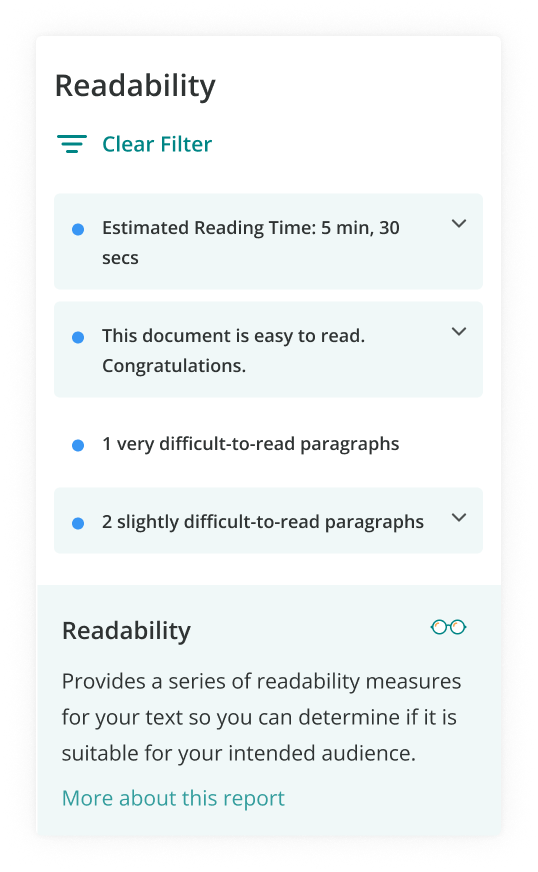 ProWritingAid provides even more advanced analysis than either Grammarly or Outwrite. If you are looking for an online editing tool that makes your writing shine, ProWritingAid is the logical choice.
Good luck, and happy writing!
---