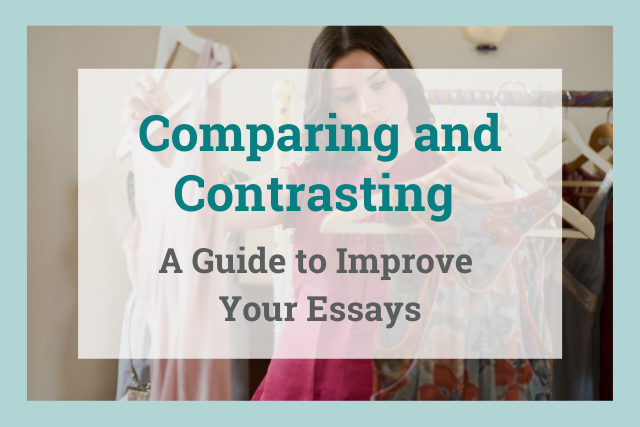 Essays that require you to compare and contrast two or more subjects, ideas, places, or items are common.
They call for you to highlight the key similarities (compare) and differences (contrast) between them.
This guide contains all the information you need to become better at writing comparing and contrasting essays.
This includes: how to structure your essay, how to decide on the content, and some examples of essay questions.
Let's dive in.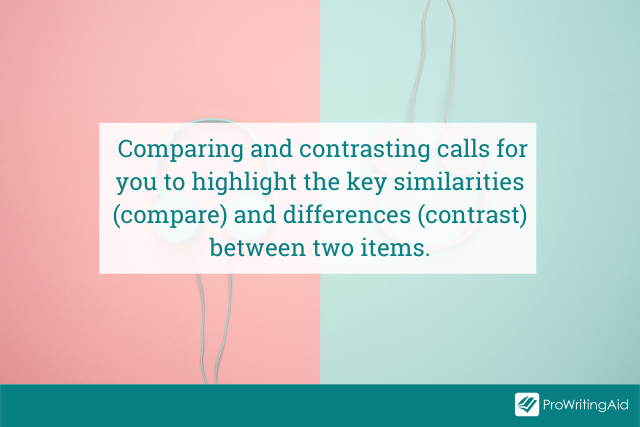 What Is Comparing and Contrasting?
At their most basic, both comparing and contrasting base their evaluation on two or more subjects that share a connection.
The subjects could have similar characteristics, features, or foundations.
But while a comparison discusses the similarities of the two subjects, e.g. a banana and a watermelon are both fruit, contrasting highlights how the subjects or items differ from each other, e.g. a watermelon is around 10 times larger than a banana.
Any question that you are asked in education will have a variety of interesting comparisons and deductions that you can make.
Is Compare and Contrast the Same as Similarities and Differences?
Compare is the same as similarities.
Contrast is the same as differences.
This is because comparing identifies the likeness between two subjects, items, or categories, while contrasting recognizes disparities between them.
When you compare things, you represent them regarding their similarity, but when you contrast things, you define them in reference to their differences.
As a result, if you are asked to discuss the similarities and differences between two subjects, you can take an identical approach to if you are writing a compare and contrast essay.
What Is the Purpose of Comparing and Contrasting?
In writing, the purpose of comparing and contrasting is to highlight subtle but important differences or similarities that might not be immediately obvious.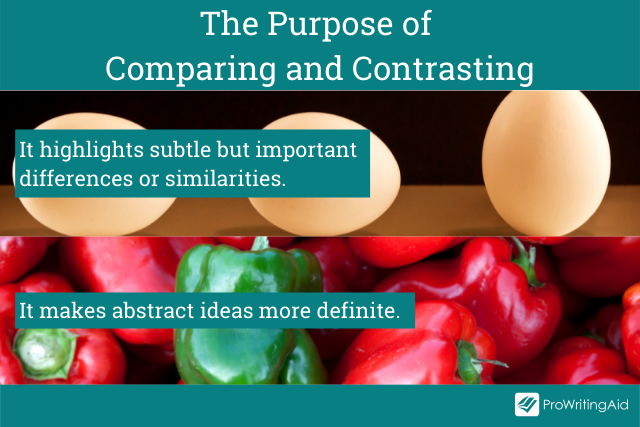 By illustrating the differences between elements in a similar category, you help heighten readers' understanding of the subject or topic of discussion.
For instance, you might choose to compare and contrast red wine and white wine by pointing out the subtle differences. One of these differences is that red wine is best served at room temperature while white is best served chilled.
Also, comparing and contrasting helps to make abstract ideas more definite and minimizes the confusion that might exist between two related concepts.
Can Comparing and Contrasting Be Useful Outside of Academia?
Comparing enables you to see the pros and cons, allowing you to have a better understanding of the things under discussion. In an essay, this helps you demonstrate that you understand the nuances of your topic enough to draw meaningful conclusions from them.
Let's use a real-word example to see the benefits. Imagine you're contrasting two dresses you could buy. You might think:
Dress A is purple, my favorite color, but it has a difficult zip and is practically impossible to match a jacket to.
Dress B is more expensive but I already have a suitable pair of shoes and jacket and it is easier to move in.
You're linking the qualities of each dress to the context of the decision you're making. This is the same for your essay. Your comparison and contrast points will be in relation to the question you need to answer.
Can You Compare and Contrast Any Two Items?
Comparing and contrasting is only a useful technique when applied to two related concepts.
To effectively compare two or more things, they must feature characteristics similar enough to warrant comparison.
In addition to this they must also feature a similarity that generates an interesting discussion. But what do I mean by "interesting" here?
Let's look at two concepts, the Magna Carta and my third grade poetry competition entry.
They are both text, written on paper by a person so they fulfil the first requirement, they have a similarity. But this comparison clearly would not fulfil the second requirement, you would not be able to draw any interesting conclusions.
However, if we compare the Magna Carta to the Bill of Rights, you would be able to come to some very interesting conclusions concerning the history of world politics.
How Do You Compare and Contrast in Writing?
To write a good compare and contrast essay, it's best to pick two or more topics that share a meaningful connection.
The aim of the essay would be to show the subtle differences or unforeseen similarities.
By highlighting the distinctions between elements in a similar category you can increase your readers' understanding.
Alternatively, you could choose to focus on a comparison between two subjects that initially appear unrelated.
The more dissimilar they seem, the more interesting the comparison essay will turn out.
For instance, you could compare and contrast professional rugby players with marathon runners.
Can You Compare and Contrast in an Essay That Does Not Specifically Require It?
As a writer, you can employ comparing and contrasting techniques in your writing, particularly when looking for ideas you can later apply in your argument.
You can do this even when the comparison or contrast is not a requirement for the topic or argument you are presenting. Doing so could enable you to build your evaluation and develop a stronger argument.
Note that the similarities and differences you come up with might not even show up in the final draft.
While the use of compare and contrast can be neutral, you can also use it to highlight one option under discussion. When used this way, you can influence the perceived advantages of your preferred option.
As a writing style, comparing and contrasting can encompass an entire essay. However, it could also appear in some select paragraphs within the essay, where making some comparisons serves to better illustrate a point.
What Should You Do First?
Before you compare two things, always start by deciding on the reason for your comparison, then outline the criteria you will use to compare them.
Words and phrases commonly used for comparison include: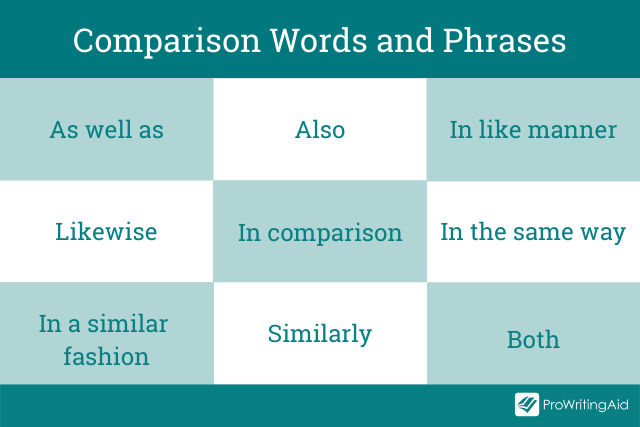 In writing, these words and phrases are called transitions. They help readers to understand or make the connection between sentences, paragraphs, and ideas.
Without transition words writing can feel clumsy and disjointed making it difficult to read. ProWritingAid's transition report highlights all of a documents transitions and suggests that 25% of any sentences in a piece include a transition.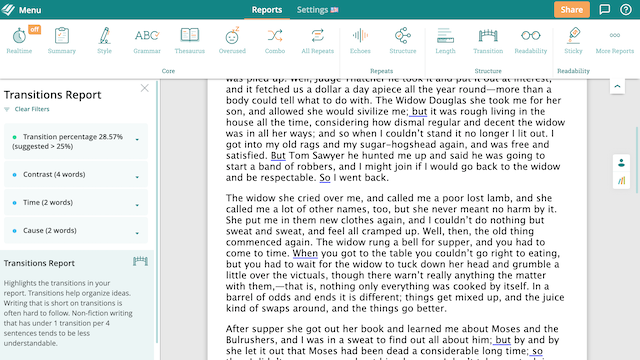 Sign up for a free ProWritingAid account to use the Transitions Report.
What Are Some Comparing and Contrasting Techniques?
So, how do you form all of this into a coherent essay? It's a good idea to plan first, then decide what your paragraph layout will look like.
Venn diagrams are useful tool to start generating ideas. The, for your essay, you need to choose between going idea by idea and going point by point.
Using a Venn Diagram
A Venn diagram helps you to clearly see the similarities and differences between multiple objects, things, or subjects.
The writing tool comprises two, or more, simple, overlapping circles in which you list down the things that are alike (within the overlapping area) and those that differ (outside the overlapping area).
It's great for brainstorming ideas and for creating your essay's outline. You could even use it in an exam setting because it is quick and simple.
Going Subject by Subject
Going subject by subject is a structural choice for your essay.
Start by saying all you have to say on the first subject, then proceed to do the same about the second subject.
Depending on the length of your essay, you can fit the points about each subject into one paragraph or have several sections per each subject, ending with a conclusion.
This method is best for short essays on simple topics. Most university-level essays will go point by point instead.
Going Point by Point
Going point by point, or alternating, is the opposite essay structure from going subject by subject. This is ideal when you want to do more direct comparing and contrasting. It entails discussing one comparison point at a time. It allows you to use a paragraph to talk about how a certain comparing/contrasting point relates to the subjects or items you are discussing.
Alternatively, if you have lots of details about the subject, you might decide to use a paragraph for each point.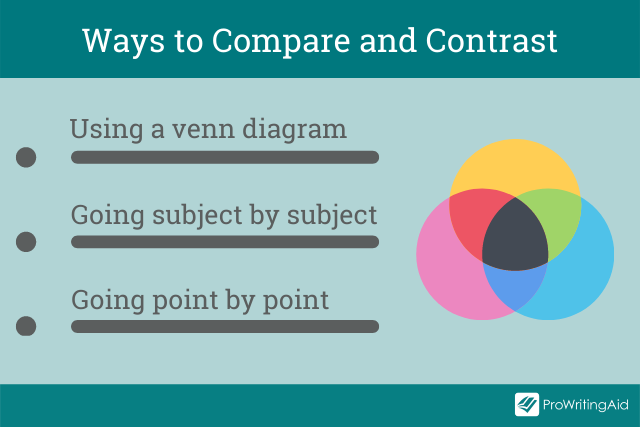 How Do You Compare and Contrast in College Level Writing?
An academic compare and contrast essay looks at two or more subjects, ideas, people, or objects, compares their likeness, and contrasts their differences.
It's an informative essay that provides insights on what is similar and different between the two items.
Depending on the essay's instructions, you can focus solely on comparing or contrasting, or a combination of the two.
Examples of College Level Compare and Contrast Essay Questions
Here are eleven examples of compare and contrast essay questions that you might encounter at university: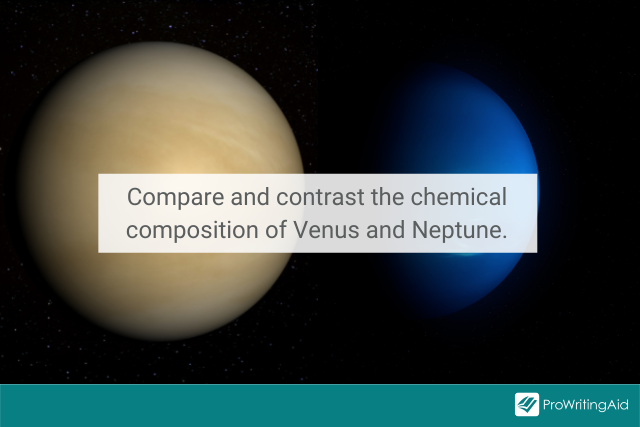 Archaeology: Compare and contrast the skulls of homo habilis, homo erectus, and homo sapiens.
Art: Compare and contrast the working styles of any two Neoclassic artists.
Astrophysics: Compare and contrast the chemical composition of Venus and Neptune.
Biology: Compare and contrast the theories of Lamarck and Darwin.
Business: Compare and contrast 2 or more business models within the agricultural industry.
Creative writing: Compare and contrast free indirect discourse with epistolary styles.
English Literature: Compare and contrast William Wordsworth with Robert Browning.
Geography: Compare and contrast the benefit of solar panels with the benefit of wind turbines.
History: Compare and contrast WWI to WWII with specific reference to the causes and outcomes.
Medicine: Compare and contrast England's health service with America's health service.
Psychology: Compare and contrast the behaviorist theory with the psychodynamic theory.
The Four Essentials of Compare and Contrast Essays
So, the key takeaways to keep in mind are:
Have a basis for comparison. The two things need to have enough in common to justify a discussion about their similarities and disparities.

Don't go back and forth when using the block method. The best way to write your essay is to begin with a paragraph discussing all the facets of the first topic. Then, move on to another paragraph and talk through all the aspects of the second subject.

You can use both alternating and blocking techniques. Combining the two approaches is also an option. You can apply the alternating method in some paragraphs, then switch and use the block method. This method will help you offer a much deeper analysis of the subjects.

Have a reason for comparing the two things. Only select the points of comparison that resonate with your purpose.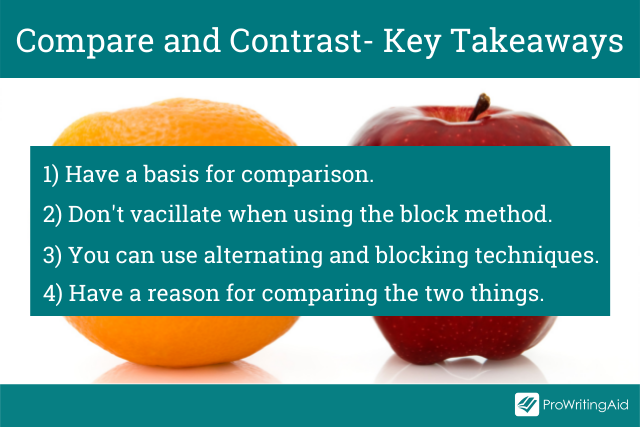 What Can You Learn from a Compare and Contrast Essay?
Comparing and contrasting are essential analytical skills in academic writing. When your professor issues you with such an essay, their primary goal is to teach you how to:
Engage in critical thinking
See and make connections between words or ideas
Move beyond mere descriptions or summaries to developing interesting analysis
Get a deeper understanding of the subjects or items under comparison, their key features, and their interrelationships with each other.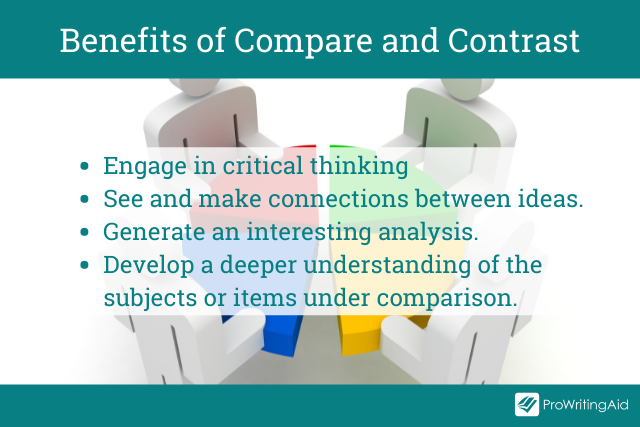 Ultimately, your essay should enlighten readers by providing useful information.
---
Want to use ProWritingAid with your classroom? Download this free book now: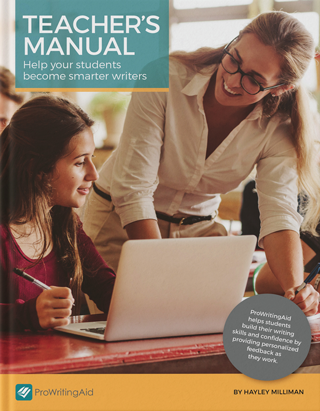 Editing technology like ProWritingAid provides immediate, personalized feedback that will help students to better understand grammar and writing techniques.
In this guide, we walk you through exactly how to use ProWritingAid in your classroom and give you tools and templates for creating a rigorous, effective independent writing practice with your students.