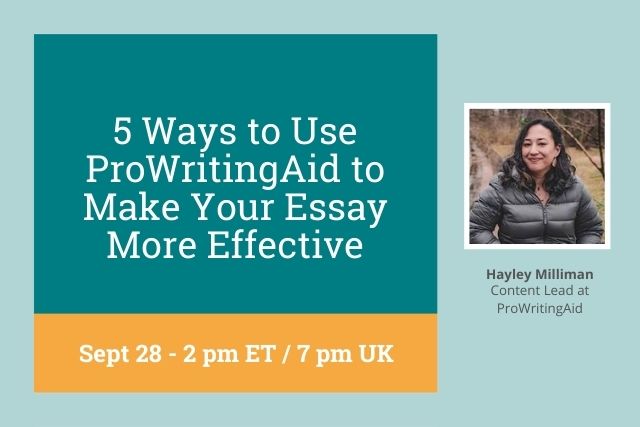 Are your instructors always giving you the same feedback on your essays? Maybe your topic sentences lack clarity and need sharpening up. Or maybe you're making the same grammar mistakes repeatedly.
We know it can be hard to know where to start when you're trying to improve your essay writing skills, so we're inviting you to join former teacher, Hayley Milliman, for a session on all things essays.
September 28: 5 Ways to Use ProWritingAid to Make Your Essay More Effective
In this webinar, you'll find out why you should never submit your first draft, and why editing your essay is so important. We'll show you how you can use a free ProWritingAid account to cut out unnecessary fluff from your essays to make them more effective. You'll learn how to construct your arguments and make sure that every word you use builds towards a meaningful conclusion.
Hayley Milliman, Educator and ProWritingAid's Content Lead
Hayley is thrilled to be ProWritingAid's Content Lead, as it gives her an excuse to think deeply about words every single day. Prior to joining ProWritingAid, Hayley spent a number of years as an elementary school teacher, which was a crash course in learning how to entertain an indifferent audience. These days, she puts her storytelling skills to use writing blog articles and working on her first novel.
Can't make the session?
No problem. We record all webinars and send out a replay the following day. So, even if you are not able to make this date/time, it's still worth registering to get the recording.
---
We host dozens of trainings for writers. Check out our upcoming webinars here, or watch some of our previous trainings here.
---