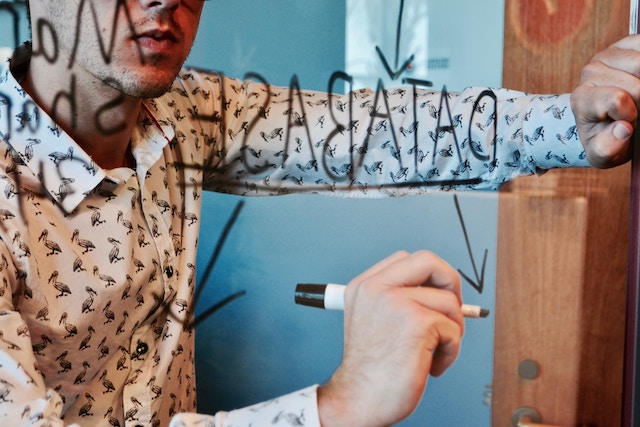 Writing offers no shortage of brainstorming opportunities. That's why mind mapping apps can be so important.
What is mind mapping, you ask? We're going to answer that question and more in this post.
First, What is the Mind Mapping Method?
Put simply, mind mapping is the act of visualizing a brainstorm. This is often done by starting with a single idea in the center of a piece of paper, then expanding more thoughts from there. Or, in this case, replicating that experience with an app.
Mind mapping is effective for both individual and team brainstorming purposes. It's a great way to build on ideas and make connections that aren't immediately obvious.
For example, many books start with a simple idea. Let's say yours is the main character and she's a veterinarian. From that single idea, we can go in many directions. Here's a simple thought progression:
Vets treat animals
Usually cats or dogs
What about something bigger?
Maybe this vet treats a monkey
Better yet, maybe this is Bigfoot's vet
With this method, we've gone from a character with an occupation to a potential story. However, as you can see, this is a pretty simple thought progression. For anything more complex, we'll need a more complex piece of software. That's where mind mapping comes in.
How Do You Make a Mind Map?
With these apps! Here are five of our favorites.
A nifty app for mind mapping, and it's free. What's more, FreeMind is available on all kinds of operating systems, including Windows, Mac, and Linux.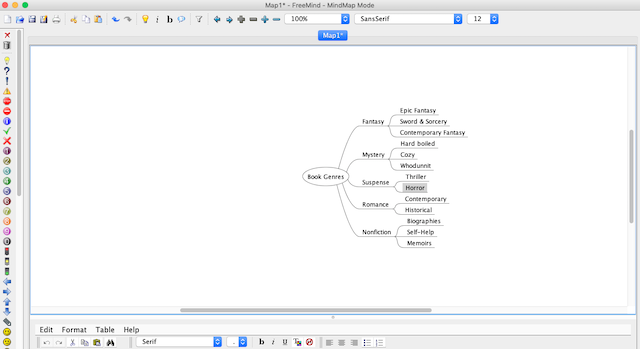 FreeMind allows creators to change colors, line sizes, icons, and more. You can even embed HTML elements or dates into your maps. The best part? It's an intuitive, easy-to-use interface.
However, one of the bummers of FreeMind is that it doesn't do much in the way of online collaboration. If you're in the same room with a collaborator you can of course work on the same outline. But if you'd like to work together online, FreeMind can't do it.
Pros: Free, easy to use
Cons: No online collaboration
Similar to FreeMind, Freeplane is a free, open-source app. Download it to your computer, open your mind map, and start brainstorming ideas.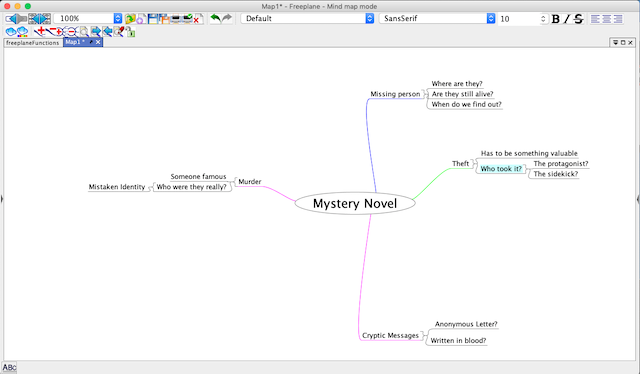 One improvement over FreeMind is the ability to add notes to idea cards in the sidebar. This allows you to go back and flesh out ideas. Furthermore, FreeMind exports in a variety of file types including .html, .jpg, .xml, and more. That's a nice option to ensure you can access your mind map later.
This might just be a personal note, but I don't like the look of Freeplane quite as much as FreeMind. I usually wouldn't weight that so heavily, but a big part of mind mapping is the visual element. Therefore, I'll have to dock some points for that. Also, like FreeMind, Freeplane doesn't have online functionality.
Pros: Free, numerous file outputs
Cons: Doesn't look great, no online collaboration
Now we're getting into the paid apps.
Coggle follows a Fremium model, which means some features are available for free while the best features are only available to paying customers. That might sound like a bummer at first, but it's true what they say—you get what you pay for.
Coggle is an excellent app. It looks sharp, it's easy to use, and it doesn't require a download to get started. Plus, unlike our two previous apps, its online placement allows multiple users to edit the same mind map from different locations. That's ideal for anyone who's co-writing a novel.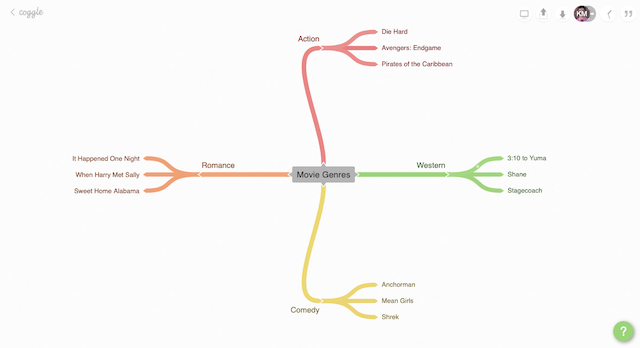 And now for the part about the pricing, which I'm sure you've been waiting for. On Coggle's free plan, you get your first three mind maps saved to their private servers, which means no one else can see them. You can create more, but each mind map beyond the third is publicly available for anyone to see.
Moving up to the $5 per month range gives you unlimited mind maps that are always saved privately. And then at $8 a month, you get bulk exports and consolidated billing for large teams.
So, as you can see, it's a great app, but it's going to cost you something to use it.
Pros: Beautiful layout, intuitive controls, online collaboration
Cons: It's not free!
Here's another Fremium option. Mindomo gives you your first three mind maps free. Their paid plans start at $36 for 6 months and scale up to $142 for 6 months. Expensive, yes. But it's well worth the cost.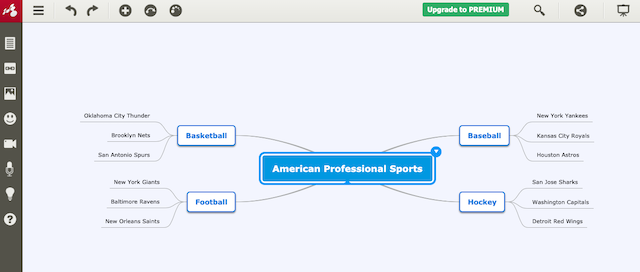 In addition to a smooth interface and clean design, Mindomo offers mobile apps for iOS and Android, templates for your mind maps, and even option to record notes using audio or video. That last feature is rare, so that's definitely a selling point for Mindomo. Finally, it also integrates with Google Suite and Microsoft Office. Best of all, our browser extensions work with it, too!
In my opinion, the key disadvantage here is the cost. It is pretty pricey, so just be willing to spend if it's what you want.
Pros: Integrations, mobile apps, and audio/video notes
Cons: Not only not free—pricey!
You might think of Prezi only as a presentation tool, but it's actually a nice bit of mind mapping software as well. Just check out the screenshot below: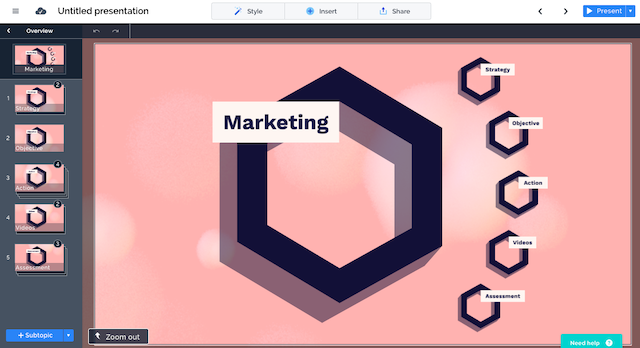 This page shows the template needed for a mind map. I especially like Prezi's approach because it's built for exhibition. If you want to show your mind map off to a crowd, this is the perfect way to do it. With Prezi, you can click around the mind map to zoom in on particular thoughts. You can also zoom far away to get a big-picture perspective. It's by far the best-looking of the apps listed here.
That said, Prezi is also the most expensive. There's no free plan, so prices start at $7 a month. A great tool, but that's reflected in the cost.
Pros: Gorgeous layouts
Cons: The most expensive yet!
Which Is Right for You?
All these mind mapping tools offer free trials, so if you like the sound of a few, take them for a spin and see which you like best. Hope that helps!
---