If you're a Mac user and new to ProWritingAid or are slavishly devoted to the online editor, there's a better way. With every premium license, you can download a nifty desktop app that works with Word, Scrivener, Text, Rich Text Format, HTML, Markdown, or Open Document files. You can run all the same reports you get in the online editor directly on your desktop. Let's take a look.
Getting started
If you haven't already, first download the Mac desktop app from ProWritingAid.com.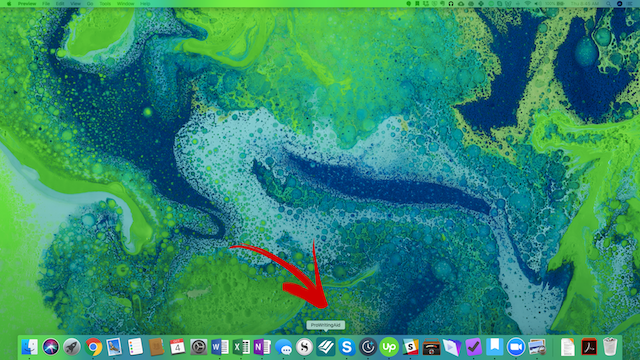 You may want to keep the desktop app in your Mac's dock so it's always there when you need it. The beauty of working with the desktop app is its simplicity: you can either open an existing file in one of the seven different extensions covered...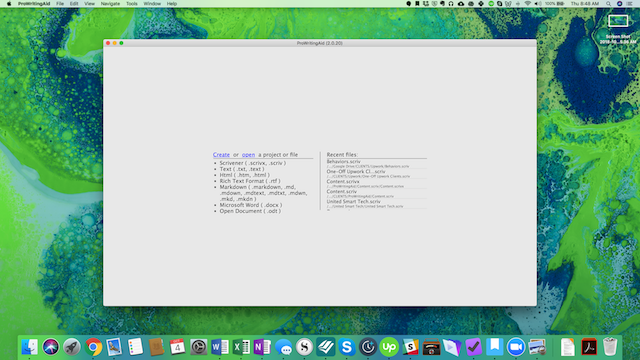 ...or you can create a new HTML, Markdown, or Text file.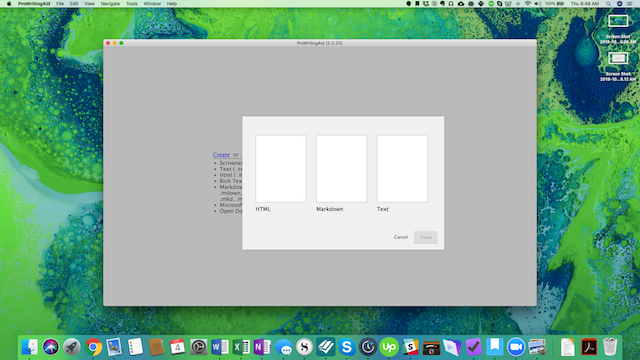 Working in the app
Regardless if you create your file directly in the app or open an existing file, you have the same options to run any and all reports. Here's what this article looks like when I open my Scrivener file in the desktop app: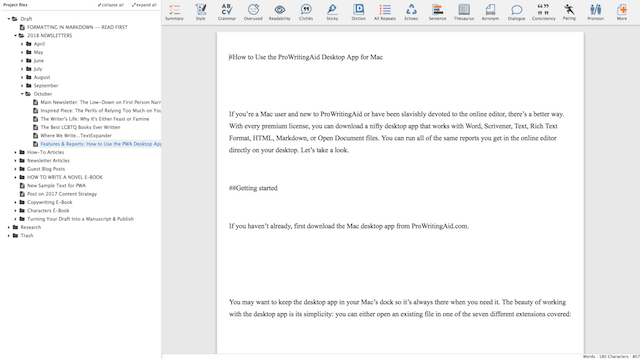 Notice how you have access to all your folders and files in your Scrivener project in the same left-hand menu. You can run any ProWritingAid report by simply clicking on its icon in the top menu bar. Here's what the Style Report looks like: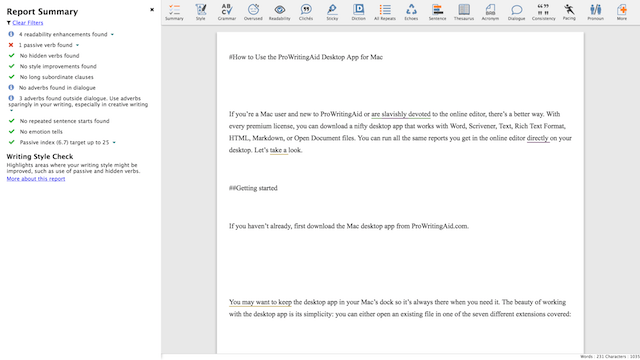 Three things to note
When you make changes in the desktop app, don't forget to click "Save." That syncs the changes to your original file.
The desktop app keeps your original formatting so you need not worry about losing it. Even if it looks different in ProWritingAid itself, your formatting is preserved in the original doc.
The desktop app still needs an internet connection to work.
Final thoughts
The desktop app is more convenient than going to the online editor and still gives you all the power you want and expect from ProWritingAid. And it works with all popular file types to maximize your writing. Regardless of where you write, ProWritingAid likely has an app for that.