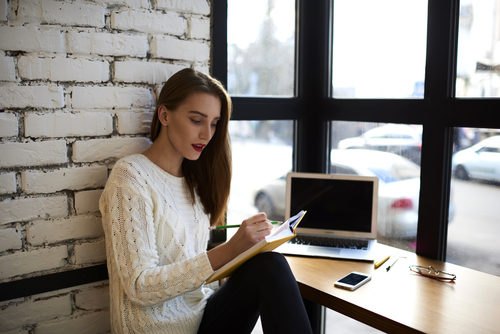 As we've discussed before, securing your very first client can often times feel like an uphill battle. While you may have a passion for writing and the determintion to make your content business profitable, it can be incredibly difficult to find people who will actually pay for your services.
If you're struggling to find your first client, don't worry. Many writers spend weeks looking for their first paid gig. Today, we're back with five more creative ways to land a writing customer.
1: Tap Into Your Network
Your first client could be right under your nose. Try a warm outreach out to your friends and family to see if they have any blogging needs or may have leads for a potential client. Your friends and family already know and trust you, which is a great start to a business relationship. Your network may not even know that you're interested in making writing a business, so reaching out directly could open up a whole world of opportunities. You can try a general call for support, such as a Facebook post, or speak one-on-one to connections with whom you already have a strong rapport.
2: Get Involved In Your Community
Networking in your community can help increase your exposure for potential blogging and copywriting opportunities. Coworking spaces often open up their space to give community members the opportunity to showcase their skills through workshops or networking events. You can also try hosting an event like a free copywriting class or meet-up group. By connecting with other writers, you're a.) building up credentials that you can use on your resume, b.) providing important information to the community at large and c.) increasing the likelihood that potential clients will recognize your name and skillset. You'd also be surprised how many people you meet just by getting out and about. The person next to you at the coffee shop or on your volunteer project may be a business owner looking for someone to write his ad copy!
3: Get Social
Social media can be a hotbed of opportunity for bloggers looking to land their first paid gig. Having an active social media presence can be beneficial in networking with influencers and brands for potential opportunities. If you follow an influencer or brand that's just getting started (under 20K followers), send them a direct message offering your blogging services at a discounted rate. Newer influencers will need help building their presence and may be more receptive to offers. On the other side of the coin, many larger companies and potential clients now post job opportunities on social media. If you're active on social media, you'll be among the first to know when a new opportunity arises.
4: Join A Facebook Group
Facebook groups have been picking up popularity as a free way to connect with like-minded folks. Now, there are Facebook networking groups for just about every niche. For instance, you can join a group for entrepreneurs or copywriters. Often, members of these groups will post opportunities or referrals. Once you've found a group for your niche, stay active and continually add value by commenting on others' posts and engaging in discussions. Building your presence in these groups will help you become recognized as a go-to expert in your field.
5: Try Out Guest Blogging
Offering up your skills for free to a fellow blogger from time to time can be beneficial in getting your first paid client. Not only does guest blogging help you build relationships with other writers, but it also gives a whole new audience exposure to your name and your work. You never know who could be reading the blog that you're guest posting for!
Keep at It!
The blogging and copywriting space can be competitive! It's tough to get your first paying clients as a writer, but that doesn't mean that you can't do it. Sometimes, all you need to do is think outside the box for a bit to come up with new avenues to explore.
What approaches have you tried for finding clients? Tell us in the comments.
---