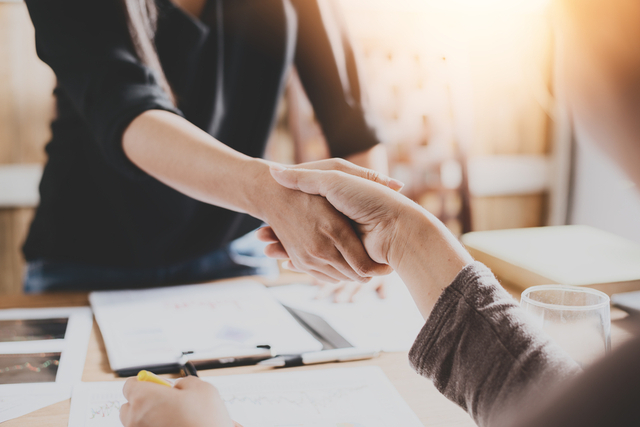 Negotiating with new clients is always challenging, even more so when you're about to close a deal with only one discussion point left: your rate.
We get it. Naming your price can be tricky business and not many people know how to effectively negotiate. An online survey conducted by Salary.com revealed that only 37% of people negotiate, while 44% occasionally do and 18% never even bring it up.
It may be difficult and uncomfortable to some, but negotiation is a crucial tool to getting paid well. Several experts agree that most companies and clients expect job candidates to negotiate. This not only shows that they know the quality of their work, but also how much effort they are willing to put into it. Being assertive and knowing your value is a good look on everyone.
Getting paid well is vital for any business to grow and thrive. Here are four things you must be careful not to do when negotiating your rate:
1) Not knowing your bottom line
As the popular quote goes, don't go into battle unprepared. Never go into a meeting or interview with a potential client and give a price on the spot. It is important to give yourself enough thinking space to process several factors.
Don't feel pressured to drop a figure. You can tell your prospect you'll get back to them with a proposal. Not only will this buy you time to think, it'll give your potential client the impression that they will be getting value for their money.
A good strategy is to calculate the lowest hourly rate you are willing to work for and start from there. Divide your monthly expenses by the number of hours you intend to work per month and add tax. Let's say your budget per month is $5,000 and you intend to work a total of 168 hours a month: your lowest acceptable hourly rate would be around $40, inclusive of 30% tax.
The figures may be different for each individual, but the most important thing is to know the basic hourly rate you will need according to your lifestyle. From there, you can start considering other factors such as how much time and effort needs to go into the project.
2) Not knowing the nature of the project
Not all projects are created equal and you need to know exactly what you're getting yourself into. Understand what the full extent of the project is and what it will require from you. Will you be given the necessary resources to do the job or will you have to find them yourself? Will you need to be on call for a specific number of hours a day? Are the tasks straightforward? Sometimes knowing how much time you need to spend on a particular project is not enough – you need to know how much legwork goes into that time as well.
Another important factor to consider is the impact your work will mean for your prospects. It's not just about what you will need to do for them but also what its effect will be. Will your work be key to gaining sales and exposure for your client's company? Will you be coordinating important affairs for them? Are you a new team member or will you be leading the team itself? You need to know not only what they need but also how much they need it.
3) Not knowing your client
Find out how the client perceives the value of your work and you're halfway there. At the end of the day, what your client thinks is what matters most. They are likely to already have a figure they'd be happy to pay you based on the importance of the work they are looking to hire you for. They may not reveal the exact number, but you will get an idea once you ask them what kind of budget they have in mind.
Negotiating is a tried-and-tested business strategy, so your prospects will probably haggle on principle. Be ready to engage them but be careful not to give a figure too far from the ballpark. Clients are not likely to reject an initial proposal outright.
Once you have given your price after careful consideration, be sure not to talk too much. Silence is a powerful hidden weapon in any negotiation. Before you know it, you'll walk away with a rate you wanted with your client thinking it was all their idea!
4) Not knowing when to walk away
As in any negotiation, the goal is to arrive at a compromise that both parties are satisfied with. However, there are times when conditions are not met at a comfortable level for one or both parties, and that's okay.
If you cannot come up with mutually agreeable outcome, learn how to say no or let your prospect walk away. As much as there are other clients for you, your current prospect also has their own prospects. A negotiation is basically a decision-making process whether to build a working relationship or not. Like any relationship, both parties are allowed to walk away.
Remember, don't settle for less and do not sacrifice your time for work you won't feel fulfilled doing. If you won't value your work, who will? At the same time, clients need to feel secure that they are not being ripped off. It is important to have both parties satisfied and feeling like they got a good deal in order to have a lasting work relationship. If the deal is not a win-win scenario for both sides, then the deal must not be made.
Go get 'em!
Make sure to cover these four points and you are well on your way to becoming an expert negotiator! Start a conversation. Know yourself, know your client, and know all there is to know about your project. Negotiating may be different for everyone, but those are the things you'll need to get started. Remember not to sell yourself short. Look ahead and rate yourself based on what you want to achieve.
Let us know how these tips work for you! Have you tried negotiating your rate before? What strategies have you used?