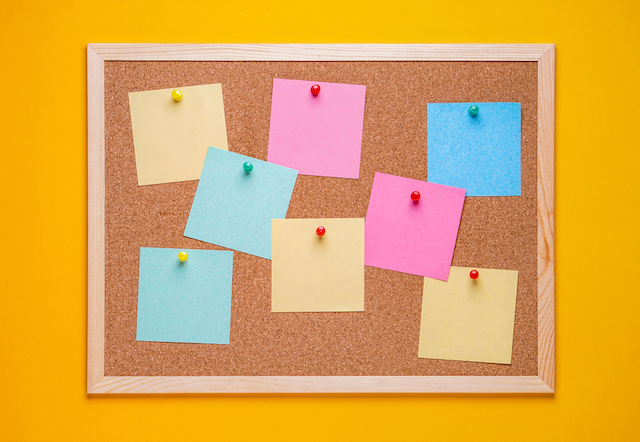 You may have noticed that we at ProWritingAid have a fondness for technology that makes writers better, stronger, more organized, and highly productive. If you like creating a storyboard for your novels, or if you want an innovative app to capture all of your to-do's for your client work, let us introduce Trello.
For those of us who use sticky notes, index cards, writing boards and other forms of reminders to help you organize everything you need for a writing project, Trello is the easiest, most intuitive way to organize your work.
Just to be clear, we are not Trello affiliates. We have never even had a conversation with anyone from Trello. We just really really like it and use it all the time.
We like Trello so much, in fact, that we built our Chrome, Safari, and Firefox extensions to work beautifully with it. Use them to prevent grammar errors on your Trello storyboard.
What is Trello?
Trello lets you create boards (like bulletin boards or a storyboard), lists of things, and cards that function like sticky notes to capture your ideas, thoughts, to-do's, and more. If you're working with a team on a project, you can invite others to your boards, lists, and cards to collaborate all in one place.
Trello lets you capture pictures, documents, spreadsheets, presentations, lists, PDFs, web links, and more from your hard drive, Google drive, Dropbox, and OneDrive. Think of the functionality of capturing pictures and ideas on Pinterest, only on steroids.
You can set due dates, create checklists, and add labels to help you organize your professional (and even personal) world.
How to get started
It's easy and free to sign up and create a Trello account. There are upgradable editions of Trello for companies with teams who collaborate on large projects, but the free version has all the functionality you need as an individual.
Let's say I'm writing "The Great American Novel," to which so many of us aspire. I've created a board by that name; here's what it looks like: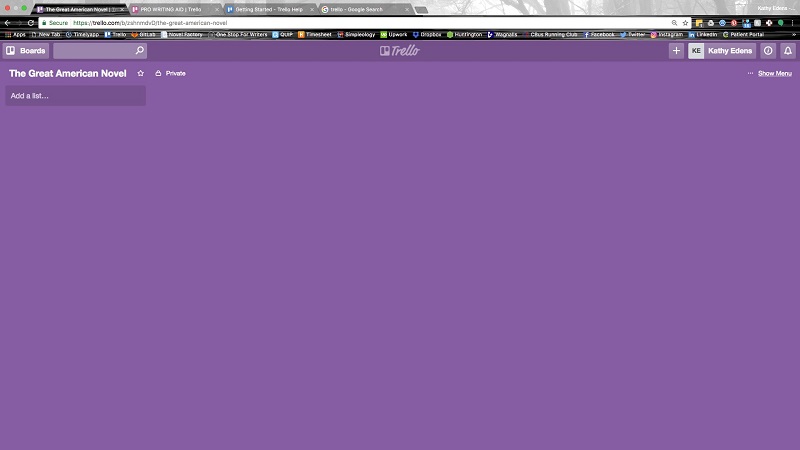 It's just a big blank space, waiting for me to populate it with my ideas, brainstorming, timelines, and arcs.
How to use Trello to storyboard
The next thing to do is create some lists for your board. The lists are the major categories under which you'll capture all of your notes, pictures, documents, etc.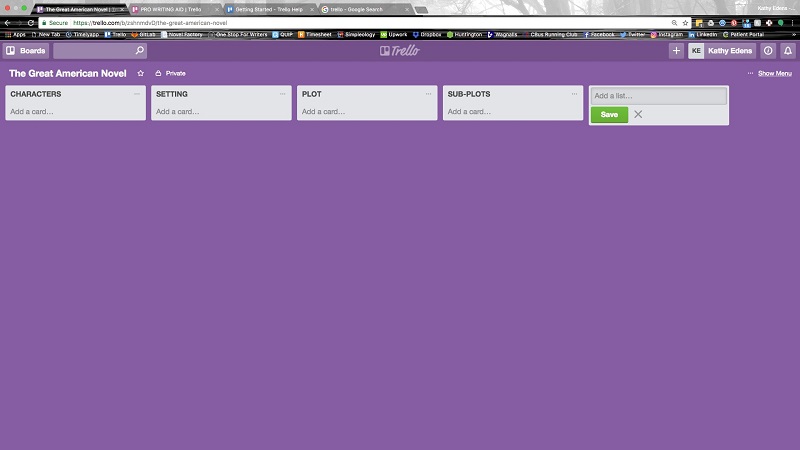 Now you can start attaching cards to each list. The cards are individual ideas, to-do's, research bits, or anything else you need to capture pertaining to the lists you've created. This is where it starts to get good.
Let's say I'm working on a novel with a protagonist who is a young female entrepreneur trying to drum up funding to get her innovative product idea off the ground. I'll start a card for her.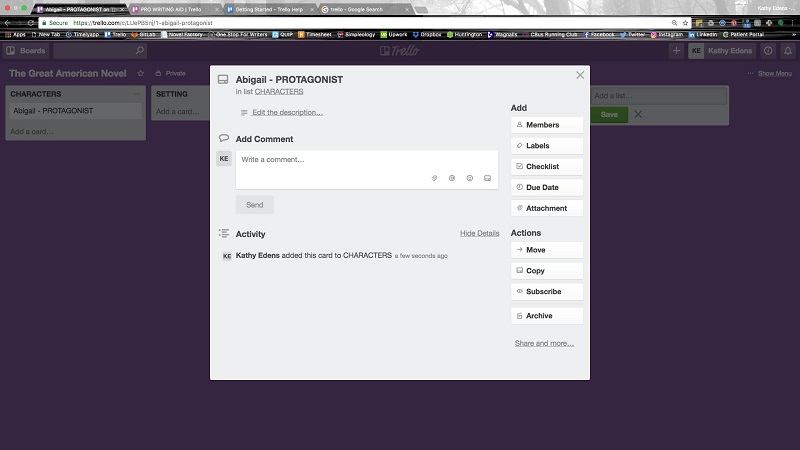 See where you can add a description at the top of the card. You can also add unlimited comments to the card as ideas strike you. And you can add a checklist of things you need to do and even upload a picture of what you think your protagonist looks like.
You can see how I've filled out a basic description of my protagonist Abbie and what she wants. I've also created a to-do list of things I need to figure out, and attached a picture of what I think Abbie looks like.
Here's what the completed card looks like on my novel's board: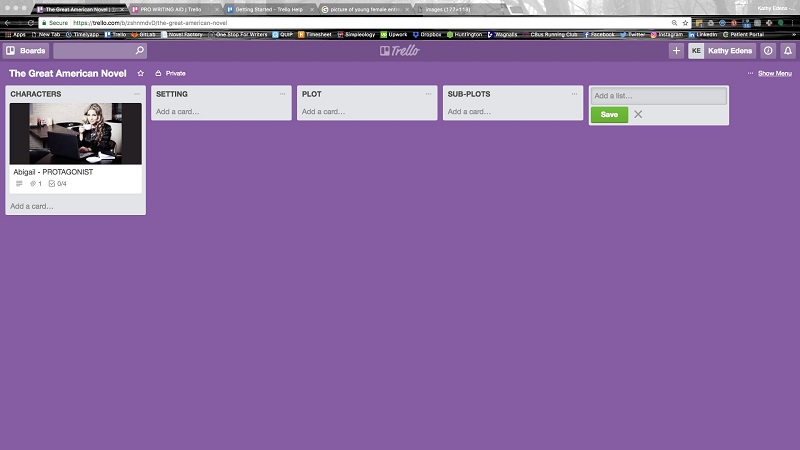 When you need to see the card or edit it, simply click and it brings up the card.
Now you can create cards for every list on your storyboard, filling in details as they come to you and capturing ideas and things to do to move your novel forward.
Another great idea is to use a mind mapping tool to brainstorm your novel and upload it to your storyboard in Trello. You can export your mind map as a PDF and attach it to a card on your board. When you click on the image, it displays like this: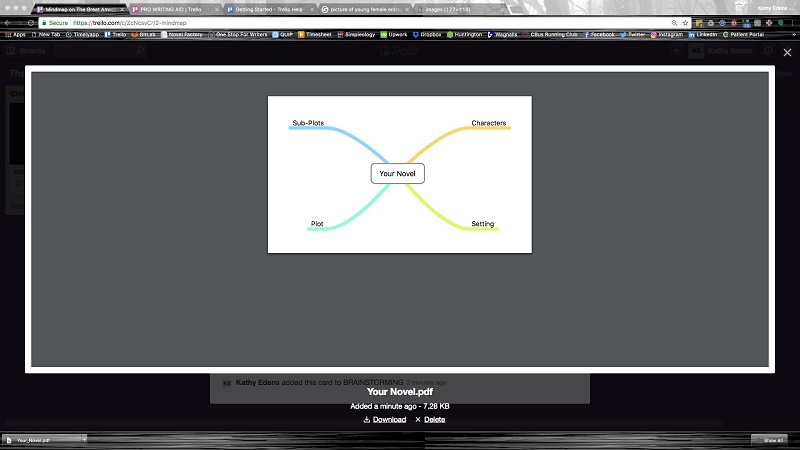 Of course, your mind map will be a little more detailed.
As a side note, check out our post How to use Mind Mapping to Create a Novel Roadmap.
Little extras
You can drag and drop everything to reorder priorities or preferences. You can create new lists and cards and delete the ones you don't want. Or if you want to keep a card or list, but you don't need it active, you can archive them for retrieval later.
Finally, you can use colored labels to help you organize your thoughts. Maybe cards with major conflict have a red label, or cards that need more brainstorming have a green label. Whatever technique makes most sense to you, you can add colored labels or create your own.
Final thoughts
If you like creating storyboards where you capture pictures, ideas, and more, you'll love using Trello as your digital storyboard. It has so many applications beyond storyboarding, too.
I even use Trello as my weekly to-do list. I create a new board for each week, with lists for Monday through Friday. Each card is a project I must complete for my clients that contains everything I need to get it done in one place. Beyond handy.
Let us know in the comments below if you use Trello for your personal or professional life. What are some of your Trello tricks? Let's get a list of suggestions going from which we can all learn.
---