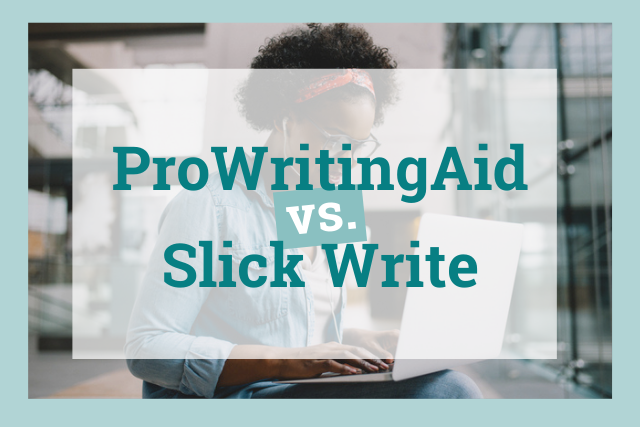 Grammar and spelling errors are frustrating. Sadly, they're inevitable. You do your best to weed them out, but still, some find a way to sneak into your content.
That's why you need a good grammar and style checker that will automatically highlight errors for you and suggest edits. But which one should you choose?
Let's do a Slick Write vs. ProWritingAid comparison.
You want a tool that will help you remove all those embarrassing grammatical and writing-style errors, so accuracy is a top requirement. Your best pick should also be affordable, valuable, and easy to use.
To enhance your experience with a grammar and style checker, you should have quick access to training resources and support.
So, should you go with our own ProWritingAid? Or is Slick Write better? Let's kick things off with an overview.
Slick Write vs. ProWritingAid: A Brief Overview
Both will help you check your content for writing errors and highlight what you may need to fix.
Slick Write is a free web-based grammar and style checker. You access it via its web editor. So, to analyze text, you'll copy and paste it, then use Slick Write's different assessment features.
What's sleek about Slick Write is the detailed statistics it provides. Here's a screenshot: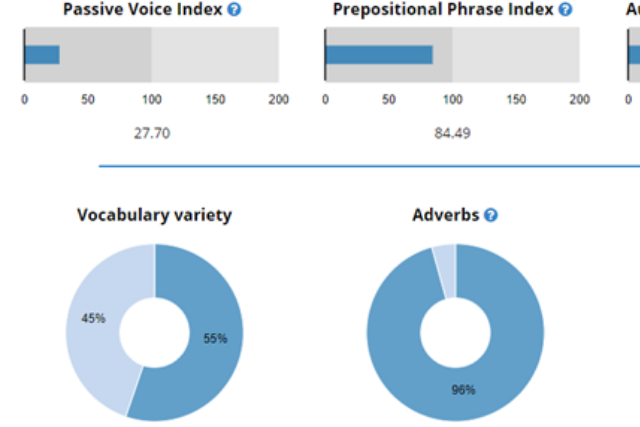 It also has an Associator feature that shows you which words go well with others. It's a handy tool you can experiment with to beat writer's block.
Slick Write is best for people who have advanced writing skills and can decipher its complex reports.
ProWritingAid checks content for grammar and style errors. You can use our Web Editor or integrate it with most major browsers and word processors. That saves you tons of copy-pasting time.
What's pro about ProWritingAid is that our tool gives you 25 reports, which is more than what any other grammar checker gives. We also have tons of writing resources, making this a grammar checker, editor, and writing coach. Check out a section of our summary report right here: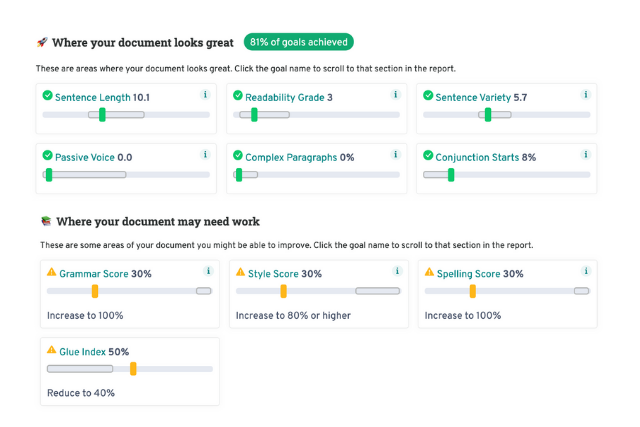 ProWritingAid is best for all types of writers—novelists, bloggers, non-fiction book authors, or even random, everyday internet users who want to ensure their emails and social media posts are stellar and well-written. Their app caters to a number of different writing styles
When comparing these two tools, I'll tell you what to look for and show you how each performs. And there are a few things that you'll want to look for to guide your decision. So let's dive right in.
Usability Comparison: ProWritingAid vs. Slick Write
We live in a world that has automated cars, marketing automation, instant international money transfers, and whatnot. You expect a grammar and style checker to look amazing and have exceptional performance in a few clicks.
Slick Write is browser-based. To use it, you'll go to Slick Write's web editor on your browser, copy and paste text or write from there, and assess your writing.
It has Chrome and Firefox extensions. However, these extensions don't work independently and are not updated often. When you click on the extension's icon, it uploads the content to Slick Write. So, everything is done right there on its web editor.
If you're used to other grammar checkers, you may be a bit confused by one thing—you have to click on the critique button to assess your writing and the edit button to edit.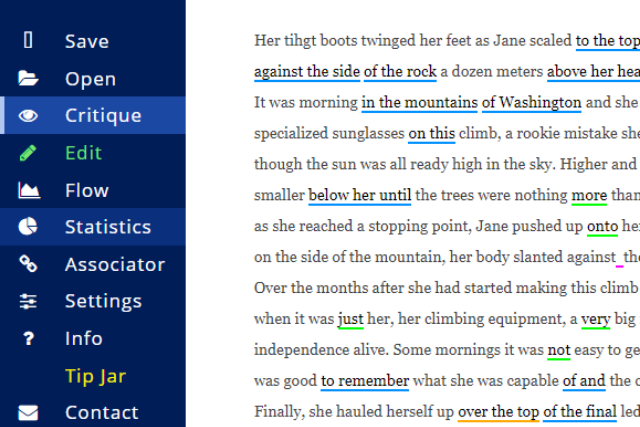 No, it doesn't have a handy toolbar where you just click on an error and automatically fix it.
As much as Slick Write is referred to as a grammar checker, it doesn't check for basic issues like spelling, punctuation, and spacing. In the screenshot above, there's a missed typo right in the second word. Even the most basic grammar checker would have caught that.
On the other hand, at ProWritingAid, we give you options. You can use our Web Editor or integrate ProWritingAid with Microsoft Office, browser extensions like Chrome, Outlook, Firefox, and Scrivener, among others.
Unlike Slick Write, ProWritingAid will highlight an error and give you suggestions. Even more, clicking on the correct suggestion will automatically fix the error.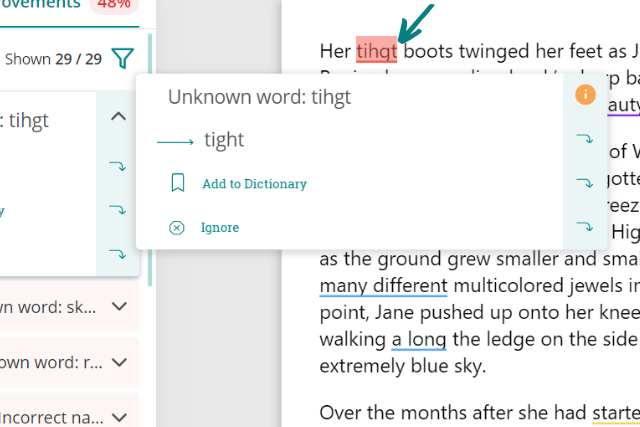 Our ProWritingAid toolbar has this neat and sleek design. Slick Write missed the typo shown by the arrow above. But ProWritingAid quickly caught it. Editing that one error involves just clicking on "tight". That's it—it's clean, fast, and effective.
Verdict: ProWritingAid is easier to use. It enables you to fix an error at the click of a button. And it integrates with the most widely used browsers and word processors. In short, you're the one who has to go to Slick Write, while ProWritingAid comes to you.
ProWritingAid vs. Slick Write: Features Comparison
A feature is useful when it does what you want it to do. Here, you want each tool to highlight errors, give you suggestions on how to correct them, and help you improve your writing. But which one is better?
You may actually like the visual reports that Slick Writes gives. It shows you so many things. However, you get minimal guidance on how to actually fix the errors.
Look at this, for example: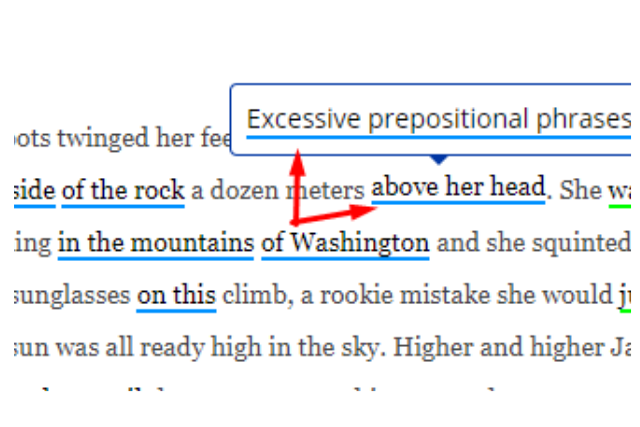 Slick Write is telling me that writing "above her head" is erroneous—excessive prepositional phrases. When I click on that error a tool bar pops up that leads me to a Wikipedia page. This then tells me that the page includes general, unverified information. If I genuinely believed that "above her head" is an error, I'd have to spend endless hours trying to figure out why it's a problem and how to fix it.
This is confusing an already confused writer.
With Slick Write you can:
Identify complex sentences
Check for passive voice
Enhance vocabulary variety
Improve content flow
Find word associations
At ProWritingAid, we go a huge leap further. We'll tell you where you've made a mistake and how to fix it. You can fix most errors at the click of a button. If you've overused a word, it gives you alternatives. If you've misspelled a word, you get a list of the possible correct spellings. You get a solution to each problem.
When you click on an information button, you get detailed and factual ProWritingAid guides and videos.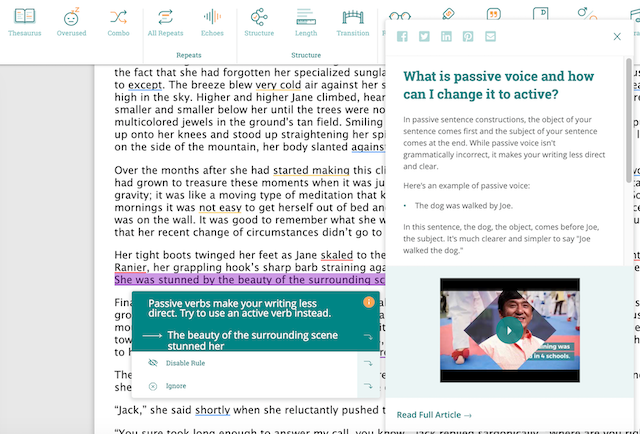 With ProWritingAid you can check and fix the following issues:
Spelling
Spacing
Punctuation
Repetition
Passive voice
Transitions
Consistency
Yes, this list is long, and it still doesn't cover all you can do with ProWritingAid. Listing everything would be overkill as already we've identified more than double the features that Slick Write offers.
What's more, ProWritingAid gives you 25 reports. When it comes to features, no other grammar and style checker compares with what we offer.
Verdict: ProWritingAid has more useful features than Slick Write. It's also more accurate.
An Integrations Comparison for ProWritingAid and Slick Write
This is a no-brainer. You want to fix your writing right where you are. Imagine you're writing a 50,000-word novel and you're forced to keep switching between your document and the browser. Sounds like you're just setting yourself up for making mistakes, right?
Slick Write has zero integrations. You're forced to use only its web editor. It has some handy suggestions, but switching back and forth can make you dizzy. Even its browser integrations will lead you back to its web editor. And sadly, it will not pick up on most errors in your writing—even basic things like spelling, punctuation, and spacing errors.
ProWritingAid is a productivity machine. It has a remarkable Web Editor and offers integrations with:
Word
Chrome
LibreOffice and Open Office
Scrivener
Firefox
Google Docs
Final Draft
Outlook
Safari
Edge
Verdict: This is a landslide victory for ProWritingAid. It's in every popular place where people write from. Unlike Slick Write, its extensions work independently, they don't upload all text back to its web editor.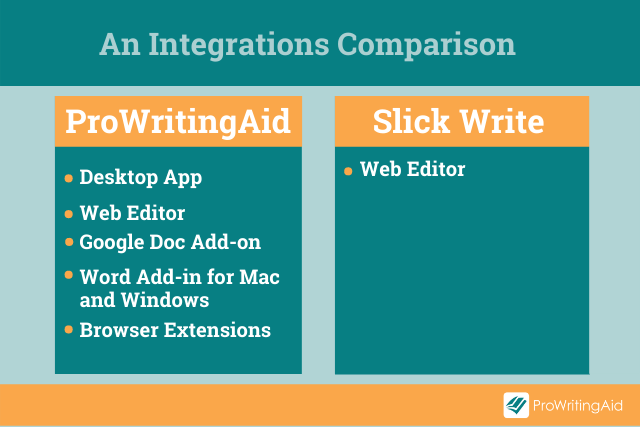 Plans and Pricing Comparison: ProWritingAid vs. SlickWrite
If budget is your concern, then Slick Write takes this hands down. After all, it's a free tool that anyone can use anytime.
Let's be honest, though. Will Slick Write fulfill all your needs? Remember it can't pick up a spelling mistake. It will repetitively tell you to fix "Excessive Prepositional Phrases". However, it won't tell you why that's an error. Nor will it give you useful suggestions to fix that.
You'll spend a lot of time switching between its Critique and Edit tabs to fix each error. It may leave your head spinning.
Wouldn't it be great to have a handy free tool that sorts out all your grammar and style needs?
Enter ProWritingAid. Here, we have a free option that allows you to use most of our features. And its in-tool features not only offer suggestions but they also offer explanations so you're sure to keep learning new techniques to improve your writing.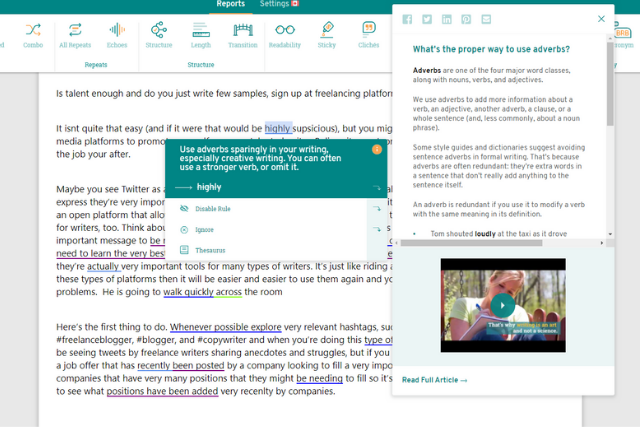 If you want a bit more, go for our Premium plans. Start with a free trial. You'll get a writing assessment tool and excellent resources. These include our 25 reports, Word Explorer, and top-notch ebooks from the Writers' Resource Library.
Verdict: You can do more with free ProWritingAid than free Slick Write. And you can get more features using ProWritingAid's Premium plans.
Go With What Offers You Better Training and Help: Training and Support Comparison
You can reach out to ProWritingAid's support team through email. At ProWritingAid, we also have a myriad of materials that can help you quickly sort out your issues. These include:
Videos
Useful quizzes
FAQs
Social media
Writing resources
And the list goes on.
Slick Write starts you off with an interesting demo that highlights its key features. It keeps showing hints as you use it. That makes it easier for you to navigate. If you have questions, you can reach out to their support team via email. That's it. No blog. No social media. No FAQs.
Wait, there's more. You may never get a response. The contact feature in Slick Write is mostly for those who want to report bugs or request features. The contact form even states that your name and email are both optional.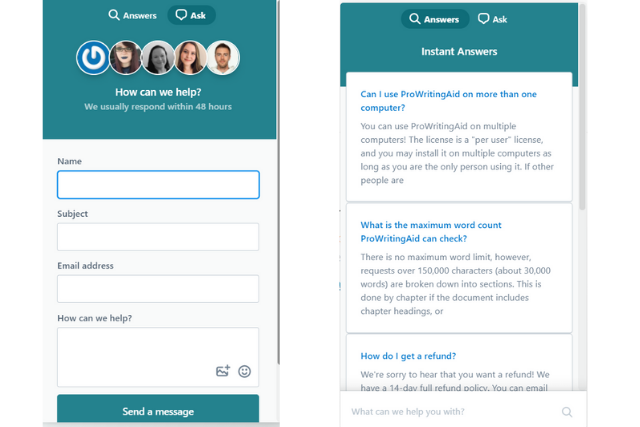 Verdict: ProWritingAid has excellent support and training features. Slick Write is one way. You use it as it is. Its free demo is useful, but that's just as far as you can go.
ProWritingAid vs. Slick Write: It's Decision Time
From this comparison, it shouldn't be so hard to choose the winner—ProWritingAid.
Slick Write highlights a lot of things, but it's not clear how to fix them. In some instances, it gives false positives, which can be a headache to a novice writer. And it doesn't pick up on basic errors like spelling mistakes.
Even though it's free, it'll take some time trying to improve your writeup. Sadly, it may not highlight all that needs fixing. That means you'll still end up with spelling, spacing, punctuation, and other errors.
ProWritingAid is fast and easy to use. Our tool checks for more grammar and style errors than any other competitor. It integrates with top browsers and word processors. You get tons of training and support. And we have plenty of epic writing resources, making us your go-to coach. Start with our free trial and test it for yourself!
Try ProWritingAid's Grammar Checker and Editor for Yourself
---