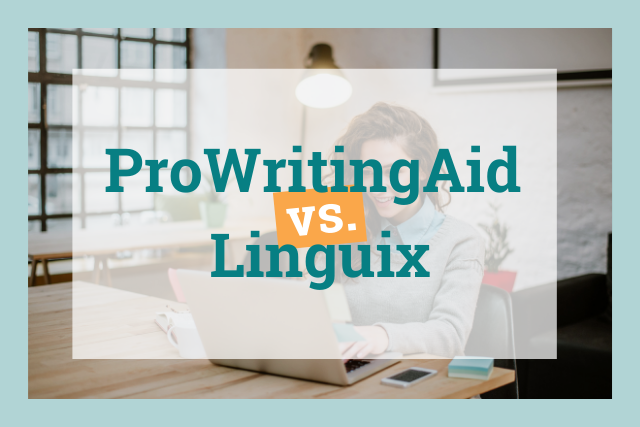 If you've ever written an email to an important new contact, and then noticed a typo, you know how embarrassing a slight mistake can be for making a first impression.
The same goes for connecting with customers. You write an article, post it on your website, and then when you share it on social media, you see an error in the first paragraph.
Online editing applications can spare you these embarrassments. They are designed to catch spelling and grammar errors before your written words go public in any form.
Two writing apps you can access online are Linguix and ProWritingAid. But which one will suit your writing process the best?
Both Linguix and ProWritingAid work online to help edit your writing. Here's a quick overview of the key differences.
What Is Linguix?
Linguix is a web-based app designed for busy entrepreneurs and corporate writers who have a lot on their plate. With both a web app and downloadable integrations, it checks your writing for grammar, spelling, and punctuation during a busy work schedule.
Based on AI, Linguix provides recommendations based on context so that suggestions may vary among business, personal, and academic writing.
Linguix Key Features
This editing software is designed for busy business communicators to quickly check text.
Checks grammar, spelling, and punctuation as you write
Provides contextual recommendations for types of documents
Suggests synonyms for stronger writing
Provides templates for various business documents
What Is ProWritingAid?
ProWritingAid is a comprehensive writing tool: a grammar checker, style editor, and writing mentor. The tool has over 20 free reports available to both free and Premium users.
You can make quick, impactful edits in real-time using the software's Realtime suggestions for spelling, style, grammar, and passive voice.
ProWritingAid's extensive reports will help you refine your writing style, offering suggestions to help you identify places to improve your text.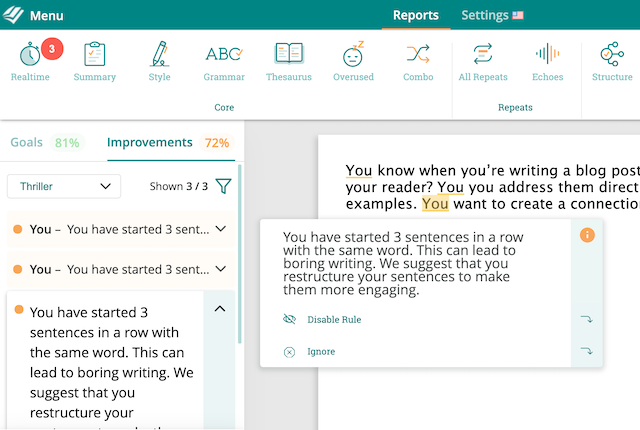 ProWritingAid Key Features:
This editing tool provides editing and writing suggestions for every type of writing. It goes beyond basic grammar to improve writing style and clarity.
Checks grammar, spelling, and punctuation as you write
Generates over 20 reports to hone in on every aspect of writing from repeated words, wordiness, and awkward sentences to style and tone
Suggests more precise words to replace vague words, weak verbs, and adverbs
Provides contextual suggestions for your document type
Although the two seem similar, the differences lie in the scope of knowledge and learning materials to help you learn to be a better writer. What follows is an in-depth look at both editing tools.
Linguix vs. ProWritingAid: Which Performs Better?
Your text needs to be well-written and clear when communicating with colleagues, clients, and customers. And there's more to clarity than just good grammar. It all relies on context.
Linguix is no match for ProWritingAid when it comes to understanding your writing. It's like having a personal editor and language instructor. As you use ProWritingAid, you'll refine your writing style.
We ran the same text through the free versions of Linguix and ProWritingAid.
Linguix's editor gave it a check mark noting "No Issues Found":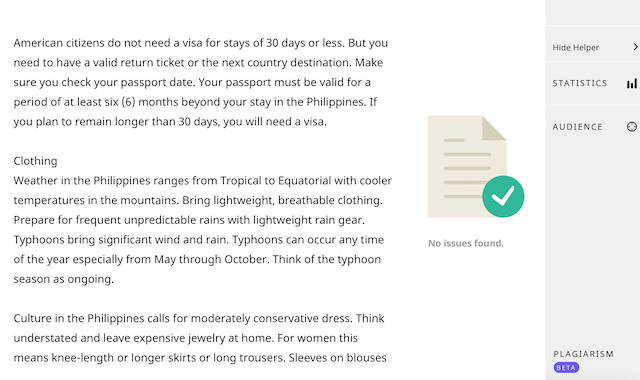 But ProWritingAid went deeper, highlighting issues with commas, capitalization, overly complex language, and confused words. Furthermore, you can use the ProWritingAid reports to visualize key document stats like sentence length to make sure you're including enough variety.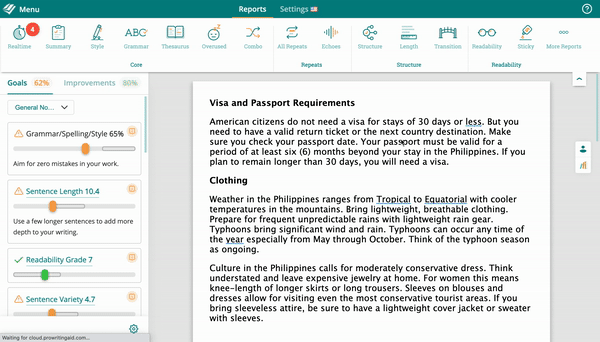 These simple changes can have an important impact on readability overall, but they're not always obvious when you're proofreading. ProWritingAid helps you spot things other grammar checkers don't.
We also show you your progress towards key writing goals tailored to your document type (to the left of the screen in the GIF above) so you can get an idea of the bigger picture.
And with ProWritingAid Premium Plus, you can even add a plagiarism report to your toolbar for added confidence before submitting your essay.
Linguix vs. ProWritingAid: Suggestions and Usability
Linguix's suggestions appear in a "helper" panel to the right of your screen. This makes it difficult to see which suggestion you are correcting, making you more likely to accept an incorrect suggestion.
ProWritingAid's suggestions appear both in a side panel where you can review them all at once and as in-text pop-ups so you can see exactly what changes you're making.
Our editor also goes deeper than Linguix to improve the strength and clarity of your writing. That's because we look for grammar, spelling, and style errors like passive voice, repeated words and sentence starts, incorrect entity name spellings, and readability enhancements.
Let's make a more direct comparison. We used Linguix to edit one of their sample documents, and then turned on the ProWritingAid Chrome extension to see if it could find any further improvements—it could: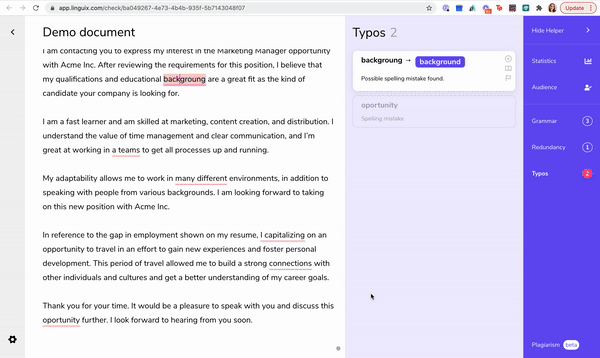 As you can see above, ProWritingAid found confused prepositions, which need to be corrected to sound professional, as well as overly wordy phrases, which need to be simplified to make the writing more direct.
This is especially important in documents like the cover letter sample used above—you need to sound confident in what you're saying and how you want to be seen, after all.
Want in? Let's take a closer look at ProWritingAid's most useful features.
ProWritingAid: Subscriptions, Integrations, and Features
ProWritingAid for Individual Use
ProWritingAid is a versatile editor that has useful features for creative, academic, business, and casual writers. Its 20+ reports help you create an editing routine that works for you.
Unlike Linguix, ProWritingAid doesn't put any of its suggestions behind a paywall, though you are limited to editing 500 words at a time in the web editor with a free account.
With an individual Premium subscription, you can integrate ProWritingAid wherever you write—MS Word, Google Docs, Medium, Facebook—the list is (almost) endless:
Chrome, Firefox, Safari, Edge
Microsoft Word
Scrivener and Final Draft
Google Docs
Open Office, Rich Text, HTML, Markdown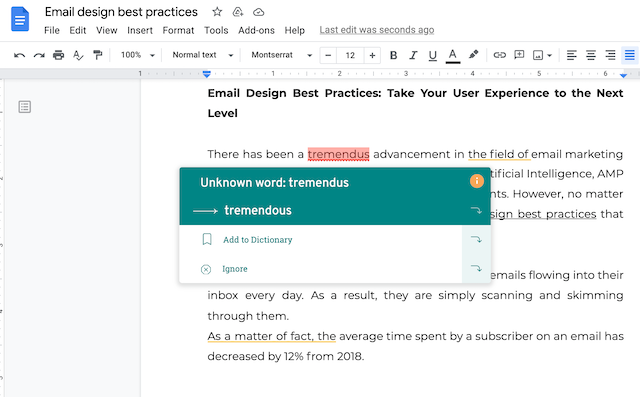 ProWritingAid Premium also includes:
All integrations
ProWritingAid's text expander (Snippets) tool
20 term base items for personalized in-tool definitions and reminders
Unlimited editing word count
Access to the writer's resource library
ProWritingAid Team Subscription
Teams using ProWritingAid write better, faster, and with fewer mistakes. It's the tool that makes teams effective and efficient. And effective teams save your business money.
Most professionals write nearly all day long: reports, emails, applications, pitches, or presentations. In the fast-based corporate world, mistakes look unprofessional and yet there is little time to self-edit.
A team plan assures consistent spelling and writing style among your team members. You can create a team style guide that shows suggestions specific to your team's daily writing activities.

You might create a reminder to capitalize a product name in a certain way, or have a suggestion that ensures your CEO's name is always spelled correctly.
With ProWritingAid's tools for teams, the tone and style in your brand's communications will remain consistent and on-message. ProWritingAid helps business writers deliver concise, error-free communications that clearly get ideas across to colleagues and clients.
In this age of distributed teams, your brand message stays consistent no matter where your team members work.
A business team subscription includes:
1,000 term base items
1,000 style guide rules
Centralized user management
Team analytics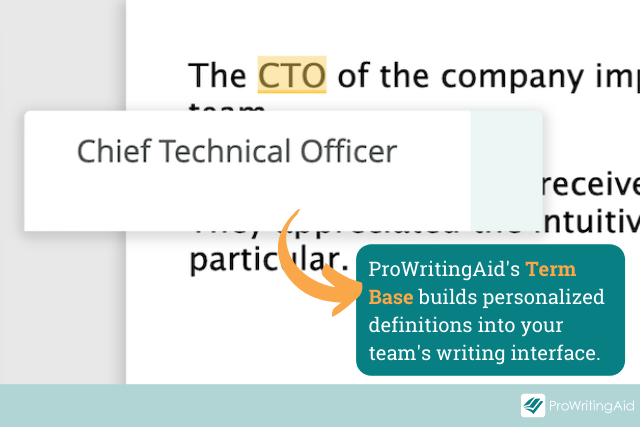 Enterprise Solutions
Larger enterprises can set up a custom subscription with custom integrations, on-premise hosting options, single sign-on, and premium account management.
Businesses like Amazon, Microsoft, Accenture, Equifax, HomeServe, and more rely on ProWritingAid to help deliver winning messaging.
Comparing Linguix and ProWritingAid
You can see for yourself that ProWritingAid delivers the comprehensive writing assistance necessary for any kind of writer. ProWritingAid also ranks on Finance Online's list of the top 10 grammar checker softwares of 2021—Linguix doesn't make it.
A quick grammar and spelling check isn't enough in today's highly competitive market, whether you're an author, business professional, or blogger.
True productivity in writing comes from tight, clear prose that is easy to read and understand. That is why ProWritingAid's style suggestions work.
And for business? Companies using ProWritingAid produce higher quality content, comms, reports, bids, and other documents with fewer mistakes, faster. ProWritingAid eliminates common error types, inconsistent terminology, contextual spelling errors, grammar mistakes, and poor writing style.
A wide range of integration options, including API and on-premise solutions, supports all sizes of organizations, including those with high-level security and privacy concerns.
But don't take our word for it, try ProWritingAid for free and put it to the test.
---
Try ProWritingAid's Editor for Yourself