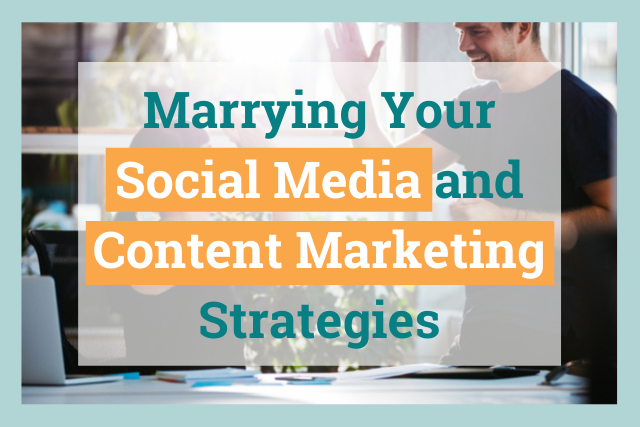 When you think about social media marketing, content may not be the first thing that comes to mind. Yet it's the very thing that makes it possible to market on social media. The posts you create, the images you share, the captions you write are all "content." So without content, there's no social media marketing.
Meanwhile, social media serves its own purpose for content marketing as a powerful distribution channel. In fact, the Content Marketing Institute found that 82% of B2C content marketers use social media platforms to distribute their content. This makes it the top organic content distribution channel.
In other words, you need content to market on social media and you need social media marketing to promote your content. So it doesn't make sense to approach them as separate initiatives unless you want your branding to be all over the place.
Instead, you should seamlessly merge the two to ensure that your brand voice remains consistent across all communication channels.
Here's how to marry your social media and content marketing strategies.
1. Create a Content Calendar
Producing a steady stream of content can be challenging. From always having to come up with fresh ideas to investing your time and effort developing content, it's not easy. On social media, the challenge lies in maintaining a balance between keeping your feed fresh and spamming your followers.
Both of these challenges have the same solution—a content calendar. Having a content calendar helps you plan ahead and organize your content marketing efforts. This way, you don't waste too much time on ideation every time you want to create new content.
A content calendar also provides you with better direction on how to execute your social media marketing. You can use it to plan ahead for holidays, sales, and special events. Plus, you can use it to align your blog publishing calendar with your social media publishing schedule. This makes it much easier to mark in advance when to share your latest blog posts via social media.
Use a platform like Keyhole to map out your social content strategy in advance. The visual calendar helps you organize your publishing schedule across major social networks. Plus, it keeps track of your content performance and suggests the best time to post based on audience engagement.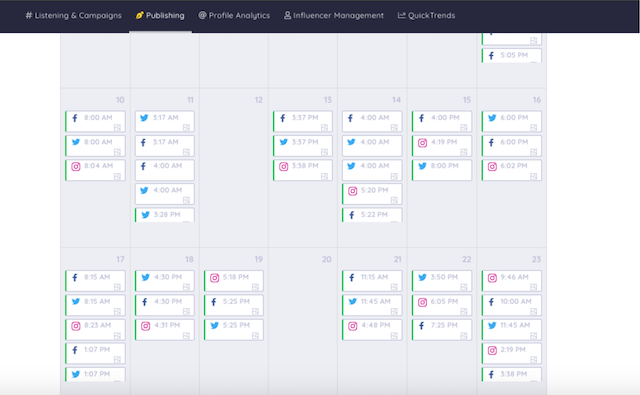 2. Make the Most of Social Media Share Buttons
If you want more people to read your blog posts, you need your readers to share them with their networks. Add social share buttons to your blog so it's easier for people to share a post in just a few clicks.
This eliminates the need to open the social media site in a new tab, copy the link, and paste it. So people are much more likely to share the blog posts they like since it only takes a few seconds.
You can also find social share buttons on the ProWritingAid blog.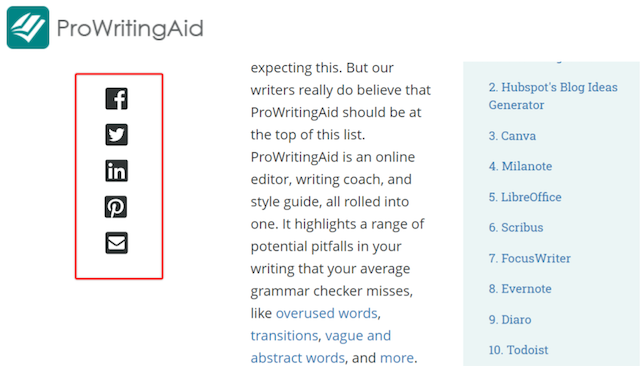 Tools like ShareThis and AddThis will let you add share buttons for the most popular social media sites. But make sure you don't clutter this space too much as you might end up confusing your readers. Pick out three or four of the social media sites that your audience uses the most.
3. Create Content Around Trending Social Media Topics
Social media isn't just for sharing the content you've already created; it can also inspire your content creation. Keep track of trending social media conversations through social listening to get new ideas for blog posts and other types of content. This makes it easier to create content that resonates with your audience and keep up with the latest conversations.
You can then share this content through your social channels as a part of your social media marketing strategy.
Use the native trend suggestion tool on Twitter to see what people are currently talking about. This will give you some ideas on which topics might make a good addition to your content strategy.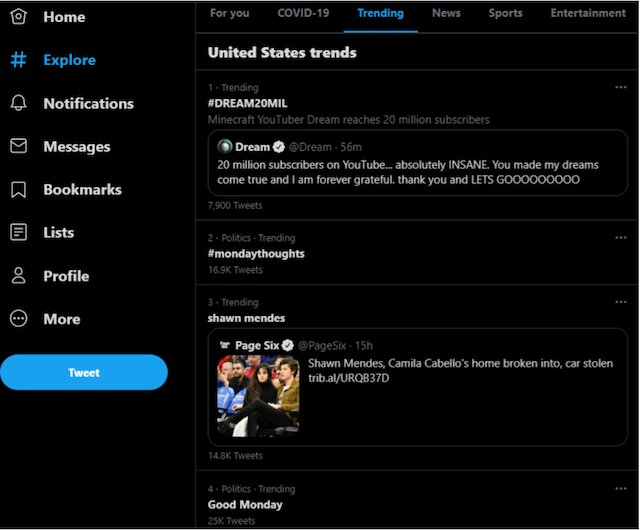 Social listening tools also give you insights into the trends that are defining your market. Using this platform, you can identify trending topics in your industry, individuals leading the conversations, and competitors that are already participating.
4. Design Featured Images with Social Media in Mind
Humans are visual creatures. That's why images are a critical aspect of your content strategy. This is particularly true for social media, where visuals tend to draw more attention than huge blocks of text.
Studies have found that you can get 2.3x more engagement when you add images to your Facebook posts. The numbers are likely around the same for Twitter, considering how much more space images take up compared to text posts. So even when you're creating blog posts, make sure you have plenty of visuals to keep your readers engaged.
And if you don't have featured images on your blog yet, it's time to reconsider. Featured images automatically serve as thumbnails for your links when you share them on social media. This makes them much more likely to capture your audience's attention and drive clicks. When you're designing featured images for your blog posts, keep your social media thumbnail in mind. Make sure your featured images are attractive and relevant to the topic.
For instance, Mailchimp designs featured images that instantly catch the eye on social media.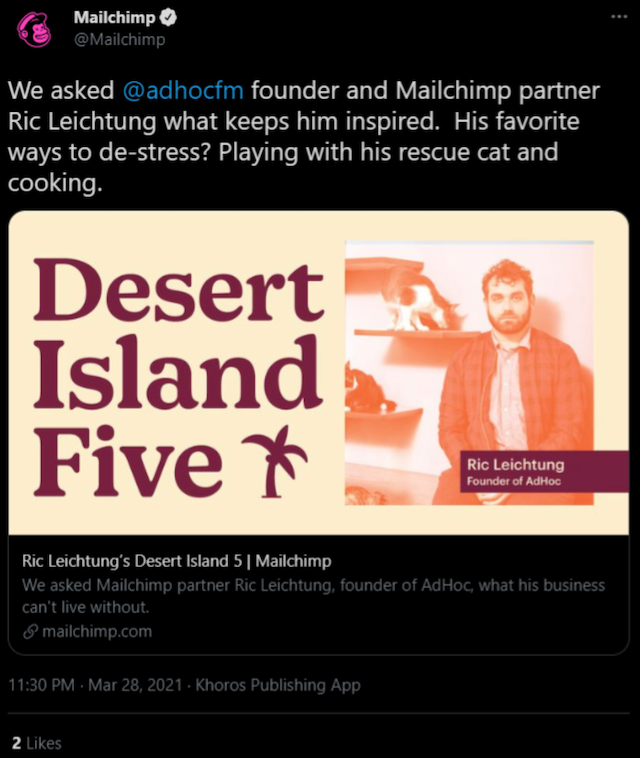 If you don't have in-house designers for this, use an online tool like Canva to design original featured images. You can choose from hundreds of free templates and customize them with photos and graphic elements.
5. Optimize Descriptions for Social Media
Your meta descriptions (or blog post snippets) aren't just for SEO. They also show up as teasers or descriptions when you share the post through social media. This gives more context about your post and helps people decide if they want to click and read more.
If you're not already using it, make sure you have the Yoast SEO plug-in installed on your blog. It lets you create keyword-optimized meta descriptions that look great on search results pages and social media.
Then, the ProWritingAid browser extension allows you to check your posts and meta descriptions for readability, repeated or overused words, writing style errors, and more.
6. Make Infographics a Part of Your Strategy
Infographics are a content format that seamlessly fits into your content and social media marketing strategy.
They allow you to share valuable information, fun facts, and useful tips in a bite-sized, visual format. This makes it a great option to diversify your content calendar and give readers a break from text-heavy blog posts.
You can then share snippets of the infographic as teasers on social media and drive traffic to your site. Brands like Pureprofile even share entire infographics as carousel posts on Instagram. So they're a natural fit for your social media marketing strategy.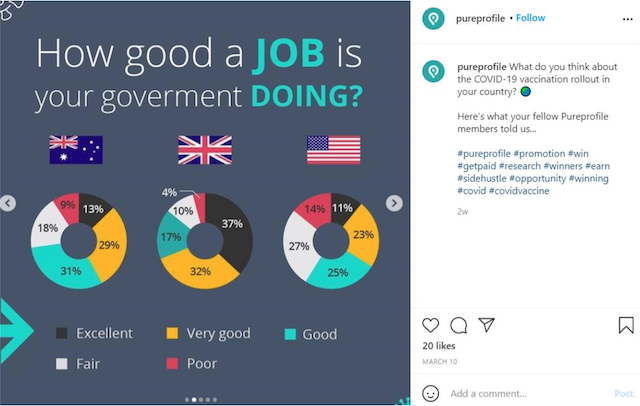 To design exceptional infographics, follow these best practices:
Pick a combination of colors that complement each other
Choose fonts that are easy to read
Maintain branding consistency with color combination and font choice
Use compelling graphics to add breaks between text blocks
Highlight important points with special formatting
Ready for the marriage?
If your social media and content have always been separate initiatives, it might be challenging to take the plunge. Use these six tips to merge the two into one powerful marketing strategy.
---
Now is a wonderful time to be a copywriter. Download this free book to learn how: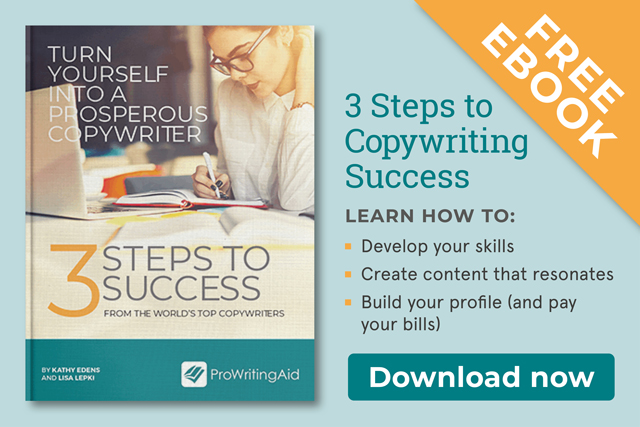 This guide breaks down the three essential steps you must take if you think copywriting is the career for you.
---